Free YIA Gallery Field Trips
Youth in Arts offers FREE tours for school and youth groups in Downtown San Rafael, Mondays through Fridays by appointment. Our gallery activities will include a hands-on art project inspired by the current exhibit.  A minimum of eight students is necessary to book a field trip.
Use our online program request form and select "FREE YIA Gallery Field Trip" for your program type.
Questions? Call 415.457.4878 or email here
YIA Gallery is also open to the public Monday-Friday from 10 a.m. to 4 p.m.
You can view our current exhibit and explore self-guided activities on your own during these hours with a group of any size. In-depth, customized art workshops available for an additional fee.
We love to connect with students in the Youth in Arts Gallery! The YIA Gallery is one of the few in the nation devoted solely to showcasing art by children.
Olive Elementary School kindergarten and first grade students visited the YIA Gallery recently for a field trip that explored shapes, systems and machines. Their teacher Emma Donovan had participated in this summer's STEAM institute with Youth in Arts, the Marin County Office of Education and other experts. She wanted her students to have an experience connected to what she learned in the STEAM Institute.
"Our free field trips are a wonderful opportunity to tie classroom curriculum to arts learning," said Youth in Arts' Development Director Kelsey Rieger. "This experience was focused on STEAM with embodied learning teaching."
Kelsey was joined by Visual Arts Director Suzanne Joyal and Mentor Artist Cathy Bowman. We took the students on a gallery walk to look at the child-created works in the gallery, followed by the Brain Dance to warm up. We talked about circles we could make sitting down, and circles we could see in the art. We made circles with our elbows and noses. In the YIA Studio, we sat in a big circle and learned about systems and machines, first by pushing a giant purple ball back and forth at different speeds. We noticed that a ball can't move by itself. While holding hands, we also sent energy around the room with a silent squeeze. It took concentration and practice to not lose the squeeze.
The final exercise was a fun way to talk about machines. Students were proud to show what they knew about different kinds of machines, and what those machines could do. Suzanne started the exercise by making a machine motion and sound.  As she continued, the next volunteer joined her to make a sound and motion that connected to hers. More students joined in, each making a different sound and motion. In the end, we had a large human-made machine with noises and motions working together.
We talked about where our machines lived and what they could do. One group made a machine that made snowflakes and lived in the ocean; another imaginary machine  handled climate change in the desert.  We concluded the field trip by creating a machine which included everyone and was made of familiar sounds and motions: a train.
Field trips are 45 minutes and always feature an age-appropriate hands-on arts activity. Children also learn techniques for looking at and talking about art. For more information, contact Youth in Arts' Program Director, Kelsey Rieger: kelsey@youthinarts.org or at (415) 457-4878 x110.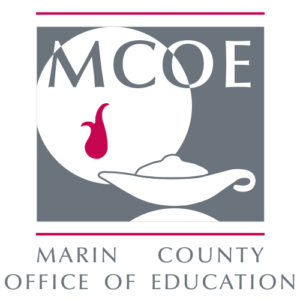 Students in the Twilight After-school program have recently taken field-trips to the ICB Artist Studios across Bridgeway. These trips wouldn't be possible without the coordination and help from Artist Aiko Morioka. To view Morioka's work see her website: http://www.aikomorioka.com/
A second grader learns how to weave in Emily Dvorin's studio.
The work of Deborah Bertola, which the second graders enjoyed.
Second graders in the studio of Katy Kuhn, where they got a chance to do some drawing and collage.

Fourth and fifth grade students learn how to weave with the help of Master Weaver, Alex Friedman.

Josh gets inspired by the work of Carol Jacobsen. In Carol's studio students learned about the color wheel and participated in a color theory activity. To see more of Carol's work see her website: http://www.caroljacobsen.com/.
Part of the mural team poses in front of the historic Mission bells. Students have decided that the current San Rafael Mission steeples will be depicted in the mural. For more information about the history of the Mission go to the Marin History Museum.
At the Boyd Gate House, home of the Marin History Museum, students pulled out their art journals, in which they sketched and took notes of their discoveries. Students were particularly drawn to the Marin at War! exhibition, in which there were various service uniforms on display. Louise Arner Boyd was an arctic explorer and photographer from San Rafael, who will also be depicted in the historic mural by the students.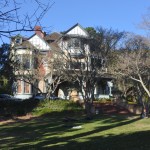 Next students visited the Falkirk Cultural Center, a historical 1888 San Rafael landmark which now presents contemporary art exhibitions. Students found themselves inspired by the prints on display in the galleries and enjoyed walking around the beautiful grounds, filled with sculptures and gardens.
At the corner of 4th Street and C streets students were given photographs or drawings of historical landmarks that still exist or used to exist on each of the four corners. They used visual clues to  figure out which historical image matched each corner.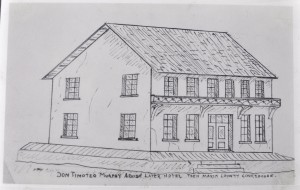 Arguably the most historical piece of real estate in downtown sits at the northwest corner of 4th and C streets, where Timothy Murphy lived, and which was used later as the courthouse.  Murphy, who was named San Rafael's first informal mayor, won a large land grant from the Mexican Government in 1844 and built his adobe house in downtown. He was a boisterous Irishman who reportedly spoke Miwok and Spanish , and who loved to have parties. San Rafael Day was born when church goers would go to Sunday mass at the Mission and walk over to Murphy's house for afternoon drinks, food, and games. The Bank of Italy building now sits in the same location, built in the late 1920s. For more information check out the Early San Rafael History book on Google Books.
The tour ended with us back at Youth in Arts, 917 C Street, where the final mural will be installed. The building was used as a livery and purchased by Neil MacPhail in the 1870s. Horses and carriages, including the famous Tally-ho were rented out to customers. When cars became the prominent mode of transportation the MacPhails ventured into the fuel business and later into appliances. The building is still owned by the MacPhail family and evidence of the passage of time fills the building. Beautiful sturdy wood beams hold up the warehouse in back,  a manual  horse elevator was used to bring the horses to the second floor stables, and elegant antique appliances adorn the attic.
If you tap out the beat of a drawing, what sounds does it make?
More than 40 middle schoolers from the after school program at Trinity Lutheran Church in San Rafael stopped by the YIA gallery for a free field trip linked to our Rising Stars high school art exhibit. Youth in Arts' Program Manager Kelsey Rieger asked students to search for lines as they looked at the paintings, drawings and sculpture in the exhibit.
Using scratch paper, students chose three different lines they saw and talked about patterns. Then using rough brown paper and white and black pastels, students used their lines to make an abstract drawing. When everyone was finished, Kelsey described the work of a curator, asked them to curate their own work. They started by spreading out their individual works and looking for connections based on line, pattern, color or composition. Students talked about the connections they saw to explain why they put their work where they did. In the end, they created a collaborative piece.
Kelsey also talked about rhythm in art. Using a piece of dried bamboo and a stick, students looked at the art on the table and created a rhythm to communicate what the art said. It was fun to hear different interpretations of the work.
"We learned about pattern, repetition and rhythm because they are all important aspects of learning how to build a balanced composition," Kelsey said.
Field trips are a great way to explore an exhibit, and include a 45-minute program planned by Youth in Arts's staff. There is no charge, but please call in advance to schedule. For more information, please call Kelsey at (415) 457-4787 ext. 110. And don't miss Rising Stars, which showcases the best of Marin County high school artists. The exhibition closes on March 27.
Free field trips are one of the many programs that Youth in Arts offers! Recently, Short School students from Ms. Katie Marek's class visited us to see Architects in Schools: Designing Community, the exhibition on display at the YIA Gallery through July 26. The show features the work of Laurel Dell 4th and 5th graders and their response to climate change, housing shortages and other critical issues San Rafael faces now and in the future.
Short School students studied the towers and models that Laurel Dell students made, paying close attention to the detailed bridges they built. We then built our own towers out of foam core board scraps, starting with three words that describe us. We came up with several words, such as smart, funny, careful and goodness. We wrote each word on a circle and then used special glue and toothpicks to build our towers. It was tricky to get them to balance and stand up but we persevered. One artist made a piece inspired by the San Francisco skyline, and another built a unicorn.
Ms. Marek's class was part of Youth in Arts' Arts Unite Us program. This spring, her students explored visual art through a 10-week residency program with Mentor Artist Cathy Bowman.
Through the California Department of Education's Student Support and Academic Enrichment (SSAE) grant that the Marin County Office of Education received, Youth in Arts was in multiple Special Day Classes this spring.
Youth in arts submitted over 80 pieces of art to the Kennedy Center's VSA Arts international on-line show, which had nearly 500 entries from around the country. Only one piece (Shaylynn's artwork) was chosen to be one of the 16 framed, and exhibited in the US Department of Education this Spring! (Shaylynn was a student in Marci Ryan's special day classroom at Lynwood School last year).
Julia James uses large mirrors to help students with autism look carefully at their own faces, practice making faces of various emotions, then guides the students through a process of creating a symmetrical portrait of themselves. Shaylin created a self portrait in oil pastel and watercolors. She created cartoon images of creatures showing a variety of emotions around the border.
Marci Ryan says "Shaylynn has shown incredible aptitude in the fine arts. During free choice it is always her preferred activity. Her friends look to her work and  have learned from and been inspired by her drawings. Once, after seeing a performance of the Nutcracker on a field trip, Shaylynn came back to class and not only made a picture of what she saw on stage, but also the back of people's heads and the view from her perspective in the theatre! Incredible!"
Painting and drawing offer students of all abilities a safe way to explore all of their emotions, and also offers them a safe form of risk-taking with materials, techniques and textures.
Youth in Arts is the only arts organization providing arts opportunities to children with special needs in Marin County: nearly 300 students every year!
Thank you Kennedy Center.

Advocating for Arts Education Equity
To achieve our vision and increase our impact, Youth in Arts recognizes the importance of advocating for arts education equity. This means increasing our active involvement on a local, state and national level, including advocating for arts for students with disabilities, training educators and disseminating our own curriculum around arts equity. As the broader education field has recognized, students must be healthy and safe in order to achieve in school, and this includes the arts. YIA's advocacy policy will determine our appropriate role in addressing issues that impact the students we serve. One key to supporting youth is ensuring that they have a voice in arts in Marin County.
Following are some resources for school districts, administrators and teachers ready and able to increase their arts education impact. At the bottom of the page are art contest and scholarship resources for students.
DISTRICT OR SCHOOLWIDE PLANNING TOOLS
California Arts Education Alliance
California PTA Data Arts Toolkit
California PTA Parents Guide to VAPA
Roadmap for Districts to understand Arts Data–CA based, not Marin specific
Teaching Artist Guild, Pay Rate Calculator
ART STANDARDS
California Visual and Performing Arts Standards (VAPA) –currently under revision
Media Literacy Standards and the Common Core
Media Literacy Core Principals
ARTS INTEGRATION MODELS
PROFESSIONAL DEVELOPMENT FOR ARTS INTEGRATION
Integrated Learning Specialist Program (ILSP) –check with MCOE regarding funding for this program
Luther Burbank Center for the Arts
RESEARCH ON ARTS EDUCATION
Exemplary Programs – professional paper from the Kennedy Center
Prepping Educators for Arts Integration
To explore other communities that are partnering together (cities, districts, community based arts organizations and businesses), check out these models:
MODEL COMMUNITY PARTNERSHIPS
Alliance for Arts Learning Leadership in the Bay Area
Arts Ed Collective in Los Angeles
Big Thought in Dallas
Chicago Arts Partnership in Education, in Illinois
The Creative Advantage in Washington
MPS Arts in Minnesota
Downtown San Rafael Cultural Arts District
To find out was is happening in the Marin Arts and Arts Education community:
MARIN ARTS PLANNING
For students who want to share their work and potentially earn prizes and/or scholarships:
ART CONTESTS AND SCHOLARSHIP COMPETITIONS
PaperSeed Recycled Art Contest
Endangered Species Art Competition
National Young Arts Foundation
Sister Cities Young Artists and Writers
VSA Arts for students with disabilities
Youth in Arts is an Arts Equity Champion and proud member of Teaching Artist Guild and the Downtown San Rafael Arts District.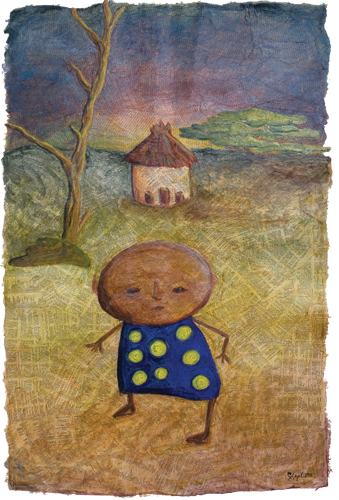 See work by Youth in Arts Mentor Artist and Program Director Suzanne Joyal, along with "Eco Art" by teens Suzanne works with in Zambia through her "Give a Jumpstart" nonprofit.
"IMBAMA Something From Nothing"
Art from Mentor Artist Suzanne Joyal
and teens from Kashikishi, Zambia
September 11-October 30, 2015
YIA Gallery
917 C Street, San Rafael, CA
415-457-4878
yia@youthinarts.org
Join Suzanne on Friday, October 9, during Art Walk Downtown for a hands-on workshop in her unique layered collage and painting technique. $10 donation to "Give a Jumpstart" requested.
Youth in Arts Mentor Artist and Program Director Suzanne Joyal created the nonprofit "Give a Jumpstart" as an avenue for women in California to support women and their families in Kashikishi, Zambia. Suzanne travels to Africa each Spring with her "Give a Jumpstart" partners to provide women's health counseling and education, along with an "Eco Art" program for youth.
Kashikishi teens make art with Suzanne each year through an eco art program grounded in using available recycled materials. The program links to Suzanne's own childhood in rural Maine, creating art out of found and discarded objects, and to her professional work in recycled material mixed media. "IMABAMA Something From Nothing" will include original work by Suzanne and her students, along with beautiful color photographs and cultural objects from Zambia.
Free gallery tours
for PreK-12 students will focus on African culture and the use of recycled materials in visual art and will include an age-appropriate hands-on project. By appointment only, M-F.
Regular Gallery hours: Monday-Friday, 10-4
Gallery open to the public for 2nd Fridays ArtWalk, 5-8 pm
"Visions of the Land"
Young artists from Mary Silveira Elementary School created their own interpretations of local landscapes using traditional Chinese and Japanese brush painting techniques, led by Mentor Artist Julia James. This exhibit explores brush painting techniques and traditions, as well as how local children view their own natural surroundings through the medium of traditional Asian brush painting.
Visions of the Land
February 4-27, 2015
YIA Gallery
917 C Street, San Rafael
415-457-4878 yia@youthinarts.org
M-F, 10 am-4 pm, FREE
Opening Reception for Mary Silveira artists & families, Wednesday, February 4, 3-5 p.m.
Open to the public for 2nd Fridays Art Walk "REDCeption" on Friday, February 13 (wear red and enjoy galleries open across the Downtown area)
A FREE field trip experience including arts activities celebrating Lunar New Year is available for school and youth groups by reservation only. For more information, click here.