Part of the mural team poses in front of the historic Mission bells. Students have decided that the current San Rafael Mission steeples will be depicted in the mural. For more information about the history of the Mission go to the Marin History Museum.
At the Boyd Gate House, home of the Marin History Museum, students pulled out their art journals, in which they sketched and took notes of their discoveries. Students were particularly drawn to the Marin at War! exhibition, in which there were various service uniforms on display. Louise Arner Boyd was an arctic explorer and photographer from San Rafael, who will also be depicted in the historic mural by the students.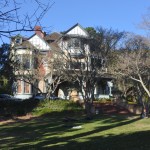 Next students visited the Falkirk Cultural Center, a historical 1888 San Rafael landmark which now presents contemporary art exhibitions. Students found themselves inspired by the prints on display in the galleries and enjoyed walking around the beautiful grounds, filled with sculptures and gardens.
At the corner of 4th Street and C streets students were given photographs or drawings of historical landmarks that still exist or used to exist on each of the four corners. They used visual clues to  figure out which historical image matched each corner.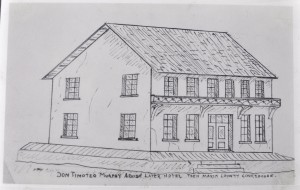 Arguably the most historical piece of real estate in downtown sits at the northwest corner of 4th and C streets, where Timothy Murphy lived, and which was used later as the courthouse.  Murphy, who was named San Rafael's first informal mayor, won a large land grant from the Mexican Government in 1844 and built his adobe house in downtown. He was a boisterous Irishman who reportedly spoke Miwok and Spanish , and who loved to have parties. San Rafael Day was born when church goers would go to Sunday mass at the Mission and walk over to Murphy's house for afternoon drinks, food, and games. The Bank of Italy building now sits in the same location, built in the late 1920s. For more information check out the Early San Rafael History book on Google Books.
The tour ended with us back at Youth in Arts, 917 C Street, where the final mural will be installed. The building was used as a livery and purchased by Neil MacPhail in the 1870s. Horses and carriages, including the famous Tally-ho were rented out to customers. When cars became the prominent mode of transportation the MacPhails ventured into the fuel business and later into appliances. The building is still owned by the MacPhail family and evidence of the passage of time fills the building. Beautiful sturdy wood beams hold up the warehouse in back,  a manual  horse elevator was used to bring the horses to the second floor stables, and elegant antique appliances adorn the attic.
By Mentor Artist Tracy Eastman
Short Elementary School's 2nd and 5th grade "Green Team" were delighted to paint a large mural to brighten up their newly planted garden in the front of the school. Julie Ryan, the 2nd-grade teacher and leader of Green Team, and I decided the most fitting subject matter for the garden mural would be California native flowers, as that was what her students were currently studying. There was, however, a challenge with how and where to display a mural in their garden area. The portable building where the mural was to be painted was said to be transported to another school in the next couple years. For this reason, we opted for a portable mural that would be painted on two recycled vinyl banners. This would allow the 18-foot-long mural to be rolled up and transported to any new location.
     The students started out by looking at pictures of murals done by other artists, and by studying the names and distinctive characteristics of each native flower we were to include. They then practiced painting a flower or their own preferred subject on mini canvas sheets, allowing them to explore painting on the canvas-like texture of the banners.  First, students painted the entire primed surface with a bright blue color, serving as an underpainting. I then sketched a scene of native flowers and rolling hillsides for the students to follow painting. They began by painting the background of the sky above the hillsides and then continued to add specs of color at the tops of the hills. the specs of color grew larger and larger into the foreground to show all the details of the distinctive flowers up close. This created an illusion of depth and space, making it appear that the large flowers we see at the bottom of the image recede into the distance on the hillside toward the top of the image.
     The students did a marvelous job mixing various hues and applying the paint in layers to create a very bright and vivid mural. There were printed pictures of the specific flowers and their leaves set beside the students for them to refer to while they painted. The students greatly learned about the difference between Art that is created through free expression and Art that is focused on creating specifically recognizable subjects. Over the course of ten-45 minute student classes and many additional hours I devoted to planning and touch-ups, a beautiful and colorful mural was born. The once beige and bare wall in the garden at the front of the school now gleams with a vibrancy that is a breath of fresh air. All of the plants in the garden continue to grow large and healthy around the radiant mural of our state's flowers, beautifully brightening up the community. Walk by and take a look!
Mentor Artist, Tracy Eastman shares her experience working with middle school students at the Canal Alliance's University Prep program —
     This past fall I had the privilege of teaching a mural-making project with middle school students at the Canal Alliance.  Our group was made up of four to six 7th-graders with little art experience, who explored an introduction to color theory, acrylic paint properties, and painting techniques.  The students and I first discussed the project of making a mural: how to portray ideas through images, who our audience would be, and observing the environment where the painting would be displayed.  The students put ideas and images together that reflected a healthy environment and community.  We used a projector to assist the budding young artists with determining composition and rendering certain aspects of the painting.  Although challenging at times, the students worked independently as well as a whole group, learning about teamwork.
     This would have been a big challenge for any group of student artists, but I would like to commend these particular students for taking on such a bold project with little to no prior knowledge of art.  I could definitely see a colorful transformation in each and every student, as they built confidence and learned to express themselves visually.  The final mural turned out beautifully!
Matthew Jackett is a junior at Marin Academy, interested in history and writing. As a 2012 summer intern for the Marin History Museum, Matthew wrote a series of blog posts on the mural installed on Youth in Arts refurbished facade at 917 C Street. This is the third post in that series. Historic images from the Marin History Museum collection.
In the far right panel of the mural, a horse is depicted standing in front of the Bay View Livery and Sales Stables, the building that is currently Youth in Arts. The building has been owned since the 1870s by the MacPhail family, who now leases the space to Youth in Arts. In the front of the building is a Tally-Ho wagon with Neil MacPhail, the original owner of the livery, riding in the front.
Above the building are three historic famous San Rafael residents. On the far left is Louise Arner Boyd, famed heiress, Marin native, and Arctic Explorer. She inherited her fortune from her father, who made his money as a mining tycoon. After her parents' death, she began to spend her millions on lavish parties hosted in her home in San Rafael. She then began using her money to explore the Arctic region, and at the age of 64, became the first woman to fly over the North Pole.
The man in the middle is Billy Shannon, who owned a famous boxing training gym on Fourth Street from 1906 to 1914. It was called Billy Shannon's Villa, and it was the choice destination for celebrity boxers at the time, such as Joe Gans, the first African-American boxing champion. Shannon provided lodging and training for the boxers while his wife would cook and feed them. On the weekends and holidays, boxing matches would be held and crowds would take the West End train to come see the fights. When boxing was outlawed temporarily in California, Billy Shannon's Villa was forced to close, but he left San Rafael residents with the memories of the fights and the celebrity boxers, and he became a cherished memory of San Rafael at the beginning of the 20th Century.
The third member of the trio is Eleanor Garatti, who was Marin's first Olympic gold medalist. She trained at San Rafael's Municipal Bath House, and broke records across the country at swim meets, with the trips funded by local merchants. She won the gold medal in the 1928 Summer Olympics in Amsterdam for the U.S. freestyle relay team, as well as a silver medal in the 100 meter freestyle. Four years later, she once again won the gold medal in the relay and this time won the bronze in the 100 meter freestyle at the 1932 Los Angeles Olympics. When she returned home, huge crowds came to celebrate along the train route from Sausalito to San Rafael. She became a local hero, hailed by the mayor of San Rafael as "Marin's sweetest daughter."
At the left of this mural panel are also two well-known San Rafael architectural landmarks–the historic Falkirk Mansion and the Marin Civic Center, designed by Frank Lloyd Wright.
This part of the mural shows the past of San Rafael and all that has made it what it is today. Youth in Arts building itself can be seen, growing from a livery to a center that gives children the opportunity to explore the history of their city and express themselves through an artistic medium.
Read "History Behind the Mural, Part 1"
Read "History Behind the Mural, Part 2"
The San Rafael history mural at Youth in Arts was created with support from the County of Marin, the Fenwick Foundation, the MacPhail Family and the Marin Community Foundation. Youth in Arts will host a public reception and celebration of the mural on Friday, September 14, from 5-8 p.m. The event will include a dedication ceremony at 6 p.m. and the opening of a new exhibit on the creation of the mural by Davidson students.
Our project began with this driving question put to a team of wise and thought-provoking college students at Grant Grover School, part of College of Marin. Each student is coping with a challenge. Their responses included a world where everyone can give their gifts, where people walk the city in peace, where there's more Nature, butterflies and horses, safety for people and animals and clean water. A place with no alcoholism or drug use, no name calling and fighting. A place where there are smiles and laughter, where people learn how to fix breakdowns and where Love = Life without Limits. From this conversation, 8th grade Novato Charter School student Gabriella Borges and I made a study. The students colored the studies and I put together their color ideas into a plan.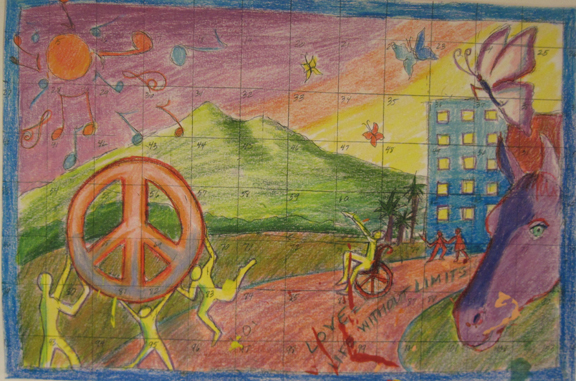 As part of our project, I incorporated ideas from the Institute of Noetic Sciences' Worldview Literacy Curriculum.  We explored how people look at life through different beliefs, like putting on sunglasses.  As we watched the film called "Music by Prudence" about special needs students who create music in Zimbabwe, we heard Prudence say that some people see those with handicaps as burdens, but she knows they are stars.  Prudence, whose documentary won an academy aware, has become an international star. I gave all the students sunglasses, which they put on, looking at themselves and each other through the lens of "burden." I asked them what they thought "burden" meant:  "A heavy load", "something you always have to carry", "something that doesn't give back".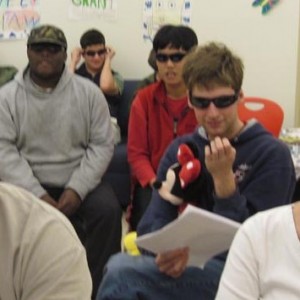 Then everyone took their sunglasses off and we talked about how Prudence is a star and how each of them is a star.  Each student made a star and a peace sign, as symbol of being at peace with who they are.  This exercise was inspired by IONS' Worldview Literacy Curriculum.
We gridded the study, gridded the board, drew the image and painted it.
After eight weeks of painting, we completed the 6.5′ x 4′ painting, which will be part of the Summer of Peace 2012, an initiative of the Shift Network.
Hundreds of seventh graders from Davidson mural spend the day streaming into the school library which had been transformed into a gallery to view their own creations.
Youth in Arts Mentor Artist Brooke Toczylowski worked with all Davidson Middle School seventh graders and their teachers Ed Cosgriff and Jeff Snow
to create collaborative Mini Murals on their personal histories in San Rafael.
Brooke led students in creating research workbooks to develop critical thinking skills as both Artists and Historians. Students described the visual elements they noticed in photographs, analyzed images by making educated hypotheses with supportive evidence, compared and contrasted photographs, and made connections between an arts process and a historical concept. Brooke taught specific elements of design to the students who worked with their teachers on their personal stories. Then the students worked in teams of two to create their visual story of San Rafael as a mini mural.
The gallery exhibit was a time for reflection on the artistic and learning process. Selected student comments:
"I learned that collaboration is hard, but creative things come out of the process."
"I learned that the only way to get to San Rafael used to be through a train that is not there any more."
"My classmates come from all over the world, I didn't know that before this project."
"There was a San Rafael day that featured bullfights with grizzly bears."
"There was an old movie theater called the El Camino"
"I found out about layering, abstract and realistic art, the meaning of foreground and background. I learned that I'm an artist."
The young and talented artists have been working on this project with Mentor Artist, Brooke Toczylowski, since November. For more posts about this project click HERE. 
One of the ways the students transferred images onto the panels was to project their drawings or photos and then trace the shapes.
To the left Sonia and Declan transfer a photo of Sonia painting. This part of the mural  represents the students' own history and connection to the present and future of San Rafael. It was inspired by Diego Rivera's Mural at the San Francisco Art Institute, "Making a Fresco."

Local Master Artist Kalen Meyer came to Youth in Arts to speak with the students and share her artistic process. She showed the evolution of how her painting has changed over the years, including many images from her series, "36 Views of Mt. Tamalpais," which is the local mountain included in the mural.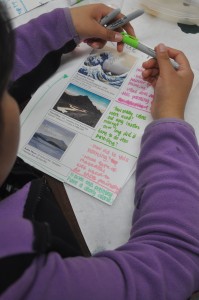 Students had prepared questions the day before after looking at images by Master Artists  Tom Killion and Katsushika Hokusai (who is an inspiration for both Killion and Meyer.)
The young artists asked,
Do you use calm colors on purpose?
Do you ever paint a view or a place from that place, or do you always work from photographs?
How could we work on the background color of our mural?
After looking at Kalen's work and going back to our mural the students found themselves inspired by her paint strokes and some of her techniques directly came out in the style of the mural.
What have you learned about yourself?
On Friday the group reflected on their experiences as a team and as professional muralists:
"I learned that working as a team is better and it's faster and when you work alone it looks all the same but when you work with lots of people it looks [different], like the [paint strokes] are different." – Rosvin 
"When I'm at home when I'm painting I'm alone in my room, but this so much more fun because you know you can be painting and then yell across the room and be like, 'hey!'" – Sonia
"Something that doing this project has brought to me is…I made lots of new friends like Stefania and Jessica, and it made me also much closer to my good friends." – Declan 
"What I learned is that we had a community here. Like when we were [painting] Charles it was Natalie and then Stefania joined in and then Joselyn and me, too. We all did it together." – Jessica 
STAY TUNED! In June the mural will be installed on the Youth in Arts building. A gallery exhibit and community celebration will illustrate the mural process and celebrate the young artists' hard work. 
THANK YOU to all parents, artists, and volunteers that made this project possible.
And THANK YOU to Whole Foods, who provided much of the snacks and lunches for the kids during the week.
Youth in Arts invites seventh and eighth grade students at Davidson Middle School to participate in the creation of a public mural about the history of San Rafael. This large-scale mural will be installed in downtown San Rafael at the current Youth in Arts space, 917 C Street. Throughout the school year students will be led by a professional artist in the creation of the mural, which will be unveiled in June 2012 in a community-wide celebration.
Youth in Arts Mentor Artist Brooke Toczylowski will guide a leadership team of 15-20 students in the research and creation of the mural. In addition to this leadership team the Mentor Artist will be available to collaborate and work with the social studies teachers in designed and facilitating an integrated curriculum around the history of San Rafael. Students and teachers will ponder inquiry questions like, "How do Artists Represent History?" and "How is History Told by Different People?"
Students participating on the leadership team will gain a wide range of skills they can transfer to other disciplines. Each youth artist will be in charge of keeping an art journal they will use for research, sketches, ideas, questions, and reflections. The research segment of the project will investigate the history of San Rafael, cultural connections, Master Artists, personal experiences, interviews, and more. Students will be exposed to resources with the Mentor Artist but will also be expected to do research in their art journals outside of meeting time. The leadership group will take 1-3 field trips during the course of the project: 1) a walking field trip of San Rafael 2) a visit to the Marin History Museum 3) a visit to San Rafael artists' studios. These experiences will connect students personally to the content being studied and will provide the group with ideas and sketches for the mural itself. The art journals will be a place for students to document and record these academic and personal experiences. Segments of the journals will be on display during the 2012 unveiling in a gallery exhibit complementing the mural project.
In addition to historical and artistic research students will experiment with a variety of artistic materials during the residency. Through drawing in their art journals they will explore composition, shape, line, value, and other formal concerns. During studio time with the Mentor Artist they will learn about color, painting, and photography.
In addition to exploring the area, researching history, and investigating materials, the youth artists will develop skills for working in the public arena. They will brainstorm, plan, and collaborate as a team to design a final composition. With this final sketch they will propose their mural to the San Rafael City Council. They may need to re-adjust, make changes and re-propose it. Throughout this process they will learn that projects have take a lot of work and require patience and focus.
"Paintings are but research and experiment. I never do a painting as a work of art. All of them are researches." (Pablo Picasso)
Can art making be a form of hands-on research? What can we learn from our experiments and explorations?
How can we discover new things about our themes and about ourselves through making art?
Working with Mentor Artist Brooke Toczylowski the Mural Team at Davidson has been researching – both the history of San Rafael and painting.  Toczylowski has studied Arts Based Research with Julia Marshall and Kimberley D'Adamo at San Francisco State University.
As they get ready to create the mural students are digging deep into both content and technique. Students use their art journals as a place to express, experiment, document, and learn.
To start their research the artists learned how to make a mind map in which they focused on what they already know about their chosen theme. For example, a student asks herself, "What do I already know about the Miwoks?" and "What do I want to know?"
Using resources from historical books, the internet, and oral histories from the Marin History Museum, students began their reading and researching. They created pages in their journals in which image and text intertwine and interact. Having such an open format allows them to make the content personal and relevant to their own lives.
In addition to historical research the artists are also experimenting with different paints and techniques. At the end of each session together students share what they've discovered support each other in their next steps.
[singlepic id=442 w=320 h=240 float=right]Students, families, friends and community members enjoyed the Bay Area's warm September weather and celebrated the artistic accomplishments of Davidson students at a special Friday evening event in downtown San Rafael.
Held in front of Youth in Arts home at 917 C Street, the event included the dedication of a historically themed mural created in 2011-12 by Davidson students with Youth in Arts Mentor Artist Brooke Toczylowski. Youth in Arts Gallery was also open, featuring an exhibit on the mural, curated and installed in part by Davidson students. The event was featured as part of ArtWorks Downtown's 2nd Fridays Art Walk.
[singlepic id=427 w=320 h=240 float=left]Visitors had a chance to see the gallery exhibit and enjoy refreshments and hands-on arts activities. Musical accompaniment and dance demonstrations were provided by Joti Singh and Bongo Sidibe of Duniya Drum & Dance Company. Joti also teaches students at Davidson, through Youth in Arts.
San Rafael Mayor Gary Phillips was on hand for the dedication ceremony, along with Marin County Supervisor Susan Adams. The Davidson mural project was supported in part by the County, and also by the Fenwick Foundation, the Marin Community Foundation and the MacPhail Family, which has owned the building currently housing Youth in Arts since the 1800s.
Youth in Arts also presented the 2012 Pamela Levine Arts Education Leadership Award at the event, to Carol Cooper, founding Head of School for Willow Creek Academy in Sausalito/Marin City and a strong supporter of arts education. (For more information on the Pamela Levine Award and Ms. Cooper, please visit the Youth in Arts website).
Students from the Davidson Mural team spoke as part of the mural dedication ceremony, along with Mayor Phillips, Davidson Principal Harriet MacLean, and Mentor Artist Brooke Toczylowski. Many spoke of how impressed they were by the students' work and by their dedication to the mural project. Brooke pointed out how the young artists had chosen to include images of themselves painting in the center of the mural. The painting explores many themes from San Rafael's past, she said, but "they are the future–and the future is so bright."
The Mural Team, comprised of 17 students (now 8th and 9th graders), worked throughout the Fall and Winter of 2011-12 to research, plan, design and create the mural. Hundreds of Davidson seventh graders also worked for a shorter period of time with Brooke on "mini-murals" which were also on display.
A plaque installed by Youth in Arts at the site provides passers-by at 917 C Street with a sketch of the mural, explaining the history behind each of the features included.