Come see `Til Dawn at the Osher Marin JCC on Saturday, June 26 and enjoy the classic movie Willy Wonka & the Chocolate Factory. Tickets $5 at the door for 6 and up, kids 5 and under are FREE. Presented by the Osher Marin JCC in association with Youth in Arts.
Visit the Osher Marin JCC website for more information!

Also coming up: Unique Derique and Shrek II on July 24 and Tim Cain and An American Tail on August 14th (Tim appears each December with Dream Circle in Youth in Arts Presents' popular Winter Holiday Sing-Along!)
Exciting work is happening in Matt Helmenstine's 6th grade social studies class at Willow Creek.
Greek Mythology is a rich subject for learning about morality and ethics. The students are reading the Greek myths and discussing the morals of the myths and the roles that the different Greek gods and goddesses take on.
Through reading about the Greek gods and goddesses and through looking at how they have been portrayed throughout the ages in art, students are learning about identity and decision making and consequences. They are working with different types of paper and drawing materials to create "wanted posters" describing a chosen Greek god or goddess.
The young artists in the Twilight After School program continue to explore materials as they ask themselves big questions.
They have embarked on a "flag" project, and are thinking about "Our Community. Our World."
What in the world inspires you?
If you could design a flag, what symbols would be present?
What do you want to share about your community with others?
We began by talking about the world and about our community and made lists to record our ideas.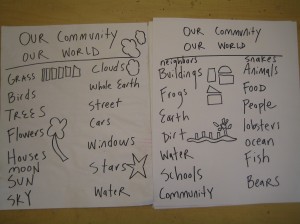 The young artists are now working with oil pastels and tempera paints aka "wake up paints" on white fabric.
They are discovering that the oil pastels can be blended and rubbed into the fabric. It is a physical material.
"I like standing to paint. I can use my whole body."
"The paint goes over the oil pastel. When it dries I like how it looks."
The flags are starting to take on different identities and the students are excited about the combination of materials.
Vice President & Director of Community Relations of the Bank of Marin, Joan Capurro been selected to receive the third annual Pamela Levine Arts Education Leadership Award. This award recognizes exceptional accomplishments in arts education in Marin County, in memory of the dedication and commitment of Youth in Arts' former Executive Director Pamela Levine. The $1000 award, will be presented during a main-stage ceremony on Sunday, June 13, at Youth in Arts' annual Italian Street Painting Festival in San Rafael.
In her capacity as Vice President of Bank of Marin, Joan Capurro was part of the original group that provided seed money for Youth in Arts to get off the ground and helped to support the beginning of the Italian Street Painting Festival. Joan has been a longtime supporter of the arts in Marin, in addition to Youth in Arts she has supported The San Anselmo Art Festival, California Film Institute, Art Works Downtown, to name a few.
Joan Capurro's 40+ years of banking experience and community dedication, combined with her vivacious nature make her a valuable asset to the entire community. She began her career as a bookkeeper and outgoing bank teller and ultimately advanced to branch manager. Joan joined Bank of Marin as one of their first employees in 1990 as manager of the newly opened San Rafael office.  Currently, she is Vice President and Director of Community Relations at Bank of Marin.
As Director of Community Relations, Joan supports the Bank's mission to "positively impact the communities in which we operate through a combination of human and financial contributions." Joan manages Bank of Marin's community contributions, reviewing hundreds of requests a year, and ultimately donating to approximately 250 non-profit organizations each year.
Joan actively recruits and coordinates the volunteer efforts of close to 200 Bank of Marin employees, who collectively volunteer over 6,000 hours each year.  (Joan herself volunteers hundreds of hours a year!) She also serves as a community resource to countless individuals and non-profit groups, offering advice on fundraising, volunteer recruitment, and grant sources, and provides numerous networking opportunities for her many contacts. Joan's countless hours of volunteering with local nonprofits include not only Youth in Arts, but also the Salvation Army, Marin County School Volunteers, Center for Volunteer and Non-profit Leadership, Work Force Investment Board, and College of Marin. Joining a prestigious group of women in our community, Joan was inducted into the Marin Women's Hall of Fame in 2010.
Click here to learn more about The Pamela Levine Arts Education Leadership Award.
We cannot believe that it is almost the end of the school year! So much has been happening in the art studio and in the classrooms, and the learning has been exciting and connected to all areas of the curriculum.
Please join us for art exhibits in the classrooms and hands-on activities in the art studio during Open House!
Bayside Elementary
Wednesday, May 19
4:30-5:15 pm
Willow Creek Academy
Thursday, May 27
6:30-8:00 pm
Martin Luther King Jr. Academy
Wednesday, May 26
5:30-7:30
Each class will be exhibiting one project made during their time in art. Alongside the artwork will be a Making Learning Visible poster, with photographs and descriptions of the project's process. Feel free to check out all the classrooms!
Elementary School
In the studio, students are investigating clay with K-5 Visual Arts Specialist Brooke Toczylowski.
Fourth graders in Ms, Hammons' class have created coil pots for their Open House display.
"How did you make your coil pot?"
"We made a slab for the bottom. We rolled the coils. After that we scratched and attached the coil to the base. We put slip around the coil." – Alvina
"After my pot was done drying I glazed it. I used four different colors." – Darrielle
Middle School Arts Integration Project:
Part of a first year pilot program, the middle school teachers from across the district meet with Arts Specialists Ascha Drake and Evan Bissell every month. The meetings have focused on unit plan writing, documentation ideas, critique, collaboration strategies, researching supporting images, and assessment.
The goal for each participating teacher is to develop and teach a unit that has a supporting art extension. The monthly meetings introduce the teachers to new materials and processes, encouraging them to design arts integrated lessons that connect deeply to areas of their curriculum.
Unit plans are evolving, and exciting ideas are surfacing: from Greek Mythology "Wanted Posters" (Matt Helmenstine's 6th grade Social Studies) to Periodic Table playing cards (Natasha Griffin's 8th grade Science). Students studying Egypt in Yvonne West's 6th grade have been building canopic jars (used to hold the guts of mummies), and creating collages of the things they would bring to the afterlife. Wendy Powell and Brian Nielsen are working with scaling up in their math classes, using self-portraiture and the environment as a motivation. Their students have been looking at the work of contemporary artists Ron Mueck and Chuck Close. Katie Beckman has transformed the science lab into an art studio.  Her 7th grade students have been working with recycled and reused materials to design "simple machine" sculptures related to the systems of the human body. Carmen Rivera has been working with students on developing "Where I'm From" poems accompanied by the students' photographs. And in Debra Moore's AVID class, students are working on creating autobiographical comic strips inspired by the likes of Persepolis and Sherman Alexie's Absolutely True Diary of a Part-Time Indian.
Congratulations to all the teachers and students who are continuing to build our young Arts Learning Community!
Check out the work, and the students' artwork at Open House May 26.
On Friday, May 7th, the kids of the Twilight After School Program were treated to an excellent display of Mexican Folkloric Dance. The company of young women danced with passion, precision and grace. It was great for our kids to see what can be accomplished with hard work and dedication!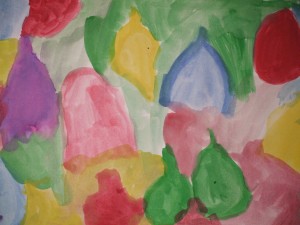 After all this rain the campus around the Twilight After School Program is alive with colorful flowers and luscious green plant life. Mentor Artist Tracy Eastman led her Kindergarten and First Grade classes in a Georgia O'Keefe inspired watercolor painting project. The work is stunning!
Mentor Artist Suzanne Joyal worked with First Graders to answer the question posed by their teachers: How can we use paper for more than writing and drawing?
[nggallery id=10]
We began the exploration by creating our own individual "Paper Playgrounds". Children reflected on the work of local artist Ruth Asawa, and how as she developed her craft as an artist. Children discusssed how her flat paper drawings turned into enormous concrete structures. Children then experimented with using colorful paper strips to make slides, steps, rollercoasters, bridges and tunnels for their tiny clay creature's playground.
In our next project we looked at masks made from a variety of materials and from Africa, Asia and Mexico. We discussed how they were made, the colors used, and why people make masks.
In our first version of masks we used paper, oil pastels and paint to make colorful flat masks. When cut out and stapled in key spots, they suddenly "jumped" off the page.
In our next project we used only paper that we cut to create vibrant masks with layers of color, as well as ears, horns, hair and more.
Our final project meshed with classroom work, building on the student's study of wind and weather in science, and symmetry in math.
We looked at the beautiful round barrillette (kites) of Guatemala. Exploring the concept of radial symmetry, we used Japanese rice paper, sticks from the garden, oil pastels and liquid watercolors to create spectacular kites of our own.
VSA arts Festival, 2010 – Celebrating Inclusion, Accessibility and Artists of All Abilities!
Later this month, Youth in Arts will hold our annual VSA arts Festival at Hamilton School in Novato, recognizing the fabulous artwork students have created through the Youth in Arts, VSA arts program this year.
Students participating in the Festival will experience:
•    Student Art Gallery featuring the work of Hamilton Elementary Special Day Classes, under the mentorship of YIA Mentor Artist Nadine Gay
•    Interactive art booths where students will learn about and create art
•    ASL infused theater performance of "The Silent Lotus", a Cambodian Folktale about a young deaf dancer.
Youth in Arts provides VSA arts programming in and around
the North Bay, making high quality arts programming accessible to people of all abilities.  Our experienced Mentor Artists also provide trainings for parents and teachers in Arts Integration, and addressing different learning modalities through the arts.
This event is open to the Hamilton School community.  For more information, call 415-457-4878.
Students in Steven Maldonado's Special Day Class at the College of Marin, held a gallery
showing of the artwork they created in our VSA arts class under the mentorship of Roni Hoffman-Duncan.
Each child created mono-prints, a personal treasure box and a 3-D recycled art animal. Students were so excited to share their work with their piers, teachers and parents!
YIA Mentor Artist Roni Hoffman-Duncan explores a variety of techniques with students, using recycled materials and paper maché. Each student creates a unique creature from their imagination.
In the creation of the treasure boxes, students brought items that were significant to them and created collages with pictures, found objects and magazine images. Each box is unique and represents the items, people and ideas that each student cherishes.
Youth in Arts Proudly subsidizes  the VSA arts classes, making high quality arts programming accessible to people of all abilities.