On Thursday, June 3rd , The Twilight After School community came together to celebrate all the visual art created during year and to enjoy presentations by our many  performing arts classes. The after school  office became a beautiful gallery filled with high quality work. In the MPR we had theater pieces, dances, choirs and a special showing of the middle school kids video project from the MYC. Following the performance there was a pizza party. It was a happy event to mark the end of the year! Youth in Arts had an amazing year running the Twilight After School Program and we hope everyone has a fantastic and creative summer!
The 17th Annual Youth in Arts Italian Street Painting Festival is complete and the streets have already been repaved. We are extremely grateful to all the street painters, performers, volunteers and sponsors who donated their time so generously to make the event possible and raise funds for Youth in Arts programs for children.
This year we had everything from a
pizza dough tossing contest
to a wedding proposal via street painting (congrats, Sam and Shannon!) Not to mention so much incredible artwork to contemplate and celebrate!
We'll be posting photos from our photo team as soon as they come in. Meanwhile, we invite you to post your own snaps here. Or send us a link to your web gallery (just make sure you correctly identify the event as the Youth in Arts Italian Street Painting Festival on your site).
Here's some incredible time lapse photography by street painter Rikki Dy-Liacco and teammates.
Enjoy–and thanks again for all your support!
Visual Arts Specialists Brooke Toczylowski and Ascha Drake have been guest blogging at From Studio to Classroom, an arts education resource out of Pratt Institute in Brooklyn. Check out their posts on integration with science and on collographed self-portraits.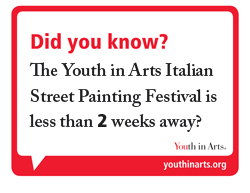 With the Festival only two weeks away, the Youth in Arts staff and our amazing crew of volunteers are hard at work, day and night.
Are you planning to come to the Festival? Jump on over to our Bella Terra 2010 pages and get all the information you need to plan a visit–directions, entertainment schedules and special previews of some of the art work that will be created over the weekend.
Are you one of our amazing artists? Check out our Who's Painting page and make sure we have your weblink up, so visitors can see your year-round work. And artists and performers can all grab the Festival 2010 button for your own sites and blogs, to help get folks there to see you in action!
If you're planning to volunteer, you should be registered by now, but if you haven't quite got around to it, access our online form right away or contact yia so we can help you get signed up.
It's going to be a great Festival weekend–we're looking forward to chalking up another one and can't wait to see you there!