"A community is like a ship; everyone ought to be prepared to take the helm."
– Henrik Ibsen
On Tuesday, September 28th, K/1 families from Bayside and Willow Creek schools gathered for a night of art making, sharing, collaborating, and reflecting.
The arts are a powerful way to cultivate relationships through creativity and collaborative endeavors. The Arts Specialists in the Sausalito Marin City School District are hoping to organize many arts workshops this year that encourage parents and children to feel proud of their school and school environment. These kinds of workshops are vital in bringing together community voice, and different approaches to seeing and making.
As families entered into the multi-purpose room they were welcomed by the question of:What is a Chair? And many images of chairs marched along the walls as inspiration for the evening. And families were asked to write down their definitions.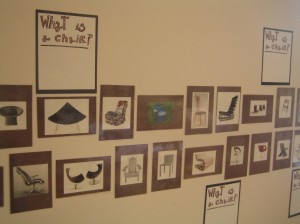 Dinner was prepared by the gardening intern, * Kelly Browning. There are gardens on all of the school campuses, and the tomatoes, onions, and zucchinis that were in the pasta sauces all came from these gardens. It was a beautiful feast, and a great time for families to sit and talk, and get to know one another.
* The gardening program is funded by a Milagro Foundation grant, and Growing Great is the organization that has been working with the K-8 students to create bountiful gardens. The program also is initiating a nutrition program into the school curriculum.
www.growinggreat.org
After dinner the art making began. Visual Arts Specialists Brooke Toczylowski and Ascha Drake first led the families through an exploration of line, shape, composition, edges, layering, and 2-dimensional vs 3-dimensional. We talked about how this was a "warm-up" and often artists need to warm up before embarking on a bigger project.
There was a steady "buzz" in the room as families transformed, tore, cut, envisioned, folded, and collaborated.
Each family was then given a brown paper bag filled with materials ranging from pipe cleaners to tin foil. The challenge was to create a collaborative chair that somehow visualized a family value, or a cultural connection. The chair could be 2-D or 3-D. The multi-purpose room was transformed into a studio space as people worked with all kinds of materials.
We then shared our creations as a group, recognizing the many different ways to make a work of art.
What do you want to do now?      "I want to do more art making as a family at home."
What did you learn? "We learned to let art be art."
What inspired you? "Simplicity."
Drew Gasparini, `Til Dawn alumnus is moving and shaking in New York. Drew is composing and performing with Broadway stars and was recently accepted to the BMI Writers Workshop.  This prestigious and selective workshop is in its fourth decade of working with musical theatre writers, the BMI Musical Theatre Workshop was recently celebrated with Drama League, Drama Desk, and Tony™Honors awards for its contribution to the theatre community.  Check out Drew's new website.  Go Drew!
Brooke Toczylowski, YIA Arts Specialist for Bayside School and Willow Creek Academy in Sausalito, has installed the beginnings of HOPES and DREAMS, a community art project which will temporarily house the hopes and dreams of everyone on campus. There are ribbons around the school's columns, with small tags attached by more ribbons. These tags have words and images that represent that person's wishes.
All students will create their Hopes and Dreams tags during their art class with Ms. Brooke this week. Tonight, at Back to School Night, parents, faculty and administrators will have the opportunity to participate. The project will be hanging for 2 ½ weeks.
Read more…
Arts Specialist K-Dub Williams worked with Willow Creek Academy middle school students on "Values" – weaving together color theory and personal beliefs.  Students were rapt as K-Dub demonstrated the use color to show contrast, value and hue. Then through personal explorations students could see the tremendous expressive qualities that color can add to their work.  In the next class, students will chose their own Value to illustrate and bring to life.
Youth in Arts has been selected by the San Francisco Foundation as one of 14 arts organizations to receive a matching challenge grant to support our World Premiere 2011 production of The Paper Princess and the Piñata!
Before October 10, the San Francisco Foundation will provide a 1-to-1 match of up to $10,000 in donations received in support of this exciting new work.
Donate now to help us secure these funds!
The Paper Princess and the Piñata is based on Elisa Kleven's award-winning book series. Youth in Arts' Miko Lee is collaborating with Ms. Kleven and Youth in Arts Mentor Artists Miguel Martinez, Nydia Gonzalez and Zenon Barron to adapt the books for the stage.
The original musical will premiere at the Marin Center Showcase Theatre, February 4-5, 2011, with special performances for student groups and, on Saturday, for families. This project is also supported in part by a grant from the National Endowment for the Arts.
Click here for more information on this show and other performances in our Youth in Arts Presents series.
And use the Social Media icons below to share this announcement with other friends and supporters of the arts via Facebook and Twitter!