November.December_Arts_Newsletter_PDF
Starry Starry Night over Mt. Tamalpais, by Julia James
Second Graders at Mary Silveira School learned about the artist Vincent van Gogh and created their own version of his famous painting connecting it to the region in which they live.
Using expressive lines, students experimented with short, long, thin and moving lines, which were then painted using tempera paint and a variety of brush sizes. Students also learned about shading when they added black to their other colors.
Questions explored by the students included:
How do I draw the landscape I see, and what happens when the sky meets the land?
How can I use different lines to show emotion and movement in my art?
How many different types of line can we find or invent?
Our second meeting was all about color when students painted their personal version of Starry Night.
We explored the questions:
How can we use blue, purple, turquoise, and brown to create a night scene?
How can we use paint and a paintbrush to create movement?
How does adding a little black change the shade of the colors?
Giving students ample opportunity to stretch and explore lines, paint and color provided a fun and vibrant learning experience for all.
---
This week, Visual Arts Specialist, Ascha Drake, and Language Arts teacher,  Melissa Nestle, began their arts integrated unit.
They have been planning and brainstorming for many weeks now.
Ascha has observed Melissa teach many classes, and is also reading the 7th grade book: Dragonwings
Dragonwings has multiple layers, and many access points for the arts to integrate and support the reoccurring themes in the story.
Some important themes that Melissa and Ascha picked out were:
Family, Dreams, Language, Forgiveness, and Principles.
The essential question for the integrated unit is: "How is cultural perspective shaped?"
For the first  class, students were given the challenge of reflecting on 4 questions that are tied to aspects of the book.
In an accordion book, using Sharpies and colored markers, students were asked to write or illustrate their responses to the posed questions.
As they were working, they were to think about text, the size of the words on the page, how to compose their ideas within the page, and how to visually emphasize certain things.
We called these books : Mind Maps
Both Melissa and Ascha appreciated how the students dove into the project, and worked with difficult questions that required thought and patience.
When students were finished with responding to the questions, the next challenge was to create a symbol for each page.
Students were asked to pull out one word from each page, and using black paper, create a symbol that expressed that word.
We will meet again after the Thanksgiving holiday, and continue visually pulling out themes from Dragonwings as inspirations for art making.
In the sphere of arts education, Making Learning Visible is a "buzz" phrase.
What kind of organization is needed to make it manageable?
How can I take the ideas behind MLV and make them my own?
All of these questions came up earlier this week at the Wednesday Arts PD for the middle school teachers in the SMCSD.
Visual documentation of a chosen unit is a vital way for the students to recognize how they traveled from one end of a project to another.
Documentation is a terrific form of assessment for a teacher; allowing him/her to step back and reflect on what really happened.
Visual documentation is also a catalyst to inspire excitement about learning within the school community.
Ascha Drake and Arlene Shmaeff showed the teachers several possible ways to visually show a unit unfolding.
What was the essential question?
What were some curricular goals? What were some artistic goals?
Get into the rhythm of photographing students working and exploring and experimenting.
Archive written reflections and save any process work.
Making Learning Visible is essentially telling a story, and leading the viewer along the footprints of thinking and learning.
In our PD sessions, teachers shared work and ideas.
They visited one another's classrooms, and explored ways to make the process of documenting manageable.
And they continue to reinforce a sense of community and respect as colleagues and educators.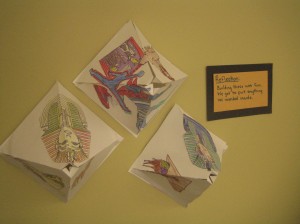 As the year continues we will continue the conversation, and teachers have talked about being inspired to make the learning in the classrooms come alive through documentation panels.
Why Make Art?
" Making art is the desire to express the self, to record the reactions of our personalities to the world we live in."
~Amy Lowell
On November 17th Bayside 2nd grade artists and Bayside 5th grade artists came together to look, talk, learn, and collaborate.
Ms Brooke has been working with these two classes for the past 6 weeks, and as artists they have created portfolios filled with mappings, explorations, self-discoveries, and pieces of work that are recordings of this moment in their lives.
The 5th graders first visited the 2nd graders classroom.
Partnerships were established, and the group talked about ways to begin a conversation while looking at the portfolios.
The room was layered with questions and observations and the sharing of ideas.
While looking and learning, students recognized that there are many different materials and approaches to consider when making a work of art. Through exploration, one realizes what feels right for them as an artist.
The 2nd graders then visited the 5th graders classroom, and had to opportunity to see their portfolios.
"Why did you make that?"
"How did you make that?"
"Tell me about this part of the picture."
"I notice you used a lot of colors."
Conversations were being generated, and students were communicating ideas.
Using the primary colors, the partnerships then embarked on making a work of art together.
The magic of color mixing was revealed.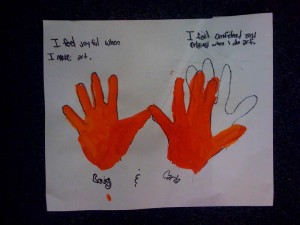 Developing a parent volunteer art program takes time and dedication from a school community, and the Venetia Valley Elementary School in San Rafael has decided to take that plunge.
Youth in Arts staff met with the Venetia Valley Arts Committee (which includes the new principal Cindy Jaconette, as well as teachers and PTA members) to brainstorm on possibilities for designing a parent-led art docent program for their school.
Questions included:
Do teachers want art projects to connect to classroom work?
Do teachers want students to focus on art fundamentals?
Does the school want the arts program to tie into school community events?
The Arts Committee decided to focus parent training on the fundamentals of Visual Arts. To begin the program, a Youth in Arts Mentor Artist will lead workshops for parents and interested teachers in the areas of Drawing, Watercolor Painting, Sculpture, Print Making and more.
The Mentor Artist will then model the lesson from the workshop in a classroom of the school's choosing, with Art Parents observing and assisting. This will help to reinforce the workshop projects. The final step in the parent training program will be for the Mentor Artist to coach Art Parents as they teach the lessons in their "own" classrooms.
The school will get lesson plans, extensions for teaching the lessons in each grade level, and also enough art supplies to teach the class in at least five classrooms.
We are so excited to help Venetia Valley undertake this step toward developing a vibrant Arts Learning Community.
Planning an arts integrated unit takes time and space.
In the Larkspur School District at Neil Cummins, teachers are collaborating with YIA artists to make units come alive.
YIA teaching artist, Lynn Zamarra, and science teachers, Ted Stoeckley and Rebecca Newburn, are working together to develop a 6th grade unit focused on the components of plate tectonics.