This past Wednesday, December 8th, all of the Elementary teachers in the Sausalito Marin City School District came together for their monthly arts PD session.  As the rain was coming down hard outside, the teachers were inside reflecting, creating, collaborating, and experimenting.
To begin, each teacher drew one SHOM word from a bag to think about and work with.
http://www.pz.harvard.edu/research/StudioThink/StudioThinkEight.htm
The teachers were then asked to think about how they utilize that practice in their own teaching, or perhaps they have observed Ms.Brooke using it within her teaching, or perhaps they dream of using it in a certain way in the future.
The teachers then pulled out an aspect or aspects of their reflection that could then be visualized using materials:
Chalk, watercolor, Sharpie, graphite pencil, collage matierals.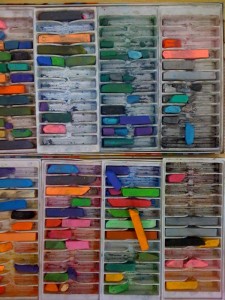 The classroom space was filled with a buzz as materials were chosen, layered, blended.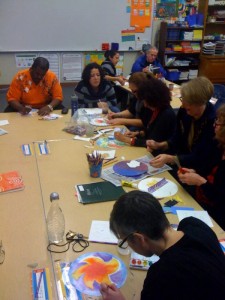 At the end of the session, the orb-formed pieces were stretch out across a table for reflection.
What do you notice?
What do you think?
What do you wonder?
The responses were positive, and the willingness to look and listen and explore was inspiring.
Through our VSA arts program, YIA Mentor Artist Angela Baker is working with students of varied abilities in a Special Day Classroom at Redwood High School to make an Ocean Mural.
Students will spend 10 weeks with Angela, creating a collaborative paper mural of the ocean. During week one of the project, students looked at photographs of the ocean and also of various sea creatures such as fish, jellyfish and sea turtles. Because many students had limited mobility, Angela provided outlines of the sea creatures which the students then painted with brightly colored temperas.
In week two, students cut out the sea creatures with adult assistance.
Students also did some free form painting on 12″x18″ sheets of paper. These sheets were then torn and collaged on to a large paper to form the ocean background for the painted sea creatures.
In the coming weeks, students will continue to create the collaborative Ocean Mural, exploring different mediums and techniques.  At Youth in Arts, we believe that high quality arts education should be accessible to people of all abilities and we raise money to provide this program to hundreds of students in Special Day Classes every year.
We look forward to seeing the mural when it is complete!
Next Friday, December 10th, the K and 1st grade classes at Bayside school are heading out on an excursion.
They will ride on the Sausalito Ferry out to Alcatraz and back. While they are on the ferry, they will join many other school children to decorate the interior space with art work.
Presently, Mr. Scullion's 1st grade class is in the midst of an art cycle with Ms. Brooke.
The classroom is filling up with the presence of their artmaking.
For the ferry project, Mr. Scullion's 1st grade class worked with Ms. Ascha to create printed holiday tags.
Before Ms. Ascha came into the class, Mr. Scullion and his students created a list of words that reflect this time of year. Some examples are:
joy, peace, family, sharing, light, love, winter, happiness
The students then were introduced to the idea of making a "print" with Ms. Ascha.
Using stamps created out of foam, the artists thought about creating multiple images on the precut tags.
The tags symbolized a dreidel, a dove, a tree, a star, and an ornament (circle).
Most of the 1st graders stood as they printed using gold and while ink.
There is a physicality about the printmaking process that makes it exciting.
When the artists were finished printing, we talked about how exciting it will be to see their work displayed on the ferry along with other young artists creations.
Beautiful work!
Next Friday, December 10th, the K and 1st grade classes at Bayside school are heading out on an excursion.
They will ride on the Sausalito Ferry out to Alcatraz and back. While they are on the ferry, they will join many other school children to decorate the interior space with art work.
Kindergardeners in Ms. Banks' K class created paper snowflakes for the project with Ms. Ascha.
Before beginning the project, the students looked at snowflakes and thought about how their art could be inspired by the images that were taken under a microscope!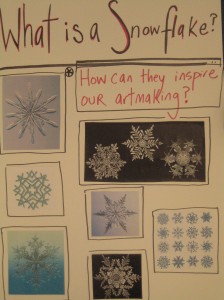 They talked about the structure of snowflakes, and how they are symmetrical and  have patterns.
Recently the students had worked with paper sculpture with Ms. Brooke, so they were familiar with cutting and folding the material.
The students appreciated that each and every snowflake looked different!
And they could imagine how the snowflakes would add to the interior of the ferry.
Beautiful work!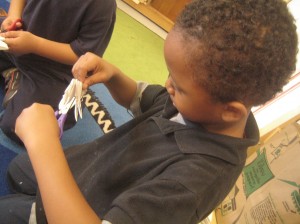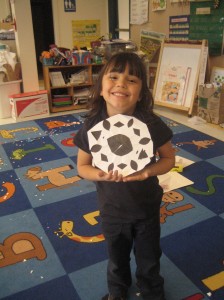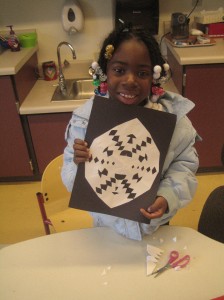 In the reflection, the students, Ms. Banks, and Ms. Ascha talked about the importance of collaboration: working together : to create artwork. Over the next week the K artists will continue to make snowflakes, and mount them on black paper.
It will be exciting for them to see their work on view in a public space for others to see!
Mr. Mitchell is a 5th grade teacher at Bayside School in the Sausalito Marin City School District. He has been teaching in the district since 1989; working as a classroom teacher for all of the elementary grades, and he also was a physical education teacher.
This was his first year experiencing the art grant, and having Ms. Brooke collaborate with  his students. Recently Mr. Mitchell's art cycle ended (Bayside school has 6 week enrichment cycles), and it was a great opportunity to ask him to reflect on the experience.
How did the art program impact your students?
"Before my students had art, they saw art making as very simplistic and only involving drawing and painting. When I would ask them to draw, they would react negatively, claiming they could not draw. Having Ms. Brooke enter into our classroom was a great gift. Within a week of her presence, I saw the students blossoming through the arts. I saw it when they were making, presenting, reflecting, and exploring. Ms. Brooke shifted the mindsets of my students, and it was a remarkable moment when all of the sudden they were referring to themselves and one another as "artists." Through encouragement came creativity. Now my students seem more confident. They look at their work around the room, and they are proud of what they have made, and they recognize that different ways of making art is ok. Not everything has to look the same, and there is not one way to make something."
What did you learn about your students through the art program?
"One of my students does not talk. It has been many years since she has spoken in school, and I think it is due to some of her peers making fun of her. She communicates well through writing, but the visual arts have brought her communication to a new place. I learned that she has a lot to say, and wants to express her thoughts. When making art, there was no resistance. No barrier. She really felt at ease with herself and able to get into what ever they were doing: whether it was printing or brainstorming or folding paper. I now realize that I should bring in more art making to encourage her to bring out that expressive nature that I know is there. She has found her voice through art."
« Newer Entries