Youth in Arts Mentor Artist, Marty Meade, has been serving students who face challenges through our VSA arts program since it's inception over 30 years ago.  Marty was also the first recipient of the Pamela Levine Arts Education Leadership Award in 2008.
This year, Marty worked through VSA arts in a variety of classroom settings, and tells us about her experiences:
Mill Valley Middle School, with teacher Jane Quattlander:
This year I found a group of challenging middle school children that are in the process of being main streamed.   Students struggled with focus and behavior, but after the first week I was able to set boundaries.  I always remind students that if we are going to be doing glass art, that I needed to make sure that they we have trust, in order not to get hurt.
One student, Carlos, turned out to be proud of his work, and created freely when he wasn't being distracted. I love being with them, especially when I can break through their 'attitudes', and see the smile on their face with finished projects.
Mill Valley Middle School with teacher Brian Duncan:
This is a classroom of Special Needs children who were sweet, open, eager and full of love. These are children live with developmental and physical differences such as Autism, Downs Syndrome Cerebral Palsy .   The staff provides fantastic support, so we were able to work with glass to make fused necklaces and plates.  Students painted with various materials, and were proud of the gifts that they created for the holidays.
For my last day of this project, the walls were covered with their art, and they brought cupcakes with hearts on them to say thank you.
Braun High School/Grant Grover with teachers Tom Laughlin, Mary Meyer and Mikal Smith
Working at with the students at Braun High School and Grant Grover  is the reason that I continue to teach at my age of 71.  Many of these children are emotionally wounded and I feel blessed to help them slowly chip away at their shells tha tthey surround themselves with.
For example, one girl who was rude and withdrawn the first years that I taught,
now loves art… paints and draws Lemors, and asks for hugs.   Another child, who had suffered abandonment, would throw chairs and hit the wall when he got frustrated.   I have watched him turn this around, and to become a loving little boy making gifts for hisfoster mom.  He helps me with my cart to get my material in and out of my car.  He is no longer afraid to paint what he wants.  We listen to music when we work, and I am often told by the other staff that they didn't know that these children could be focused for so long.
Working through the outbursts of anger, the sneering attitudes and their self hatred is a constant, but we get through it.  After years of returning to these classrooms,  I am delighted by the transformations that take place, and knowing that I have provided a venue for inspiration and growth for these students. Another great year thanks to the generous funding that Youth in Arts provides for these programs!
The fifth graders at Hall Middle School are studying Colonial America in their Social Studies Classes.
During Art Class, YIA Mentor Artist Angela Baker is working with the students to create their own unique punched tin lanterns like those used in Colonial times.  Students studied examples of lanterns, candle holders and imagery of colonial themes. They then designed their own symbols and began working with metal sheets.
They have learned to emboss, punch and bend the metal to create their one-of-a-kind lanterns.
One fifth grade student, Rachael had this to say about the project "I have made lanterns before, but this time the process is different and they are going to come out so much better."
Next up, students will build on their embossing skills to create prints representing Colonial professions.
Making art is a physical venture.
Materials are arranged and rearranged.
Ideas are explored and edited.
One can stand. One can sit. One can work on the wall.
Enter into any visual arts lesson, and students are approaching the processes at hand in many different ways.
Below is a lesson with Ms. Brooke in a K class.
Students looked at the work of Elizabeth Murray, and they were creating their own shapes. They then created patterns within the shapes using oil pastels.
http://www.pbs.org/art21/artists/murray/
At the end of the session, students were invited to build a community shape with their shapes.
The physical interaction with everyones' shapes was exciting.
In the reflection the students talked about what they noticed.
"I see an L shape."
"I like the colors that artist used."
"I notice all different kinds of lines."
"I like how all the shapes touch and make new shapes."
___________________
In another class, a 4th grade class, students are working with charcoal.
There are many choices when working with charcoal, and the 4th grade students were given exploration time to discover how they wanted to approach the material.
The students are  looking at California landscapes as inspiration.
Do I want rich dark blacks? How can I get them?
Do I want to smudge areas and create grey tones? What tool can I use to achieve that effect?
Do I like how the charcoal feels on the paper?
Do I prefer to sit or stand while I make my work?
As the young artists worked with the materiality of charcoal, the made many discoveries about themselves.
Thursday, January 20th was the second annual ART WALK in the Sausalito Marin City School District.
The event took place in the Bayside School Multi-Purpose room, which was transformed into a gallery space for the night.
From 5pm until 7pm students, teachers, parents, community members, administrators, and specialists gathered together as a unified community to celebrate the young artists and musicians in the district.
As people looked at the art work and listened to the music, they were asked to reflect on some important questions:
What is art?
Every student in the district was represented, as Ms. Brooke & Mr. KDub installed art work on large foam panels that became temporary walls for the evening.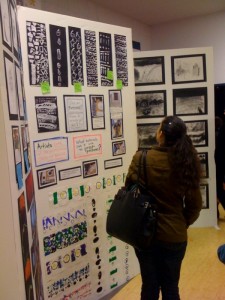 Colorful work also covered tables……and people were invited to look and look again at books, self-portraits, landscapes, bumper stickers, value studies, observational drawings, and more……
Allen Biggs led the MLK middle school students in a mighty steel pan drum session. And Mr. Gomez performed with the incredible musicians of Bayside Elementary and Willow Creek Academy.
The evening ended with an awards ceremony. The visual arts specialists thought of one word that described each one of their classes, and then connected that word to an artist.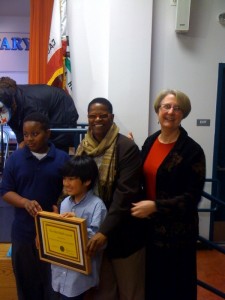 Thank you to everyone who came out!
B R A V O!
Arts Specialist K-Dub works with students at Martin Luther King Jr Academy on a school beautification project.
We are preparing for the second annual Art Walk!
It will be a great celebration of all of the students in the SMCSD.
The Bayside Multi-Purpose room will be transformed into a gallery, with art work installed on accordion fold walls.
Please join us on Thursday, January 20th from 5pm-7pm.
The steel pan drum band from MLK will be performing, as well as students from Mr. Gomez's music classes.
Awards will be given to all of the classes.
Having student art work displayed throughout the school community is vital.
Students from different classes become role-models through their work being on view, and the process of making could inspire other teachers to try the same project.
Below are some examples of documentation that Ms. Brooke has created for the Sausalito Marin City School District.
As these Making Learning Visible panels go up. the spark to encourage learning and looking through the art ignites.
4th grade artists working with charcoal to capture the distinct qualities of different California landscapes
1st graders looking and looking again at different forms from nature.
"How do artists observe things?"