Creating Artist Trading Cards was part of the arts integrated unit with Ms. Nestle, the Willow Creek Language Arts specialist,  and her 7th grade artists.
This unit was connected to the book Dragonwings, by Laurence Yep.
The essential question that the students were focused on was, "What are the many different ways people communicate?"
Each student was asked to create 4 trading cards (but they had to create 2 of each so that they could be traded).
Materials were simple: Black paper on white trading cards. Some artists chose to embellish their cards with watercolor pencils.
The symbols (that were cut out of black paper) had to represent the artist, and communicate ideas about them to others when shown or traded.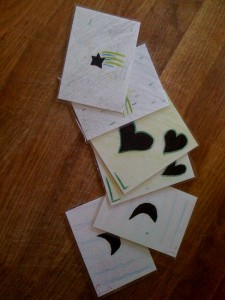 The cards were then laminated, shared, traded, and used as an artistic resource for creating their kites.
An old friend and colleague of mine, Benicia Hill, who presently works as the Middle School Arts Specialist at The Berkeley School, did an Artist Trading Card project with her students.
Here is the link:
http://msarttbs.blogspot.com/p/artist-trading-card-contest-2010.html
First graders at Bayside and Willow Creek have been making art about themselves. They were asked to think about who they are, both on the outside and the inside. These final works showcase a long process through many arts classes. From mixing skin colors to drawing what's going on inside their brains, these young artists DEVELOPED CRAFT, OBSERVED, PERSISTED, and EXPRESSED themselves in many ways.
Student Reflections
"I notice that Austin's spiral has lots of zig-zags and bumps and in the blue dot there are lines."
"I liked when we were looking in the mirrors and were drawing what we saw."
"It was hard to do the face because it was round."
"I like how this artist – she took her time because I see there's designs and they're really close together and she filled up the whole paper- and it keeps growing."
"My favorite part was making the map of my brain."
"I liked when we got to paint and mix colors together."
"My art shows inside my body and when I drew my face and colored it [I was showing who I am.]"
"You can see a part of you and when you make pictures—they are you."
Wander into any classroom in the SMCSD, and you will see signs of artmaking and thinking about art happening.
Step into Ms. Franz's 4th grade classroom on the Bayside Elementary campus.
There is a buzz of activity happening, and the students are surrounded by artistic reminders:
art word walls…….
questions to consider……
reminders to students……………..
and the art awards!
This is the Kiki Smith Award for being Persistent
"Painting is the most magical of mediums. The transcendence is truly amazing to me every time I go to a museum and I see how somebody figured another way to rub colored dirt on a flat surface.  Painters can make space where there is no space, and they can make you think of a life experience through their mark making."                       
– Chuck Close
In Ms. Atterman's Willow Creek K class the young artists are investigating their lives and the seasons through paint. Ms. Brooke and Ms. Atterman are working together to create an arts integrated unit that will reveal students' reflections and depictions of the seasons.
"How can colors describe a stormy thunderous sky?"
"How can we as artists create a hot hot summer day?"
"What words and what colors can describe a wintery snowfall?"
Through mixing colors and mark-making, the young artists are learning how to show the differences in the seasons on paper.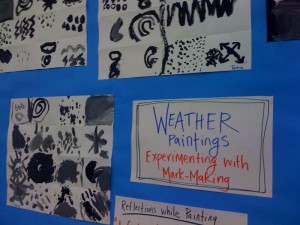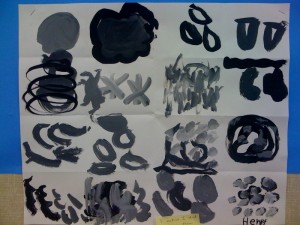 Youth in Arts' The Paper Princess and the Piñata premiered to enthusiastic school audiences Friday at the Marin Center Showcase Theatre in San Rafael.
Nearly 700 students, teachers and parents attended the sold out matinee performances of the new musical theatre production, which is based on the book series by Bay Area author/illustrator Elisa Kleven. YIA Director Miko Lee adapted the books for the stage and directed the production.
Original bilingual songs composed by Youth in Arts Mentor Artist Miguel Martinez had the children clapping and singing along in both Spanish and English. The story followed the Paper Princess through a series of gentle adventures, with Elisa's artwork featured in onstage projections. Beautiful props and scenery also appeared onstage, recreated from Elisa's illustrations by Miko and YIA Artists in Schools director Suzanne Joyal.
The performance featured Nydia Algazzali Gonzalez as narrator and lead vocalist, with Jalena Keane Lee starring as the Paper Princess. Youth in Arts Mentor Artist Zenon Barron performed several featured dances, including a traditional "bird dance" and a Ballet Folklorico-inspired turn as an animated marionette puppet. Ollin Martinez and Ayame Keane Lee appeared as children who help to create the Princess out of shapes, colors and imagination.
Two additional performances of the piece will be presented to the public Saturday, February 5 at 2 and 4 p.m.
Tickets are available an hour before each show at the Showcase Theatre.
The Paper Princess and the Piñata has been made possible in part by grants from the National Endowment for the Arts, the San Francisco Foundation and Autodesk.
Please click on the link below to read about the SMCSD Arts Demonstration Grant!    
                                                                    January_February2011ArtsNewsletter
Visual Arts Specialist, Ascha Drake, and Bayside Elementary 5th grade teacher, Mr. Mitchell , worked together to develop a unit on leadership.
"What are the characteristics of a great leader?"
"How are you a leader?"
The students looked at African American leaders in history, and listened to, and read many of their writings and speeches.
Then the students began to think of other leaders in the world they admire. And then the students started to consider how they, themselves, are leaders.
"How can I make the world a better place?"
As artists, the 5th graders looked at different ways people portray themselves to the world.
Students then began imagining how they would present themselves to the world, using a contour line drawing technique.
They began making drafts:
And then the students incised their lines into Syrofoam, that became the plate that they then printed using gold, silver, and white ink on black paper.
Each student made an edition of 5 prints.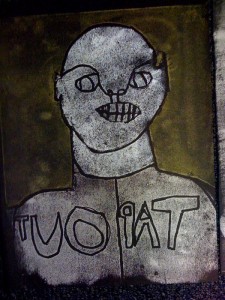 Students then wrote about what they dream about as leaders, and a bulletin board was created in the Bayside office titled,
"Leaders are Dreamers"