There was a steady "hum" emanating from the MLK art studio this past Wednesday afternoon.
Students had all gone home, and all of the SMCSD Middle School teachers had gathered for their monthly Visual Arts Profressional Development session.
"Art is therapy for the mind." Said one teacher.
"I immediately felt like an artist when I put this apron on and got to work." Said another teacher.
Mr. KDub has been working on an identity project with his students, asking them to wonder "Who Am I?"  The project began with tracing the different artists' forms on wood panels.
"How does how you carry yourself show the world who you are?"
The artists are then filling their sillhouettes with elements that define who they are. The forms will then be cut out from the wood panels, and installed against the fence on the periphery of the MLK garden.
Stunning.
So the teachers were asked to experience the same process.
How can the arts promote learning?
How can we learn from each other?
Today the First and Fifth graders at Bayside Elementary came together to SHARE and LEARN about each other's artwork and to work together on their own creation. Both grades have been working with Mentor Artist,  Brooke Toczylowski, for the past 6 weeks.
Students brainstormed questions to ask each other:
Where did you get your idea? How did you make this? What materials did you use? Can you tell me about what you've made?
After sharing, the students were posed with the question, WHAT is ART?
They were also asked to create a collaborative drawing, where one person starts with a line, the next transforms it into a shape, and then they take turns making a drawing together.
Some of the responses from the question posed:
"Art is expressing your feelings."
"Art is using your imagination."
"Art is a place where you can describe yourself."
REFLECT
What is it like to make artwork together?
"It's fun to draw together because you don't know what your partner is going to draw next."
"It's like group work, like a team, everyone has different decisions and when you put it down on paper it comes out creative."
This year in the Sausalito Marin City School District the arts specialists have been thinking about their roles, and what their goals are in the classroom.
Below are some important connections the teaching artists in the District are nurturing in the classrooms:
1. Artists make spontaneous and deliberate (planned out) decisions.
2. Artists learn and develop their work by addressing challenges as they arise.
3. Artists develop works of art through meaningful experiences with materials.
4. Artists thrive in a community that accepts risks and values multiple approaches.
5. Artists work responsively, not necessarily efficiently, often working on a project over a long period of time.
6. Artists use ideas as material.
7. Artists look at art and listen to music.
Reflection is an important time to look, learn, and discuss
Crafting strong Essential Questions is important to the teaching practice
Students are given t i m e to explore & experiment with materials
Creating an environment of wonderment is key
Mentor Artist Eliot Fintushel worked with second graders at San Ramon Elementary School to explore and expand the very depths of their imaginations. Following are just a few of the wonderful theater games introduced to the students by Eliot in his six weeks of workshops with them.

This was Eliot's seventh year with the second graders at San Ramon.
This past Wednesday, April 6th, the Elementary teachers in the SMCSD gathered together for their monthly visual arts PD.
Daniel Barash, who is a shadow puppet master, and the Director of the Shadow Puppet Workshop, joined the teachers.
Shadow puppetry, with its bold shapes, vivid colors, and dramatic movement, is the perfect medium to explore stories found across the curriculum.
The afternoon was spent collaborating, envisioning, creating, and performing.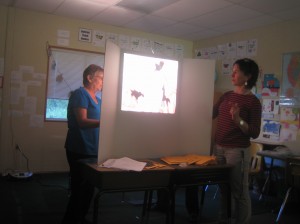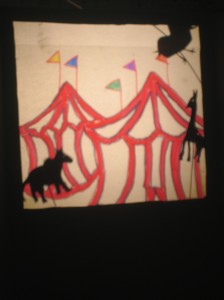 Presently all of the Middle School teachers are collaborating with arts specialists to create and implement arts integrated units.
It is exciting work!
Below are some collaborations that are happening in the classrooms right now:
In a humanities classroom 8th grade students are learning about American Imperialism in the late 1800's. They are focusing on Cuba, the Philippines, Hawaii, and Panama.
Through this exploration they are looking at propaganda and the art of persuasion.
What is propaganda?
What are the goals of propaganda?
How does propaganda affect an audience?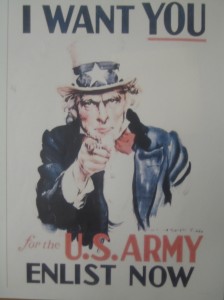 Students are beginning to create posters and political cartoons.  Through making students aware of the ways information is used and manipulated, we allow them to begin making wiser, more informed choices. Their understanding of literary text is enriched and enhanced, and they are encouraged to become more informed and conscientious citizens.
In an 8th grade science class, students are learning about the phases of the moon.
They have studied Galileo, the Italian physicist, mathematician, astronomer, and philosopher.
He is quoted saying,"You cannot teach a man anything; you can only help him find it within himself."
Students then looked at films about the moon, and looked at visual artists who have been inspired by the moon.
Robert Longo was one we looked at:
Students then experimented with different types of charcoal:
And then began making their own visual representations of all 9 phases of the moon:
`Til Dawn Director Austin Willacy's House Jacks' just won 3 contemporary a cappella recording awards!
Best Pop/Rock Album
Winner: level by The House Jacks
Best Pop/Rock Song
Winner: "Red Dress"  on level by The House Jacks
Best Professional Original Song
Winner: Austin Willacy's "You Were Everything" on level by House Jacks
Way to go Austin for continuing to give back to the community and our `Til Dawn Students! You can see `Til Dawn in action with the Marin Symphony on Sunday April 14 4pm.
Seventh graders at Hall Middle School recently studied with biological illustrator and Mentor Artist Christine Elder. Students created illustrated watercolor booklets about the life cycles of flowering plants to enhance their 7th grade science curriculum.
Over the course of our five sessions, students studied flower anatomy, and how the process of pollination by honeybees creates a wide variety of fruit types.
Students created sketches and watercolor paintings of preserved specimens of honeybees and live bouquets of a variety of beautiful flowers as well as an aromatic assortment of fruit types including strawberries, apples, blackberries and oranges. The students practiced thinking as a scientific illustrator, using  their keen powers of direct observation, along with hand lenses, to carefully portray the correct shapes and colors of the specimens.
The finished product – a booklet complete with anatomical labels, will be displayed at the end of year open house.