Last night teachers and educators all over Marin came together to celebrate excellence in education in our county. The 2011 Golden Bell Awards were presented by San Rafael Elks Lodge No. 1108, the Marin County School boards Association, the Marin Association of Superintendants, and the Marin County Office of Education.
Among the programs recognized was the two-year old visual arts program in the Sausalito Marin City School District .  Youth in Arts artists Ascha Drake, Kdub Williams, and Brooke Toczylowski were honored to receive this award.
Also recognized was Natasha Griffin, a rockin' science and garden teacher at MLK Middle School and Bayside Elementary.
This past Wednesday night, May  25th, it was Open House at both Willow Creek Academy and MLK.
Art was everywhere.
Art was on the walls of classrooms, placed on students' desks, hanging from clothespins, and displayed on all surfaces throughout both schools.
Ms. Brooke, Mr. KDub, and Ms. Ascha have been working closely with all of the classes and collaborating in different ways.
In the MLK art studio KDub has been collaborating with Ms. Rivera on a mask making project. Students have been learning about Africa, and they each chose a country to research.  They then created a mask using cardboard, plaster gauze, and acrylic paint that incorporated aspects of their chosen country and elements of their own lives.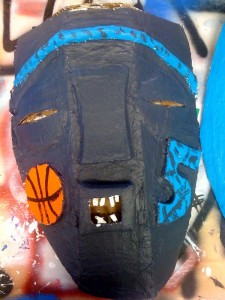 One of the projects Ms. Brooke has been working on with Ms. Siskin, a 3rd grade teacher at Willow Creek, was about self-portraiture, math, and identity.  The students looked at Chuck Close and learned how to "scale up" a photograph using a grid and graphite pencils.
The parents and visitors had a wonderful time looking and learning from the young artists.
Ms. Ascha has been collaborating with Ms. Tracee, the middle school language arts teacher.
The 8th grade class has been reading Lord of the Flies, and they developed Just Because poems that were hung with black profile silhouettes.
Their work inspired both the 6th and 7th graders to develop their own Just Because poems.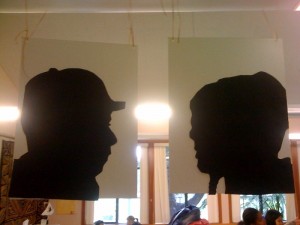 Congratulations to the visual arts specialists in the SMCSD!
The arts program has been awarded a 2011 Golden Bell Award for an exemplary program that is committed to collaboration, integration, and strong partnerships in the arts.
The Golden Bell Awards will take place at Dominican University in San Rafael on Thursday, May 26th at 4:30 pm.
http://www.csba.org/TrainingAndEvents/Events/GoldenBell.aspx
Teaching artist, Ascha Drake, and language arts teacher, Tracee Zyla have been collaborating together at Willow Creek Academy.
The 8th grade class is reading William Golding's Lord of the Flies.
The book is about a group of boys who are stuck on a deserted island. As they try to govern themselves, their personalities surface and evolve.
Tracee wanted to focus on the character of Piggy, who is the most vulnerable of all of the characters.
He looks one way, but on the inside he is strong and scientifically-minded and capable.
The collaboration was about finding voice, and working with the essential question of,
"How does art and writing help us make sense of the world?"
Large paper sillhouettes were created in Tracee's classroom.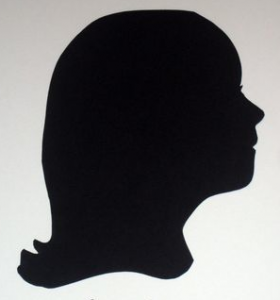 And then students wrote Just Because poems expressing who they are to the world.
Through their writing, the students worked on breaking down stereotypes and finding strength and confidence through their written words.
These poems were mounted on the backs of the sillhouette panels and hung in the classroom.
Just because I'm mixed doesn't mean I'm different.
Just because I have green eyes doesn't mean they're contacts.
Just because of where I'm from doesn't mean I won't go far.
Just because I'm a girl doesn't mean I can't rap.
Just because I have light skin doesn't mean I'm white.
Just because your grades are better doesn't mean I'm not smart.
Just because you're skinny doesn't mean I'm fat.
Just because she can sing better doesn't mean I can't sing.
Just because of what you think won't make me stop being me.
Just because I laugh in class doesn't mean I'm not learning.
Just because I'm a model doesn't mean I have to be skinny.
Just because you don't like me doesn't mean I have to feel bad.
Just because I'm pretty doesn't mean you have to hate me.
Just because I talk fast doesn't mean I have to talk slow for you.
Just because I'm on Face Book 24/7 can't mean I have a problem.
Just because I don't amuse you doesn't mean I'm not funny.
Just because I'm not like you doesn't mean I'm weird.
Just because I like to laugh hysterically doesn't mean I'm crazy.
Just because I'm done with this poem doesn't mean I'm finished.
On May 12, McNear Elementary students in Petaluma "traveled the world" through our Youth in Arts "Passport" program. Three groups of students, from grades K-5, began their trip with performances by Julia Chigamba and Chinyakare, who introduced them to the traditional music and dance of Zimbabwe.
Students then trekked out to the Passport area, where stations included African mask making with Mentor Artist Angela Baker, Italian Street Painting with Mentor Artist Genna Panzarella and indigenous Mexican Music and Dance with Mentor Artists Miguel Martinez and Ernesto Olmos.
Youth in Arts staff also provided stations featuring Origami paper folding, Henna design and creation of a personal "flag" for each student.
At each area, students found a map showing where the art form originated and questions to answer and record on "Passports" they received at the beginning of their journey. McNear teachers and staff decided to pair older children with lower grade "buddies" in each group, so that third through fifth-graders could assist K-2 students with the activities.
It was a sunny, lively and art-filled day! Thanks to McNear for joining Youth in Arts on this around-the-world expedition!
Please click below to read the May SMCSD Arts Newsletter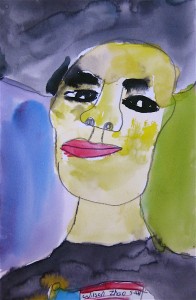 Please click on the link below to listen to Eric Booth, the Nation's leading thought leader on teaching artistry……