We are so lucky to have such great neighbors. THANK YOU to Radiance Cuisine, who supplied our June 11th Lights On! volunteers with delicious food! Radiance Cuisine is located inside the Open Secret Bookstore, right next to Youth in Arts. It serves local, organic vegetarian cuisine. Don't miss it!
Starting Monday, August 1, 2011 Youth in Arts' Store will be open for business! Come by Monday through Friday from 11 am—2 pm to purchase Italian Street Painting Festival t-shirts and cards, 'Til Dawn CDs, Mentor Artist original artwork, and more.
Congratulations to the new Youth in Arts' Store Manager, Erik Peerand!
Twelve years ago Erik met Youth in Arts through volunteering at the Italian Street Painting Festival. He was assigned the job of touting thousands of pounds of water throughout the festival grounds and was quickly dubbed "The Ice Man."
Erik is thrilled to be the Youth in Arts' Store manager. As Erik will tell you when you come in, he's a gleaming example of a successful adult living with autism. Through AmeriCorps Vista and the Special Hope Foundation, four years ago Erik started volunteering in the Youth in Arts office. During that time he has assisted in Special Day classrooms and with professional development trainings for Special Education Teachers at Marin County Office of Education.
VSA Director Nydia Gonzalez says, "As a child, like many special education students Erik was well aware of the low expectations set for him by adults. His message to those adults and teachers working with kids on the autism spectrum is to believe that those kids can achieve a high-functioning independent adult life, working and succeeding in accomplishing their goals."
Click on the coupon to download and print.
Ballet Folklorico at Laurel Dell
With help of a generous grant from the California Arts Council and the Laurel Dell PTA, the students of Laurel Dell and Hamilton Elementary were treated to a unique opportunity this Spring.
The multi-part program in Ballet Folklorico was inaugurated with an assembly performances by the Ballet Folklorico Netzahualcoyotl at Laurel Dell, and Ensembles Ballet Folklorico at Hamilton. The troupes performed dances from several regions of Mexico including La Danza de Los Viejitos, which is an allegory for respecting your elders, and Las Amarillas, which shows the beautiful movement of birds. Students learned about each dance and joined along in movements and song!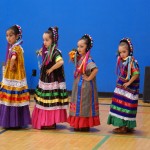 At Laurel Dell School, Maestro Netza chose to teach the students dances from the Son Jarocho because working with each grade level, he was able to help students share and learn about the diversity of Spanish, Mexican and African Rhythms in Mexico. Netza explained how Africans brought to Mexico as slaves contributed to the styles and rhythms of Son Jarocho. The Jarocho genre evolved from a combination of influences: European, Indigenous and African; making it a Mestizo art form.
The students of Laurel Dell shared the stories of their ancestors from all over the Americas, and through the dances of Son Jorocho, were able to learn more about their own family backgrounds. During their time with Maestro Netza, each grade level learned one of these traditional Sones Jarochos:
Kindergarten: Maria Cirila, About a girl who makes Chocolate
1st Grade: La Guacamaya, about the Macaw bird
2nd and 3rd Grades: La Iguana, Mimicking the movements of the Iguana
4th Grade: El Colas, About a popular boy named Nicolas
5th Grade: La Bamba, The traditional version of the popular song.
The teachers at Laurel Dell also received professional development sessions with Mentor Artist Nydia Gonzalez in which they learned the historical and cultural context of the dances; dance steps; and, how to sing and play instruments to accompany the student performers. This enabled teachers to continue practice when the artist was not there, as well as further integrate the content into academic lessons.
At Hamilton School, YIA Mentor Artist Zenon Barron focused his dance program on the Flowers and Fauna of Southern Mexico, specifically the states of Tabasc, Oaxaca, Veracruz, Puebla and Guerrero. One of the goals of this program was to emphasis the importance of preserving our natural habitats and earth's animals that are celebrated through traditional dances: Los Quetzales (Colorful Birds), El Zopilote (The Buzzard), La Iguana (The Iguana), Pajaros Azules (Blue Birds), and El Patito (The Little Duck). This process inspired students to explore the imagery and imagine how these animals would move to the rhythms as they learned the steps to the traditional dances.
Each of the students took part in making their own costumes by creating
a design sketch and applying their color choices depending on the animal they were depicting in the dance. Each of them transferred the idea to material, creating their costume. This was a theatrical approach, allowing students to further explore the animal movements and attributes.
Students learned to breathe deep, and stretch and strengthen their muscles through some Yoga techniques. A few children commented to Maestro Zenon that they liked learning how to stretch and breathe. One student said that he felt like his heart beat better afterwards. Through dance techniques and floor exercises, students learned to follow choreography creating squares, circles and triangles as a group, and how to move within the limits of the stage space. They also learned how to create the intricate percussive rhythms with their feet, which play a large part in the Folkloric dances of Mexico.
Students at both schools (and some of their teachers!) performed their dance at their school-wide Fiestas, where students were able to compare and contrast the stories, styles, and music of each dance performed, and community members enjoyed the colors and sounds of their festive dances!
Thank you to the California Arts Council for helping us to provide this wonderful program to our community!!
YIA Mentor Artist Hannah Dworkin spent 10 weeks working with students of differed abilities at Marindale School, a campus that serves pre-school age students with Special Needs, providing them with necessary services including physical and occupational therapy.
Hannah worked for 10 weeks multiple teachers: Laura Becker, Susan Wilkinson, Collette Macowan and Carla Echevarria.
An example of Hannah's work is how she worked in Collette Macgowen's speech-delayed class, teaching language development through music. The classes followed a distinct agenda with visuals to accompany a variety of activities:
The "Goodmorning" song in which each student was greeted by the class, emphasizing good eye contact, interpersonal skills and welcoming facial expressions. The chorus was danced and the movements were selected through the use of a "choice board.
Students also learned multi-syllabic food-related words that were associated with musical notation. For example, group of four sixteenth notes were chanted as "pepperoni" and two eighth notes were chanted as "pizza." This activity helped students to pronounce difficult sounds, increased musicianship levels and helped to coordinate sounds and body movements.
Chilren enjoyed singing songs and moving throughout the classroom, often learning traditional folk songs from various cultures such as "Fly Little Bluebird" and "Martarile." Students used a variety of manipulatives and musical instruments for these songs such as scarves, drums and shakers.
The classes were concluded with a sung penny game that developed visual tracking and predictions skills and a goodbye song helping to transition students back to their other activities.
During culminating events teachers invited peers from other classrooms to share an afternoon of music, dance and playing with scarves. The celebrations began with singing "Hello" to each student which was followed by interactive songs designed to develop social skills as well as hand eye coordination.  The students' favorite part of the afternoon was playing and dancing with scarves.
Hannah and the teachers she worked with found the residencies to be very successful in that each student participated to the extent  that his/her abilities allowed. The biggest challenge was adapting music/movement classes to the varying abilities of the students.   Some students were verbal and mobile, others were mobile and non verbal and others were limited in their movement and language.
We met this challenge by partnering students able to perform tasks well with those who were more challenged as well as strategic help from the class' amazing educators.  Hannah and Youth in Arts look forward to serving these amazing teachers and students again next year!
Our June 11th Lights On! Exhibit highlighted the work of fifth graders from Willow Creek Academy. This final project combined their skills in collage, writing, and photography to communicate their internal thoughts, hopes, and dreams.
The young artists have been thinking about what might be going inside the mind of Molly, the main character in their language arts book, Indian Captive. With their classroom teacher, Nathania Jacobs, they did an Open Mind Project in which they explored Molly's interior world. Ms. Jacobs prompted them with questions like, What are her deepest thoughts about life? What does she imagine for her future? What does she wonder and hope for? What does she wish and dream about?
Working with Mentor Artist Brooke Toczylowski the students were then asked to ponder these same questions about themselves and to use their art skills to ENVISION and EXPRESS their own inner world. Explorations in photography and collage throughout the year-long residency with Brooke served as scaffolding for this final collage project displayed here in the inaugural Youth in Arts exhibition. This integration project is part of a larger Who Am I? curriculum being created by Youth in Arts, which uses art to link students' personal voice to social studies and language arts standards.
During the Light On! Opening Mentor Artist Brooke Toczylowski was available to facilitate a hands-on component. Viewers were invited to use the fifth graders work as inspiration and then to take their own photograph and create a personal collage. The walls in the art making studio below outlined the steps in the project and offered ideas and advice.
The hands-on component was extremely popular, with parents getting just as involved as their students. One of the priorities of the Youth in Arts Gallery is to provide and inspire these art making opportunities that are designed in conjunction with the gallery exhibit.
A parent and her pre-K child work together to create a piece of art during the inaugural Lights On! Exhibit in the Youth in Arts Gallery.
First Graders in Ms. Duran and Ms. Jackson's class at Willow Creek Academy studied the rainforest all year using a project-based learning approach. The culminating performance consisted of large murals, shadow puppets, and a rainforest musical!
Working with YIA Mentor Artist Brooke Toczylowski in art class the artists learned about plants and trees from the rainforest and created large murals that highlighted their discoveries about science and color mixing. See the previous blog post entitled How Can I Be a Scientist AND an Artist? to check out the process.
After an INSPIRING Teacher Professional Development with Daniel Barash,  a shadow puppet master and the Director of the Shadow Puppet Workshop, the rainforest musical took on a shadow puppet form. Kids created shadow puppets out of simple materials and got excited about practicing their performance. For a packed house they sang songs and bounced their shadow puppets across the three stages.