Join us in celebrating "back-to-school" season with a taste of our visual and performing arts offerings!  See, hear, feel and explore the dance, music, theater and visual arts activities that Youth in Arts can provide for your school.  August 27th and 28th from 12-2pm at the Northgate Mall.
Assembly program feature performances include Native American Hoop Dancing by Eddie Madril, Mexican Ballet Folklorico Netzahualcoyotl, Andean Music with Chaskinakuy, Mask Theater and Commedia dell'arte with Eliot Fintushel, Hawaiian dance with Halau Na Pua O Ka La'akea and Youth in Arts' award-winning teen a cappella group 'Til Dawn.
Visual Arts Workshops with Youth in Arts Mentor Artists Suzanne Joyal and Brooke Toczylowski. Everyone is invited to Northgate! Families, teachers, parents and students will discover how these amazing performing and visual artists can come to their schools. Our staff will be on hand to answer questions and explain how you can book events for the new school year.
Many thanks to our event partner, Northgate Mall!
Celebrate at Northgate!
FREE arts performances & workshops
SATURDAY & SUNDAY: AUGUST 27 & 28
12 noon – 2pm, both days
youthinarts.org • 415.457.4878
Youth in Arts' Mentor Artist Eliot Fintushel has been working with the second graders at San Ramon Elementary School for seven years! He introduces them to the fun, fascinating world of Mime.
Using the mime technique of "string causality," Eliot taught the second graders at  how to fly. Eliot warned them not to wave to people in airplanes or to fly out over the Pacific–but they ignored his warnings and came back with incredible stories.
The children became "film" in a magic camera that can photograph ANYTHING, past, present, future, near or far, real or imagined.
Students also made sculptures of one another: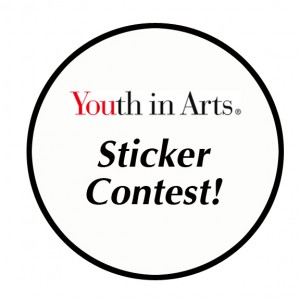 Calling all kid artists! Time to create and shine during Youth in Arts Open Art Studio free for youth on Thursday nights 6-8pm beginning August 4 during downtown Farmer's Market. Participants will be guided through the process of sticker design by a professional visual artist.
Young artists are being asked to submit their ideas for the new Youth in Arts sticker!  Youth artists 18 and under are encouraged to submit artwork that represents Youth in Arts mission and programs.
To download the sticker template go to http://www.youthinarts.org/sticker-contest; or, make your own! Submissions must be designed in a circle at least 8 inches in diameter.  The first place winner will have their sticker design printed and distributed to students all over the Bay Area. Additionally other prizes include tickets to award winning children's museums and attractions.
Submit sticker ideas to the Youth in Arts office at 917 C Street in San Rafael, by August 25th to be considered for placement. Submissions will be on display in the Youth in Arts workshop at 917 C St. during the month of August. YIA will announce the winners on October 1st.