Students in the after school LEAP program at Lynwood School are getting a taste for printmaking with Mentor Artist Suzanne Joyal. So far, the second through fifth graders have experimented with building their own unique chop signature marks, monoprinting in black on white paper, and creating colotypes with colorful inks and papers.
In preparation for this week's project of printing on black paper with white ink, students practiced drawing skeletons with oil pastels and chalk pastel pencils. They experimented with lights and darks, contrast and composition. They looked at the works of Jose Posada (Mexico 1851-1913)
The students were so inspired by their drawings that many of them created accordion books and shared their stories with the entire class.
Just in time for Dia de los Muertos: students recreated their skeletons in line drawings which were then turned into etchings in foam and printed two different ways: White paper with black ink, and black paper with white ink.
A Group Exploration of Line, Shape, Pattern
STRETCH / EXPLORE
Mentor Artist Marguerite Etemad began her art year with Willow Creek K-4th graders with a group exploration of line, shape and pattern. We did our exploration in crayons, oil pastels, colored pencils, and markers. Artists explored line and shape with the different materials and compared the results
Children moved to their table groups and worked together, encouraging them to stand if they liked, and explored line shape and pattern.
Matteo – "Look the oil pastels are getting lighter and lighter every time."
Jason – "Look at my sun."
Matteo -"Gosh, look at my blue sun.  It's amazing."
Charlie – "It's not gonna work.  You put water on this."
Johnathan – I'm not going to make an alien.  I'm gonna make some stairs."
Luke – Some plastic could be poisonous.  It's okay if they break. Hey I got black first then you got black first. See?
Ryan – Do you want to make houses?
Dante-Me too.
EXPRESS ~ I asked them to stop, put their materials down and their hands on their heads and look at their work for a minute and asked them what do you see? and what do you wonder? What do you imagine? Does you drawing have a title, or a story? Do you want to put your name on the drawing? Where can you put your name to make it part of the drawing?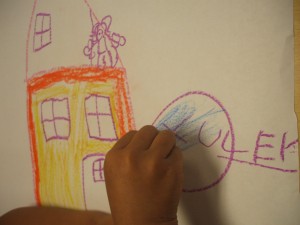 Abby – "I'm gonna draw my name on here."
Zaiden – "He made a rainbow pattern and he made three rainbow fireworks. What's always going in your body when you are quiet?"
Noel – "Your lungs. I like painting houses and making airplanes."
Madeline – "I like to draw houses and like icecreams. (Oil pastels) they are wet like paint. You can erase it with your hands."
Dante – "They're a little like paint."
We let a story emerge and added our names into our work so that our names were part of our art.
"Mine is a little heart with some things. A heart in the night when there's fireworks in July" Ellie
REFLECT ~ Then we took a gallery walk.
In Ms. Schmidt's class while sharing about this art activity, I asked;
"What did you notice while you were drawing?
How are crayons and oil pastels the same and different?
Here are some of their responses.
"Oil pastels are more oily than crayons." Zachary
"That oil pastels are more dark". Riley
"Oil pastels make a noise when you draw." Magnus
"Only when you go really fast." Riley
"One spread out one didn't." Louise
"The pastels when I was drawing slowly they didn't make even a sound and when I used the crayons they didn't make a sound."  Ithaka
"When I used the crayons they squeaked."  Tarri
"The oil pastels are the coolest thing ever."  Charlotte
"When you put pastels first and crayons then and put more oil pastels they spread."  Addie
First Grade
The first graders when asked these questions responded:
"Oil pastels are different because texture, looks like it has holes."
"Oil pastel brighter, pencil darker than crayon"
"I learned something new, (materials) are different because they have different textures."
"Oil color a lot. Feels like it's a little slippery, looks like its wet."
"Oil darker and smooth"
"Its slippery." (oil pastel)
The first grade artists spent a lot of time talking with each other about how to make their drawing and where to put things.
The arts are not something to add to the plate.
The arts ARE the plate.
The key to student engagement.
And communicating what student know and can do.
– Dr. Milton Chen, Edutopia
Recently the Youth in Arts Mentor Artists came together for our yearly September orientation and dinner. It was an evening filled with passionate discussions about why arts education matters and the impact it can have on students, schools, and communities.
These professional artists represent a wide array of backgrounds, talents, and disciplines. During the orientation the artists go to know each other through hands-on experiences that incorporated music, dance, theater, and visual arts. As a group they discussed strategies for building multiple learning modalities into their school residencies. They also investigated the language of state standards and considered how the arts overlap all content areas. To get to know our Mentor Artists, please browse the Youth in Arts website.
Youth in Arts Mentor A
rtist Miguel Martinez will be celebrating the release of his new CD, "Del Corazon al Son" this Sunday, October 16 at La Peña Cultural Center in Berkeley.  Miguel has been part of the Youth in Arts family for many years, performing at our festivals, teaching music to students in our AIS program and providing exhilarating and educational assemblies for youth around the Bay Area.   Nydia will be joining Miguel in the concert this Sunday as a choreographer, dancer and harp player.
About the show:
Corazón Sur's director, Miguel Martínez, has brought together the innovative sounds of Latin jazz and traditional Cuban and Mexican son with the distinctive jarocho style of Veracruz, and formed a collaboration with some of the best musicians in the Bay Area – Carlos Caro (Cuba), Saul Sierra (Mexico), Jose Roberto Hernandez (Mexico), Marco Diaz (USA) – to produce an evening filled with original compositions and musical arrangements that promise to create a coastal ambiance, inspired by the scents and breezes of the Caribbean.
"Del Corazón al Son" CD pays tribute to the tercera raíz, the sometimes less obvious but widespread presence of the African culture in Mexico.
"Del Corazon al Son" is the result of the Cuban Son, Son Jarocho and jazz, which together make it an evening of tastes and smells of the Caribbean. Miguel Martinez & CorazonSur pay tribute to these three shores of america: Veracruz (Mexico) – Havana (Cuba) – New Orleans (USA).
Special guests:  Marco Diaz in the piano, Saúl Sierra-Alonso in the bass, Carlos Caro timbales and bongoe, Javier Cabanillas congas, Felix Samuel vocals, Edgardo Cambon Vocals, Jose Roberto Hernandez Lead vocal and Guitar, Nydia Algazzali Gonzalez Harp and dance.
Website: www.miguelitomartinez.com
Event page: http://lapena.org/event/1887
Youth in Arts is embarking on
a school-wide Mural Project at Laurel Dell and Short School in San Rafael.  YIA Mentor Artist Angela Baker will be working with students and teachers to create two school murals with the theme of "Our World".  In preparation for this project, teachers came together with YIA Mentor Artists Nydia Gonzalez and Angela Baker to explore the theme of the project and how it can connect with daily classroom curricula.
Working from YIA's "I Am From…" lesson plan, the group of educators explored identity, culture, community and core values, culminating in a group project.  Using tracings of their hands, words, images, symbols and some glue, each group created a visual representation of their values and goals as a community of educators.
Now, it's the kids' turn!  Students will work with their teachers and Angela to conceptualize, design and create their school mural.  We all look forward to seeing their work!
`Til Dawn Alum Lilan Kane's has been passing on the musical traditions in both her  Own the Mic program and in a Palo Alto based summer camp for budding musicians.
Check out the video from this past summer. I Feel Good
This was featured at Palo Alto Summer Rock Camp 2011.  Lilan has been teaching there the past three summers and this summer served as Assistant Director.  There were about 30 kids each week through the month of July.  The camp runs weekly and culminates with a concert on Friday night.  They work in  ensembles and prepare 3-4 songs to perform on Friday.  Lilan taught all the parts (horns, guitar, keys, drums, vocals).  They also hold rhythm class, ear training, theory, as well as instrument classes where students can focus on their specific instrument outside of their band.
As Lilan says, "It's really an awesome experience and has become extremely popular with kids returning every summer, some for 5 or 6 years now. "
October is a great time to select a program for your school celebrating the unique artistic traditions of Mexico, Central and South America and the Carribean. National Hispanic Heritage Month runs through October 15, celebrating the cultures and contributions of American citizens with roots in these regions, and the important Meso-American holiday of Dia de los Muertos follows right behind on November 1-2.
Youth in Arts is proud to offer your students a wide range of unique arts learning experiences with roots in these diverse parts of the world. Bring one of our artists to your school now, or throughout the year.
Click below to find out more about some of the 45-minute performances available through our School Assemblies Program:
Our Artists in Schools program can also provide residencies of any duration in the above music and dance, or visual arts residencies in forms like Cartonería (creation of painted sculptures from recycled paper or cardboard), Huichol yarn painting or the making of traditional Meso-American musical instruments.
National Hispanic Heritage Month celebrates the cultures and contributions of American citizens with roots in Spain, Mexico, the Caribbean and Central and South America. The federal observation started in 1968 as Hispanic Heritage Week and was expanded in 1988 to cover a 30-day period that includes the September 15 independence celebrations for Costa Rica, El Salvador, Guatemala, Honduras and Nicaragua, as well as Mexican and Chilean independence days on September 16 and September 18 and Día de la Raza (Columbus Day) on October 12. Many communities continue celebrations through October to include Dia de los Muertos on November 1-2.
This past weekend Youth in Arts Executive Director Miko Lee joined Sabrina Klein ED of Teaching Artist Organized and Lilia Aguero from Young Audiences Northern CA to lead a workshop for artists on "Teaching to the Ways People Learn: Multiple Intelligences as a Strategy for Arts Integration in Culturally Diverse Classrooms."
Sixteen artists joined for a day of exploration, creativity and fun.  Artist went to 9 different origami stations to experiment with different learning styles based upon Howard Gardner's Multiple Intelligence Theory.
Want to try and fold an origami whale by listening to a song created by Nydia Gonzalez.  Try out your musical paper folding skills with the OrigamiSong.
Check out the photo gallery for more activities including an adaptation of the Lakota Medicine Wheel.
Look like fun?  More Teaching Artist Organized workshops coming up soon!