Joti Singh and Duniya Dance and Drum Company performed three amazing back-to-back assembly performances at Redwood High School this month.  The shows were very well received by both staff and students.  The high-energy Indian dance and drumming had students enthralled, and after each number the dancers and musicians received loud cheers.  Students rushed onto the stage when offered the opportunity to learn some dance steps from the performers!
After one of the shows, Joti even had students raising their hands and asking where they could study dance with her!
Joti and Duniya Dance and Drum offer performances for schools and community sites through the Youth in Arts Presents School Assemblies program. Joti is also available to teach students on a longer term basis through our Artists in Schools program.
The young and talented artists have been working on this project with Mentor Artist, Brooke Toczylowski, since November. For more posts about this project click HERE. 
One of the ways the students transferred images onto the panels was to project their drawings or photos and then trace the shapes.
To the left Sonia and Declan transfer a photo of Sonia painting. This part of the mural  represents the students' own history and connection to the present and future of San Rafael. It was inspired by Diego Rivera's Mural at the San Francisco Art Institute, "Making a Fresco."

Local Master Artist Kalen Meyer came to Youth in Arts to speak with the students and share her artistic process. She showed the evolution of how her painting has changed over the years, including many images from her series, "36 Views of Mt. Tamalpais," which is the local mountain included in the mural.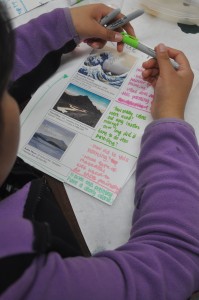 Students had prepared questions the day before after looking at images by Master Artists  Tom Killion and Katsushika Hokusai (who is an inspiration for both Killion and Meyer.)
The young artists asked,
Do you use calm colors on purpose?
Do you ever paint a view or a place from that place, or do you always work from photographs?
How could we work on the background color of our mural?
After looking at Kalen's work and going back to our mural the students found themselves inspired by her paint strokes and some of her techniques directly came out in the style of the mural.
What have you learned about yourself?
On Friday the group reflected on their experiences as a team and as professional muralists:
"I learned that working as a team is better and it's faster and when you work alone it looks all the same but when you work with lots of people it looks [different], like the [paint strokes] are different." – Rosvin 
"When I'm at home when I'm painting I'm alone in my room, but this so much more fun because you know you can be painting and then yell across the room and be like, 'hey!'" – Sonia
"Something that doing this project has brought to me is…I made lots of new friends like Stefania and Jessica, and it made me also much closer to my good friends." – Declan 
"What I learned is that we had a community here. Like when we were [painting] Charles it was Natalie and then Stefania joined in and then Joselyn and me, too. We all did it together." – Jessica 
STAY TUNED! In June the mural will be installed on the Youth in Arts building. A gallery exhibit and community celebration will illustrate the mural process and celebrate the young artists' hard work. 
THANK YOU to all parents, artists, and volunteers that made this project possible.
And THANK YOU to Whole Foods, who provided much of the snacks and lunches for the kids during the week.
VSA and CVS Caremark invite you to submit artwork showing your child's or student's creativity! Explore new activities, rethink your perceptions, discover yourself as an artist, and submit your art today!
Accepting artwork until Sunday, April 08, 2012

Theme — "What Inspires Me"
Children are inspired by many things, from the people they meet, to the sounds they hear, to the sights they see. These moments of inspiration can motivate us to help others, improve ourselves, and dream about the future. This year's call for art, which launches on the birthday of the inspiring civil rights leader Martin Luther King Jr., invites students to reflect on what inspires them and share those inspirations through art!
Art Teachers — Receive $1,500 for your classroom!
By submitting your students' artwork to the VSA and CVS Caremark All Kids Can CREATE call for art, you are eligible to receive $1,500 for use in your classroom. Up to four teachers will receive $1,500 each, based on the number of submissions from your class or school, the number of submissions from students with disabilities, and your answers to two short questions.
Teachers can click here to download and print parent permission forms.  (Requires Adobe Acrobat Reader)
Curriculum Connections
Teachers are encouraged to consider using this call for art as part of your lesson plans for the birthday of Martin Luther King Jr., celebrated in January, or Black History Month, celebrated in February. Discussion points might include:
What inspired Dr. King and other civil rights leaders?
How did Dr. King translate his inspiration into action?
How can you translate your inspirations into art?
How did Dr. King communicate his ideas to inspire others?
How can you use art to communicate your ideas?
This program aligns with several of the National Education Standards, including those listed below:
NA-VA.K-4.3: Choosing and evaluating a range of subject matter, symbols and ideas.
NA-VA.K-4.4: Understanding the visual arts in relation to history and cultures.
NA-VA.5-8.6: Making connections between visual arts and other disciplines.
Students — Kids can be a part of something BIG!
Student artwork will be featured in an online gallery and considered for display in a national exhibition. The inclusive exhibition will be on view at the Martin Luther King Jr. Library in Washington, D.C., in August 2012 and feature two pieces of artwork from every state and the District of Columbia. A selection of young artists will be invited to a reception in Washington, D.C.
Who can submit?
Open to children, ages 5-15, living within the United States (all 50 states and the District of Columbia.)
About VSA
Youth in Arts is an offical VSA site.  VSA, the international organization on arts and disability, was founded more than 35 years ago by Ambassador Jean Kennedy Smith to provide arts and education opportunities for people with disabilities and increase access to the arts for all. With 52 international affiliates and a network of nationwide affiliates, VSA is changing perceptions about people with disabilities around the world. VSA is an affiliate of the John F. Kennedy Center for the Performing Arts. For more information, visit www.vsarts.org.
CVS Caremark
CVS Caremark supports Youth in Arts Arts Unite Us Program. CVS Caremark All Kids Can CREATE, a program of the CVS Caremark Charitable Trust and CVS Caremark, is committed to support children with disabilities. The goals of All Kids Can are to support children with disabilities by raising awareness in schools and in local communities about the importance of inclusion, creating greater opportunities for physical activity and play, and providing access to medical rehabilitation. CVS Caremark and its more than 200,000 employees plan to help children with disabilities learn, play and succeed  through partnerships with leading local and national nonprofit organizations such as VSA and many others across the country.  www.cvscaremarkallkidscan.com.
Laurel Dell students visited Youth in Arts February 16-17 to see their work on display in the current exhibit "Our World: Youth Visions of Family and Community".
The mural and other artwork featured in the exhibit were created by Laurel Dell students across the grade levels, working with Youth in Arts Mentor Artist Angela Baker. We were delighted to welcome the students and thank them for letting us share their work with the community!
Students explored the gallery and left notes about what they noticed, felt and wondered as they explored the artwork. They also made paper "handprints" for a collaborative mobile in the gallery that was inspired by the Laurel Dell mural featuring student handprints.
And they saw professional work by Mentor Artist Angela Baker, who led the art project at Laurel Dell that resulted in the mural and exhibit. Students discussed what was similar and different between their mural and Angela's more abstract paintings. We talked about how artists are inspired by what is around them in their world–and we agreed that all the work in the gallery is very creative!
Click here for more photos of students in the gallery…
The "Our World" exhibit continues through March 2, and Youth in Arts is open from 10-3, Monday-Friday next week, while most Marin students are out of school. The gallery is free and open to the public–we invite you to stop by 917 C Street here in downtown San Rafael to see these young artists' work and contribute your own "handprint"!
Part of the mural team poses in front of the historic Mission bells. Students have decided that the current San Rafael Mission steeples will be depicted in the mural. For more information about the history of the Mission go to the Marin History Museum.
At the Boyd Gate House, home of the Marin History Museum, students pulled out their art journals, in which they sketched and took notes of their discoveries. Students were particularly drawn to the Marin at War! exhibition, in which there were various service uniforms on display. Louise Arner Boyd was an arctic explorer and photographer from San Rafael, who will also be depicted in the historic mural by the students.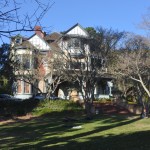 Next students visited the Falkirk Cultural Center, a historical 1888 San Rafael landmark which now presents contemporary art exhibitions. Students found themselves inspired by the prints on display in the galleries and enjoyed walking around the beautiful grounds, filled with sculptures and gardens.
At the corner of 4th Street and C streets students were given photographs or drawings of historical landmarks that still exist or used to exist on each of the four corners. They used visual clues to  figure out which historical image matched each corner.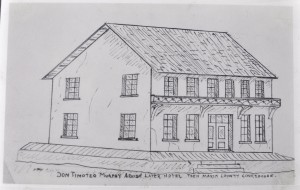 Arguably the most historical piece of real estate in downtown sits at the northwest corner of 4th and C streets, where Timothy Murphy lived, and which was used later as the courthouse.  Murphy, who was named San Rafael's first informal mayor, won a large land grant from the Mexican Government in 1844 and built his adobe house in downtown. He was a boisterous Irishman who reportedly spoke Miwok and Spanish , and who loved to have parties. San Rafael Day was born when church goers would go to Sunday mass at the Mission and walk over to Murphy's house for afternoon drinks, food, and games. The Bank of Italy building now sits in the same location, built in the late 1920s. For more information check out the Early San Rafael History book on Google Books.
The tour ended with us back at Youth in Arts, 917 C Street, where the final mural will be installed. The building was used as a livery and purchased by Neil MacPhail in the 1870s. Horses and carriages, including the famous Tally-ho were rented out to customers. When cars became the prominent mode of transportation the MacPhails ventured into the fuel business and later into appliances. The building is still owned by the MacPhail family and evidence of the passage of time fills the building. Beautiful sturdy wood beams hold up the warehouse in back,  a manual  horse elevator was used to bring the horses to the second floor stables, and elegant antique appliances adorn the attic.
Congratulations to Douglas Pardella of Redwood High School, winner of the 2012 Marin County Poetry Out Loud finals, hosted by Youth in Arts this past Saturday, February 11.
Douglas was also the Marin winner in 2011, representing the county in last year's state finals. He will return to Sacramento on March 25-26, where he will recite in the state Senate Chambers, competing for the state title and a chance to participate in the National competition in Washington, DC.
Douglas recited two poems on Saturday, beginning with "The Charge of the Light Brigade" by Alfred, Lord Tennyson. His second selection was "Candles" by Carl Dennis. He was judged the winner based on a combination of difficulty, accuracy in reciting, physical presence, voice and articulation, dramatic appropriateness, evidence of understanding the work and overall performance.
Russell Wirth of Tam High finished second and was named the official runner up. Also competing were Clare Brosnan (San Rafael HS), Sophia Ranft (Marin School), Anna Erice (San Marin HS) and Beatrix Berry (Drake HS). Each student was required to win a competition at their school in order to advance to the County finals. Mentor Poets from California Poets in the Schools assisted the students in selecting and preparing poems for the competition.
Poetry Out Loud is a national contest sponsored by the National Endowment for the Arts, The Poetry Foundation and state arts agencies, including the California Arts Council. Poetry Out Loud encourages youth to learn about great poetry through memorization and recitation. The program helps students master public speaking skills, build self-confidence, and learn about their literary heritage.
Youth in Arts congratulates all the participating students and wishes Douglas the best of luck at the state event!
The Willow Creek Academy 3rd graders, with Ms. Siskin and Youth In Arts Mentor Artist Marguerite Etemad, have been learning about the effects of plastic trash on the ocean's ecosystem. We are learning what we can do in our own lives to help conserve our resources and keep pollution from happening.
In art we are using our learning to create masks of ocean animals.
Each of the students has created a character. They are attaching plastic trash to their animal mask to show how deadly plastic trash is to sea life.
The students are in the process of creating a script. Each student has created a character and a role, victim or hero. Our villain is the plastic trash that is so deadly to sea life. They will perform their script for the entire school.
The students and teachers were inspired to begin this integrated learning project by the amazing art exhibit at the Marine Mammal Center.
Poetry Out Loud Finals
Youth in Arts Hosts County Competition
Saturday, Feb 11, 11 a.m.
Youth in Arts Gallery
917 C Street, San Rafael (across from the 3rd & C garage)
Youth in Arts is pleased to host the Marin County finals for Poetry Out Loud, a national competition supported by the National Endowment for the Arts, the Poetry Foundation and the California Arts Council.
Congratulations to Marin finalists Russell Wirth (Tamalpais HS), Clare Brosnan (San Rafael HS), Doug Pardella (Redwood HS), Sophia Ranft (The Marin School), Anna Erice (San Marin HS) and Beatrix Berry (Drake HS).
Come see these young performers in action this Saturday, February 11, at 11 a.m. Each student will recite two poems selected from the Poetry Out Loud anthology. Works presented will range from Shakespeare and Tennyson to Carl Dennis and Jean Valentine.
The highest overall scoring finalist will advance to the California state competition, with the winner at the state level earning an all-expenses paid trip to Washington, D.C. for the national competition.
Youth in Arts and Arts Education International collaborated for an innovative new take on pen-palling. 27 eighth-graders at Willow Creek Academy in Sausalito are participated in a "snapback"hat exchange" with 27 students of Arts Education International in Makeni,Sierra Leone, West Africa. YIA art teacher K-Dub's students designed and painted their own trucker hats to send to Sierra Leone, in exchange for a hat designed and painted by their pen-pal abroad. The hats are accompanied by digital story-telling projects that feature the voice and picture of each student displaying their design and describing what it means to them. Beautiful shared experience for all, Give thanks for Sarah Geller of Arts Education International for making it all possible.
Enjoy the slide-show of the amazing project.-peace.

Visit Youth in Arts this week to show some love for kids and the arts! We have two special events this weekend to celebrate young artists. In addition, Youth in Arts will be "sharing the love" by passing along a percentage of proceeds from items sold in our store to Heads Up San Rafael, a public education foundation supporting our neighborhood schools!
On Friday, the Youth in Arts Gallery & Store will be open late, from 5-8 pm, as part of 2nd Fridays Art Walks. Our new exhibit "Our World: Youth Visions of Family and Community" features a new mural by students from San Rafael's Laurel Dell Elementary School, as well as work showing the mural creation process and paintings by YIA Mentor Artist Angela Baker, who guided students through the project. On Saturday, from 11-1, Youth in Arts will host the Poetry Out Loud finals for Marin County, with winners from area high schools competing to move on to the state level of this national poetry recitation contest. Open Monday-Friday from 11-3 (and this Saturday during the Poetry Out Loud event), the Youth in Arts Store has jewelry, cards, music and other gift items for your Valentine, as well as "Valentine Collage Card Kits" for kids! Most items in our store are consignments from our Mentor Artists, so your purchases support both local artists and our programs for kids.
PLUS from February 10-14, Youth in Arts will pass along 10% of all proceeds to Heads Up San Rafael, a nonprofit foundation funding music, libraries and other much-needed programs in the San Rafael schools.
So, come by 917 C Street (across from the 3rd & C garage downtown) to visit, shop and show your love for our local kids and their accomplishments in the arts!
Older Entries »