Mentor Artist Suzanne Joyal has just completed a 10-session residency with preschoolers in four classrooms at Marindale School. Marindale houses special education and preschool programs operated by the Marin County Office of Education. Students experimented with drawing, painting, and sculpture. Students engaged their muscles and their creativity while practicing sharing, making choices, sticking, squishing, squeezing, stretching, color mixing, blending, gluing, and so much more.
Greetings!
I am Erik Peerand here, the Store Manager of the Youth in Arts Store. Every month I will be showcasing one of our many fabulous items from the store, here on the "Youth in Arts Blog"!
This month I'd like to share with you some of my favorite  items here in the store: our CDs which feature YIA artists, and of course our beloved 'Til Dawn champion a cappella teen group!
I hope you all come in and check out our wonderful store, and I hope to see you soon!
Erik Peerand
Store Manager
Erik Peerand, Youth in Arts Store Manager, is creating a series of entries for the Youth in Arts blog, highlighting some of his favorite things in the store. Erik, who is on the autism spectrum, is great with tracking down information and loves to interact with customers in the store. Erik serves as a great role model for adults with disabilities, working and living independently.
If you walk down the halls of Terra Linda High school on a Tuesday morning, you may just hear the sounds of a Tabla, Doumbek, shakers and tamborines playing joyful beats accompanied by the gleeful cheers of students in Rachel Hughes Special Day Class.  YIA Mentor Artists William Rossel and Nydia Gonzalez have been working with students for 10 weeks, practicing a variety of basic rhythms and swaying movements which they will present for attending family and friends in a few weeks.
Every student in this class has enjoyed the activities, finding the one that brings them the most joy:
Gihea rocks out to the beat with her upbeat movements, waving her scarves and showing off her moves.
Brian loves to dance with the "friend of the day" (usually a soft stuffy that Nydia brings in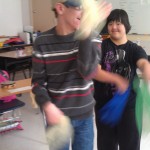 to assist with engagement and focus), and his twin brother Neil loves to play percussion instruments on the peripheral of the classroom.
Maria eagerly awaits the moment in which she can sway her hips to the rhythms in a fluid movement while waving the scarves and smiling.
Demelza always insists she is too shy to do her "solo", but ends up breaking out her special choreography that usually includes some serious hip shaking and the "genie" move, named by a classmate from last year.
Savannah loves to play along to the beat and when she does her solo dance, she smiles and giggles with contagious joy.
Graham, has limited fine motor skills, but always waves his arms in rhythm and shares the biggest smile when it is his turn to shine.
Alessandra absolutely LOVES to help us keep count of the rhythms and her signature dance move is a spin.
Needless to say, we have a blast playing music and dancing with this talented and enthusiastic group of students.  Thank you to the teacher Rachel Hughes and all of the para-educators and aides who are so loving, supportive and willing to get down with our groves at Terra Linda High School!!
[nggallery id=19]
Checkout a preview of "MySuperFunkyMaskTacoTruckTotemThing" project now in production at Willow Creek Academy, Sausalito. Young artist (7th grader), Art Instructor Mr. K-Dub. Works to be included in student art exhibition (details soon) –Peace.
Amid the hustle and bustle of snack preparation and the smells of fish sticks or chicken nuggets baking, the kitchen at Castro Valley Parent Nursery School was transformed into a lively art studio with Mentor Artist Margaret Niles.  The energy and enthusiasm of the three- and four- year olds made every class lively and fun, involving an element of play and experimentation.  The children explored their way through a variety of projects, from printing, to drawing, to painting, to sculpting.
We began with a childhood classic: fruit and vegetable stamping. Little did Margaret know that these kids were accomplished stampers, and it wasn't long before the colored tempera paints were mixed and blended together in wonderful new combinations with the aid of bits of corn, apple, and potato.  They also modeled birds out of self-hardening clay and learned to shape a head, a beak, a body, and a tail.  These creatures of flight and fancy were embellished by brightly colored feather wings, making them truly out of this world.  To ensure their birds were comfortable, the little ones crafted nests out of a variety of softly textured materials.  It was a community effort, as parents contributed baggies of dryer lint, and collections of small twigs their children helped gather.
The budding artists also experimented with mixing their own colors from the primaries to arrive at wonderful new creations and gained some technical practice with drawing different shapes and types of lines.  They also learned to roll balls out of Model Magic to form caterpillars and to shape other animals, adding brightly colored macaroni for embellishment or dinosaur scales.  It was especially fun to observe some children immediately start to play with their modeled animals, be they bird or caterpillar, and to create interactive and spontaneous games with their animals and one another.  The children are accustomed to having lots of choices in their preschool, and they were true art ambassadors and model citizens.
The differences in developmental levels and concentration among the children, particularly between the three and four year olds, was at times pronounced.  It was fascinating to observe some children, who could sit for an entire half hour or more, and others who were finished at a rather windy pace.
These eager artists demonstrated a natural creativity and willingness to take risks as they painted, sculpted, drew, played, and explored their vivid imaginations and the world both in and around themselves, finding joy and satisfaction in the process.
Hundreds of seventh graders from Davidson mural spend the day streaming into the school library which had been transformed into a gallery to view their own creations.
Youth in Arts Mentor Artist Brooke Toczylowski worked with all Davidson Middle School seventh graders and their teachers Ed Cosgriff and Jeff Snow
to create collaborative Mini Murals on their personal histories in San Rafael.
Brooke led students in creating research workbooks to develop critical thinking skills as both Artists and Historians. Students described the visual elements they noticed in photographs, analyzed images by making educated hypotheses with supportive evidence, compared and contrasted photographs, and made connections between an arts process and a historical concept. Brooke taught specific elements of design to the students who worked with their teachers on their personal stories. Then the students worked in teams of two to create their visual story of San Rafael as a mini mural.
The gallery exhibit was a time for reflection on the artistic and learning process. Selected student comments:
"I learned that collaboration is hard, but creative things come out of the process."
"I learned that the only way to get to San Rafael used to be through a train that is not there any more."
"My classmates come from all over the world, I didn't know that before this project."
"There was a San Rafael day that featured bullfights with grizzly bears."
"There was an old movie theater called the El Camino"
"I found out about layering, abstract and realistic art, the meaning of foreground and background. I learned that I'm an artist."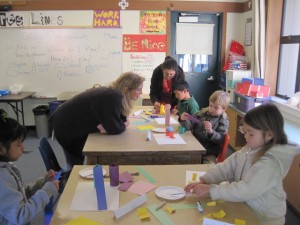 The Kindergarten Artists at Bayside Elementary and Willow Creek Academy  along with their teachers and Youth In Arts Mentor Artist Marguerite Etemad have been exploring their playgrounds. They have asked themselves: Where do I play? Who do I play with? and How do I play?
After completing our playgrounds we did observational drawings of them.
The Kindergarten artists and their teachers enjoyed exploring playgrounds.
YIA teaching artists Marguerite Etemad & K-Dub lead another great spirited Professional Development workshop. This time Contour drawing was lesson. Teachers from Willow Creek Academy & Bayside Elem. participated by drawing a fun funky still-life. There was great energy all around and teachers were surprised by their creations and the work of their peers.
Contour drawing, is an artistic technique used in the field of art in which the artist sketches the contour of a subject by drawing lines that result in a drawing that is essentially an outline; the French word contour meaning, "outline." The purpose of contour drawing is to emphasize the mass and volume of the subject rather than the detail; the focus is on the outlined shape of the subject and not the minor details. However, because contour can convey a three-dimensional perspective, length and width as well as thickness and depth are important; not all contours exist along the outlines of a subject. This technique is manifested in different styles and practiced in the honor of drawing development.
Children's Art Worked shined in March Art Walk Downtown. Mentor Artist Julia James was on hand to show her culminating residency work from Mary Silveira Elementary School.
"Where We Live" focuses on students visions of the area around them.  A hands on paper quilt project "What We See" is provided for gallery visitors. Free gallery visits and workshops can be arranged for school and community groups by emailing Jennifer Daly – jdaly@youthinarts.org
March is Arts Education Month and Women's History Month, when we honor the contributions of women to our history and culture.
We'd like to highlight some of our terrific woman performing artists this month, all of whom perform in the schools through the Youth in Arts Presents assemblies program. In addition to helping students understand the important contributions of women in cultures around the world, these women's efforts to sustain and share their art forms illustrate the impact women are making in the arts in the U.S. today.
Diane Ferlatte, a native of New Orleans, can readily remember childhood years sitting on the porch of her grandparents' home, captivated by the oral stories of family generations past, their spirit, their journeys, and their heartfelt fantasy coming more alive in each moment. Now an internationally renowned storyteller, she has received numerous honors and all eight of her recordings have won awards including a 2008 Grammy nomination. Diane believes that telling and listening to each other's stories not only enables us to learn about each other, but also to understand each other better. She views storytelling as a traditional art form that can promote literacy, imagination, and values in the young. Many of her stories tell of women's strengths and unique gifts and she frequently performs in celebration of Women's History Month.
Here is a montage of clips from some of Diane's storytelling performances:
Julia Tsitsi Chigamba grew up in the rich cultural traditions of Shona music and dance. Daughter of the highly respected Mai Chigamba and Baba Tute Chigamba, she's a long time member of the Mhembero Dance Troupe and part of the internationally known Chigamba Family of dance and mbira musicians. In 1999, Julia left Zimbabwe and came to the US to share the beauty and wisdom of her culture through teaching and performance. Her Chinyakare Ensemble offers a 45-minute school presentation through Youth in Arts, highlighting traditional instruments, music and dance from Zimbabwe and explaining the important role of women in Zimbabwean traditions and celebrations.
This video features a KMTP-TV segment on Julia and her efforts to bring Zimbabwean music and dance to the U.S.
Joti Singh is a choreographer, performer and teacher of Bhangra dance from Punjab, India, and more contemporary "Bollywood" dance. She also works in West African dance forms from Guinea, West Africa, where she has traveled extensively. She leads the Duniya Dance and Drum Ensemble and has received prestigious awards for creating and performing new work, especially exploring cross-cultural connections through dance. Duniya's Indian dance presentation for schools features traditional and contemporary dance from India, performed by Joti and her company of women dancers. Joti will explain where each dance originates and talk about the role of women in the arts both here and in India.
Here is video of Joti and Duniya dancers on the Youth in Arts Global Stage at the 2010 Marin County Fair:
Diane Ferlatte
Kumu Hula Shawna Alapa'i has been a professional dancer and teacher of ancient and modern hula for 39 years. As a professional dancer, she traveled the world performing in countries such as Africa, Germany, France, Asia, Bali, Hong Kong, Japan and even danced before a royal audience in the Taj Mahal in India. She has performed for such dignitaries as the King of Singapore, as well as for the general population throughout her world travels. Her group, Halau Na Pua O Ka La'akea offers Hawaiian dance, language and arts classes and performs for a wide range of audiences. Shawna's presentation for schools includes traditional ancient Hawaiian chanting, drumming and dancing, interwoven with modern Hawaiian hula, singing and music. Students can learn about the role of women in traditional Hawaiian arts and in hula today.
Here is Shawna performing a contemporary hula with musician Faith Ako at "Kokua Japan," a 2011 San Francisco event supporting tsunami relief for Japan.
Youth in Arts features these extraordinary women and many more through our Youth in Arts Presents assemblies series. Click here for more information on our website or email lily@youthinarts.org to book a performance.
Older Entries »