For the Willow Creek Voices pilot program, we worked with select 5th and 6th graders in the realm of digital photography. After getting our feet wet learning how to use the camera and hands-on practice with the visual elements that go into composing your photo, we were ready to dive in the class project…visual adaptations from student generated poetry!
In the Adobe Youth Voices Curriculum, we found two great poems to model from… George Ella Lyon's "I am From" poem and Lisa Storm Frank's "I Am" poem. What's so great about these poems (which youth all over the nation have made iterations of), is that structure of the poem asks the writer to dig into sensory-based experiences and unique sweet spots to express who they are. Students plunged right in, and some even took creative liberalities with the poem structure, to include how they see the world, from their perspective.
In both the 5th and 6th grade classes, students were shown both poems and asked to select the template that spoke to them and write their own "I Am" and "I Am From" poem. After writing the poem, students selected one line from the poem and were tasked with taking a photo that would visually describe their poetic line. Students were reminded to think not only of content, but also how framing, angle, composition and color would enhance their meanings. After students took the photos, we set back to the computer lab to learn the basics of Adobe Photoshop Elements and use tools and techniques that would stylistically clean up and enhance their message.
Statement: "This picture is to represent the line, "I am from a place that is empty inside". I chose this line from my poem because I think that it is very strong statement. To depict my words, I chose to create a glow around the person in my photo – to call attention to the person in a world that is confusing and overwhelming, and it give a feeling a light to my photo…as if that person can bring light to the world. I took this picture by a baseball diamond because it gives the feeling that this place should be full of people playing. So the contrast of a single person brings out loneliness. When I was working in photoshop, I darkened the shadows to add a sad feeling and it helps me get the message out – that in this picture the world is being swallowed by the darkness. I think that we all should pay attention to the darkness that is taking over our world. Pollution is a darkness that consumes the light and we should work on stopping this before our world disappears." – 6th grade student
Many students took advantage of the ability to crop and re-frame the image once in the photoshop editor….some used the clone stamp to get rid of unwanted elements in their frame (the backpack that was distracting, the bright color on the student shirt that distracted attention from the focal point, the bright spot in the frame that needed to be dulled down). The magic wand was a tool used often, to add subtle color and levels enhancements to specific parts of the image.
Overall, students explored the process of artistic creation – from creative writing to surfacing content to capturing an image via a camera to bringing it all together in the photoshop platform. There were some students who decided upon viewing the image they took, the line from the poem needed to be revised, to match what the photo was saying…so they rewrote their poems. In this way,  active listening, to the artistic process and to the relationship between content, form and meaning was encouraged in the workshop.
When adding the text to the photo, students chose between adding the text outside of the photo or in the frame and then made decisions on how to present the text, so it fit with the image.
Although we were all doing the same basic assignment, each student took a different path and approach.  After this process students reported that they now take in color in different ways, saw in terms of framing, and were in awe of all the exciting tools photoshop offered to digitally design their image. Throughout, our intent was to use the tools in the digital design world to navigate our way in the terrain of visual language and artistic expression, and from there to share our creations with the world.
For the 2012 spring quarter, a handful of  7th graders from Willow Creek Academy were selected to participate in a pilot program, Willow Creek Voices. While 5th and 6th graders in this program explored digital photography, the 7th graders embarked upon filmmaking!
Filmmaking opens up so many rich possibilities…from expressing your inner creativity, to dancing the fine balance between teamwork and individual contributions.  And then there is all the craft that goes into making a video…from the technical side — how to operate a camera, how to edit it,  and the creative content side — what content to show, how to frame it, what angle, how close or far should the camera be.  Making a video also allows us the opportunity to get up close and personal with something we care about in the world, and do something about it! While some people may think 7th graders don't care about social issues and the culture around them past the latest fad, it's not true. The videos created in this workshop certainly stand up to this stereotype.
Throughout the workshop, we drew from process, techniques and tools detailed in the Adobe Youth Voices Create with Purpose Video Curriculum. To set the filmmaking stage and create a film common language [Media literacy], we watched several PSA's and short videos, to tease out the important elements of a successful video, and to witness how Story, Audience, Message and Style  (SAMS), each play a pivotal role in making a video successful.
Students then got into groups and brainstormed social issues they cared about and what they wanted to contribute to the conversation. From there, students selected one topic and pitched their ideas. Building from our media literacy and  critical explorations, students used the SAMS structure in relation to their own videos, coming up with a clear Story, Target Audience, Message and Style for their PSA. Students went through the process of  Inspiration/Media Literacy,  Brainstorming/Pitching, Pre Production (SAMS structure, script, storyboard, story arc), Production (filming) and Post Production (editing, using Adobe Premiere Elements).
Throughout the process, students crafted the video and made choices based in intention and creating with purpose, while leaving room for the artistic muse to provide inspiration along the way. Team work, as well as leadership and playing to our strengths was encouraged at every turn. For example, some students students took the lead finding copyright free music, while others assembled the rough cut, both working in tandem and with the final project in mind.
Making a video was eye opening at every turn. Perhaps the greatest impression left on the students is that each of us has the ability and opportunity to make a difference, to make a change. And with these videos, this is exactly what these youth hope to do!
Our project began with this driving question put to a team of wise and thought-provoking college students at Grant Grover School, part of College of Marin. Each student is coping with a challenge. Their responses included a world where everyone can give their gifts, where people walk the city in peace, where there's more Nature, butterflies and horses, safety for people and animals and clean water. A place with no alcoholism or drug use, no name calling and fighting. A place where there are smiles and laughter, where people learn how to fix breakdowns and where Love = Life without Limits. From this conversation, 8th grade Novato Charter School student Gabriella Borges and I made a study. The students colored the studies and I put together their color ideas into a plan.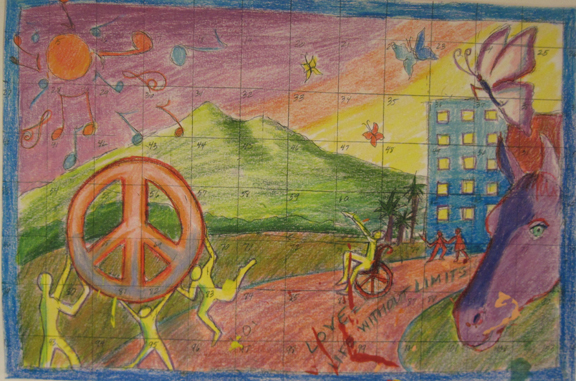 As part of our project, I incorporated ideas from the Institute of Noetic Sciences' Worldview Literacy Curriculum.  We explored how people look at life through different beliefs, like putting on sunglasses.  As we watched the film called "Music by Prudence" about special needs students who create music in Zimbabwe, we heard Prudence say that some people see those with handicaps as burdens, but she knows they are stars.  Prudence, whose documentary won an academy aware, has become an international star. I gave all the students sunglasses, which they put on, looking at themselves and each other through the lens of "burden." I asked them what they thought "burden" meant:  "A heavy load", "something you always have to carry", "something that doesn't give back".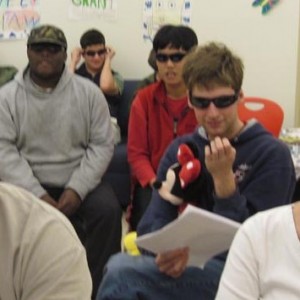 Then everyone took their sunglasses off and we talked about how Prudence is a star and how each of them is a star.  Each student made a star and a peace sign, as symbol of being at peace with who they are.  This exercise was inspired by IONS' Worldview Literacy Curriculum.
We gridded the study, gridded the board, drew the image and painted it.
After eight weeks of painting, we completed the 6.5′ x 4′ painting, which will be part of the Summer of Peace 2012, an initiative of the Shift Network.
Since March we've been working with 5th and 6th graders at Willow Creek Academy and following the Adobe Youth Voices Digital Design curriculum. In this workshop, students have been exploring various key concepts fundamental to digital design and also getting their feet wet learning how to take photos with digital cameras and edit them in  Adobe Photoshop Elements.
To set the stage, we started with media literacy, viewing a variety of visual examples to develop a common language and see, in full vibrancy,  how subject to camera distances (close up, medium shot, long shot), composition, framing, and color play pivotal roles in photography. We leaped from critical analysis to hands on practice with our first exercise — creative portrait.
While taking the portraits, students were encouraged to explore the difference between the close up and long shot, to look what it's in the frame, what's left out and connect how technical choices pair with creative meanings.
After taking photos, we reconvened and had a "crit",  to see as a group how the different technical and creative  choices we made did and did not work in relation to our intended meaning.
Throughout the process we highlighted the importance of intentional choices…of course leaving room to pay attention to what is in the frame when the photo snaps and to be present to see where the artistic process wants to take you!
Stay tuned for more news about our final projects…Visual interpretations from an "I Am" poem we wrote, plus advanced editing in Adobe photoshop!
VSA Mentor Artist Marty Meade writes about her experience this year at Grant Grover Elementary School and Braun High School. Grant Grover Elementary School and Braun High School are part of the Sunny Hills Services whose  mission is to engage vulnerable children and youth, enrich their connection with family and community and empower them to lead healthy, rewarding lives.
Youth in Arts has provided me the opportunity to create a venue in which these children can play, express deep feelings and take a risk.  I have been privileged to work with this population for over 20 years, and I still love it.
The School is broken down into three programs, allowing me to work with small groups of 12 students one day per week. Inappropriate social behavior is the constant issue, so 'please and thank you' is foremost in my presence. Plowing through outbursts of anger, the sneering attitudes, and their self-hatred is my mission.
In spite of these issues, we have worked with glass to make fused necklaces and small plates. I have given them "real" tools and clear boundaries. Besides glass art, we also had fun making Panoramic Easter eggs (sugar art), block printing, marbling on card stock, watercolor and acrylic painting, and sculptures using balsa wood and hot glue guns.
Thank goodness I'm extremely organized and start packing my crates months beforehand!
The photos here are from a day in which we had a pile of balsa wood scraps and the beautiful panoramic eggs made from prepared sugar shells. The child working on a mosaic picture is one who went inward and could not engage with the others.  (I have ready materials for times like this)
Another great year, thanks to the support from Youth in Arts.
[nggallery id=21]
Yes, we do sell a variety of cards to send as thank yous, or for the special person in your life.
So, come on in to get some cards for your family and friends, for graduation, Mother's Day and the end of the school year.
Signed,
Erik The Store Manger At Youth in Arts
Erik Peerand, Youth in Arts Store Manager, is creating a series of entries for the Youth in Arts blog, highlighting some of his favorite things in the store. Erik, who is on the autism spectrum, is great with tracking down information and loves to interact with customers in the store. Erik serves as a great role model for adults with disabilities, working and living independently.
Youth in Arts new musical Photosynthesis–Living Sunlight debuted today to hundreds of local schoolchildren and their teachers and parents at the Showcase Theatre at the Marin Center. The kids and adults were enthusiastic about the show, which teaches the science behind photosynthesis using lively music, dance and theater.
The musical is based on Living Sunlight, How Plants Bring the Earth to Life by Molly Bang & Penny Chisholm, and we were thrilled to have Molly in the house today!
Also attending was local fiber artist Rebecca Burgess, who contributed to the development of Photosynthesis and also curated Youth in Arts new gallery exhibit, "Farm Fresh Fashion." The exhibit and the musical are great companion pieces, blending art and science to encourage better stewardship of our earth.
If you'd like to catch Photosynthesis–Living Sunlight, a final performance will be offered Friday, May 4, at 7 pm. Tickets are available in advance from the Marin Center Box Office, or at the door beginning at 6 pm.
Mentor Artist Eliot Fintushel filed this report on the flying second graders of San Ramon Elementary School in Novato:
Our Sculpture Garden
The children are taking turns as clay and as sculptor. When each round of statues is done and half the children have hardened into stone, we who are the round's artists tour our Sculpture Garden and name the various pieces–before they melt and sculpt US!
In five weekly sessions, three classes of 2nd Graders at Novato's San Ramon Elementary School learned . . .
How to fly anywhere in or out of this world and at once
How to make any household object into anything else, big or small
How to become a group photograph of events past, present, or future, near or far
How to go up and down on elevators flights of stairs that aren't there
How to do pushups with (a) one hand (b) one pinky (c) no hands, nothing at all
How to make a statue of a friend or to to become clay and be made a statue
How to weave fantastic stories out of thin air
Many other extremely practical things
We used techniques of pantomime, including illusions and figurations of the body. We explored narrative improvisation. We played many theatre games and did lots of exercises for concentration, coordination, agility–and. let's confess, the fun of it.
Roman Charioteers
In under five seconds, these children have BECOME a photograph of Roman charioteers, through our magical camera
Unfortunately, a number of the children, it must be reported, were observed flying over remote areas of the Antarctic, which, as we learned, WERE NOT IN MARIN COUNTY (which is where everybody was very clearly instructed to confine their flights!) Some had to be shipped back to Novato in crates, as we found out in our storytelling exercises.
Angry!
The children were asked to sit, at a hand clap, with a particular feeling imbuing every bone and cell.
I implore teachers, parents, and Youth In Arts staff to help remind the children of the dangers of solo interstellar flight.  We are still negotiating with the Rock Dwellers of Neptune for the return of several of our 2nd Graders who flew there over the weekend, using the mime technique of string causality.
ASCEND!
2nd Graders are beginning to take flight, using the mime technique of string causality. WARNING: Stay over Marin County and do NOT wave to people in airplanes.
More . . .
Take, Double Take
In this game, the children learn stage presence through the use of masks. The power of the TAKE, of simply looking or looking away is dramatically conveyed and immediately understood.
 . . . also . . .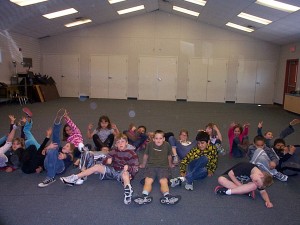 Experiment in Sitzfleisch
Physical Theatre is all about learning to think with one's whole body. In this game, the children are creating–in an instant–entirely new ways of sitting!
  . . . not to mention . . .

Beloved Renegade
In this exercise in leaning, one of the students has decided, unasked, to vary it by standing and leaning on one leg only. Hurray! Unlike many lessons in school, the lessons in theatre classes are as well served by the renegades as by the conformist. It's a fine line and a delicate call, to be sure, since discipline is, of course, what make experimentation possible, but, ah, the joy of an occasional . . . DISCOVERY!
With Mentor Artist Angela Baker, Rancho's Fifth Graders explored 3 different media: painting, printmaking and clay. The essential question running through the six week residency was: "What are some sources of inspiration for making art?"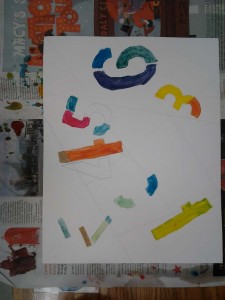 In an effort to generate ideas and inspiration Baker showed students an image at the beginning of each project and did a short Visual Thinking Strategies session. Images shown were Jasper Johns number paintings, Pop Art–especially the work of Andy Warhol–and mythological creatures for a clay sculpture of an invented animal.
During further discussions, students shared quite a few ideas they had about possible sources of inspiration such as: nature, people, colors, the environment and looking at each other's work. Some students particularly enjoyed doing "gallery walks" to share work at the end of class.
As a grand finale for Youth in Arts Mentor Artist Tom Mayock's dance residency at White Hill Middle School, over 400 students performed a wide range of dances from the Jazz genre, in such styles as Hip Hop, Pop, Body Percussion, and Zumba, to  name a few. Tom led these young adults into a choreographed celebration with contemporary music and dances such as Katy Perry's "Firework", Tao Cruz's "Dynamite", with a triumphant performance of Jai Ho! in the Bollywood style.
A Special thank go to The Yes Foundation, Youth In Arts, Kathy Thorton, and Chris Strempek for their dedication to their community, to their leadership and collaboration.
And the young adults of White Hill Middle school must be saluted for their fierce wild cat spirit! Their dance is strong!