Youth in Arts is partnering with the Marin Symphony to feature children's artwork inspired by music in the Symphony's annual Family Concert on February 10. The work will be displayed on monitors in the lobby at the performance, as well as in a projected backdrop for the concert finale.
Mentor Artists Suzanne Joyal and Julia James have worked with 350 students at four schools–Willow Creek Academy in Sausalito/Marin City and Mary Silveira, Bahia Vista and Marindale in San Rafael, teaching students new visual art techniques to help them create art inspired by the music of Hector Berlioz, which will be performed by the Symphony, along with music from the film Brave. Read more…
This Fall, Youth in Arts Mentor Artist Angela Baker worked with 5 classes of second graders at Bahia Vista Elementary on a very special project called "Mary's Gift" to commemorate a much loved and dearly departed colleague, Mrs. Mary Donovan-Kansora.
Each class focused on one character trait that was important to Mrs. Donovan-Kansora and that she felt were important for second graders: Respect, Responsibility, Compassion, Self-Control and Perseverance. A piece of art reflecting each character trait would then be created and displayed at the school for all to see.
Over the course of six weeks each class developed content around their theme through group discussion, visualization and writing. Through a variety of media, such as marker, crayon and paint children developed skills in the areas of drawing and color mixing. These skills plus some of their writings were combined to create a series of different but connected 44″X30″ mixed media pieces reflecting each of the above character traits.
The work or the students will be featured in a gallery exhibit at 917 C Street in downtown San Rafael, from February 8-April 1. Please join us on Friday, February 8th, 5-8pm for the Opening Reception and Art Walk Downtown.
Youth in Arts is open late for 2nd Friday San Rafael Art Walk Downtown this Friday, January 11, from 5-8 p.m.


Come see our latest gallery exhibit, "Re-Generation: Teaching Recycled Art," before it closes January 25. Help create a recycled "rag rug" or collect take-away cards to inspire your own recycled art projects at home.
"Re-Generation" features work from recycled and found materials by master artists, as well as recycled art works by their students and protégés.
Come explore the many reasons artists may choose to use alternative materials in their work and how they pass along these ideas to a new generation of young artists.
And don't miss our new store layout with all kinds of artist-made items for sale, including creative recycled gift items by professional and youth artists!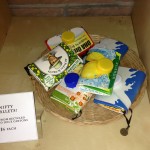 An evening of a capella opens with 'Til Dawn and closes with Til Dawn Director Austin Willacy in The House Jacks.  The House Jacks are a pioneering a cappella rock band whose music has been the soundtrack for NBC's "The Sing-Off," ESPN's "Monday Night Football," and the 2012 Sony sound system demo for Ford automobiles.  The band has been featured in top media outlets including The New York Times, Rolling Stone, CNN, and ABC World News Tonight; the band has performed with the likes of Ray Charles, James Brown, Train, LL Cool J, and Crosby Stills and Nash, at venues including Carnegie Hall, Candlestick Park, The World Expo, and The House of Blues; and the band has performed and/or recorded commercials for celebrity and corporate clients like President Bill Clinton, Larry King, Aaron Spelling, Coca Cola, and Verizon Wireless.  The House Jacks continue to electrify audiences worldwide.
"The House Jacks is "the original rock band without instruments"  SF Chronicle
'Til Dawn,  Youth in Arts' award winning a capella group, is comprised of high school students and directed by Austin Willacy, an accomplished vocalist/songwriter and a member of the House Jacks.
WHAT:  Amazing A Capella Rock from The House Jacks with special opening performance by `Til Dawn
WHO:  All are invited. General Admission seating with some table seating available.
TICKETS:  $20 advance. $25 day of.
WHEN:  Sat. Feb. 23 @ 8:00 ~ Doors @ 7:30.
WHERE:  The Osher Marin JCC, 200 North San Pedro Road, San Rafael.
PARKING:   Ample FREE parking. Accessing the Osher Marin JCC from Highway 101 is effortless, 1/2 mile E off 101.
TICKETS: Available at www.marinjcc.org/arts
Recently we hosted our first free gallery tour of "Regeneration – Teaching Recycled Art" with a group of students from Oak Hill School.  Six students from Oak Hill ages 13-19, all on the Autism Spectrum, enjoyed the sights, sounds and textures of our gallery and workshop.
We started in the gallery, observing the artwork that has been made by everyday "garbage" or items that would be trashed or recycled after use, such as material, plastic bags, old toys, sticks and paper scraps.  Then, Musician Nydia Gonzalez helped the youngsters explore the sounds that we could make re-using materials such as food containers and boxes by turning them into drums and guitars!  Finally, students worked with visual artist Suzanne Joyal and created 3-D sculptural art using scraps of foam core and matt board, connecting them, gluing them and covering them with vibrant colors.
The "Regeneration" show will be up until January 25th, so please stop by to check it out, or make an appointment for a free group tour for students. yia@youthinarts.org