The students in Ms. Stuart's class f
or 3-5th grade students with special needs have something in common: they love to play.  What is it about play that makes it such a powerful learning tool for youth? In my theatre residency at Vallecito, they have exercised their ability to play well while cultivating imagination, focus skills, body and vocal expressiveness, and the ability to work together as a team.
At the start of our 10 week residency, Ms. Stuart's students were very enthusiasti
c about drama, and eagerly "played" with each other using theatre games such as move and freeze, pantomime and the group mirror game.  Students moved as their favorite animals, portraying cats, dolphins, birds, elephants and others, and then told and acted out stories about these animals.  They told stories of animals who wanted to make friends, animals who needed help, animals who were happy, and animals who loved their families.
By the middle of the residency, after students had some practice with storytelling, we chose puppetry as a way to deepen their storytelling and story enactment skills.  Each of the youth created his/her own puppet that embodied an animal or a hero/heroine that he/she wanted to portray.  Puppet interviews followed, and during these interviews we learned lots about these puppet characters!  For example, one student, Carl, created a puppet with a magic eye that could see into the minds of all creatures.  Another student, Amber, created a bird puppet with many wings that could fly animals who were hurt to any hospital in the world so that they could get help.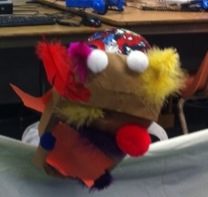 In the end of the residency, students playfully enacted scenes with their puppets.  As so often happens, these scenes were full of real-life themes and lessons.  In one of those scenes, an elephant puppet named Ray was sad that his friends had left town, and asked for help from a monkey puppet named Chris.  The monkey puppet offered to help cheer Ray up by sharing his snack and inviting him to play a game of catch.  In the puppet world, as in the human world, the power of play to help us solve problems is an invaluable tool.  It is certainly a tool used and cherished by the youth I worked with at Vallecito, and a tool whose value will continue with every new child born on our planet.  Thanks to the youth who remind us about the power of play!
YIA Mentor Artist: Suraya Keating
Theatre Arts Residency Spring 2013
This year, I worked for 20 weeks with Linda Breakstone and Stacy Hall's class, with students ages 5-10 with a wide range of learning, cognitive and physical disabilities.  My strategy was to try to engage each and every student, focusing on routine and repetition.  I'd always begin my class with the same opening song, go through a series of activity songs, and end the class with our "goodbye" song.
Music time with the kids consisted of interactive songs,  identifying the sounds, and physical play (i.e.. Row your boat, Hokey Pokey, London Bridge).  We use icons for non-verbal students so that they could make choices in the songs and activities. For example, for "The Wheels on the Bus", we had photos of  windshield wipers, a baby, windows, etc.   When singing the song, students had the option to participate by holding up their icon.
Often, I'd bring in rhythm instruments.   The highlight of this 20-week project was that my sister, Terry, came to share her trumpet on two separate occasions.   Kids LOVED blowing the horn, pressing the valves and marching (those who could) to "The Saints Go Marching In"
The teachers seemed to really enjoy music time, noticing that it was the one time of week when all the kids, teachers and aides get together with no interruptions. It was a fun session, I look forward to having the opportunity to come back next fall!
Nina Pasquale
YIA Mentor Artist, Olive School MCOE Special Day Class 2012-13
I look forward each year to working with special needs children at Mill Valley Middle School who are diagnosed as 'Developmentally Delayed'.
I have found that they are capable of doing all of the projects that I take to the other schools.  The first day they paint on canvas. Acrylic paints give them control of a medium, and they end up with beautiful paintings.   I cut out a drawing of a tulip, and brought in a bouquet.   I found that some children just painted inside of the drawing, others, used it to copy from as they looked at the still life.
Shrinky Dinks, heated plastic art, provided an exciting new material for them.   There was some confusion at first, but after their first piece we almost ran out of material.
Mock stained glass made with laminated plastic and colored tissue provided them the concept of transparency and what happens with light.  They all wanted their pieces hung in the window.  They are still hanging, and will probably be up until the end of the school year.
Watercolor landscapes were created from photographs that I brought from my personal photo library.  I made enough copies so that the students could keep the photograph.  It was interesting to see how well they studied the photo, and painted what they saw.
Glass fusing continous to be fun.  Most of the children had done this, so they were eager to begin.   I was a little tense doing this, as a member from MCOE was in the classroom doing an observation.  The smile on his face as he watched all of the children engaged soon settled my nerves.  In this project they are picking up cut glass with their tweezers and gluing  them onto a base of glass.  (I take them to my studio to fire them andreturn them the following week).
We made some beautiful books from the marbeled paper, and one of the aides patiently wrote on the board the words that the students wanted spelled. This project is interesting for the child that is more interested in the paint in the water then the actual painting. I brought in finished sheets of marbeled paper that were able to use in their books. This gave them a chance on how to see their own projects could be used.
I look forward to another year with this group. It is delightful to see them all eager to see me, asking "What are we going to do today, Marty?"
Students at Oak Hill worked with mentor artist Julia James. Students explored color, textures, papers, brushwork and a combination of art materials. They gained confidence and learned to joyfully express themselves, building on skills and personal discovery.
Oak Hill School serves students aged 5-22 with autism and related developmental differences, and their program is guided by the principle that relationships are central to building skills in relating, communicating and thinking. Students experience a comprehensive academic program with integrated speech, psychological and occupational therapies, as well as visual and performing arts provided by Youth in Arts Mentor Artists.
Julia's personal goal was to enhance confidence and expression. She wanted to create an environment where students could feel listened to and individually known. When she began the residency, students could only sit for a few minutes at a time. By the end, most enjoyed their art-making experiences for 20 minutes and more!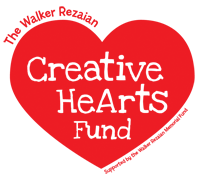 Loma Verde Elementary School in Novato will receive visual arts instruction from Youth in Arts Mentor Artists for all kindergarten students, along with special trainings for parents and teachers and a culminating YIA Gallery exhibit, through the generosity of the Walker Rezaian Creative HeArts Fund.
The program celebrates the life and love for the arts of five-year-old Walker Rezaian. Visual arts lessons at Loma Verde will focus on the theme of  "Friendship," an appropriate tribute to Walker, who touched so many lives in his Mill Valley community with his loving and outgoing personality. Youth in Arts has worked closely with Walker's family in designing the program and selecting Loma Verde as the 2013-14 recipient.
Principal Eileen Smith says Loma Verde parents have greeted this opportunity "with great enthusiasm—they are highly motivated to facilitate this program." The school has not had funding for a formal visual arts program in the past, and Smith says they anticipate a very positive impact on their students. The school serves a diverse population of children, many of whom are English Language Learners from economically disadvantaged families.
The Walker Rezaian Creative HeArts Fund is a project of the Walker Rezaian Memorial Fund. For more information, please contact Miko Lee or leave a comment here.
As part of the 7th Grade Social Studies curriculum, I presented a two-day workshop at Davidson Middle School on Renaissance drawing techniques.
After discussing the apprenticeship system of artist training and the tools and techniques used by the dominant artists of the period, students chose a print by Michelangelo or Leonardo DaVinci to copy. This was one of the most common exercises a Master artist would give their apprentice!
We started by drawing a measured grid on colored charcoal paper, and then we copied the master drawings square-by-square to our drawing paper using charcoal and/or conte pencils. Students don't need advanced drafting skills to do this…one just has to break down the images into lines and shapes, a little bit at a time. This process forces the draftsperson to observe very closely, and the students were surprised with the accuracy of their drawings!
Youth in Arts "Travel the World" programs provide professional arts instruction linked to K-8 History/Social Studies curriculum. Click here to download a flyer on programs you can bring to your school next year.
In preparation for our Samba Reggae performance tomorrow, students from Peggy Koorhan's AP Spanish class and Rachel Hughes Special Day Class created a beautiful canvas backdrop for the stage.  In previous sessions students from both classes brainstormed ideas about the program and came up with themes including Friendship, Unity and Compassion.  Students came together to create beautiful individual flags to represent these themes.
As a visual representation of the two classes working together, students from Ms. Hughes' class decided that they wanted to paint a tree and have every student "leave" their hand print.  YIA Mentor Artist Suzanne Joyal led the two groups in creating this beautiful canvas mural which will hang as a backdrop in the amphitheater during their lunchtime performance tomorrow.
YIA thanks the support of the Marin Community Foundation, The Green Foundation and the Lester Family Foundation for helping to make this program possible.