In this project, The Buckeyes, a 6-8th grade class at Oak Hill School, made figurative sculptures. These students have autism and related developmental differences, so the key to a successful project is breaking everything down into small steps.
Session 1: Our young artists modeled human figures out of pipe cleaners, and then covered the wire with aluminum foil. They then posed the figures and attached them to small cardboard boxes.
Session 2&3: The artists covered their figures in two layers of paper mache, letting each layer dry completely before adding another.
Session 4: We practiced mixing several different color combinations to make skin tones. The artists then chose their favorite mix, and painted their figure with that all-over color.
Session 5: The artists "dressed" their figures by tearing decorative and crepe papers, and then gluing the pieces on.
The artists used a variety of skills and new techniques, working their fine motor skills.This fun project resulted in very expressive, unique sculptures!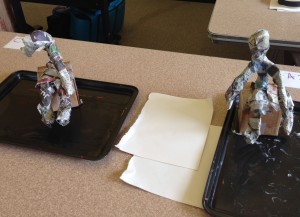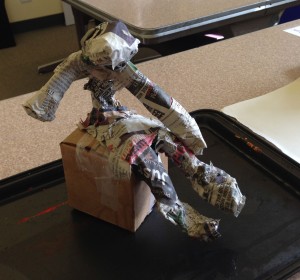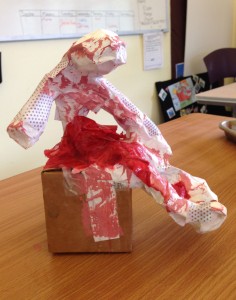 Arts Unite Us Mentor Artist Hannah Dworkin writes about her work with Rockne Beeman's Special Day Class
I have been incredibly lucky to work with Rockne Beeman's upper elementary special day class for the past seven years. It is the first time I have worked with a community for such a long period of time. These children and teachers have taught me more about teaching and being a mother than any book I ever read or class I have taken.
I started teaching music and dance in Rockne's class when I was 6 months pregnant with my first child. I brought in songs and ideas that worked in other special day classes. Some worked and some….not so much. I remember Phyllis, one of the aides in the classroom guiding me along with a smile and advice like, "just move on. You'll learn soon enough that you've just got to roll with it when kids don't get it at first," and, "It doesn't have to be just right today. Sometimes it just takes time." When I was stuck, Rockne always had advice and articles to share, and Betty, another classroom aide, always has a way of finding humor even in the most difficult of situations. They are also quick to help and understand when one of my children was sick, teething or just going through the terrible two's.
The students have shown such growth over the years. The children who have been in the class for several years have started leading portions of the class and choose their favorite songs. For some, there are songs that have become the touchstone that pulls them out of tantrums, and other songs and games have filtered into many areas of the classroom day.
The experience is wonderful every year,and I hope I am lucky enough to have many more with them.
Over the past 4 months I had the pleasure of making music with the amazing students and teachers at Ocean View Elementary and Albany Children's Center in the T-K, K and K-1 classrooms.  I had such a wonderful time working with the students and exploring so many beautiful ways to make music together!  It has been such a pleasure learning with them and I am very grateful for their ideas and enthusiasm for making music!
During our 10 weeks together we explored how to make sounds with our bodies, voices and instruments.  We learned about musical elements including: tempo, volume, pitch, steady beat, rhythm and melody.  We also explored important themes such as friendship and appreciating all of our differences.
We had a wonderful musical celebration and invited our families to join us with all 7 classrooms coming together for a Sing-Along.  Students showcased their knowledge of pitch, volume, melody and rhythm with our "Fireworks" vocal warm up, Kodaly solfége hand signals and a selection of songs.
Students taught me over 20 ways to say hello in their home languages and we celebrated the diversity of our community by singing our hello song in many of those languages.  Students also utilized their great rhyming skills to help write a song appreciating our differences.  Together, classes came up with 4 verses to our song:
We are peach, and tan and brown
We were born here, and out of town
Some have black hair, some have white
Some like to read, some like to write!
Some are short and some are tall
Some like spring, and some like fall
Some are from here, some from afar
That's OK that's who we are!
We are different and that's OK
Because we're different in different ways!
As our amazing Kindergarten teachers can tell you, these types of activities are not just fun, but enrich and support the students' development as individuals and as a group.  Please advocate for continuous and sequential music and arts education for all children grades Pre-K through 3rd, as it is so beneficial to their development during this time when they are developing language, motor and social skills!
Click here to read a recent study discussing the benefits of teaching music in early elementary and links between music & language development. "When you look at children ages two to nine, one of the breakthroughs in that area is music's benefit for language development, which is so important at that stage," says Luehrisen.
Keep On Singing!
YIA Mentor Artist and Program Director, Nydia Algazzali Gonzalez
Aloha from Sonoma Mountain Elementary School in Petaluma!
This is the first time that the school has brought Hawaiian Cultural Arts to their students and we're having a BLAST! I'm working with Keiki (children) in the Kindergarten, First and Second grade classes and despite the age differences, they're all really moving with intention and joy as I teach them a few Hula's that incorporate using their voices in chanting, playing a Hawaiian musical instrument and dancing.
It's no secret that every student's favorite Hula is a song from the movie blockbuster, Lilo and Stitch. The Mele (song) and Hula (dance) tells a story of Hawai'is last King, David La'amea Kamanakaupu'u Kauliluaikeanu Mahinulani Nalo'ia'ehuokalani Lumialani Kalakaua…the kids ask me to say his full name at least once a week, and I love seeing their eyes get huge and light up when I do. The title of the song for King Kalakaua is He Mele Inoa No Lilo. So many of the kids went home after our first day of lessons and watched the Lilo and Stitch movie and told me that when the song came on, they jumped up and danced what they had learned. How great is that?!
They now tell me that they practice it at home "all the time" and they even dance it for their family and friends.
That just made my heart smile! The Hawaiian Culture lives on, in the homes of Petaluma, and in the hearts of many. At this point, we're nearing the end of our 10 week program, which culminates with a school performance on May 2nd. The kids are getting really excited, and in all the classes yesterday I could see and feel a definite focus and effort being put into their dances and chants. The steps that they've learned, a koholo, 'ami and ku'i are vibrant and more precise, and their instrument playing is really getting into synch! They've learned to play the ipu (a gourd drum), kala'au (rhythmic sticks made from guava wood), 'ili'ili (smooth ocean rocks) and the 'ukulele. It's a short time frame to teach a whole song on the 'ukulele to total beginners, but they're hanging in there and we actually made it happen yesterday! I'm totally enjoying my time with the keiki and at the school.
At the beginning and end of each class every week, there's always a handful of kids that run up to greet me with a hug or to say goodbye with a hug…without knowing it, they're perpetuating a Hawaiian Cultural practice that has been a part of our way of life for hundreds of years. It's the sharing of Aloha. To witness and experience this through the teachings of this Hawaiian Music and Dance program, is what it's all about for me as a Kumu Hula, or Hula Teacher because I know that my culture's values and teachings have made an imprint on these keiki's lives. I am filled with gratitude for Youth In Arts and Sonoma Mountain Elementary for this opportunity! Mahalo a nui loa…profoundly grateful and deeply touched.
Aloha, Kumu Hula Shawna Alapa'i
On Friday, April 11 the YIA Gallery opened "Imagining Friendship" the culminating exhibit to three months of work at Loma Verde Elementary School as the first recipient of the Walker Rezaian Creative HeArts Fund.
Over two hundred people experienced the hands on cardboard gallery. Children from 2 to 52 were crawling inside the giant boxes to view the art which explored the meaning of friendship through the lens of visual arts. Mentor Artist Suzanne Joyal helped show families where their kindergarten child's artwork could be found. Squeals of delight could be heard as students spotted their self portrait and then added images to the 10 foot tall recreation of a classmates depiction of friendship.
People clustered around small buttons to listen to the voices of young artists talking about their creative process. Making Learning Visible books showing photos and children's quotes during the intensive residency were also widely viewed.  Mentor Artist Suzanne said, "The take away is – the more opportunity you give children to share ideas and materials the more ingrained it becomes in them.  I loved seeing them grow over the course of the sessions."  One teacher commented, "Today is Friday the day Suzanne usually comes into the classroom, all the kids were asking, "Where is Ms. Suzanne? Luckily I could say, we will see her at the Art Opening tonight!"
A special presentation was made to the Rezaian family on behalf of the school site. Principal Eileen Smith remarked, "Friday evening was one of the most gratifying experiences of my year.  Seeing the pride on the students' faces as they stood in front of their artwork was a beautiful moment.  Parents had an opportunity to celebrate publicly with their children and the joyful emotions in the gallery created an unforgettable experience for all in attendance.  This culminating event brought our Loma Verde Community together in a celebration of art.  It was also very rewarding to observe the donors and know that their generosity is making a difference.  This grant brought families together and symbolized the importance of art within a community."
Applications for next year's Walker Rezaian Creative HeArts Fund recipient are being accepted until May 17, 2014. For more information, click here.
Special thanks to Peter Rodgers for capturing the photographs and joy of the evening.
Tommy Neville is a student at The Bay School in San Francisco, but he lives here in San Rafael. On April 6, Neville produced a concert to benefit Youth in Arts at the San Rafael Elks Club, raising $1700 for programs for PreK-12 students in the community. The event featured performances by Neville's alternative rock band I.O.M., along with local teen singer/songwriter Caroline Sky and Youth in Arts `Til Dawn a cappella.
On a beautiful afternoon outdoors in the Elks Club Magnolia Gardens, all these talented young musicians provided inspiring sets of original music and covers of favorite pop and rock tunes. Refreshments were provided by Sol Food and Forks & Fingers. Bank of Marin helped to sponsor the event, along with Whiskeytree, Inc. and Chesterfield Management.
The concert was a senior project for Neville, who will attend the University of Exeter in England, studying law next year. However, the cause is also near to his heart, as a musician himself. He explained, "There is something special in benefitting kids art programs through the use of artistic methods. I like to think of it as some form of proof that the arts matter."
Youth in Arts would like to thank Tommy Neville for all his work in producing this event, which will benefit a great many local children receiving music, dance, theater and visual arts programs.
We are also grateful to all the event sponsors and especially to the young performers who made this event a success:
I.O.M. is a newly formed band that has just released its first album, entitled Castletown. You can catch them at Hopmonk in Novato on May 14 and look for them on Facebook soon.
Caroline Sky is a 13 year-old singer/songwriter with a beautiful voice and unique style. Find out more about Caroline and her music at facebook.com/carolineskymusic
`Til Dawn a cappella is Youth in Arts' award-winning ensemble for high school singers passionate about making and sharing music. Auditions coming up May 5! Come see what it's all about…or click here for more general information about `Til Dawn.
WALKER REZAIAN CREATIVE HEARTS AT LOMA VERDE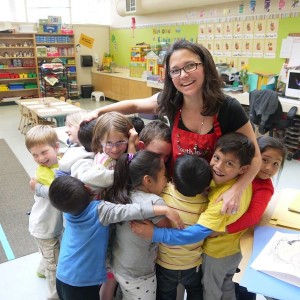 Novato School Celebrates Friendship with Arts Program
Youth in Arts will open the first annual Walker Rezaian Creative HeArts Fund exhibit, on Friday, April 11, at YIA Gallery on C Street in downtown San Rafael. Entitled "Imagining Friendship," the exhibit will feature work by kindergarteners from Loma Verde Elementary School in Novato who have been exploring friendship through visual art as part of the Walker Rezaian Creative HeArts Kindergarten Arts Program, celebrating 5-year-old Walker Rezaian's life and love for the arts.
YIA Gallery is the only art gallery in the Bay Area, and one of only a few in the nation, dedicated to exhibiting children's art. "Imagining Friendship" will feature children's drawings, paintings and sculpture displayed on, around and inside large cardboard structures that visitors of all ages can explore from outside and within. Young visitors can crawl through cardboard tunnels and caves and even stand inside a nine-foot periscope to view the gallery. The interactive exhibit will run through May 30, 2014, and admission is free.
Loma Verde School was selected as the first recipient of the Walker Rezaian Creative HeArts Kindergarten Arts Program through a competitive application process. The program's curriculum focuses on the theme of "Friendship," an appropriate tribute to Walker, who touched so many lives in his Mill Valley community with his loving and outgoing personality. Youth in Arts developed the program in collaboration with Walker's family.
For three months Youth in Arts Director of Artists in Schools Suzanne Joyal has been coming to Loma Verde kindergarten classrooms to teach visual art lessons around ideas like "Sharing" "Empathy" "Envisioning" and "Appreciating Differences." At the same time as the children have been exploring these powerful ideas through their creativity, they have been learning basic fundamentals in line, color and form. Teachers and parents also received special trainings from Youth in Arts.
Principal Eileen Smith, reflected on the program, "The impact of arts on learning cannot necessarily be measured by a standardized test, however the personal and cognitive development of the kindergarten students was greatly increased through the art projects they were involved in this year at Loma Verde.  Our students benefited immensely through the generous funding of the Walker Program and Youth in Arts.  Students explored friendship through the patterns of playground adventures. The kinder students were able to express themselves in a nonverbal form increasing the cognitive processes used in geometry and furthering their personal development in learning about the patterns of friendship.  Watching the students express their thoughts and feelings through art was a beautiful experience and Loma Verde is grateful that our students had this opportunity.'
Joyal described the process as joyful, "I was delighted by how willing the children were to take a risk. I loved how unique every child's work was. They were so willing to express themselves in their own way. After lessons, teachers would sometimes express that a child was having difficulty and the only way they could share their emotions was through the artistic process. I couldn't tell which child it was since they all responded so positively to the art."
Loma Verde serves a diverse student population, including a significant percentage of students from low-income families. Says Principal Eileen Smith, "We have never had funds available to support a formal visual arts program such as this," adding that the program helped English Language Learners and economically disadvantaged students "express themselves more deeply and feel more an integral part of our school community."
At the end of the residency Joyal created individualized miniature works of art to give to each of the students. She explained, "The entire school, teachers, parents, kids gave me so much, tried so hard and came to each class with a positive attitude, I felt I wanted to give a going away present."
Loma Verde Kindergarten Teacher Beth Kraft said, "Suzanne makes art accessible to all students by creating a very safe and accepting place for them to be unique in their expression of art and creativity."
Youth in Arts
Executive Director Miko Lee has announced that applications are open for the 2014-15 Walker Rezaian Creative HeArts Kindergarten Arts Program. "We are very honored to continue this program," said Lee. "Walker's family was directly involved in designing the program, and it was important to all of us that we create something with a lasting impact. It's not just something for these children in their kindergarten year. It's setting them on the path towards always having the arts in their lives, and having that supported by their teachers and families."
Interested Title I schools in Marin County should apply by May 17. Apply here.
The Walker Rezaian Creative HeArts Fund is a project of the Walker Rezaian Memorial Fund. Youth in Arts is a nonprofit established in 1970. The leading arts education nonprofit in the North Bay, Youth in Arts offers students experiences and instruction in the visual and performing arts, and enriches the community with cultural events.