Mentor Artist Keith "K-Dub" Williams worked with young artists in Ms. Mankus's art classes at Marina Middle School in San Francisco to create unique, personal Snap-backs. Students learned to design, prep, and paint their custom hats in this six-week project.
"I like the whole hat because I created it myself. It is not the best hat at all, but I am quite proud." – Jennifer, grade 7
Students were asked: What is important to you? What do you want people to know about you?
"My design makes me feel calm and peaceful. It doesn't show any signs of sadness or anger. I guess it all screams HAPPY." – Valentin, grade 7

"What I like best about my work is that it says I love music." – Kelly, grade 8
Next, Students chose a hat color and primed it with gesso to create a "canvas" for their message.
"I was thoughtful and careful when I painted the hat, keeping constantly in mind that my hands had to be very stable while holding the brush and cap." – Malia, grade 8
And then students added COLOR: Lots and Lots of COLOR!
"Creating this hat was very fun. I think that this project was the best one yet. I felt that the hat was talking to me in colors." – Jonas, grade 7
"While I was painting, I kept thinking , will this hat come out as good as I planned? I was feeling determined because everyone was finishing their hats. What I like best about my hat is the mouth, because it too so long (to finish)." – Kai, grade 8
"I think we are really lucky because we get to create this artwork, because most people don't have the chance to." – Melissa, grade 8
"(This project) took a long time, and I liked how if you mess up you can paint over (the mistake). I had a feeling I would fail, but then in the end it looked awesome." – Aidin, grade 6
The finished pieces are spectacular!
Mentor Artist Angela Baker worked with Fourth Graders incorporating VAPA standards about proportion and additive and subtractive sculptural techniques to translate 2-dimensional drawings into 3-dimensional forms.
Students invented animals. First drawing them with colored pencil.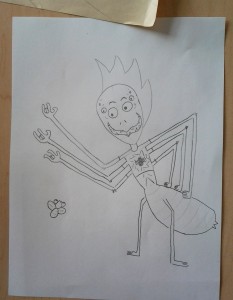 Then learning various clay techniques to create sculptures. For the culminating project students created an accordion book about their invented animals.
Students began by doing Gesture Drawing & then translated their Drawings into Wire Action Figures.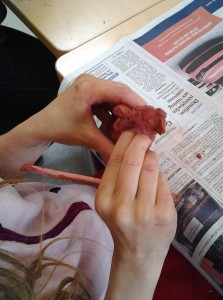 In addition to learning about line, form and color, classes explored themes such as community and being yourself to coincide with themes from of the play Lydia and the Other World, that the students wrote with Mentor Artist Thomas Arndt.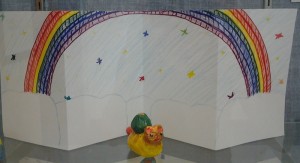 Many thanks to the Thomas J. Long Foundation for their support of "Arts Unite Us" at Harding Elementary.
Recently, families from Harding Elementary School in El Cerrito joined Youth in Arts Mentor Artists in a Passport Art Event.  Participants received a paper "passport" and traveled to various countries and exploring their art forms during this evening event.
Outside the Multipurpose room we danced to the beats of Brazilian Samba Reggae with YIA Mentor Artist Stephanie Bastos.  Stephanie has been teaching dance in the K-3 classrooms throughout the school year and during this event students, parents and siblings got the opportunity to dance together with her.
There were many moments of dance solos that were not to be missed! Inside, we swayed to the melodies and rhythms of Persian Classical Dance with YIA Mentor Artist Shahrzad Khorsandi.  Dancers got to use beautifully decorated scarves to highlight the dance movements.  We also learned about the instrumentation with live music provided by Pourya Khademi.
Utilizing special rice paper and bamboo brushes, YIA Mentor Artists Julia James and Miko Lee led participants in Chinese Brush Painting techniques to create beautiful paintings of bamboo.  Artists also learned how to make their special "chop" or, signature in the corner of their painting.
We also created tin medallions representing our Mayan Nahual or, birth sign.  Using the Mayan Calendar, each person calculates their Nahual, which indicates the "essence" of their spirit according to Mayan beliefs.  We used wooden stylus to etch in the outline of our Nahual and colored them with markers.
Youth in Arts is thankful to all of the families staff and friends who showed up
and traveled the world with us!  We look forward to continuing our day-time programs in K-6th grades which will culminate in sharing events later this month.  YIA Mentor Artist Thomas Arndt is teaching theater classes during school as well as in a special after school group dedicated to writing, producing and performing an original theater piece that addresses issues of acceptance, friendship, appreciating differences and being true to yourself.  Stay tuned for a performance date!
Thank you to the Thomas J. Long Foundation for making this program possible!  With their support, we are able to provide financial aid for year-long arts programming at Harding Elementary and celebrate our diversity and expression in many forms!
To find out how you can bring this to your community, click here.