Mentor Artists Suzanne Joyal and Miko Lee hosted the Butterfly group from Miss Nicky's Preschool for a gallery visit today.  Inspired by the exhibit "Without Words" students observed the colorful artwork and then were led through a series of theatre exercises around using their bodies and their imaginations to express their feelings. Students used their imaginary multicolored wings to fly from the YIA Gallery into the Studio.
Suzanne then introduced the 3-4 year old artists to the Creative San Rafael project by creating art inspired by the
quote by Writer Bret Harte
"A bird in hand is a certainty.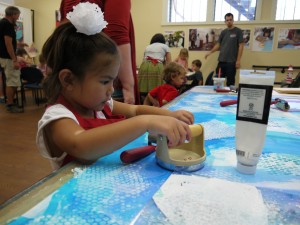 But a bird in the bush may sing."
Students learned how to mix the color brown and utilize print making skills to add to the sky blue. The team was so engaged and excited by their creations!
They learned that "Public Art" means their work will be shared with the community in a mural that they will all be a part of. A fun day for all!
UPDATE: Click here to read about our second group from Miss Nicky's who visited on Friday, August 1.
To schedule a Free Gallery Visit with hands on for your school group get more info here. Please note that summer time hours are variable and visitors must arrange an appointment.
Thanks to the California Arts Council for supporting this work.
by Mentor Artist Kaitlin McGaw
In my first teaching artist residency with Youth in Arts, I customized a Common Core/Hip Hop series for four kindergarten classes at Bahia Vista Elementary School in San Rafael's Canal area.
Since my songs and curriculum can cross over various topics [shapes, coins, letters, letter sounds, writing, fitness, nutrition, math, etc.], it was a joy to work with our partner educators to focus the workshops on the needs of the students as they closed their first year of school.

As many of the students were learning English as a central part of their school experience, the objectives for the artist residency were to include language proficiency in the ability to retell a story, and a performance of understanding of math terms (less/more). We also wanted to support and augment student opportunities in self-expression.
I used several of the songs from my curriculum to meet these goals, which are outlined at the bottom. In the first week, the students were perhaps a bit shy, learning many new words, formats, and dances with me. By week two, our progress was underway. Our name game "Do Your Thing" gives each student the opportunity to say their name with a dance movement, rhythm or gesture: "I'm Kaitlin… I do my thing!" and hear the class say the name and mirror the movement: "She's Kaitlin… she does her thing!"
For kindergarteners, learning he/she and do/does are elements of language acquisition. But more interestingly was watching some of the students really come out of their shell over the weeks together, saying their name louder each time. We always give students the option to "pass" – but oftentimes the "pass" I found was merely to provide the student just a few more seconds to think about the gesture or dance move they wanted to share with the class.
The Food Calculator is an original song we wrote in my group Alphabet Rockers. The song includes learning the b-boy move "the wave" along with learning less/more and healthy food choices. For the purposes of this residency, I added a story about the rockstar who brings 1 food each day to share with her friends. (Monday is 1 apple, Tuesday is 2 grapes)  The students fill in the blanks for what the foods are. At the end of the story, there is a number sense element played out as they bite 1 apple, pick 2 grapes and retell the order of the foods to the teaching artist. We then use a food calculator to decide which snacks were healthy before going into the actual song as a dance. The kids absolutely adored this song and loved performing it and singing it with me.
At the end of the residency, the students performed for one another, learning terms for "audience" and "performers" as well as expected behavior for both within the arts world. The boys performed "Dynamite" for the girls, and vice versa. They then shared compliments with one another with what they noticed in the performance. It was an opportunity to celebrate the students' strengths while also reinforcing the ability to say a complete sentence, such as "Josue – I like the way you danced."
I look forward to working with additional schools to customize curriculum for music/movement with Common Core goals, including adding in beatboxing and rhythm and making letters with our bodies as a way to reinforce early literacy.
Here are the songs I used for the residency:
Good Morning Song [Listen here: http://www.alphabetrockers.com/music]
Do Your Thing [watch teachers do it here: http://vimeo.com/85632098]
Dynamite [Watch here: https://www.youtube.com/watch?v=jepxZWR3EH0]
Food Calculator [Listen here: http://www.alphabetrockers.com/music]
Shape Rap [Watch here: https://www.youtube.com/watch?v=1zxwLSjCfaI]
Rhythm Games through "Can I Kick It" by A Tribe Called Quest
By Mentor Artist Gabrielle Gamboa
As part of the Travel the World program, I conducted a fun and challenging Renaissance Drawing workshop for the 7th Grade History students of Davidson Middle School in San Rafael. This two day workshop was a hands-on lesson in Renaissance artists and their unique innovations. After a discussion of the apprenticeship system of the era, students chose a Michelangelo or Leonardo da Vinci master drawing to copy on tinted charcoal paper. I talked about how copying a master drawing was an important exercise in an apprentice's studio education!
Each master drawing came with a transparent grid that we then copied on the charcoal paper. Next, we discussed the types of drawing tools used during the Renaissance era, and students practiced using vine and compressed charcoal, and sanguine and umber Conte crayons (soft, earth toned colored pencils.)
I then demonstrated the technique of making a more accurate copy by drawing only one small grid square at a time, copying the contours of shapes and lines, and then adding shading. I demonstrated how turning an image upside-down can sometimes make it easier to copy clearly. Some students chose to start in pencil and then switch to charcoal or conte, others chose to draw entirely in charcoal and/or conte.
This lesson directly connected to their history studies, and the students were impressed at how well the old grid drawing technique worked to make more accurate drawings!