This week Youth in Arts celebrated art and friendship with Kindergarten students and their families at Bahia Vista Elementary School.   Optimism and friendship are two important themes in Kindergarten and YIA Mentor Artist and Program Director Suzanne Joyal lead families in an
evening creating art around these topics.
We started out talking about how we can be good friends and singing a song in Spanish and American Sign Language about friendship with YIA Mentor Artist Nydia Gonzalez.  Sharing, supporting, listening, respecting and playing were definitely important and students made it clear that they feel great when with a good friend!
Teacher Suzanne then lead everyone in creating a beautiful Tree of Hopes, adorned with drawings depicting everyone's hopes and dreams for the future.
For the past few months YIA Mentor Artist and Program Director Suzanne Joyal has been teaching all 7 Kindergarten classes a visual arts curriculum geared around the themes of friendship in honor of the life of Walker Rezaian.
Kindergarten teacher Mrs. Pauley reflected on the past few months, "This program has helped each of my students learn a new way to express themselves, build self-confidence and discover the amazing artist within them.  We feel so thankful to have gotten this experience and are happy for the next bunch of kids that get to work with you."
Youth in Arts
Executive Director Miko Lee has announced that applications are open for the 2015-16 Walker Rezaian Creative HeArts Kindergarten Arts Program. "We are thrilled to continue this program next year." said Lee. "We look forward to sharing the experience with another low income school in memory of Walker.  We have had a wonderful partnership with Walker's family in creating this program and providing life long learning tools for so many children in our area."
Interested Title I schools in Marin County should apply by May 18. Apply here.
The Walker Rezaian Creative HeArts Fund is a project of the Walker Rezaian Memorial Fund. Youth in Arts is a nonprofit established in 1970. The leading arts education nonprofit in the North Bay, Youth in Arts offers students experiences and instruction in the visual and performing arts, and enriches the community with cultural events.
Youth in Arts is currently hosting "Rising Stars," the 24th Annual Marin County High School Art Show at our gallery at 917 Street in downtown San Rafael. The opening reception for artists and their families on Sunday, March 8, attracted over one hundred young artists and gallery visitors.
Check out photos from the March 8 opening reception here! 
Speaking to the assembled crowd of teens and their families, Youth in Arts Executive Director Miko Lee expressed her gratitude to all the exhibiting students.  "Thank you for sharing your beautiful work with us," Lee said. "You inspire us all with your creativity."
Lee presented students with awards and honorable mentions selected by a panel of local arts professionals, Kay Carlson, Jay Daniels and Katie Rice Jones, from among over 150 student works selected by Marin art teachers at 16 schools to represent their programs.
The Best of Show award went to Ben Lyons, a student at Marin Academy in San Rafael, for his work "Industrial Revolution," a high-concept ceramic tea set. Two other Marin Academy students also received major awards: Melanie Blue for Best Drawing and Seiichiro Nakai for Best Decorative Arts. Other major award-winners were Jenna Tooley of San Marin High School (Best Painting); Sophia Schwartz-Cutler of Marin School of the Arts (Best Sculpture); Abby Tarantino of Marin Catholic (Best Photo); Hagen Wehde from Redwood High School (Best Altered Image); and Cali Hetfield from The Marin School (Best Mixed Media).
Thirty additional students received Merit Awards, Honorable Mentions or Juror or Sponsor Awards. A full-list of winners is included below
The exhibit will be open to the public through March 27, with regular hours Monday-Friday from 10 am to 4 pm. "Rising Stars" is sponsored by Perry's Art Supplies & Framing in San Anselmo, the San Anselmo Arts Commission, Marin Open Studios, Uchiwa Ramen and Il Davide Restaurant in San Rafael.
Best of Show – Industrial Revolution – Ben Lyons – Marin Academy
Best Painting – Introspection – Jenna Tooley – San Marin HS
Best Drawing – Self Portrait – Melanie Blue – Marin Academy
Best Decorative Arts – Tee Time – Seiichiro Nakai – Marin Academy
Best Sculpture – Treasurer – Sophia Schwartz-Cutler – Marin School of the Arts
Best Photo – Best Friends – Abby Tarantino – Marin Catholic
Best Altered Image – Untitled – Hagen Wehde – Redwood HS
Best Mixed Media – Untitled – Cali Hetfield – The Marin School
Merit Awards
Reflective Objects – Raissa Boysen – Marin School of the Arts
Awe – Tara Henry – Marin Catholic
Birds in a Tree – TeamWorks Art Mentoring Program (Treyvonn, Mario, Adam, Angela, Javier, Oliver, Alyssa) – Loma Alta School
Flying Buttresses – Gabriel Hamilton – Sir Francis Drake HS
Chained For Five Rupees – Leigh Pomerantz – Marin Academy
Geometry in Color – Kasha LaRoche – Sir Francis Drake HS
Hobo Botanical Garden – Emily Villavicencio – San Rafael HS
Pour – Max Sigerman – The Branson School
Raven Inkwood – Yezi Li – San Marin HS
Self Portrait – Ciara Post – Marin Academy
Toadstool – Olivia Harvell – San Domenico School
Untitled – Tara Sola – San Domenico School
Untitled – Holly Parkin – Tamalpais HS
Honorable Mentions
Children of the Moon – Alia Anderson May – Marin Catholic
Distortion – Dominic DiPaola – San Andreas HS
Drakes Beach – Andres Gomez – Tomales HS
Husky – Caeli Gallagher – San Rafael HS
Jean Jacket – Anna Taylor – Sir Francis Drake HS
Learning Equals Education – TeamWorks Art Mentoring Program
Light at the End of the Tunnel – Zoe Carrell
Mel Goes Bananas – Kate Claman – Marin Academy
Porcelain Head – John Iwaszewicz – Oak Hill School
Painting Silver Lining – Blake Patterson – The Branson School
Self-Portrait – Willow Jones – The Marin School
Untitled – Merryta Liu – San Domenico School
Untitled – Angela Chen – San Domenico School
Young Sanity – Alondra Vazquez – Terra Linda HS
Black Cat Prizes
Digital Art – Makai: Towards the Sea – Jana Viets – Marin Catholic
Manipulated photography – Untitled – Hagen Wehde – Redwood HS
Unmanipulated Photography – Untitled – Olivia Runnfeldt – Redwood HS
Perry's Awards
Untitled – Anna-Sofie Whalen – Tamalpais HS
Wings to Fly – TeamWorks Art Mentoring Program – Loma Alta
Exhibiting Students
Loma Alta School/TeamWorks Art Mentoring: Teacher Katya McCulloch
Treyvonn, Mario, Adam, Angela, Javier, Oliver, Alyssa
Marin Academy: Teacher Anne Maurice, Katharine Boyd & Jenny Rosenberg
Seiichiro Nakai, Melanie Blue, Ben Lyons, Kate Claman, Ciara Post, Leigh Pomerantz, Rebecca Strull, Erika Page, Luke Raddue, Anjali Bodony, Lindsay Levine
Marin Catholic: Teachers Laurie Reemsnyder & Mark Jaeger
Abby Tarantino, Jana Viets, Alia Anderson May, Tara Henry, Juliette Hvistendahl, Meghan Rooney, Jack Burnham, Kristen Rolstad, Dino Kalfos
Marin School of the Arts: Teachers Sabrina Kalleen & Mary Grehan
Sophia Schwartz-Cutler, Raissa Boysen, Ciel Pierlot, Jensen Neff, Emely Lemus
Oak Hill School: Teachers Michelle Barbera & Sophie Cooper
John Iwaszewicz, Hannah Sherwood, Ben Willbrand, Ryan Heller, Harrison Mahler, Megan Busby, Luke Meng, Matthew Seiberling, Braden O'Connell, Strider Barker, Katie Tysinger
Redwood High School: Teachers Susanne Maxwell & Karen Meadows
Hagen Wehde, Olivia Runnfeldt, Kenzie Johnson, Megan Wilford, Ryan Stiles, Haley Turner, Bridget Wait
San Andreas High School: Teacher Gray Douglas
Dominic DiPaola, Patrick Cook, Meryl Fe Klein, Altimont Bolton, Samantha McEvoy
San Domenico School: Teachers Logan Wood, Jill Hoefgen & Carina Ybarra
Merryta Liu, Angela Chen, Tara Sola, Olivia Harvell, Erika Johnson, Bella Gosman, Kathryn Volovski, Ellen Zhu, Vicky Lin, Camille Ayanruoh, Mia Ma, Moment Li
San Marin High School: Teachers Mariah Fisher & Denise Mozzetti
Jenna Tooley, Yezi Li, Olivia Lamont, Liam Gavin, Lauren Frank, Yezi Li
San Rafael High School: Teachers Johanna Herrera & Trenton Smith
Zoe Carrell, Caeli Gallagher, Emily Villavicencio, Roxana Velasquez, Daylor Giron, Kailey Brown, Marissa Mullins, Duriel Meisner, Sonia Sondheim, Kien Lam, Brenda Arellano, Julia Jackson-Clark
Sir Francis Drake High School: Teachers Martha Cederstrom & Beth Cederstrom
Anna Taylor, Gabriel Hamilton, Kasha LaRoche, Ashmoore, Sarah McAmis, Michael Kest, Matt Richman, Annika Williams
Tamalpais High School: Teachers Zach Gilmour, Lisa Ouse Hicks & Mary Krawczyk
Holly Parkin, Scarlett Costello, Anna-Sofie Whalen, Natanya Glatt, Ryan Turner, Jordan Sherman, Anna Baldwin, Hannah Saltonstall, Jessica Hudson, Izzy Parlamis, Nicole Cochary, Genevieve Tremblay
Terra Linda High School: Teachers Katy Bernheim, Elizabeth Galbreath & Allison Oropallo
Alondra Vazquez, Cielo de la Rosa, Marcus Perkins, Daniel Swanson, Brisia Reales, Annabelle Vinokur, Tifani Sosa, Majken Hanson, Taren Bouwman, Jasmin Salgado, Chris Perani
The Branson School: Teachers Eric Oldmixon & Allyson Seal
Blake Patterson, Max Sigerman, Zoe Moynihan, Grace Roberts Burbank, Frankie Gerraty, Sam Reinertsen, Megan Gillfillan, Bix Hirigoyen, Sophie Rosenbaum-Jones, Jack Verhille, Hunt Wyman
The Marin School: Teacher Alison Murray
Cali Hetfield, Willow Jones, KC Seligman, Moiya Morgan, Jeffrey Kolthoff, Michelle Chan, Crash DesRosiers, Tess Hecht, Cali Hetfield, Jacob Weber
Tomales High School: Teacher Rachel Somerville
Andres Gomez, Clara Wright, Mario Passantino, Abrielle Spaletta, Ashley Weir, Litia Bowater
Check out these photos from the "Rising Stars" 24th Annual Marin County High School Art Show opening party on March 8, 2015. Photos by Stacey Kamp.
The group of teens in the C Street Project have been meeting every Thursday night since October developing their craft in visual and performing arts; led by Theatre  Artist Melissa Briggs and Visual Artist Suzanne Joyal. Connecting to the Creative San Rafael project, students decided to use the quote by Isabel Allende "Today's girls are tomorrow's women—and leaders" to inspire their work in both visual arts and in performance.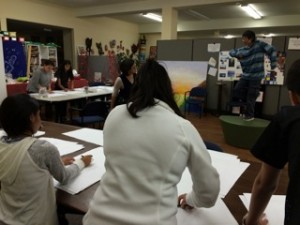 Each student is developing a very personal monologue inspired by their own life and where tomorrow will take them inspired by Isabel's quote. They are learning theater skills to devise & perform their monologues for an audience, and using the monologue to inspire their visual art. Students are learning a variety of drawing and painting techniques that they can use as they develop their murals for the A Street Garage. (Their murals will wrap the 8 pillars facing C Street!)
Last night in rehearsals students worked especially carefully on "the moment before": How do you begin a performance on stage? Who are you speaking to? What do you want people to know? What is your objective? What is in your way? What actions do you take to overcome those obstacles? How do you capture an audiences attention and hold it. Students spent the evening rehearsing how to begin their monologues, where to look, how to breathe, they even incorporated stage combat technique in a pratfall that kicks off one student's piece. With targeted directing, personal attention and a few months of solid 'elements of theatre' instruction even the most timid members of the group rocked the stage in rehearsal.


Quotes from the evening:
"It's like you found a treasure box with a key and unlocked it"; "Go away food, but not too far"(a life from the comedic monologue by the picky eater), "I don't need permission to live my life"; "Stop being racist" (for the quiet girl who showed her rage to the racist PE teacher); "Give me answers" (for the quiet girl facing many issues in her early teen years)
Student's reflection vocabulary: Transformation, Sweat, Deep, Intense, Gestures, Empowered, Growing in Confidence, Conscience, WHY?
For information about the audition/portfolio review to become a part of C Street Project. CLICK HERE.
by Mentor Artist Thomas Arndt
"PRINCESSES!!!" exclaimed the Dinosaur.  He was on "The Family Feud Dating Game" (a play written by a group of students at Grant Grover School at Marin College) and he had just been asked–by the Princess no less–what his favorite food was. Clearly, he did not make the cut, as she inched away and the buzzer sounded. The sad dinosaur slunk away.
I had my first experience working with severely handicapped adults at Grant Grover School this semester and absolutely loved it. It was challenging, especially having such a wide array of abilities in a single class, but the students were all so attentive to helping each other succeed at their own individual levels, it was a great opportunity.  Three separate groups, each mixed from different classes, created their own shows: "The Family Feud Dating Game", "The President's Sneeze", and "The Skeleton Bone".  The students lit up each day and grew a tremendous amount during our classes together.  I saw students understand more and more each week about how to participate, and I know they were all proud of the work that they created.
Our final performances were a huge success!  Parents and families all crowded into the common space, and laughed, cheered and applauded at the great, creative work that each group did. It was a true honor to be a part of the team and I look forward to seeing them again next year!