Mentor Artist Sophie Cooper worked with preschool students at Marindale this Spring
Mentor Artist Sophie Cooper shares work from Oak Hill School this Spring
We spent the spring exploring color, texture and the art of circles…
In May, we started getting ready for the final group project. Each student painted both sides of a square mat-board canvas. One side was painted in warm colors and the other in cool colors. Salt mixed with liquid watercolors to create amazing texture designs.
On May 26, the school's final project was placed on exhibit, the interactive, 3-dimensional "World of Color," along with selected artwork created during the semester-long residency. Students delighted in sharing their artwork with one another as well as staff  and parents.
Thank you to the Students and Staff of Oak Hill for a beautiful spring!!!!
Mentor Artist Sophie Cooper writes about working with students at Harding Elementary in El Cerrito
From climate change to wildlife protection and the eternal quandary of the cuteness of cats, students at Harding Elementary share their ideas with their classmates as they present these visual stories as short "films."  Developed over the course of an 8-week workshop, students learn the basics of visual storytelling, collect images from the internet and learn to compile the images into short films using highly-accessible computer software. The process walks students through the basics of film editing, introduces them to the workflow of the editing interface and empowers them with the primary tools of animating and adding text. Yet, beyond the technical skills, students lean to look critically at how the prevalence of  images around us are inserting meaning into our lives on a daily basis.  They learn to break down the story behind an images (such as an advertisement) and choose whether or not they agree with this story. Most importantly, the project got the students thinking about what are the stories they would like to be contributing to the conversation and empowered them with the tools to bring those stories to life.
One of the teachers from Harding wrote to me after the workshop and told me that she had overheard some of the students saying that they were going to try this again on their own over the summer. She wrote: "Perhaps you have inspired a new generation?"
Thank you to Harding 5th Grade teachers Karen Fisher and Kimberly Souza for outstanding collaboration!
Youth in Arts silent auction of work in our gallery by youth artists will close at 8 pm at the end of 2nd Fridays Art Walk Downtown on Friday, August 14. The auction is running concurrently with our exhibit Creative San Rafael, comprised of the original works for public art banners going up around the Downtown San Rafael area this Spring and Summer.
Works available via auction include 6 paintings by Youth in Arts C Street Project teen students that are the originals for reproductions displayed along 3rd Street Downtown. The works were inspired by an Isabel Allende quote "Today's girls are tomorrow's women—and leaders" and each piece is signed personally by Ms. Allende who visited with C Street Project students this Spring.
Also available for bidding are four large pieces created collaboratively by groups of students for the Creative San Rafael project. These are the originals for banners that can be found around the Downtown area.
To submit a bid on any of the above works, come by Youth in Arts any Monday-Friday from 10-4 until August 14 or join us from 5-8 pm during Art Walk for the official auction close. You may also contact us at 415-457-4878 during M-F business hours or on August 14 from 5-8 pm to inquire and bid via phone.
Two works by professional artists from the exhibit are also available for sale in the current exhibit (but are not included in the auction). If you have questions, feel free to call us at 415-457-4878 or email yia@youthinarts.org.
Mentor Artist June Li provides notes on her experience at Marina Middle School in San Francisco teaching traditional Chinese brush painting.
Chinese traditional brush painting has developed continuously over a period of more than 5000 years. It is the most simple and expressive visual art form. Main tools include brush, ink and rice paper. Composition and space are the most important elements for the mindset. Seal and calligraphy are the final touches that express the theme and views on art and life.
I designed this six-session program for middle school students to have a fundamental understanding of this art form.
Through domesticated native figures from China, such as bamboo trees, wild orchid flowers and panda bears, students learned brush techniques and basic strokes.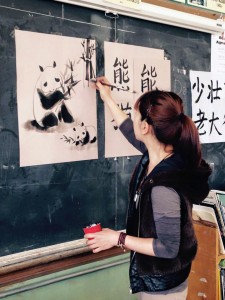 Students had great fun, played with the ink and created their conceptual expressive art.