Youth in Arts is delighted to have Morgan Schauffler as our new Program Manager. Morgan, who grew up in Marin, has a family tradition of love for the arts. Her grandmother studied art history, and she grew up appreciating and making art at school and at home.
"I actually wrote and illustrated my own book in second grade," Morgan recalls.  She remembers her grandmother being so proud of her work that she sent laminated copies to all her friends.
Morgan carried her interest through her school years and went on to receive degrees in Art History and Human Communications at University of Denver, working in fine arts galleries while in school and after graduation. She spent a decade at the prestigious Paul Thiebaud Gallery in San Francisco, representing artists and working with collectors. When her son was born two years ago, she decided to take her arts interests in a new direction.
"I could see our local schools weren't offering the arts classes I had as a child," she explains. "I wanted to change that, to make a difference."
Searching for how to make that difference brought Morgan to Youth in Arts, where she will now be putting her marketing and project management skills to work helping schools identify their arts needs and fill gaps in programming. With her extensive gallery experience, she will also support YIA Gallery at Youth in Arts, one of just a few in the U.S. dedicated to youth work. "I would love for more children and teen's work to be seen and valued in the community," she says.
In her free time, in addition to raising a bustling toddler, Morgan loves to visit museums, and she has her own collection of photographs acquired from her travels and paintings by artists she has represented. Although she does not consider herself an artist, she credits her arts experiences with building her creative and critical thinking skills. She believes all children need and deserve the arts in their lives.
"I want my son, and his peers–and all kids in Marin and the Bay Area–to have the opportunities I had," says Morgan. "So working at a nonprofit dedicated to doing just that is a great fit for me."
Come say hello to Morgan MWF 11-4 at Youth in Arts or contact her at 415-457-4878 ext. 160 or morgan@youthinarts.org.
Youth in Arts Mentor Artist Cathy Bowman is an award-winning cartoonist and writer who draws for print and online publications. She is the author and illustrator of the mini-comic, "The Old Cat and the Sea." She reports below on her work at Harding Elementary School in El Cerrito.
Teens interested in learning to create their own original comics with Cathy this October should click HERE to check out our C Street Project "Walkable Comics" workshop this October!
This past Spring, Harding Elementary School students learned to write and illustrate their own comics. Comics are part of a rich tradition of storytelling, and Harding's 4th, 5th and 6th grade students were excited to learn about this time honored art form.
Some students wrote short mysteries, starring protagonists that ranged from a talking donut to a n'er-do-well pencil. Others chose familiar storylines–friends on a basketball court, at a park or at school. Some drew their families. One 4th grade girl wrote about the adventures of leukocytes in the human body. Along the way they learned about facial expressions, body positions and how to create drama and action from panel to panel.
One of the biggest challenges was deciding which parts of a story to tell visually and which parts to tell with words. Students learned about speech bubbles, thought bubbles, action words and more. It was exciting to see students learn to draw 3-D objects like couches and chairs while creating images of home or school.
At the end of the session, students learned about lettering and cover art. Using a few colors, they created eye-catching covers.
Mentor Artist Sophie Cooper posted about her "Arts Unite Us" residencies at Redwood High School and College of Marin.
Merging visual art and music, the special day classes of Redwood High and College of Marin made gourd rattles. Each student decorated their own gourd, learned a series of simple songs and performed for the other classes. We had so much fun in this project and and the combining of music and visual art gave students a variety of ways of engaging with the creative process!
Big thanks to the wonderful folks at The Caning Shop in Berkeley, the most amazing resource for gourde art of all kinds!!
Arts Unite Us is Youth in Arts program tailored for students in school with special needs. Youth in Arts is the only consistent provider of arts for special education programs in Marin.
Thank you to Kennedy Center VSA and Buck Family Fund of the Marin Community Foundation for supporting this program.
Welcome back to school one and all, and happy National Arts in Education Week!
As we look forward to another successful academic year, we are reminded of all the wonderful, multicultural artists Youth in Arts celebrates.  September 15 through October 15 marks National Hispanic Heritage month, and we would like to take this opportunity to highlight some of the incredible Latin American performance artists on our assembly roster.
Pedro Rosales' Proyecto Lando assembly is an interactive performance that presents the traditional dance and instrumentation of the Afro-Peruvian culture of the Peruvian coastal region.  They teach the basic rhythms so that students can join in dancing and playing.  The performers combine Afro-Peruvian music with elements classical, folkloric, salsa and jazz to create a vibrant sound that encourages students to get up and DANCE!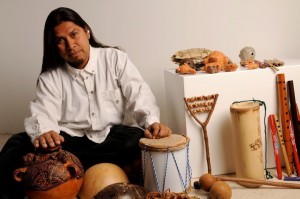 Miguel Martinez's Corazón Sur ensemble plays classic Latin Jazz songs as well as traditional genres of Mexican and Latin American music. The flute and percussions of Corazón Sur create a colorful ambiance, evoking scents and breezes of the Caribbean, the melodies of the indigenous tribes and the heartbeat of the African drums. Students have the opportunity to travel through Latin America, exploring rhythms ranging from Son Jarocho of Veracruz to the traditional Vallenato of Columbia, learning about the geography, language and instrumentation of various regional genres.
There are a multitude of companies that perform the traditional Afro-Brazilian art form of Capoeira.  Youth in Arts is lucky enough to work with two such talented performance artists.  Both Daniel Mattar and Sabiá Pinheiro's Capoeira Angola assemblies appeal to many senses with the beautiful and acrobatic movements, singing, and music, using traditional Brazilian instruments such as the Berimbau (made of a gourd and one string) and Pandeiros (tambourines). Performers demonstrate a traditional Capoeira circle called a roda and dance and sing along to the beats of the Berimbau. Students will learn about the Afro-Brazilian culture and the history of how Afro-Brazilian slaves achieved freedom through the art of Capoeira, as well as basic Capoeira rhythms and steps. The songs are call and response and students are encouraged to sing along.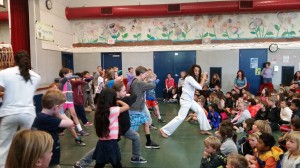 Book your assembly today!  You can fill out our online form here or contact our Programs Manager directly at morgan@youthinarts.org / (415) 457-4878 ext. 160.  We look forward to bringing our fantastic performers to your school this year!