The teachers and students at Laurel Dell Elementary School in San Rafael have spent the spring season immersed in the strength and beauty of flamenco music and dance. Over the past 12 weeks every class, from TK to 5th grade, has had the opportunity to learn about the relationship between musicians and dancers, different palos or rhythms of flamenco, discuss and try different flamenco accessories or "tools" such as the bata de cola – the long train skirt – and also explore the role of cultural dance as a way of preserving traditions and sharing diverse cultures with community.
On top of it all, it has been an amazing time working with each class on their dancing and each class is getting ready to share their new flamenco skills in a full school performance for friends and family celebrating the end of their school year! Ole´!
#youthinarts #flamencodance #kidsdance
This activity is supported in part by the California Arts Council, a state agency. 
Julia Chigamba and the Chinyakare Ensemble put on an incredibly lively performance at Marin Primary & Middle School's International Day.  They performed three traditional Zimbabwean dances for the student audience of about 200. First, was a welcome dance called Mauya in the Shona language.

The next piece celebrated the vital source of water with the artists vigorously dancing with full jugs on their heads. Students gasped and cheered as Julia Chigamba and Casey Daliyo moved quickly around the stage with the water precariously perched on their heads.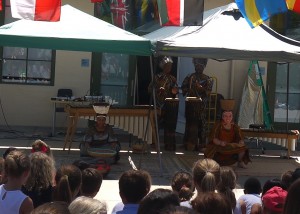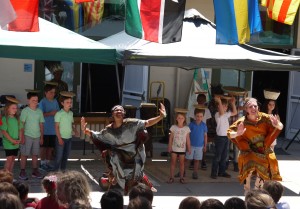 Lastly, was a dance rejoicing for the harvest performed with baskets containing various seeds and beans. Student volunteers were invited up on stage to participate in the harvest dance.  They practiced balancing the baskets on their heads, and shaking the beans and seeds around which added a wonderful sound element.
All of the Chinyakare's dances were accompanied by beautiful music expertly played by Ronnie Daliyo and Augusten Basa, on Zimbabwean instruments such as the mbira, ngoma, marimbas, and chipendani. The troupe answered a few questions from the engaged student audience, before receiving their well deserved standing ovation!
Last weekend, Youth in Arts supporters met up on the courts at Marin Bocce Federation for a fundraiser supporting arts programs for K-12 students of all abilities. After three rounds of preliminary games and two playoff games, the big winner was Team WBBB. Congratulations!
The event raised over $10,000 for arts education and was a fun time as well, with a featured performance by Youth in Arts `Til Dawn A Cappella at the end of the day. We are so grateful to all the players for coming out to support Youth in Arts, to our Youth in Arts Board Member Deb Bennett for organizing, to Board Member Maura Tokarski for providing beautiful certificates and prizes for the winners, and especially to our sponsors who made the event possible. Thank you!
Court Sponsors
Caldwell Law Firm
Rosano & Co.
Schneider Wallace Cottrel Konecky Wotkyns LLP
Rock Wall Wine Company
State Room Brewery
Sponsored Teams
First Federal Savings & Loan of San Rafael
Bruce & Linda Hopper
Pura Vida
Matzo Balls
Team Mannie & Al
The Holy Rollers
Tuffanelli, Inc.
Susan Feder Mediation
Melissa Jones Briggs
Storek Architecture
Architect Teachers
WBBB
Angela Rafner
In-Kind Sponsors
We Bring the Bar
Marshall Arts
Café Arrivederci
Elev8Skin
Golden Gate Ferry
Youth in Arts Mentor Artist Katie Issel Pitre reports on her experience at Harding Elementary School in El Cerrito
I'm happy to report a job well done by all my students and their teachers at Harding Elementary School.  We have just finished a huge endeavor–10 classes performing original songs in one evening!!!  We pulled it off with the help of amazing PTA support and parent volunteers, help from former students at the theater at El Cerrito High, from Principal Takimoto of Harding Elementary School…and of course from students and teachers!
Through Youth in Arts 'Arts Unite Us' program, I was able to work with Harding students for 24 weeks leading up to our big performance. 'Arts Unite Us' aims to bring children of all abilities together through shared creative arts experiences.
The first half of the year, we developed our ensemble, learning about music, rhythm, working together, and rhythm notation and instruments.  The second half of the year we selected a favorite song, used its melody to create original lyrics, and then went through the editing and revision process to create our own song.  For most students this was their first exposure to song writing!  We utilized the support of composer Aaron Pike, who created beautiful piano tracks to accompany our original songs.  We rehearsed in our classrooms to prepare for our show.  Here are two examples of what our in-classroom rehearsals sounded like:
Teacher Helen's Kindergarten class rehearsal of "Mrs. Wishy Washy"
Mrs. Silkworth's 3rd Grade class rehearsal of  "America walk with the rest of the world"
After our performance I visited once more for an in-school sharing session, giving students one last chance to see and appreciate each others work.  We reflected on our work and created songs that summarized our experience in music class.  Here is one of my favorite songs created on our reflection day from Mrs. Tamura's 2nd Grade class:
I thank Youth In Arts of the opportunity they gave me to grow and develop as an artist and an educator, to work with this special school and make sweet music with these intelligent students  A big nod to you all.
With respect,
Ms. Katie
Mentor Artist Eddie Madril reports on his latest residency in San Rafael:

In a beautiful surrounding, the children at Glenwood Elementary School in San Rafael got the opportunity to experience learning, trying, and "honing their craft" at various American Indian dance styles. The teachers encouraged their exploration and learning of Native culture, history, and world views while challenging themselves at Grass Dance, Fancy Dance, Fancy Shawl Dance, and Hoop Dance. These are all dances that can be seen at powwows across the U.S. Of course, the teachers also engaged in trying the dances themselves as any good teacher would do in order to lead by example. They worked so hard at their dancing that one day we had to try a few traditional Native games, and they did great!
Youth in Arts organized two wonderful multigenerational art events with the Canal Alliance's University Prep students on March 24th and April 21st.  The students, their parents and siblings worked together on collaging large puzzle pieces that when put together created the letters U and P (University Prep's acronym).  The letters are on a banner that will eventually hang at UP!.
Everyone wrote their goals for the future on the background of the banner in black sharpie, so that the large letters stand out against a black and white background.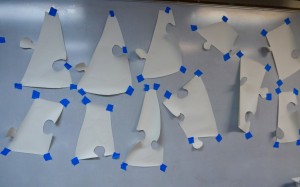 All of the participants worked together at the end of the evening to put the puzzle pieces back together.
We had a great time with the UP! students, their families, the staff, and YIA mentor artists Sophie Cooper and Sofie Siegmann.
"Yes, the 5th Graders of Glenwood have been practicing the studied tomfoolery of the Commedia Dell'Arte, from the 16th and 17th Centuries, including lazzi like "Dead and Alive," in which a player attempts to get rid of an uncooperative corpse."  Youth in Arts Mentor Artist, Eliot Fintushel shares. "We also perfected the skills of tripping over our own feet and bumping into walls–without injury, of course, though it looks catastrophic!  I had a lovely time with the enthusiastic, engaged students at Glenwood Elementary School."
Glenwood Elementary's wonderful art teacher, Molly Blauvelt, helped the students make their own half masks, which are traditional in Commedia dell' Arte performances.  The masks turned out great, and were a perfect addition to Eliot's instruction.  Thank you, Molly and the entire Glenwood Elementary School staff!
On Thursday, April 27, Laurel Dell teachers, students, staff and families came together at Youth in Arts to celebrate artwork on exhibit created by Laurel Dell kindergarteners in the Walker Rezaian Creative HeArts Kindergarten Art Program.
Created by Youth in Arts and Walker's family to celebrate Walker's life and love for the arts, the Walker Rezaian Creative HeArts Kindergarten Arts Program combines visual arts classes led by professional artist and educators with "Family Art Nights" that bring the school community together.
All Walker Rezaian Creative HeArts activities center on a theme of friendship–this is both a celebration of Walker, who was gregarious and loved making new friends, and a perfect developmental link for kindergarteners who are learning to be a part of a school community.
The culmination of the project is the annual "Imagining Friendship" gallery exhibit of student work on view at YIA Gallery in downtown San Rafael through May.
The exhibit also includes work from kindergarteners at Venetia Valley, who will celebrate together this week on May 4, and hands-on art activities for visitors. We are open to the public weekdays 11-4, as well as this weekend May 6-7 from noon to 4 pm for Marin Open Studios and on Friday, May 12 from 5 to 8 pm for 2nd Fridays Art Walk Downtown.
Colorful self-portraits created by the students are displayed alongside artist-created cardboard play spaces that show children you can create "something from nothing".
Laurel Dell staff, teachers and families created a beautiful tote for Naomi Tamura and Ali Rezaian who started the Creative HeArts Fund to honor their son, Walker, and who helped Youth in Arts design the program to have a lasting impact on children. Naomi has since also become Youth in Arts Board President, leading the organization in reaching more Marin children with our creative programs.
To learn more about Creative HeArts, check out our video below. For more about the gallery exhibit, click here. To donate to support this opportunity for young artists, visit our online donation page.

Youth in Arts thanks the Creative HeArts Fund and the Tamura and Rezaian families for their ongoing support for this program.
This activity is supported in part by the California Arts Council, a state agency.
Teaching artist Suzanne Joyal is working again with Susan Wilkinson's early intervention pre-K class at Marindale (It's been seven years!) This time students are studying Emotions, using materials developed by YIA and perfect for young learners. Students looked at cards featuring children showing an emotion, and then practiced making those faces in mirrors. They learned to look closely to notice what happens to their face when they show different emotions (mouths go down when you're sad, up when you're happy, eyebrows go down when you're angry and up when you're surprised).
Students then drew their own faces on matching paper, and painted a treasure box to carry everything home in, where they can play a matching game with their family. When art time was over, Susan continued the lesson with songs and movements and more opportunities for young students to practice looking at faces and sharing emotions.
Thank you to the Buck Family Fund of the Marin Community Foundation for supporting this program.