Thank you to all who came to and supported our Youth in Arts Architecture in the Schools program. Gracious Hosts Maura and Chris Tokarski opened up their beautiful home to us as a starting point and then lovely and delicious farm to table meal. We took a walking tour through some historical sites in the Cascade Canyon neighborhood of Mill Valley. We thank the neighbors who allowed us to explore their amazing homes. Led by our own Jennifer Daly, Maura Tokarski and Debra Schwartz from Tam Hiking Tours and the Mill Valley Historical Society.  Architect Shirl Buss described some of the work she does in the classroom and showed off the kids Tower of Power structures and connecting bridges.  We all made connections and enjoyed a sunny and wonderful afternoon.
A special thanks to Cary Carpenter and Jia Han for supporting the event.
Mentor Artist Hannah Dworkin reports on her music residency at Marindale preschool.
It was such a joy to work with Carla Echevarria's  language delayed preschool class at Marindale in San Rafael. This year was especially engaging because Carla invited several students from Santa Margarita, a nearby "mainstream" preschool, to join us weekly.  Carla and the teachers from Santa Margarita have been looking for a way to integrate the two schools, and our residency became an important step toward reaching this goal.
The presence of the Santa Margarita students greatly motivated Carla's students to move beyond their comfort zone and engage in activities that were new to them. We noticed that they were more fully engaged in the music and the movement and were more apt to accept new songs and dances into their repertoire.
Carla's students also made great strides in their musicianship, more than they had in the past.  They were able to follow melodies in accuracy I had not seen before, and they often begin singing our songs before the class even begins!
We also used a lot of puppets this year, and the kids loved them!!! The level of engagement and calm throughout the class was evident immediately once they saw my "magic puppets" emerge from their bags.  Some song that worked well with puppets were: "Three Little Monkeys" with an alligator puppet and three monkey puppets, "Buzz Buzz" with Bee finger puppets for each child, and "We are the dinosaurs" with various dinosaur puppets.
Thank you to the Buck Family Fund of the Marin Community Foundation for supporting this program.
Mentor Artist Sophie Cooper reports on her work with students at Venetia Valley in the Special Day Classroom
In our Special Day Class at Venetia Valley Elementary, students engaged with a variety of instruments, rhythmic patterns and songs from around the world.
One student's favorite activity was to sing along with the drone of the shruti box (a traditional instrument from Northern India). The uneducated observer might think that the student was simply "making sounds," yet teachers who have been working with this student for years were amazed to witness how unusually vocal he became in our music sessions. He and I engaged in an improvisational dialogue, singing phrases back and forth, echoing and creating music born of that moment.
Another student's favorite activity was to accompany a song using the keyboard. The light, easy-to-press keys are an immediate and dynamic way for him to create sound and respond to what he is hearing.
Every individual is unique, and every individual has a unique way of engaging with the world around them. My focus with the music residency is to find each students point of engagement and meet them precisely there.
Youth in Arts is grateful to Marin Charitable for helping to support this project.
Thank you to the Buck Family Fund of the Marin Community Foundation for supporting this program.
Mentor Artist Sofie Siegmann reports on her mask-making residency at College of Marin
We started with a simple paper mask and added materials each week. First we painted the masks, using sponges and acrylic paint. Next came multi-colored cardboard papers which students cut into shapes and glued onto the mask. Stamps, white and black paint, gold and red glitter added yet another layer and finally we added buttons, pom-poms, wire, and feathers. I am always surprised (and that's why I like to make art with students) at how every mask turns out so wonderfully different. I got to know the students a little bit and can see how their individuality and personality was expressed in their masks. We displayed the masks on a yellow bulletin board for everybody to see and enjoy, and included each artist's name. Finally, every artist posed with their mask, so I could take a photo. Thank you for your beautiful smiles!
Youth in Arts is grateful to Marin Charitable for helping to support this project.
Thank you to the Buck Family Fund of the Marin Community Foundation for supporting this program.
On June 13 and 14th Youth in Arts staff Suzanne Joyal and Miko Lee trained 60 self identified STEM (Science Technology Engineering and Math) teachers from the Marin County Office of Education on how to incorporate the ARTS into their curriculum. Teachers met in hour long grade level groups. They were led through a group brainstorm of their particular topic. They were then shown an example of a finished project and then led through the exercise which was connected to to address a grade level performance expectation. At the end of each session there was a gallery display and discussion utilizing Visual Thinking Strategies which are also employed by the STEM teachers. They were provided with lesson plans that note the links to the Next Generation Science Standard, the National Art Standard and Youth in Arts own Creative Expression standard.
Thank you for contributing your strengths in the arts to make this workshop meaningful and engaging for the participants. The teachers shared how they plan to use these art lessons with their students and how much they appreciated seeing how art can deepen student understanding in science.–Christina Lunde and Eileen Smith, Marin Next Generation Collaborative
For information on how you can book this professional development for your school site click here, where a link to lesson plans can also be found.
Please check out the attached photo gallery to see the work in action. Thanks to Christina Lunde for some of the photos.
 Joni DeGabriele reports on the Musical Moments program she led at Lynwood Elementary
I had the privilege of working with the special day class at Lynwood school,  TK through Second Grade, for sixteen workshops. We sang, we danced, and we learned ways to be kind to each other and communicate our feelings. We gave ourselves positive self-talk with the songs,  "Never Give UP" and  "Try, Try Again!".  The children met Spunky the Monkey who helped them learn how to take calming breaths when they are feeling Mad, Scared, Excited, Silly and ever Happy!  They met the Kimochis, Eldon the Eagle and Zwinkle!  The children worked on matching pitch, playing a steady beat, and moving to a steady beat.  I learned so much from my students and staff at Lynwood and hope to return next year!
Thank you to the Buck Family Fund of the Marin Community Foundation for supporting this program.
Mentor Artist Hannah Dworkin writes about working with preschoolers at Marindale school.
I look forward to working with Jessica Leaper's language delayed preschool class every year because her kids have so much enthusiasm for music.  Every visit begins with the students yelling, "Hannah!!!!" as I enter the room.
They memorized my daily agenda by the second week, and they cheered at each transition.  One area that was especially successful was the teaching of musicianship.  About half the students could read basic rhythm by the end of the residency, quite a feat for preschoolers! Here's a picture of a student matching the shapes of music notes
Their favorite song by far was "Goin' on a Bear Hunt" where we marched around the room looking for a bear to take a picture of, and then we ran yelling back to our seats when we finally found him.  They also really enjoyed playing with a parachute.  We started every week sitting on the parachute identifying colors and singing about them in English and Spanish. Then all the children would jump under it while the adults pretended we could not find them.
I feel so fortunate to have had the opportunity to work with such a great group of kids and teaching team!
Thank you to the Buck Family Fund of the Marin Community Foundation for supporting this program.
Mentor Artist Hannah Dworkin writes about her work in Glenwood Elementary's Special Day Classroom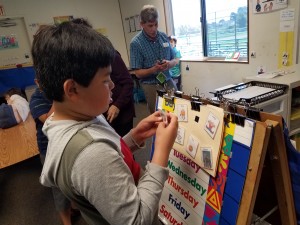 We had a wonderful 10th year together in Rockne Beeman's upper elementary special day class, and this year we had an extra special outcome with one of our students.  This student, who I will call Leah, has minimal language skills and does not read, but she responds incredibly well to rhythm.  Through a series of scaffolded rhythm based activities, Leah was able to identify, name and perform rhythmic phrases. She and her classmates also really loved our new song choice board pictured below.
The steps that lead to her breakthrough are as follows: aurel exercises with rhythmic phrases familiar to the students; visuals that integrate music notation, pictures that represent the previous familiar words and the words written out; move to color coded visuals with only the music notation.
The familiar words I use are "Pepperoni" for 4 sixteenth notes, "pizza" for two eighth notes, "pie" for one quarter note, and "cheese" for one half note.
This year we were also visited by students from mainstream classes through a reverse integration model.  It is amazing to see the increased engagement of the students in the special day class when their peers from other classes join them.  This year we noted that they participated with greater depth, were more willing to incorporate dances and displayed fewer behaviors when these children joined our music and dance sessions.
Thank you to the Buck Family Fund of the Marin Community Foundation for supporting this program.
Mentor Artist Sophie Cooper reports on her Media Literacy residency with middle and high school students at University Prep at the Canal Alliance.
"A picture is worth a thousand words." This phrase reminds us that images have a unique way of communicating to us. We encounter images everywhere we turn – in magazines, on billboards and on the screens of our computers, phones and televisions. More than ever before, it is essential for youth to develop an understanding of how these images communicate, so they can engage the powerful language of images to share their own ideas.
In this dynamic Media Literacy program, students learned how to "read" images in advertising and media, uncovering the underlying ideals and values that they endorse. The ability to look critically at images in the media allows youth to then choose what images align with their own personal values.
Students learned professional photography techniques and were given cameras to take out into the neighborhood. They were asked to define their personal values through what they choose to photograph. Their final works of art combined their own original photographs with found images from magazines into creative and unique photo collages.
Mentor Artist: Sophie Cooper
Youth in Arts is thrilled to announce that we have just completed a three-year strategic plan focused on intensifying the impact of our work to ensure all our students receive the full benefits we know arts learning can provide.
The vision behind this new plan is that youth of every background and ability will have the creative skills, compassion, confidence and resilience to share their voices and achieve their goals.
Our work will be guided by key values, reaffirmed in this planning process:
We believe in INCLUSION, that differences are beautiful, and that students of all abilities and backgrounds deserve an education in the arts.
We believe in CELEBRATING young people as artists, knowing one impact of the arts is bringing joy to human lives.
We believe in EMPOWERING youth to share their stories and express their beliefs freely and effectively through music, dance, visual arts, theater and new media.
We believe in ARTISTS of all ages, endorsing a mentorship approach to arts education that connects students with professional working artists, skilled in their art forms and effective in their teaching.
A Focus on Intensive Arts
In our arts residencies in local schools, we are adding new key elements that will now be a part of every program, intensifying the impact on students:
Sequential Instruction  – all residencies will be a minimum of 8 sessions, providing artists a chance to lead students through a meaningful arts learning sequence;
Family Art Night – an intergenerational, hands-on arts exploration led by our YIA teaching artists at your school;
Culminating Student Showcase – a final performance or gallery will celebrate  young artists as they share their arts learning.
We believe that this approach of 8+ week residencies supplemented with events that include family members in children's arts learning will provide a quality educational experience that will not only teach children specific art skills but also foster confidence and self-expression.
Assemblies and Performances
Youth in Arts has historically provided 45-minute performances for students, first through a mainstage series and more recently through our school "Assembly" program. In order to have the kind of impact on students we hope to achieve, we are now connecting any performance we provide to additional arts learning opportunities in the classroom. This means that we may provide schoolwide performances as part of a longer site residency, or in conjunction with curriculum-linked workshops, but we will no longer be providing "stand alone" Assemblies where a short performance is our artists' only interaction with students.
We are in the process of developing a series of performances enhanced with classroom workshops linked to social science and language arts curriculum. While we intend this model especially for middle school sites, we would be happy to talk to elementary schools that are interested in this approach to arts learning.
Intensive Arts for Teens and Model Projects
Youth in Arts will also continue to offer our "Intensive Arts Mentorship" (I AM) programs for teens, including `Til Dawn A Cappella music program and C Street Project visual arts. We will continue to showcase youth voices through exhibits at YIA Gallery, and we are developing a new YIA Theater Ensemble to provide opportunities in a new genre.
We remain strong in our commitment to serving students of all abilities and will continue and hopefully eventually expand  Arts Unite Us residencies serving special education classrooms. We also plan to further refine our model work in creating inclusive arts residencies that bring together students of differing abilities through shared arts experiences.
And we will continue to develop unique program models we have been piloting at some of our closest partner schools. These include piloting a K-8th grade sequential arts program starting the Walker Rezaian Creative HeArts Kindergarten Art Program and "Architecture in Schools," along with several other promising models, including both direct classroom instruction projects and professional development for educators.
Our website will be updated soon to reflect these changes. Meanwhile should you have any questions about specific programs coming to your school, please contact Morgan Schauffler.
If you have questions about the strategic planning process or overall vision for Youth in Arts, contact Executive Director Miko Lee.
Older Entries »