YIA Mentor Artist Ernesto Olmos shares his experience with students at University Prep at the Canal Alliance–
We had a very successful visual art program at Canal Alliance.  The students learned about several different art techniques. They learned basic concepts of drawing including: point, line, and composition.  They learned how to draw comics as well.  The students also used hard pastel crayons and oil pastels, to create wonderful landscapes.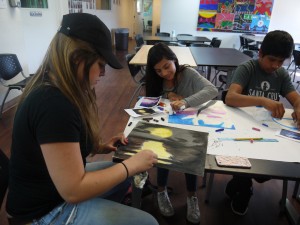 For the painting section of the residency, the students had the opportunity to experiment.  They created ancient prehistoric cave art using natural pigments made from soil, carbon, limestone and hard pastels.
For the last part of the residency, the students learned contemporary acrylic techniques. I shared how to use the acrylic medium to create different textures.  The students used pictures of animals and landscapes for reference.  They created wonderful, imaginative artwork.
I loved working with these talented youth.  It was a pleasure to share my art techniques with them.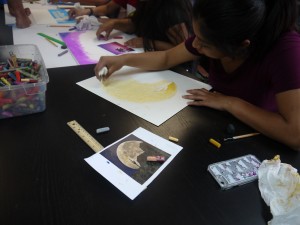 by Mentor Artist Stephanie Bastos
My work at Harding Elementary School for this residency focused on two main ideas: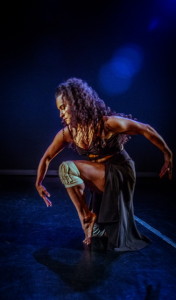 Choreography and Improvisation. I utilize Contemporary and Creative Dance techniques like the Braindance to guide learners through a process of self-discovery, movement exploration and collaboration. This creative process also includes cultural relevance by basic exposure to Samba Reggae, a liberation dance and music from Bahia, Brazil. Samba Reggae comes from a 1970's era political movement in Brazil lead by Afro Brazilians in Bahia claiming their space in an otherwise segregated, racist and classist society. It is a dance of celebration and the choreography is made up of repetitive movements in eight or four count phrases. The constant repetition allows ample space for learners to see, practice, and execute the choreography within a rhythmic pattern while learning about cultural relevance.
Improvisation is guided by creative dance concepts like the Braindance that is used to warm up the body and breath by mapping all movement patterns like upper half and lower half of the body and cross lateral movements. Other creative dance techniques like levels, shaping and use of personal and community space expand learners' awareness of the space their bodies take up and all the possibilities for movement within and around that space.
It is always a pleasure working with Harding because they have a beautiful auditorium, a community of kind and caring staff and learners and a genuine appreciation for quality arts education. After so many years of moving and building relationships with the Harding Community, I can say that I feel a strong connection with the school and am proud of the work we have done together.
I believe all children deserve a safe space to practice quality arts education!
Thank you Harding!
Youth in Arts mentor artist, Graham Hackett, shares his experience at San Jose Middle School in Novato. Performance Poetry, or "spoken-word," is a fusion of literature and theatre where the author is the performer. As such, young people choose to deploy it as a powerful form of citizens' journalism.
So when San Jose Middle School in Novato made the bold choice to lead students through a unit on immigration and resilience, the diverse array of students approached the topic from various perspectives. Some reflected on the lives of their favorite sports heroes that were immigrants. Others explored their heritage and the legacy they built. Several even described their own first hand experience as immigrants themselves.
Whatever approach they took, students thoughtfully used literary devices and public speaking techniques to share their stories in nuanced, dynamic, and often powerful ways to address some of the most relevant, hot-button issues we face today in America.
The C Street Project met on June 21-23 at Youth In Arts to brainstorm, practice, design and render a design concept to paint in 12 x 14 feet on June 24 and 25 during the Italian Street Painting Marin Festival in downtown San Rafael. Mentor Artist Katy Bernheim and four students from San Rafael High School, Terra Linda High school, San Marin High School and Berkeley High School started with an overview and practice of charcoal and pastel rendering and shading techniques.
Since the Festival's theme was The Summer of Love, celebrating 50 years since the iconic summer of 1967, we looked at images of artwork and art movements happening at that time. We noticed the bright colors, the flattened styles, and how poster making and other reproduction techniques influenced the artwork. We talked about what the artists of the 60s were responding to in their time, especially the anti-Vietnam War activism and the Civil Rights Movement, and how it was a time of change and upheaval, not unlike what is going on in the world today.
We wondered what would the Summer of Love 2017 look like? What sorts of things are the student artists thinking about, sensitive to, upset about? What would they protest or celebrate? Pride immediately came up, (it was Pride weekend, too), Black Lives Matter, and women's rights. They talked about memes as common themes that most kids knew about. We discussed how iconography can be used to get a message across, and came up with the rainbow and Pride flag, and the Black Panthers' (and others') protest fist.
The final piece included a protest fist, an "I love you" hand, a "be cool" hand, a peace sign and a thumbs up sign, along with the Pride rainbow. The artists added the San Francisco skyline, representing where we live, a strong Pride movement, and where the summer of Love began. Lastly, they included a couple of memes: Dark Kermit, a symbol of minor revolt as the id personified, and Babadook, the adopted symbol of the LGBTQ community.
It was a truly collaborative piece. On Saturday morning we outlined the design in the gridded lines, then colored in, shaded, and blended the images with chalk. The artists learned the most effective way to apply chalk, to blend it and add details.
Our design was very well received, and the student artists were thrilled to work in public and to hear the feedback from onlookers. It was hot, it was frustrating at times, it was sometimes hard to control the chalk, and it was a challenge to negotiate how to influence the other artists' techniques or approaches, but the student artists soldiered on. Ultimately they were very proud and very happy with the outcome of their work.
By Mentor Artist Cathy Bowman
Artists at Oak Hill School have explored color in various ways this year. During a recent project, students arranged paint chips in a composition and then applied black ink on or around each rectangle using sticks, brushes or fingertips. The project gave students a chance to experiment with non traditional implements for applying color. They also considered how colors behave differently depending on how they are combined and arranged. The flat, matte surface of the paint chips worked especially well for this project.
Oak Hill serves students with autism and other learning differences. For the final project of the year, artists worked on a collaborative mural using a large canvas tarp. Again, students experimented with different ways of applying paint – double brushes, foam brushes, rollers and a spray bottle. They also explored how painting changes depending on the amount of pressure applied and paint used. Some artists used light brushstrokes that were repeated in a loose pattern; others preferred to apply large areas of saturated color. A spray bottle filled with color allowed artists to wet the paint until it dripped to the ground. The size of the tarp and the freedom to work outside in the sunshine allowed students to paint on a much larger scale. We talked about how painting while standing up feels different from painting while sitting at a desk.
Youth in Arts is grateful to Marin Charitable for helping to support this project.
Thank you to the Buck Family Fund of the Marin Community Foundation for supporting this program.
Mentor Artist Sofie Siegmann reports on her after school Drawing and Sculpture Class this past year at Canal Alliance
The first time our group of after school artists met on a Friday in January, we brainstormed ideas of what we wanted to do. I tried to extract the students' preferences (definitively no printmaking, but yes, we want to draw a lot).  Besides contour drawings, we worked on observational drawings, watercolors, and collage (with newspaper).
The most difficult project was the wire sculpture. As anybody knows who has worked with wire before, it's hard on your fingers, there is a lot of poking, and wire doesn't necessarily do what you would like it to – but we all endured for many weeks to first sketch ideas, then build a structure, and finally add details.
We looked at artists such as Ruth Asawa and Alexander Calder to discuss how they manipulated and used wire to express their ideas. We looked at videos of contemporary artists such as Nick Cave, Elisabeth Higgins O'Connor, and one day I brought in my work as well. While wrapping the toy sculptures with masking tape, I introduced the gigantic and temporary art of Christo.We listened to music as we worked, we got to relax as the weeks went by and build new friendships. We will miss each other! Here some testimonials from the students:
There are only two things utilized in this type of drawing: a pencil and an eraser. I decided to draw a dandelion. I chose this, because it seemed as if it would be simple to create, but as it turned out, it was actually kind of complicated to get the exact details. In my opinion, art is a satisfying activity. I like to spread paint on my hands. –Donna
The black and white pencil project was a kind of difficult project. We had to find an image we liked and draw it with only pencil. We had to add every detail we could that was on the image the we picked. Once we finished, our images looked almost 3 dimensional. To me, art is everything, a cactus, a car, a simple pen, it is all art.–Nayed
The b/w drawing is great, because I like explosions.  If I mess up I go back and redo my mistake. It looks like an explosion/hamburger. Art is beautiful.–Alex Bautista
I chose to write about my tree wire sculpture, because I am very proud of how it looks. I really like trees and I liked how I was inspired by my love for trees to make this sculpture. I especially like this tree, because it's my creation and I can make it symbolize it whatever I want. For example, this is the tree of Dreams and Hope.
Art is really important to me, because it makes me feel free (and stressed) at the same time. I enjoy the feel of the clay or wire touching my hands. I might not be the best artist, but I hope to improve, it's a way to express myself. –Daneidy
The Amaryllis Watercolor Collage was a unique artwork, because there was a lot of personal freedom. So everyone put their own style to their project. Art makes me relax.–Marina
I chose the amaryllis watercolor collage to write about because it drew my attention. It was a way for me to join different colors and pictures together. It is a representation of life. It shows that sometimes you don't need the same thing to make something look pretty. You need to blend, match, and mix to see the beauty within it. Maybe that's why I like art, it gives you a blend of reality and a dream creating this beautiful masterpiece. Art is able to make me see different perspectives, opinions, and open my eyes more to everything I haven't learned yet.  Art is able to make me believe everything is going to be ok.–Naedy
The toy sculpture was really easy and fun to do. You got to choose the toys you wanted to have in your sculpture. Once you decided what you wanted to have you started arranging the toys the way you wanted it to look. Then you put the pieces together with hot glue. You waited. Once everything was dried, (you wrapped the toy sculpture with masking tape and then) you decided the color you wanted then you painted over the sculpture many times. After all of these steps you had this amazing, cool toy sculpture. I express art in a number of ways. The first way I think I would describe art is creative. You can do whatever you want and design anything you want in a way you like. Art can sometimes be stressing, but also very fun. Art is beautiful, fun, cool, and awesome. I enjoyed the weeks I have been doing art and I hope I can take this class again.–Tanya
By Mentor Artist Hannah Gavagan
Happy July 4th!
There is nothing like a good story. Some stories are life-changing and some stories are told over and over again but still somehow sound new. That is the magic of theater and story telling.
The third grade classes at Cornell Elementary were studying the civil rights movement and were exposed to all kinds of stories. The story of Martin Luther King Jr. The story of Ruby Bridges. Of Rosa Parks. But there was one story they learned that I didn't know. And that was the story of Fannie Lou Hamer.
Fannie Lou Hamer worked tirelessly to be registered to vote. Then she gave back and helped so many people of color register. Then she ran for office. She lost every time she ran.
At first the students weren't happy with the ending of the story. "But…She never won?!"
So often we overlook the most important part of the stories of these leaders – the struggle. Fannie Lou Hamer never won an election but she educated countless people on voting rights. She paved the way for others after her to run for office. I realized that was wanted I wanted to teach the students through her story. Sometimes we don't get the outcome we wanted. But hard work and perseverance ALWAYS pays off, even if it pays the generation after you.
The students collaborated beautifully and told sides of the stories that are forgotten. I hope the walked away with knowing that persevering is worth it. That grit is good. That progress trumps perfection.
By Mentor Artist Cathy Bowman
Students at Bayside Martin Luther King Jr. Academy in Marin City created many wonderful projects this year. They began with collage self-portraits after looking tabletop mirrors. They learned about proportions and scale when drawing faces. At the end of the year, students made a second self portrait using watercolor, pen and ink and. Their art was celebrated with an end-of-the-year display in the main building at school. Students also explored the theme of home and family in their work, creating paintings of their own homes and adding colorful birds and other adornments.