Alphabet Rockers' Kaitlin McGaw and Tommy Shepherd put on a fantastic performance of their show Playground Zone: Diversity for the K–2nd graders at Glenwood Elementary in San Rafael.  They performed several new songs from their recently released album, Rise Shine #Woke, which was created to to "interrupt racial bias inspire families to make change in the world."


Students were encouraged to get up and learn the Hip Hop dances with the Alphabet Rockers.  Everyone was on their feet, and the positive and powerful messages of the songs resonated with the young audience and teachers alike.
As a follow-up to the performance, Kaitlin and Tommy each taught more in-depth workshops in the 2nd grade classrooms.  The students practiced the dances they'd learned in the assembly, and then broke down the songs to get more out of the content.  Students were asked what they thought the songs with titles like Stand Up for You, and Shine meant.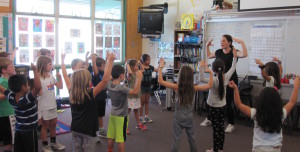 The responses were wonderful and demonstrated how clearly they got the messages.  They said things like: "the song is about being friends with people of all different skin colors," or "the song is about loving everyone no matter what."  Then the kids were asked to define some of the words in the songs, such as injustice.  One student said, "Injustice means you are fighting for love."  Finally, they were asked if they feel we are treated differently based on how we look.  Many of the students said no, but a couple raised their hands to indicate yes, not ready to share more.  One said, "No. We shouldn't be. We love all colors."
Thank you Alphabet Rockers for opening up a very important discussion at Glenwood Elementary.  We look forward to seeing what's next.
Youth in Arts is offering free Family Art Night activities to school communities impacted by the recent fires. Family Art Night is an integral part of our school programs—we bring artists, supplies and volunteers to a school site, usually on a weekday evening or possibly a weekend day.
Want to help with this project? Click here to volunteer or donate supplies or funds.
We would like to offer a Family Art Night for free to any impacted school that would value this, whether or not they are already participating in our programs. Schools would be free to supplement arts activities with a potluck or other community sharing activity.
We can provide examples of invitations that partner schools have used to gather families for the event. Each Art Night would include two projects:
Family Flags of Hope
Families and students work together to design and hand paint canvas flags that can be strung together to beautify an area of campus.
Ethiopian Necklace Scrolls or Accordion Books
A take-home project creating a uniquely shaped handmade "book" containing children's dreams for the future.
Please contact Morgan Schauffler at Youth in Arts to schedule. As we know you are all very busy right now, here is what the school community would need to do to participate:
Identify dates that are open for the Family Art Night activity and confirm a date
Identify a space where the activity can take place, ideally indoors with tables
Gather students and families for the event
Provide anything non art-related your families will want for the event (food, etc.)
Youth in Arts will:
Bring all artists, volunteers and supplies needed for the activities
Arrive at a mutually agreed upon time to set-up the art tables
Work with parents and children at the art tables to help them complete the projects
Stay until the art projects are cleaned up
Please let us know if this would be helpful. We wish you all the best as your community recovers.
By Architect Shirl Buss
We hope everyone is safe and recovering from the horrible fires. The disaster highlights our need to enlist this generation of students as innovative designers and activists to meet the environmental challenges we are all facing today—and in the future.
I am happy to share that we had another very fruitful session with Mr. Belmont's class last week—while we were all hunkered down keeping safe from the smoke.
The students created Friendship Bridges.  After seeing images of bridges from around the world and studying different bridge types, the students worked in pairs. Each pair built a bridge to symbolically represent their common strengths and interests. 
 We also introduced the first "Y-PLAN 5Cs" badge: Collaboration.
This is a very imaginative and capable group — with each team working smoothly and together to earn that badge, while building extraordinarily creative bridges.
Thanks again Mr. B and all!
Next up for this class: Animal Architecture (introduction to sustainable building).
On Friday night, teaching artists gathered together at Youth in Arts and created recycled insects. Visual Arts Director Suzanne Joyal and Executive Director Miko Lee led a hands on experience in utilizing recycled materials to teach about insects and create original works of arts.
Lesson plans were provided for teachers to replicate at their school sites. Ten different schools were represented at this evening of creation and learning.
A table of recycled materials including corks, wire, plastic bottles, candy wrappers, buttons, straws and records were arrayed for the teaching artists to sort through. Through laughter and even bug songs, each teacher made a creature to bring back as a sample to their classroom.
Teaching artists were encouraged to link science curriculum with recycled materials to create art pieces with students to enter into Spring's PaperSeed Recycled Art Competition.  YIA Teaching Artist Nao Kobayashi created an amazing lifecycle on an album with a puppet caterpillar. Check out the video here.
An Insect World PDF/Powerpoint and Insect Adapation lesson plan was provided for the teachers to share in their classrooms.  Thank you to PaperSeed Foundation and California Arts Council for making this evening possible.
Every Davidson Middle Schooler began this school year with an assembly performance by Spoken Word artists Gabriel Cortez and Eileen Torrez. The artists performed their own original works, talking about growing up Latinx in the Bay Area.
The assemblies were followed up with questions, and also classroom discussions around self expression to address issues of diversity, cultural understanding, and struggling in a time of great change.
By Shirl Buss
We had a lovely first  Architects in Schools session with Mr. Belmont's 4th grade students today at Laurel Dell Elementary School.
After viewing some of the more interesting skyscrapers from around the world, each student created a thumbnail sketch of their favorite. Then they each identified 5 adjectives describing their own strengths, skills and talents.
Adhering to a set of constraints (no taller than 20″, no projections beyond the base) they designed and built their Towers of Power, incorporating the 5 adjectives and their name into the structure.  Finally three students proudly presented their Towers to the group, and received feedback from their peers.
It was a great kick-off for our 10-week Youth in Arts / Y-PLAN residency.I am really looking forward to working collaboratively with Mr. B and this group over the next few months. The students are strong, creative, and articulate.