This year Youth in Arts received the Children's Visual Art Discovery contract from the Kennedy Center.  Every student participating in the program will be participating in the Kennedy Center's digital art exhibit, with the potential for their art to be chosen to travel to the Kennedy Center and to be exhibited there for an entire year!
Mentor Artist Julia James offered her students in Cindy Evan's middle school class "Motivated to Create…Harmony", a Kennedy Center lesson utilizing music as you create. First, the students listened to music featuring just one instrument as they created a piece of art.
Then they worked in pairs as they listened to music with two instruments. Finally, the entire class worked together as they listened to a full orchestra.
Julia introduced the students to a wide variety of materials and media to create. We can see all of their many techniques in the finished canvas: Stamped textures, paint with tempera cakes, printing with ink on rollers, bubble wrap and other textures. Students made every choice of design and tool and practiced gross and fine motor skills as they rolled, brushed, stenciled, drew and painted to music.
This VSA program is provided in 2017-2018 under a contract with the John F. Kennedy Center for the Performing Arts. This program is also supported by the Buck Family Foundation and Marin Charitable.
(By Mentor Artist Marty Meade, who has been working with the students of Compass Academy, formerly Braun, for 11 years.)
Compass Academy, formally known as Braun High School, has moved to a larger campus. The new building is providing me with an area that is five times bigger than before.  It means that the students can spread out, my materials are organized for their use, and they now have storage area for their weekly projects.
Besides the move, there is also an additional group of younger students who range in age from 7 to 12 year olds.  They are here because of behavior problems in other schools.
I have given every child their own journal so that they can express their feelings, or write about their experience that day.  The new group is challenging, but with great support I have had the opportunity to give the students an opportunity to try new materials.
Students have been able to work with acrylic paints on canvas, watercolor paper, marbling, edible art (sugar skulls),  decorating masks, origami, and fused glass pieces.
I want to share a story about "Brandon"… a junior high school boy from Guatemala.  When I first met him he expressed a lot of anxiety about the possibility of his father being deported.  He became the class clown and often would get attention by inappropriate behavior (ie: sexual drawings).   I began to notice that his drawings were typical of a 4 year old child and shared this with his therapist and indicated that they could use it for reference to get the additional help that he needed.
One day, after I brought bright colored paper, I found an Origami crane on the table, and the therapist indicated that "Brandon" had made it.  I was 'blown away', and expressed how complicated this was and how could we reach him more through origami. I asked his homeroom teacher if he could find something on YouTube on "1000 cranes" and share with the class before I got there the next week.
So the next week, I came in loaded with origami paper and asked "Brandon" if he could come into the high school class and show the others how to fold cranes.   "Brandon' came in and proudly demonstrated the folding, with some of the kids giving him full attention, and others frustrated by the directions.  I was able to leave paper in the room for them to use while I was away.  Each week I would bring in more paper, and find complicated shapes filling the area.  We all watched "Brandon" change before our eyes. One teacher said that he seemed taller. I am thrilled that my hunch worked, and will never look at another crane in the same way.
I am happy that I have a year contract as it gives me a chance to really connect with these students. Thank you to the Marin County Office of Education, Buck Family Fund, and the Kennedy Center for allowing me to do this work.
by Mentor Artist Katie Issel Pitre
Greetings and welcome to an update
on the exciting partnership between Davidson Middle School in San Rafael and Youth in Arts!
As part of the new Strategic Vision of Youth in Arts to create model arts education programs K-8th grade, Mentor Artists Sophie Cooper and Katie Issel Pitre have been teaching New Media and Theatre Arts to 180 Davidson middle school students daily.
Beginning in late August Sophie and Katie have been working with 10 classes, grades 6th – 8th to provide arts enrichment for a student population that until this year had not received any elective classes. This year, Principal Bob Marcucci wanted to change this, partnering with Youth in Arts these students are half way through the first year of this pilot program and are getting in the swing of art making.
The project that the students have been working on has been cumulative – we've been building skills, teamwork, discussing and activating themes through play writing, college making, reflecting on values, watching many films – critiquing them and learning more about the way to use film to send a message.
In Ms Cooper's New Media class students worked towards a photography project taking portraits of hands and also of eyes.  In Ms. Katie's Theatre Arts class students composed collaborative poetry using the anaphora "With these hands we can…" and " People think that I… But if they really knew me…"
Pairing these two projects we used the photography from Ms. Cooper's class, and recorded the audio from Ms. Katie's classes and created two differently themed collections of films.  One collection pairs the photography of hands with the poetry "With these hands we can…".  The other collection of films pairs photography of the eyes and the poetry "People think that I… but if they really knew me…".
The final for their first semester was a film screening of both of these film collections.  Students observed all of the films, and then reflected on the process, the messages, considered what was missing and then brainstormed about what they want to make their next films about.  Some topics that were mentioned were making films about their lives, about kids who choose to be sober, about their friendships, about their immigrations stories, and more.
For students who have never had an arts residency like this Sophie and I are proud of what they were able to accomplish.  Their artistry has increased, as has their teamwork, self confidence, perspectives, and
Fir
Youth in Arts has been working with the Marin County Office of Education to design a series of integrated arts lesson plans to help elementary school teachers implement their NGSS science standards. Miko Lee, Suzanne Joyal and Julia James have worked with more than 100 of elementary school teachers to introduce them to the lessons. Now, we are taking them into more classrooms. Please contact Suzanne Joyal at suzanne@youthinarts.org for more information on the lessons.
After 10 weeks of art with Mentor Artist Suzanne Joyal, Mindy Green's second graders at Laurel Dell Elementary applied their newly-acquired drawing and observation skills to the investigation of tulips to connect to their science unit. Students used magnifying glasses to observe their flower and then draw it, then very carefully took their flowers apart and illustrated every piece of the flower as they explored.
Students saved their discoveries inside of envelopes, and added diagrams of their finds to each envelope. They then combined all of the parts to make a study book of flower parts.
Next week students will demonstrate their knowledge as they design their own flowers–making sure that each flower has the right parts, and thinking about where their flower will grow, who will be attracted to its pollen and nectar.
Thank you very much to the California Arts Council, and the Laurel Dell PTA for their very generous support of the arts in Laurel Dell.
by Mentor Artist Hannah Gavagan
On my first day at Canal Alliance, I introduced myself and Devised Theatre – to the 8th grade students.  A few hands shot up with fear consuming their faces. "Wait. We HAVE to perform?" I assured the class that by the time the 10 week residency was completed, they would feel ready and excited to perform. I could see in their faces they were uncertain. None of the students had ever performed live or had any experience with theatre. They were terrified at the thought of having to perform.
The students excelled at "table work." Anytime we were writing or having discussions about issues or social justice, they were engaged.
I created a plan to best support my students where they are at. Instead of creating an issues-based live performance, we created short films. The films showcase each student performing a monologue on an issue. Students selected images to go with their monologue. This format gave students  the freedom to express themselves and create art, while still operating in a safe space. Their films turned out beautifully and they were so proud of what they created.
We were able to show the finished film to friends, family and fellow students at the Canal Alliance's Winter Potluck on December 15th.  It was wonderful to showcase what the students had learned, and contributed to in our 10 week residency.
These kids taught me that flexibility is an asset. Rigidity breeds rigidity.  I chose to listen to my students, recalibrate, and create something beautiful with them.
Hula made a return to Sonoma Mountain School in the Fall and we had a blast!
We began our 12 week Hawaiian Dance, Music and Storytelling with a very sweet sense of familiarity from the students.  As we began to dance, their movements and steps all came back and took on a more solidified understanding and knowing of Hula.  From grades 1-6, the kids easily slipped back into moving and connecting their motions and steps which allowed us to enjoy moving together and working on synchronizing our motions and steps.  The school Hula that I chose is from the movie Moana, entitled, We Know The Way.  The song's lyrics speak about the ancient Polynesian Wayfinding principals and practices, and embrace the cultural teaching of, "Know who you are and where you come from, in order to know where you're going on your Life Journey".  The movie's main character is a girl who finds her inner strength and courage through the teachings of her family and culture. This is a powerful message that I wanted to share with the kids via dancing Hula and with their work in learning the choreography and our sharing of cultural stories, I believe it was instilled in them.  In our Hawaiian Culture, we have a practice called, Anoano, meaning, planting of the seeds.  Basically, we plant seeds of positive thoughts and ways of being in the world that aligns to a Higher Good, as we learn our different daily cultural practices, one of them being Hula and Storytelling.
For the youngest/newest students in grades TK & K, I did storytelling that entailed a Hula as well, and used props such as costumes, Hula instruments, and easy Hawaiian language words.  Young minds are SO amazing!  The kids seemed to absorb the stories, names of characters (even with Hawaiian names and words!) and teachings so easily!  They would remember the names weeks after I told a story!
Our school assembly finale was amazing!  We ended the 12 weeks with a culminating performance of all grades, sharing what they learned with each other and many parents in attendance as well.  We began with the TK/K & 1st graders doing their Hula on the stage, which they LOVED dancing on! Then the 2nd & 3rd grades performed their Hula that they learned together, followed by the 4th graders, who danced with short Kala'au or hula sticks as they chanted along with their dance.  The 5th and 6th graders really worked hard on learning their Maori Poi Ball and Haka routine, a new combo than last year, and their hard work showed!  there were 52 girls doing the Maori Poi Balls and about 30 boys doing the Haka.  It was a powerful and beautiful performance from them.  We finished the performance with the whole school dancing to the Moana song, We Know The Way.  That was about 450 students dancing all together!  Such a fabulous sight to experience!  Many parents came up to me afterwards to thank me for teaching their child and that was such a wonderful gift for me.
Sonoma Mountain School rocks! Mahalo to the Staff and especially to Michele Gochberg for bringing me back.  It was such an honor.
Me ke aloha,
Shawna Alapa'i
Artist In Residence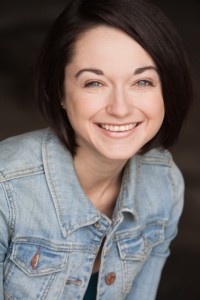 Davidson Middle School students will soon welcome Mentor Artist, Margaret Hee into their classrooms for a semester-long theatre residency. A Marin County native, Margaret brings a unique perspective to her residency, as she was once a Davidson student.  In addition to her numerous acting and directing credits, Margaret has taught theatre all over the country, including recent projects at Redwood High School (Larkspur), Mills College (Oakland) and Olinda Elementary (Richmond).
In order to get to know Margaret a bit better, we asked her to identify a problem in the world today, and to tell us how she would use her art form to solve it.  Here is Margaret's thoughtful response: "Every human being on our planet is made of DNA, skin, bones, organs, brains, and blood. Our physical construct though different on the surface, is made up of the same stuff, but somehow throughout history certain groups of individuals have been forced to the margins, their narratives being pre determined by some intangible set of guidelines. Theatre is a tool that can redefine narratives. Through my art I aim to ignite possibility in others."
BIO: Margaret Grace Hee is a theatre artist and teacher focused on developing new plays and devised work that influence tangible positive change in the world. Margaret received her BFA in Acting from the Santa Fe Institute of Art and Design and her MFA in Directing New School of Performing Arts School of Drama. She is the founding Artistic Director of Baby Crow Productions for which she played the role of Austin in True West and has directed Whore: a kids play (Edinburgh Fringe Festival '17) , Sapien Sapien Sapien, Cowboy Mouth, Cowboys #2, Cast of Characters, "Live" from the Bullet Stopper, and Enter Your Sleep, among others. As a freelance director, Margaret has worked with Ugly Rhino, Wide Eyed Productions, Dream Theatre, The Midtown Int. Play Festival, Colorado Shakespeare Festival and Fringe NYC. Selected assistant directing credits include: Everything You Touch, dir. Jessica Kubzansky (Rattlestick Playwrights Theatre); Henry VI P.I , dir. Vanessa Morocco & The Tempest, dir. Geoffrey Kent (Colorado Shakespeare Festival); Seawife, dir. Liz Carlson (Cape Cod Theatre Project); The Boys Room, dir. Sandy Shinner (Victory Gardens); Naked Radio Live, dir. Laura Savia (Naked Angels); 24 Hour Musicals, dir. Kathy Najimy (24 Hour Plays). As an actress she and has worked with Victory Gardens, Eclipse Theater, Adventure Stage, Berkshire Theatre Festival, Soft Cage Films, The Agency, and New School for Drama.
We had another terrific installment of the `Til Dawn SING OUT! our annual alumni concert and fundraiser at the renowned Sweetwater Music Hall in Mill Valley. Nearly 200 audience members enjoyed two great sets from Happnstance, featuring `Til Dawn alums Sean Simerly and Maria Pougiales-Posey with Danielle Bezalel.
We also had great performances from this year's current `Til Dawn ensemble along with "Still Dawn" our chorus of alumni home for the holidays, singing hits from the `Til Dawn repertoire. All 50+ alumni, including Happnstance, donated their performances, helping us to raise $5,700, even more than we did at last year's event! Thank you! Several alums, including Emily Kibbe, James Barton and our current Student Board Member Rose Myers also spoke from the stage about how much the valued the `Til Dawn experience and Austin Willacy's mentorship.
We were also excited that our generous audience helped us "make to to 2018" by donating or pledging $2018 in honor of the new year–thank you so much to all who made this possible!
We would especially like to thank Entelo for their sponsorship and our `Til Dawn Scholarship Campaign Leadership Circle–David and Janine Simerly, Rick and Suzanne Herrero and Linda Sudduth and Buck Smith.
Youth in Arts is able to offer up to 100% scholarship aid to any student who passes the audition process, thanks to generous donors like these.  If you'd like to make a donation to `Til Dawn to support our scholarship fund and our program in general, you can do that here.
Thanks again to all who made it to this year's event–we look forward to seeing you again soon!
Meanwhile, enjoy this video of alum Sean Simerly and `Til Dawn member Will Salaverry singing "Steal My Kisses" with "Still Dawn" (Thanks, Linda Sudduth for the video!) You can find a few more on our Youth in Arts YouTube channel here.
At Laurel Dell Suzanne Joyal continues with our Visual Arts program reaching the entire school.  Our first graders use their imagination and artistry to create imaginary monsters and practice color mixing.
Creations were so unique, as students answered the same questions: How will it move? Does it need arms, legs, wings? How many? How will it see? How many eyes will it have? (More was pretty common!) Where does it live? What does it eat? Who are its friends?
What colors will you use? How will you make orange, purple, green? Can you make brown also?
We began the lesson by looking at the sky: what happens where the sky meets the land? Filling the white space between them was a big success.
Thank you to the California Arts Council for supporting this work. 
With Youth In Arts Mentor Artist Cathy Bowman, students at Cascade Canyon School in Fairfax studied comic book making, printing and painting this fall.
The 6th, 7th and 8th grade students created mini-comics for their project. The process included character studies on paper, building 3-D models of characters, then bringing them to life in comic book form. Students learned storyboarding techniques, from layout to lettering. They worked in groups before starting individual projects. For their final books, a key part of the process was revising and redrawing before inking. The mini comics were printed and shared in class. Students curated their own work, adding a few sentences describing their experience.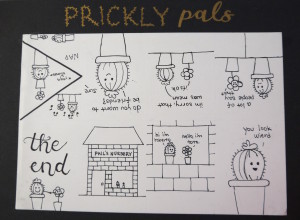 The 2nd/3rd grade class explored composition, drawing and painting through flower studies. They began by deconstructing real flowers and re-arranging them to make imaginary flowers. We studied and discussed various kinds of flowers and what they need to survive and thrive. Students created black and white compositions using graphite, then moved on to acrylic paintings. They were encouraged to approach their compositions thoughtfully, painting only part of the flower and considering the use of negative and positive space.
The 4th and 5th grade class studied printmaking. They practiced various kinds of printing, from making collographs to using ink plates in different ways. They also experimented with printing on different materials, from postcards to special printing paper. Along the way they learned about composition as well as how to curate their own work.
Older Entries »