Written by Mentor Artist Cathy Bowman
This spring, students in two special day classes at Venetia Valley Elementary School explored different tools and materials. Artists experimented with a variety of adaptive tools for making marks: wide handled brushes, sea sponges, rollers, balls and soft toys. These tools were easier to grip than a thin paintbrush or pencil and allowed students a lot of control in how they painted. For many projects, they also worked on heavy mat board instead of paper. We also explored texture, using sticky contact paper as a canvas on which to apply various papers and materials. Using black paper, color and white paint students practiced layering colors.
The last two weeks of the class focused on making collages inspired by the work of artist Louise Nevelson. Students spent one class choosing and gluing down various forms and shapes that included Lincoln Logs, CDs, bottle caps, slides and other materials. Next, they added paint, which posed a new set of challenges as students turned and moved their artworks to paint various surfaces and angles. Once the objects were painted, the meaning behind them changed. Slides became obscured; CDs less shiny. Lincoln log pieces became exciting sculptural elements!
by Mentor Artist Cathy Bowman
During a 10-week residency at Rancho Elementary School, third graders wrote and illustrated their own comic books. Students started by developing two characters and drawing them from different angles. What were the characters' strengths and challenges? What did they like to eat? We talked a lot about how artists need to understand what makes their characters tick. The students used their characters to develop short stories, revising at least once (not popular, but an important step!) We explored how comic book artists have to decide what to draw as well as what not to draw, and how to show movement, emotion and action. They also learned the importance of making speech bubbles clear and legible. Students practiced drawing far away shots to set a scene, and closeups to show emotions. Along the way, there were a lot of good questions: How do you draw a donut sideways?  How do you make characters look each other in the eye when they are talking? Why do cartoon characters only have four fingers?
Once the comic books were drawn, students used Micron pens to do the final inking – deciding which lines to keep and which ones to erase. The Micron pens were fun to use because students could experiment with using heavy lines for the foreground, and lighter lines for the background. For the final event, students went on a gallery walk, offering feedback to their classmates on post-it notes.
 Advisory Class By Mentor Artist Jill Hoefgen
The goals of this Canal Alliance University Prep advisory class were to understand various forms of media and its effects on the individual, the community, and the world; to use images to create a visual message; to inspire students to observe the world through the camera lens and to express their unique perspectives through photography. Together, the students motivated each other to photograph shadows, buildings, signs, people, flowers, food, and even discarded objects. I enjoyed observing the tentative students emerging as thoughtful and enthusiastic photographers. Through practice, they began to discover how they could use light, lines, and angles to create interesting and unique compositions.

Back in the classroom, the students compiled their photos into hand-made accordion books. Each creation was a distinct and condensed collection of the work they had accomplished over the many weeks of photography.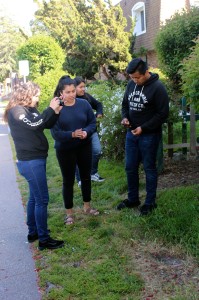 I witnessed many of the students embracing photography, creating something of their own, and expressing how they see the world. I was heartened by the energy and the relative openness as the students shared this experience with each other. I hope these emerging photographers can embrace this visual medium and continue to share their viewpoints through pictures. Ultimately, I hope each of the participating students discovers their own voice and identifies ways they can contribute meaningfully to the wide world of media.
Join Mentor Artist Cathy Bowman for this unique opportunity to not only learn the art of street painting, but to add your voice to the 10′ x 14′ square young artists will be creating during the Italian Street Painting Marin Festival in Downtown San Rafael, June 23 & 24. Learn a new art form, meet professional artists, and work side-by side for the weekend of June 23 and 24.
This year's theme is "The wonders of Time and Space". Scholarships are available, we would love to have you join us. email suzanne@youthinarts.org, or stop by 917 C Street. Open until 8 tonight, and 11-4 all next week.
We had a lovely Spring Annual Show at Carol Franc Buck Hall of the Arts at San Domenico School.
We had a send off to our Seniors: Siena Starbird who will attend CalArts, Rose Myers who will attend Cal State San Marcos and Will Salaverry who will attend Yale.
Thank you to Curtis Myers for the beautiful photographs. See gallery below. Thank you `Til Dawn Alum Harrison Moye for tech wizardy and to Cecily Stock and San Domenico staff for their support.
Here is a playlist of some of the songs.
Announcing the new members of `Til Dawn.
Aidan Bergman, Sir Francis Drake High School
Aidan sang before he could talk and has never stopped. Over the years he has played piano and sung in community talent shows, school and camp musicals and graduation ceremonies. He was a soloist in the ROCK gospel choir at Drake and also loves to play baseball. Aidan has played and sung music as long as he can remember and hopes to continue through high school and into his adult life.
Lara Burgert, Redwood High School
Lara has been singing for as long as she can remember. She loves to sing, dance, act, and perform on stage. Before doing musicals with Performing Arts Academy of Marin, she was a part of the Marin Girls Chorus. Lara has always wanted to be in an a cappella group, and is so excited to be in `Til Dawn.
Maycie Cooper, San Domenico
Maycie has been involved with music for over 8 years, and finds way to incorporate it into her life as much as possible. She sees it as a way to express herself and also to connect with others. Since living in California, she's participated in every singing program her school has to offer, including annually acting in musicals since she started attending San Domenico. She loves the social side of singing and plans to keep music in her life forever.
Paul Makuh, Sir Francis Drake High School
Paul has been singing under the direction of Susie Martone from fifth grade through eighth grade and would love to keep it going into High School. He has made new friends through singing and feels that it would be great to keep singing in his life.
Zaria Willis, Marin School of the Arts
Bio coming soon
Isadora Zucker, Sir Francis Drake High School
Isadora Belle Zucker, a student at Sir Francis Drake High School, is a multifaceted performer active in music, theater, and dance, all of which she's been studying since early childhood. Outside of the arts, Izzy enjoys mountain biking, swimming, her cat Hollywood, and spending summers traveling with her musical family, better known as the Zucker Family Band.