On September 14th, during the next Downtown San Rafael art walk, Youth in Arts will be hosting a gallery opening from 5-8pm for our latest exhibition, Kids Imagine Our World. For this show, we asked kids k-8th grade to create works of art based on the prompt, "I imagine a WORLD with…" We asked them where they want to be, what they want to see, and who or what will be with them. Entries include works made at home, in school, and in our weekly open studio that we hosted from this past June through August.
This exhibition follows one of our most prominent shows, Rising Stars, where high schoolers' art is selected, and judged for prizes. While Rising Stars features brilliant art from high school students all around Marin Country, Kids Imagine Our World features an age group more consistent with the demographic of students we primarily work with.
In conjunction with this kid-focused show, we have set up our very own ode to Yayoi Kusama's Obliteration Room. Our kid-size version invites our gallery visitors to add their own dots. Together with the Obliteration room and rest of the gallery, there will be a slideshow highlighting other installation artists and how they imagine their world.
Come by Youth in Arts on September 14th to see how local kids imagine their world. Refreshments will be served at the gallery opening 5-8pm. Or, come any other time while the exhibition is up—through November 30th.
By guest blogger Sachiko Moran
Mentor Artist Stephanie Bastos worked with every student at Laurel Dell Elementary School this Spring. Here are her thoughts:
I believe every child deserves quality arts education and schools like Laurel Dell Elementary strive to make it happen. My instruction there included Movement arts focusing on Brazilian Music and Dance that provided a rich experience for a community of mostly immigrant families. As a trilingual teaching artist having spent a lot of time in Brazil and throughout South America, I related to the kids and families by simply sharing my culture. I also have a disability that I do a presentation about for the learners so that they can see that every body can move and create.
The learners experienced a traditional dance class that includes a warm- up, skill building, and performance/ improvisation in small groups or individually. They also got to play drums and sing songs in Portuguese.
Laurel Dell celebrates their community every Spring with the Fiesta Del Sol: families and friends meet for a fun and music-filled day of dance and food. For the culminating event, students presented Samba Reggae choreography, Maculelé folklore- a traditional warrior dance and the beloved Capoeira- a game of movement, acrobatics, and song.  I had the honor of entering a community full of love and simplicity that taught me a lot about the possibilities of what quality education looks like for all!
Thanks to the generosity of the Laurel Dell PTA, and the California Arts Council, Stephanie will be returning to Laurel Dell this year. 
Master Dancer Shahrzad Khorsandi brought company members with her to perform for Hamilton and Venetia Valley Middle Schools. She also provided in-depth classroom workshops for students to share about traditional and modern Persian dance, and the strong connection to the history, language, and geography of Iran.
Thank you to the California Arts Council for making this program possible.
Master Performer Eddie Madril wowed the students at Davidson Middle School as he performed sacred dances and spoke about the importance of understanding Native American history. Eddie, also a professor at San Francisco State University, talked about the Iroquois Confederacy which had operated since the 16th century and was the basis of the American constitution. He invited students up to the stage to learn some of the dances, and Principal Bob Marcucci was even game to join in learning some of the challenging, Hoop Dance.
In addition, Youth in Arts honored students in the Media and Theatre arts classes taught by Mentor Artists, Sophie Cooper and Margaret Hee, with a series of awards. The following were recognized:
Youth in Arts Awards
Cody Lucich Award for Confidence is given to students who exhibit a willingness to take risks and show confidence in their approach to making art. It is given to students who are undaunted in their approach to art-making and utilize innovative ideas to express themselves. Cody Lucich is a filmmaker who works extensively in community-based 'Native media.'
Luna Correa is a talented visual artist, with excellent drawing skills and unique imagination. She is always engaged and is able to connect what happens in the classroom with the broader community.
Daisy Perez inspires the classroom with her positive attitude, leadership, critical thinking and inquisitive nature.
Bradley Cornett is consistently engaged and is always ready to participate. He brings a positive attitude and maturity to class.
Dayana Calderon is brave! She is always willing to voice her opinions, appreciative of others' opinions, and engages positively and creatively in class.
Carrie Mae Weems Award for Compassion is given to students who are good listeners, who care about other people's perspectives, and who demonstrate the potential to be a positive community-builder. Carrie Mae Weems is a photographer who also works with text, fabric, audio, digital images, and installation video.
Aileen Beltran brings a positive attitude to class and is always willing to help others. She leads by example and has an artistic eye.
Yanira Lucia Gonzalez is consistently dedicated and on task. She puts deep consideration into her work and appreciates the arts. She also helps other students with their work.
Zandy Bautista has an excellent attitude. She always helps others and makes the room shine with her compassionate outlook.
Juana Alicia Award for Creativity is given to students who utilize their imagination to create exciting new ways to showcase their artistic voice. Juana Alicia, is a Bay Area muralist, printmaker, educator, activist and, painter.
Yessica Mazariegos is an insightful visual artist. She is always on track, and has a calm presence in class.
Jasmin Tlachi has a very creative eye for photography and has demonstrated artistic excellence in her work as a photographer.
Harvin Sanchez has excellent drawing skills, which he brings to his storyboarding and storytelling through drawing.
Alexis Alejandre has a very good eye for photography. She comes up with very original and creative ideas and is able to transform her mood by engaging in class work.
Wilibaldo Baten-Rosas & Carina Cabrera are the best artistic collaboration!! Their work demonstrates an excellent, creative team.
Jeffrey Mazariegos is an excellent photographer and demonstrates a creative use of perspective in his work.
Ana Olvera is a highly engaged creative artist. She thinks deeply about her work and has a flare for working with the camera.
Lin-Manuel Miranda Award for Determination is given to students who are hard workers, determined and diligent about learning and making art. Lin-Manuel Miranda is an American composer, lyricist, playwright, and actor best known for creating and starring in the Broadway musicals In the Heights and Hamilton.
Angel Mauricio is an eager participant who is inquisitive and brings a fresh outlook and positive attitude to class.
Jorge Pech is not afraid to stand out as someone who cares and who has ideas and participates. He shines in the classroom with his courage and strength of character.
Andy Romero is a good listener, consistently engaged, and a strong leader. His hard work has made him the most improved student in his class.
Dave Mazariegos demonstrates creativity and positive engagement in class.
Thank you the California Arts Council for supporting this program.
By YIA Sachiko Moran, UCLA World Arts & Culture intern
Staff Miko Lee and Suzanne Joyal recently presented at the Kennedy Center VSA Intersections International conference in Atlanta on the upcoming IEP Arts Lesson Exchange. They introduced the concept to teachers and asked for their feedback and ideas on how to make it meaningful and useful to them and their students.
For years YIA has seen the impact that arts has on all students and particularly students with disabilities. For students with special needs, teachers must make the time to fill out Individualized Evaluation Plans (IEPs). Often times, when creating these plans, arts are left out of the picture.
YIA began working with a small group to create the beginning of an IEP Arts Lesson Exchange. This will be a free searchable database of arts activities for teachers and teaching artists to access in order to reach all types of learners. Through this exchange, YIA hopes that teachers and artists alike can contribute and benefit from one another's knowledge and skills, making arts education more accessible. YIA knows that there are countless motivated educators that are keen on sharing and learning. The IEP Arts Lesson Exchange will be a platform on which they can do so.
To add your own activities and learn more go here.
Shout out to UCLA World Arts & Culture intern Sachiko Moran who created the rainbow and tested out the online forms.
We are very excited to welcome, Kathryn Hasson, as the new student representative on the Youth in Arts board. Kathryn, an incoming senior at Marin Academy, has been a member of 'Til Dawn since her sophomore year. In addition to being an incredibly talented vocalist, Kathryn has seriously pursued acting, and creative writing throughout her high school career.
She appreciates and creates art in ALL of its forms, dabbling in photography, drawing, and painting as well. "So much happiness in my life comes from creating things," she exclaims, "I consider myself a proud and extremely passionate artist."
Kathryn has had access to excellent arts education throughout her life, but realizes that everyone isn't as lucky. While she wouldn't change anything about her personal arts education experience, she would like to open up the dialogue around the importance of the arts in education. "If I could change anything it would be students' and teachers' perception of arts education. I feel that many people hold the belief that arts education and opportunities are unimportant, or at the very least a last priority. I want to improve this and show people that having a space for creativity in school is incredibly beneficial."
We look forward to Kathryn bringing her bold creativity and enthusiasm to the board. "I'm incredibly driven and passionate, and that shows when I speak about things that I love," she explains, "Additionally, I'm very eager and willing to learn." That positive attitude extends to her willingness to learn more about the condition of arts education in Marin County. "I would like to have a greater understanding about the current state of arts education in Marin…my ideal goal as a board member, is to be an example of someone who has been greatly influenced by the arts and thus help people understand just why the arts are so vital to both education and life."
Thank you, Kathryn!
Every day at the Marin County Fair this year, Youth in Arts Global Stage featured our mentor artists in interactive performances from around the world. We celebrated the theme of the Marin County Fair "All for One and Fun for All" in our own artistic style with our amazing artists.
Audience members learned how to balance a bowl on their head in a dance from the Uyghur peoples of Central Asia, check out master artist Tara Pandeya demonstrating to the left with multiple bowls, including the top one full of water. We had audience up dancing a Peruvian samba around the Exhibit Hall. There was Indian Bollywood dancing, Brazillian capoeria, Japanese folk dance and so many others. Check out our gallery below.
To find out about bringing these artists to a school site near you. Click here.
Read Executive Director Miko Lee's Op Ed in the IJ here.
by Mentor Artists Kaitlin McGaw and Tommy Shepherd. Photos by Kristin Chalmers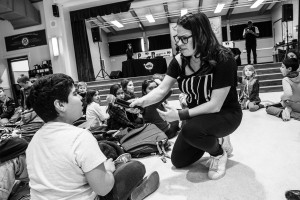 Alphabet Rockers were proud to offer hip hop arts programming in Glenwood Elementary School again this year. In a unique program design, we offered two assemblies (one in fall, one in Spring), along with accompanying dance workshops following each program.
Principal Kim Goodhope understands the importance of equity frameworks – and was eager to see how this model would deepen the experience for the young people.
We ourselves as artists were in the process of evolving our language, performance and messages to step up as allies and advocates for racial justice. Earlier in 2017, we performed "Change the World," with songs like "Gimme Some Skin" inviting young people to see and validate the diversity of skin colors in the room. We invited the audience to envision how they would change the world to make it more fair for all people.
In our return visit this past October, we were in the process of developing a new concert series for the September released album, Rise Shine #Woke. Our music had changed. We had changed as artists. As a multi-racial group of artists, we had advanced our work from "Gimme Some Skin" into songs that talked about discrimination, and took action to interrupt our biases.
In the assembly, we performed the song "Shine" in this way. We talked about how shocking it was for Tommy when someone said to his face, that "Black lives don't matter" when wearing a BLM shirt. This had happened to his 10 year old son only weeks earlier, and we took the story into our show – outlining how friends stood up for him at a time he didn't have the words. The song throws "shine not shade" on all those facing discrimination. The children joined us in dance, and sang out the words "Shine! On my beautiful skin!"
When we went into the classrooms to unpack further, we knew that as a mixed-race group, we would hold different space. A white woman talking about skin color discrimination and a black man talking about skin color discrimination would hold different language, embodiment and throughlines for these classrooms, where the children were from various backgrounds but were navigating a mostly white school and community. We found that the work needed to root in identifying and celebrating difference, before we could address discrimination and advocacy. It was clear that the work we were aiming to accomplish would need further parallel resources in the classrooms and in the school culture.
This album received a GRAMMY Nomination only a few months later; we returned with that glow to Glenwood in March. We performed our song "Walls" – about how folks who speak another language or come from another place are not always made to feel welcome. How can we be "the people" that we really want to be? How can we uphold those ideals of equality and equity at a time when we knew that even our own kids were feeling the pain of discriminating national policies and actions.
Post concert, we went back into the classrooms, charged with a similar inquiry of unpacking discrimination and bias with our young people. In one class, learning the dance moves to "Shine" empowered the children to feel their voices and bodies connected to bold claims of belonging. In another class, we reverted back to trying to describe our skin color, finding that the work around discrimination was still not quite sinking in. We went on a skin color match game, finding articles in the room that reflected our skin colors, from pages of an old book to a wooden clock. We then turned our skin color matches into unique handshakes, which celebrated the diversity and creativity of the students.
What's interesting to know in this path with arts and creativity is that it is not always linear. We do need to circle back, to revisit, to revise and listen. Just the same with adults – we cannot assume that one moment of learning around systems of oppression will lead us entirely to a path of truth and understanding. We are complex beings, seeped in our systems of bias and understanding. Our kids are as well.
In our work at Glenwood, we are reminded of this openness. The principal brought us in with full understanding of the importance of equity. We will continue to support their work – and the students individual and collective journeys – as it is about true embodiment through the years.