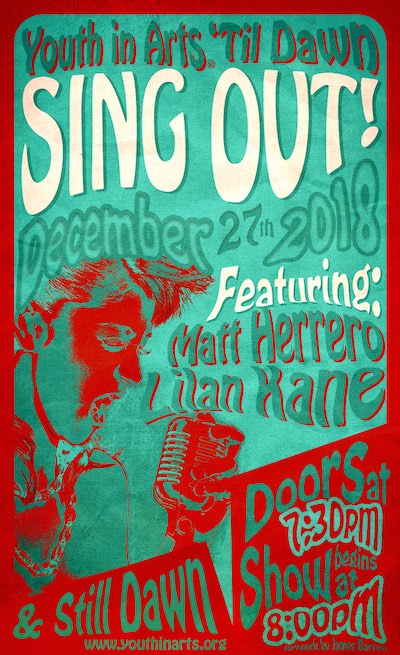 'Til Dawn alum James Barton designed this year's Sing Out! Poster, which will is still available for sale at Youth in Arts! It was unveiled at the 'Til Dawn performance Thursday at the Osher Marin JCC.
Barton, 21, is now a junior at UCLA. He said he created the poster, in shades of turquoise and reds, in the Fillmore style of art, using Photoshop.
"I sort of just went with that style," he said.
Barton was in 'Til Dawn for three years while a high school student at Marin Catholic High School. He now studies molecular biology.
Art "really provides an outlet for creative expression," he said. "Graphic design is definitely one of my passions."
Barton has fond memories of being a part of 'Til Dawn and was happy to help out. The poster was sponsored by the Herrero family and Black Cat Studio.
"I don't think I would have had the high school experience that I had without 'Til Dawn," he said. "It was such a support system."
Current and former 'Til Dawn members performed Thursday at Youth In Arts' Sing Out! at the Osher Marin JCC in San Rafael.
'Til Dawn alumni Matt Herrero is one of the featured performers at Youth In Arts' spectacular Sing Out! event on Thursday — and he's busy polishing several original songs.
Herrero, 23, a multi-instrumentalist composer, creator and performer who spent four years with Youth In Arts' wonderful 'Til Dawn a cappella troupe, now performs professionally. He credits 'Til Dawn with helping to get it all started.
"It was the most musically rigorous group I'd ever been a part of," he said. "It gave me a family outside of high school that I bonded to way more than with anyone else. They taught me how to make music with people."
Herrero, who attended Marin Academy and graduated from Stanford University last year, is a storyteller who is amazing on the acoustic guitar. He said a friend described his music "as if Justin Timberlake wrote campfire songs."
Joining Herrero on stage will be fellow alum Lilan Kane. She'll be playing with her guitarist, James Harman.
Kane, 33, is looking forward to singing jazz and R & B influenced pop tunes.  Kane, a graduate of Novato High and the Berklee College of Music in Boston, credits 'Til Dawn with helping to set her on the path to performing.
"The community that it gave me … came at a time in my life that really saved me," she said.
Being in the troupe also made her want to teach. Many of her former students, she said, are now 'Til Dawn members.
'Til Dawn made up of local high school students in Marin County. They are led by renowned director Austin Willacy. Both current `Til Dawn high school troupe members and alum called "Still Dawn" will perform Thursday.
The show starts at 8 p.m. at the Osher Marin JCC in San Rafael. Tables are $250; Adults are $35 and youth are $25. Tickets can be purchased here.
More than 70 teachers, students, parents, and community members came out to celebrate the opening of the INSPIRE teaching artists exhibition at the YIA gallery on Friday, December 14th. The event, held as part of Downtown San Rafael's Second Fridays Art Walk, celebrated artwork from 25 teaching artists throughout Marin County. The reception offered a rare opportunity for the featured artists to catch-up and share tricks of the trade. Their lively conversation, and vibrant artwork certainly brightened up the rainy evening. Thank you teaching artists for all you do!
FEATURED ARTISTS
Barry Beach, Marin Academy
Deb Bennett, 
Jessica's Haven
Katy Bernheim, 
Terra Linda High School
Cathy Bowman, 
Laurel Dell Elementary 
Beth Cederstrom, 
Sir Francis Drake High School
Martha Cederstrom, 
Sir Francis Drake High School
Gray Douglas, 
Tamalpais High School
Tracy Eastman, 
Cascade Canyon
Zach Gilmour, 
Tamalpais High School
Jill Hoefgen, 
DrawBridge
Julia James, 
Coleman Elementary
 &
 Cascade Canyon
Suzanne Joyal, 
Laurel Dell Elementary
Jackie La Lanne, 
Mill Valley School District
Liz Lauter, 
Redwood High School
Barbara Libby-Steinmann, 
Bacich Elementary
Jennifer Lipson, 
Saint Patrick School
 & 
Saint Anselm School
Taylor Mancini, 
Marin School for the Arts
Katya McCulloch, 
Marin Oaks 
&
 Loma Alta
Marty Meade, 
Compass Academy
Michele Montgomery, 
Kent Middle School
El Moody [Louis Murillo], 
Loma Alta
Cynthia Pepper, 
San Francisco Ballet
Josh Powell, 
James B. Davidson Middle School
Laurie Reemsnyder, 
Marin Catholic High School
Carina Ybarra, 
San Domenico School
Master storyteller Diane Ferlatte, accompanied by musician Erik Pearson on the banjo, performed for hundreds of K-8 students at Dance Palace in Point Reyes this Fall. Diane believes that story telling enables us to understand each other better, and many of the stories she shared with students emphasized empathy, tolerance, respect for others, the importance of working hard, and the value of our environment. From the adventures of the clever Brer Rabbit to the history of slavery in the United States, Diane's tales engaged with social studies standards for middle school students through folk traditions, song, percussion, and American Sign Language.
Students and teachers listen to the story of Brer Rabbit's Dance. Ferlatte uses ASL, intonation, music, and body language to engage students.
Following the Assembly, Diane and Erik held a workshop with 5th grade students. Students engaged in a discussion about what makes a story successful, and how to utilize performative tools to share their stories with others.
A special thank you to the Dance Palace and the California Arts Council for their support of this program!
Mr. Belmont's fifth graders have been working with Architect and Educator Shirl Buss for the last 12 weeks. They have focused this year's work on the San Rafael 2040 Plan: what do today's young people want for their city when they are grown up? Lots of green space and color, educational opportunities for Boyd Park, transportation that includes buses, bike and walking paths from end to end, safe affordable housing, more jobs, turning buildings along the canal toward the water, and designing new structures for sea level rise.
Last night, four representatives from the class joined Ms. Buss at the San Rafael 2040 Plan General Meeting. Students presented their ideas to the entire planning committee, and were articulate and thoughtful and clearly very knowledgeable about their work. The city planners asked many questions, and students not only answered them all, but wanted even MORE!
See the video here.
Youth in Arts is thrilled to welcome Kylee Ortiz to our board. Kylee, has always been creative, and she had great support from her family when it came to pursuing her passion. Although she had access to visual art and music in school, much of her arts education was self-led. She explains, "I was lucky enough to have visual art in the classroom regularly although…I was not taught technique or guided to connect to the source of my creativity. Using my intuition, I did those things on my own, in school and out." Her motivation to pursue the arts ultimately led her to get a Masters in Transformative Arts from John F. Kennedy University. It was there that she realized how omnipresent creativity can, and should be in education. "It wasn't until I was at JFK that I realized everyone has a creative source, we're all creators in our own right. Creativity is messy and sometimes dark and that's ok."
Kylee recognizes just how important arts education is to developing well-rounded, and confident leaders, "I recognize the transformational power of art and know that when young people are provided a safe space for art making and guidance accessing their creative source, their potential is limitless. With that belief, five years ago, my husband and I conspired a semester long, after-school pilot program. We facilitated transformational research-based art making, non-judgmental dialogue, and exhibited their art in a local gallery. Proceeds benefited a local non-profit."
Kylee, is a Manager System Administrator at Kaiser Permanante by day, and a renegade prose and multi-media visual artist by night. She lives in San Geronimo with her husband and three children.
We are very thankful to have Kylee's wonderful energy, compassion and creativity on our board. Thank you, Kylee!
Youth in arts submitted over 80 pieces of art to the Kennedy Center's VSA Arts international on-line show, which had nearly 500 entries from around the country. Only one piece (Shaylynn's artwork) was chosen to be one of the 16 framed, and exhibited in the US Department of Education this Spring! (Shaylynn was a student in Marci Ryan's special day classroom at Lynwood School last year).
Julia James uses large mirrors to help students with autism look carefully at their own faces, practice making faces of various emotions, then guides the students through a process of creating a symmetrical portrait of themselves. Shaylin created a self portrait in oil pastel and watercolors. She created cartoon images of creatures showing a variety of emotions around the border.
Marci Ryan says "Shaylynn has shown incredible aptitude in the fine arts. During free choice it is always her preferred activity. Her friends look to her work and  have learned from and been inspired by her drawings. Once, after seeing a performance of the Nutcracker on a field trip, Shaylynn came back to class and not only made a picture of what she saw on stage, but also the back of people's heads and the view from her perspective in the theatre! Incredible!"
Painting and drawing offer students of all abilities a safe way to explore all of their emotions, and also offers them a safe form of risk-taking with materials, techniques and textures.
Youth in Arts is the only arts organization providing arts opportunities to children with special needs in Marin County: nearly 300 students every year!
Thank you Kennedy Center.
Ms. McCarthy's Fifth graders at Laurel Dell Elementary School have been working with Janine Lovejoy Wilford (a practicing architect and educator). They, along with Shirl Buss and Mr. Belmont's fifth grade class, have been working on the question, "What Do You Imagine for San Rafael in the year 2040?
Ms. Janine created map worksheets of five zones in San Rafael, and the students worked in pairs to design for that area.  Three of the zones are right on the canal and the other two are on the shoreline. The students sketched out ideas for their areas, and added more and more details as they persevered. In 2040, these future residents of San Rafael would like to see safer, prettier walking routes, more affordable housing, more playgrounds, and a lot more gardens.
The final presentations were great and  students had many ideas including a waterpark in the canal that would recirculate and clean water. Students were asked why their design will be better for SR. Some of our favorite responses: "because it's better than what's there."  And "because in the future people will use alot of electronics and they will need to go outside more."
This week students will build 3D versions of these ideas.
Thank you so much to the wonderful supporters of this project: UC Berkeley's Y-Plan, the California Arts Council, and the teachers, staff and parents of Laurel Dell Elementary School.
By Shirl Buss, Architect and Educator and Cathy Bowman, Mentor Artist
Building upon the work they have done with Dustin Foster, Suzanne Joyal and us, Mr. Seligman's fourth grade class started looking at San Rafael Creek/Canal in more detail, studying photos of different conditions along the waterway.
We also studied images of different types of river bridges and best practices for bridging small urban waterways.  We focused on how to how bridging can be a part of efforts to bring formerly degraded rivers back to life as an asset in the city.
Then the students worked in teams to draw and design small pedestrian bridges (and some vehicular ones as well) to span the creek at different points. They did a wonderful job of designing and thinking!  And building!  All in an hour and a half!
Thank you so much to the wonderful supporters of this project: UC Berkeley's Y-Plan, the California Arts Council, and the teachers, staff and parents of Laurel Dell Elementary School.