Which visual arts lessons will help you communicate with a student who is on the autism spectrum? How can dance include someone using a wheelchair? How do you teach collaboration in your 5th grade classroom?
Youth in Arts' new ARTS Bank (Art Resources for Teachers and Students) offers answers. The ARTS Bank is a first of its kind free database to find and contribute arts activities to reach all types of learners.  
Visual Arts Director Suzanne Joyal and former Executive Director Miko Lee presented a beta version of the online resource recently at VSA Intersections: Arts and Special Education Conference in Irvine, CA. VSA is an international organization on arts, education and disability that was founded in 1974 by former U.S. Ambassador Jean Kennedy Smith and is headquartered in Washington, D.C.
"The ARTS bank is an exciting tool," Joyal said. "With a click of a button, teachers, parents or caregivers can plug in an Individualized Education Program (IEP) goal or grade level or a key word and find an arts lesson designed to strengthen those specific skills."
Lee said the goal is to provide a tool so people can build on each other's work.
"We have intentionally made it a free resource to encourage people to use it, contribute and collaborate," Lee said. "You get the best solutions for the communities you are working with from those communities themselves. Those are the practitioners that best understand what works."
The ARTS Bank is part of Youth in Arts' Digital Toolkit, which includes six videos on inclusive teaching practices for artists, classroom teachers and parents. The ARTS Bank was developed pro bono through Salesforce under the leadership of Derek Schauffler. Funding for the video portion was provided through the state Department of Education's Student Support and Academic Enrichment grant that the Marin County Office of Education received.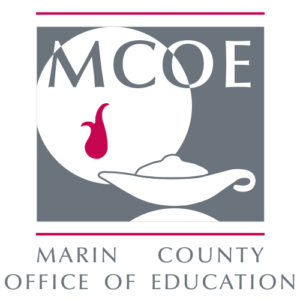 Nearly 50 arts lovers stopped by the Youth in Arts' gallery recently to celebrate our current show and meet new Executive Director Kristen Jacobson.
Imagine Our World: In My Neighborhood runs until Dec. 6. The show features second grade art from Laurel Dell and Short elementary schools, including two large collages in which students envisioned their ideal neighborhood. Students connected to the idea that working together builds a stronger community. The show includes work made by young artists in response to the recent power outages and fires.
The show also features collaborative artwork from Youth in Arts' booth at the West End Village Celebration on November 4. Over 100 artists of all ages contributed to two large-scale murals, and a community collage. Participants were encouraged to express their feelings about the Power Safety Shutoff through art making.
Jacobson thanked everyone for their support and said she was looking forward to getting down to work.
"I'm so moved and inspired by the work of the incredible artists and the legacy that is here in Marin," Jacobson said. "I'm excited to focus on access to arts education, and equity for all" she said.
With the continued support of the California Arts Council, Laurel Dell's PTA, UC Berkeley's Y-Plan and RileyStreet Art Supply, Youth in Arts has designed a sequential arts program for students to build their skills over time. Every student receives 12 weeks of visual arts in the Fall and 12 weeks of dance in the Spring.
Youth in Arts has provided Mentor Artists to Laurel Dell Elementary School for almost 20 years. For the past four, however, Laurel Dell has been home to our demonstration project: a sequential, scaffolded arts program focused on the core competencies of Youth in Arts: Creativity, Compassion, and Confidence through arts learning. The program was designed by our Director of Visual Arts Suzanne Joyal. During their 12 weeks of visual arts in the Fall and 12 weeks of dance in the Spring, students learn to express themselves verbally, visually and physically in multiple art forms.
As part of this year's  Arts Unite Us residencies, mentor artist Julia James works with TK and Kindergarten students at Magnolia Park School through their early intervention program. Over the course of ten weeks, Julia explains, "we will be using a variety of adaptive art tools, materials and surfaces to explore alternative ways to make marks and actively create artworks." Key goals for the residency include personal expression, developing fine motor skills, and interpersonal communication and collaboration. Students will practice working with primary and secondary colors, using a broad assortment of materials to mix and apply paint.
As a final project for the residency, students will create an abstract collaborative painting that will be including in the Kennedy Center's national online VSA exhibition for 2019-20 representing San Rafael, CA, as well as the annual YIA Gallery exhibition, "Outside the Lines: Collaborative Art in Special Day Classrooms".
Thank you to the Kennedy Center, Marin Community Foundation, and Marin County Office of Education for making this program possible.
On a warm November afternoon, Youth in Arts welcomed over 120 community members to participate in collaborative artworks at the West End Village Celebration in San Rafael. Artists of all ages created large-scale group paintings using primary colors – red, blue and yellow (plus white). Following the "Power of Sharing" lesson model from our visual art residency at Laurel Dell Elementary, we encouraged participants to share their colors and blend on the canvas to make any secondary colors.
The recent Public Safety Power Shut-off closed San Rafael City Schools for several days, so we felt it important to help community members, especially children, process their feelings through art. We presented the prompt: "Did you lose power in your neighborhood? How did it make you feel?" We then asked the artists to paint their response on the community murals. It was wonderful to see everyone working together to create something so beautiful.
In addition, community members who visited Youth in Arts' booth responded to our prompt: "What makes your neighborhood powerful?" We asked participants to draw or write their response with Sharpie pen on colorful squares of hand-dyed watercolor paper, and later turned them into a community collage.
You can add to our collage, see the collaborative paintings, and more wonderful artwork from our 2nd grade residency at Laurel Dell Elementary in our current exhibition, Kids Imagine Our World: In My Neighborhood. The show will be on view in the YIA Gallery through December 6th!
Welcome to the`Til Dawn 2019-20 company.
The new singers attend schools throughout Marin, from Larkspur to Novato and bring a variety of expertise and interests.
"I sing when I wake up and I sing until I go to sleep," said new member Leah Nemerovski. "I don't find passion in anything else."
Current 'Til Dawn members are already practicing and putting their musical experience to use. Nemerovski plays the trombone, piano, drums, ukelele and enjoys musical theater. She became interested in 'Til Dawn when she saw them perform  at her middle school. She was surprised how easily she connected with other members of the group.
Nemerovski, and Alisa Costello, both 14, attend San Marin High School in Novato. One of the things they enjoy is the closeness of the group.
"It's like a family," Costello said.
For the newest members, music runs in the family. Costello's uncle was an opera singer who performed at Carnegie Hall; Nemerovski is learning how to play the drums from her dad. Will Ferris's mom is a singer, and Jacquie Kizer has two uncles who are musicians. Emma Orrick's father is a music producer.
Kizer, 15, goes to Redwood High School. Kizer moved to Marin from New York last year and previously sung in a similar group. Being in the group, she said, provides a safe space and an environment in which to have fun.
"It's honestly been amazing," she said.
Orrick, 14, is also at Redwood. and plays the piano and does theater. She was surprised by how quickly the group learns the songs.
"It's always my highlight of the week," she said. "It doesn't feel like a chore."
Ferris, 15, is a sophomore at Drake High School. He didn't think he'd get into the group, he said, because he couldn't figure out what to sing. He chose his winning song –"Fly Me To The Moon" – on the day of the audition.
Ferris said he enjoys performing all of the songs, although some are difficult because they are beyond his tenor range. The songs that are performed are chosen by the ensemble.
"I think it's great," he said. "I think it's really healthy for the group."
`Til Dawn is an advanced vocal music program that celebrates the value of the arts, encourages positive messages about meaningful social issues and inspires children of all ages. The 15-member ensemble is part of Youth in Arts' I AM mentorship program and the longest-running, year-round teen a cappella ensemble in the Bay Area. It's directed by Austin Willacy, who performs as a solo artist and also with his own a cappella group, The House Jacks. While Willacy is on sabbatical this fall,  the group has been taught by singer Lilan Kane. a 'Til Dawn alumnus, and others.