More than eighty community leaders, educators, students, and Youth in Arts supporters came out to celebrate Arts in Education Month at the YIA Gallery last Friday, March 8th. Youth in Arts and the Marin County Office of Education co-hosted the event, which was centered around introducing attendees to the 2018-2019 Marin Arts Education Plan. There was lots of positive feedback, and seemed to be buzz building around the movement in Marin to improve arts access for ALL learners.
Visitors were also able to enjoy the wonderful artwork from our RISING STARS High School art exhibition, on view through March 29th. The "Best Of" show and category winners (drawing, mixed media, painting, photography, and sculpture), were also encouraged to attend the event to receive another amazing prize to commemorate their accomplishment. College of Marin kindly awarded each of the 6 students a full semester scholarship! The lovely Lauren Smart was on hand to receive her award letter, and was photographed alongside her beautiful charcoal, pen and graphite drawing of her grandfather, entitled Evolution of Life. Lauren, a senior at Redwood High School, plans to attend San Jose State in the fall, and is excited to take some summer art classes at College of Marin. Thank you College of Marin for supporting our young artists!
Youth in Arts staff, Miko Lee, Suzanne Joyal and Kelsey Rieger have been presenting on arts equity as a tool to begin implementation of the Marin Arts Education Plan. On January 29 the team conducted a 3-hour interactive workshop for Marin County educators and administrators at Marin Community Foundation. Participants learned about the recent data released from the California Data Project and reflected on the Race Counts study. They watched "A Student Named Art" student produced film from the California Arts Education Alliance and deconstructed the video using Visual Thinking Strategies. They learned about the latest in arts education research, created a collaborative mural and used theatre to explore language arts and history links.
"Thank you for the amazing presentation you and your team so beautifully engaged us in yesterday.  It was wonderful how you kept everybody engaged while instilling some crucial facts about the powerful impact art can provide students.  Observing the group, I feel confident that each person present will be sharing this information with others and thinking more about how to take the next steps within their district or school."
-Eileen Smith, Marin County Office of Education Director of Education Services
That same night Miko & Kelsey provided similar workshop for the North Bay PTA leads and provided information about CREATE California's Public Will Campaign.  For more info about this workshop, reach out to us: mlee@youthinarts.org
Master Architect Shirl Buss has been working with Laurel Dell Elementary students on their vision for the San Rafael 2040 Plan. Students presented their projects (sea level rise, their 2018-2040 Portfolios and their proposals for Gateways to San Rafael) to Kate Powers, environmental advocate who is on the San Rafael 2040 general plan steering committee. Kate served as a great audience for the students to practice their public speaking skills and shared information about the San Rafael 2040 General Plan  and the work of the Steering Committee.
The students showed off their model and the city started to look more artful and bright—one of their key hopes for the city!  Fun! Thank you to the Y Plan of UC Berkeley and the California Arts Council for supporting this work.
Join Youth in Arts at the
WestEnd Fall Celebration
on November 4, from 12-5pm where we will invite community input and artistry to add to the process.
Arts and Culture Master Plan
On Saturday October 13, Youth in Arts hosted one of the district lead community arts planning forums. Supervisor Damon Connolly and Gabriella C. Calicchio, Director of Cultural Services listened as 40 residents shared their vision for the Arts, Culture, Action! initiative.
The first local arts and culture master plan is in development to maximize the creative potential of Marin and secure its cultural richness for future generations. The Marin County Department of Cultural Services is working in partnership with the Marin Cultural Association, the Marin Coalition for the Arts, and arts leaders from all over the county to create the plan, dubbed Arts, Culture, Action! The plan will document, capitalize, support, and enhance the county's cultural resources to better serve all members of the community.
To roll out the plan's debut, town-hall-style community meeting in districts were held throughout Marin. The Marin Arts Education Plan that Youth in Arts took the lead in creating will be incorporated into this County Arts Plan. Community members are invited to fill out the survey to provide input. In addition, artists are invited to share their information here.
Arts leaders, local officials, and community members gathered at the YIA Gallery to celebrate the launch of the Downtown San Rafael Arts District on Friday, October 12th. The district, located along the spine of 4th street, is home to numerous arts-related organizations including Artworks Downtown, the Falkirk Cultural Center, and the California Film Institute. Downtown San Rafael is one of only 14 inaugural state-designated cultural arts districts. Speakers included Supervisor Damon Connolly, CFI's Dane Callihan, AWD's Elisabeth Setten, Bank of Marin's Jaime Ortiz, Marin Arts' Kathie Gaines, Youth in Arts Mentor architect Shirl Buss, and YIA youth board member Kathryn Hasson.
On behalf of YIA's board and staff, Executive Director Miko Lee presented the Pamela Levine Arts Education Leadership Award to Dominican University professor, Lynn Sondag. The award is given to individuals for exceptional accomplishments in arts education in memory of Youth in Arts' former Executive Director Pamela Levine. "We are thrilled to celebrate Lynn, who is an exemplar of arts education and leadership," Lee said. "Lynn is a driving force in making the arts come alive in San Rafael."
Thank you do our food donors Arizmendi Bakery, LaVier Latin Fusion Restaurant & Safeway.
Families of kindergarten and first grade students joined together for an evening of literacy fun! Teachers Alejandra Vazquez and Krista Wallinger worked with reading specialist Maggie Stevens to share tools for new readers with students and their families. Participants received books to take home, and grown-ups practiced techniques for encouraging new readers.
Youth in Arts' own Suzanne Joyal and Cathy Bowman (who is teaching the Walker Rezaian Creative Hearts Program with these students) designed a very special book for each child to make and utilize at home. It features the first letters that students learn, and each page is made from an envelope. Students drew a letter on each page, illustrated that page with words and pictures that start with the letter, then scrambled around the room searching for words that would go in each envelope.
Instructions in the book encourage parents to help their children find more words to add to the envelope pages, and then to take the words out to practice reading and writing. Since the binding of the book is just two holes, a rubber band and a popsicle stick, parents and students can continue to add pages as new letters are added to their word wall!
We are also working on refining the Letter Dance: combining sounds and shapes and movements which we can choreograph with words–stay tuned…
Thank you to our supporters~
The second Sunday in September has been designated by Congress since 2010 as the beginning of National Arts in Education Week. During this time, the field of arts education joins together in communities across the country to tell the story of the impact of the transformative power of the arts in education.
This year, Youth in Arts worked with colleagues to plan a dynamic and multifaceted celebration of National Arts in Education Week spanning the county and offering activities for students, teachers, parents and the general public. Educators and invested community members were invited to celebrate the launch of National Arts Education Week by attending the Kickoff Breakfast for Arts Now Marin with Youth In Arts, Marin County Office of Education, California Alliance for the Arts, Marin Community Foundation, Marin Center, and the rich Arts Community of Marin. Together we celebrated the accomplishments of our young artists and considered new ways to share the arts with more students in our communities. A special thanks goes out to everyone who made this event possible, and to all those who took time away from their important work to come together to consider the future of the arts in Marin County!
By YIA Sachiko Moran, UCLA World Arts & Culture intern
Staff Miko Lee and Suzanne Joyal recently presented at the Kennedy Center VSA Intersections International conference in Atlanta on the upcoming IEP Arts Lesson Exchange. They introduced the concept to teachers and asked for their feedback and ideas on how to make it meaningful and useful to them and their students.
For years YIA has seen the impact that arts has on all students and particularly students with disabilities. For students with special needs, teachers must make the time to fill out Individualized Evaluation Plans (IEPs). Often times, when creating these plans, arts are left out of the picture.
YIA began working with a small group to create the beginning of an IEP Arts Lesson Exchange. This will be a free searchable database of arts activities for teachers and teaching artists to access in order to reach all types of learners. Through this exchange, YIA hopes that teachers and artists alike can contribute and benefit from one another's knowledge and skills, making arts education more accessible. YIA knows that there are countless motivated educators that are keen on sharing and learning. The IEP Arts Lesson Exchange will be a platform on which they can do so.
To add your own activities and learn more go here.
Shout out to UCLA World Arts & Culture intern Sachiko Moran who created the rainbow and tested out the online forms.
We are very excited to welcome, Kathryn Hasson, as the new student representative on the Youth in Arts board. Kathryn, an incoming senior at Marin Academy, has been a member of 'Til Dawn since her sophomore year. In addition to being an incredibly talented vocalist, Kathryn has seriously pursued acting, and creative writing throughout her high school career.
She appreciates and creates art in ALL of its forms, dabbling in photography, drawing, and painting as well. "So much happiness in my life comes from creating things," she exclaims, "I consider myself a proud and extremely passionate artist."
Kathryn has had access to excellent arts education throughout her life, but realizes that everyone isn't as lucky. While she wouldn't change anything about her personal arts education experience, she would like to open up the dialogue around the importance of the arts in education. "If I could change anything it would be students' and teachers' perception of arts education. I feel that many people hold the belief that arts education and opportunities are unimportant, or at the very least a last priority. I want to improve this and show people that having a space for creativity in school is incredibly beneficial."
We look forward to Kathryn bringing her bold creativity and enthusiasm to the board. "I'm incredibly driven and passionate, and that shows when I speak about things that I love," she explains, "Additionally, I'm very eager and willing to learn." That positive attitude extends to her willingness to learn more about the condition of arts education in Marin County. "I would like to have a greater understanding about the current state of arts education in Marin…my ideal goal as a board member, is to be an example of someone who has been greatly influenced by the arts and thus help people understand just why the arts are so vital to both education and life."
Thank you, Kathryn!
by Mentor Artists Kaitlin McGaw and Tommy Shepherd. Photos by Kristin Chalmers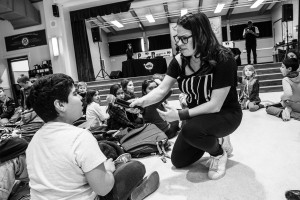 Alphabet Rockers were proud to offer hip hop arts programming in Glenwood Elementary School again this year. In a unique program design, we offered two assemblies (one in fall, one in Spring), along with accompanying dance workshops following each program.
Principal Kim Goodhope understands the importance of equity frameworks – and was eager to see how this model would deepen the experience for the young people.
We ourselves as artists were in the process of evolving our language, performance and messages to step up as allies and advocates for racial justice. Earlier in 2017, we performed "Change the World," with songs like "Gimme Some Skin" inviting young people to see and validate the diversity of skin colors in the room. We invited the audience to envision how they would change the world to make it more fair for all people.
In our return visit this past October, we were in the process of developing a new concert series for the September released album, Rise Shine #Woke. Our music had changed. We had changed as artists. As a multi-racial group of artists, we had advanced our work from "Gimme Some Skin" into songs that talked about discrimination, and took action to interrupt our biases.
In the assembly, we performed the song "Shine" in this way. We talked about how shocking it was for Tommy when someone said to his face, that "Black lives don't matter" when wearing a BLM shirt. This had happened to his 10 year old son only weeks earlier, and we took the story into our show – outlining how friends stood up for him at a time he didn't have the words. The song throws "shine not shade" on all those facing discrimination. The children joined us in dance, and sang out the words "Shine! On my beautiful skin!"
When we went into the classrooms to unpack further, we knew that as a mixed-race group, we would hold different space. A white woman talking about skin color discrimination and a black man talking about skin color discrimination would hold different language, embodiment and throughlines for these classrooms, where the children were from various backgrounds but were navigating a mostly white school and community. We found that the work needed to root in identifying and celebrating difference, before we could address discrimination and advocacy. It was clear that the work we were aiming to accomplish would need further parallel resources in the classrooms and in the school culture.
This album received a GRAMMY Nomination only a few months later; we returned with that glow to Glenwood in March. We performed our song "Walls" – about how folks who speak another language or come from another place are not always made to feel welcome. How can we be "the people" that we really want to be? How can we uphold those ideals of equality and equity at a time when we knew that even our own kids were feeling the pain of discriminating national policies and actions.
Post concert, we went back into the classrooms, charged with a similar inquiry of unpacking discrimination and bias with our young people. In one class, learning the dance moves to "Shine" empowered the children to feel their voices and bodies connected to bold claims of belonging. In another class, we reverted back to trying to describe our skin color, finding that the work around discrimination was still not quite sinking in. We went on a skin color match game, finding articles in the room that reflected our skin colors, from pages of an old book to a wooden clock. We then turned our skin color matches into unique handshakes, which celebrated the diversity and creativity of the students.
What's interesting to know in this path with arts and creativity is that it is not always linear. We do need to circle back, to revisit, to revise and listen. Just the same with adults – we cannot assume that one moment of learning around systems of oppression will lead us entirely to a path of truth and understanding. We are complex beings, seeped in our systems of bias and understanding. Our kids are as well.
In our work at Glenwood, we are reminded of this openness. The principal brought us in with full understanding of the importance of equity. We will continue to support their work – and the students individual and collective journeys – as it is about true embodiment through the years.
Older Entries »