The second Sunday in September has been designated by Congress since 2010 as the beginning of National Arts in Education Week. During this time, the field of arts education joins together in communities across the country to tell the story of the impact of the transformative power of the arts in education.
This year, Youth in Arts worked with colleagues to plan a dynamic and multifaceted celebration of National Arts in Education Week spanning the county and offering activities for students, teachers, parents and the general public. Educators and invested community members were invited to celebrate the launch of National Arts Education Week by attending the Kickoff Breakfast for Arts Now Marin with Youth In Arts, Marin County Office of Education, California Alliance for the Arts, Marin Community Foundation, Marin Center, and the rich Arts Community of Marin. Together we celebrated the accomplishments of our young artists and considered new ways to share the arts with more students in our communities. A special thanks goes out to everyone who made this event possible, and to all those who took time away from their important work to come together to consider the future of the arts in Marin County!
By YIA Sachiko Moran, UCLA World Arts & Culture intern
Staff Miko Lee and Suzanne Joyal recently presented at the Kennedy Center VSA Intersections International conference in Atlanta on the upcoming IEP Arts Lesson Exchange. They introduced the concept to teachers and asked for their feedback and ideas on how to make it meaningful and useful to them and their students.
For years YIA has seen the impact that arts has on all students and particularly students with disabilities. For students with special needs, teachers must make the time to fill out Individualized Evaluation Plans (IEPs). Often times, when creating these plans, arts are left out of the picture.
YIA began working with a small group to create the beginning of an IEP Arts Lesson Exchange. This will be a free searchable database of arts activities for teachers and teaching artists to access in order to reach all types of learners. Through this exchange, YIA hopes that teachers and artists alike can contribute and benefit from one another's knowledge and skills, making arts education more accessible. YIA knows that there are countless motivated educators that are keen on sharing and learning. The IEP Arts Lesson Exchange will be a platform on which they can do so.
To add your own activities and learn more go here.
Shout out to UCLA World Arts & Culture intern Sachiko Moran who created the rainbow and tested out the online forms.
We are very excited to welcome, Kathryn Hasson, as the new student representative on the Youth in Arts board. Kathryn, an incoming senior at Marin Academy, has been a member of 'Til Dawn since her sophomore year. In addition to being an incredibly talented vocalist, Kathryn has seriously pursued acting, and creative writing throughout her high school career.
She appreciates and creates art in ALL of its forms, dabbling in photography, drawing, and painting as well. "So much happiness in my life comes from creating things," she exclaims, "I consider myself a proud and extremely passionate artist."
Kathryn has had access to excellent arts education throughout her life, but realizes that everyone isn't as lucky. While she wouldn't change anything about her personal arts education experience, she would like to open up the dialogue around the importance of the arts in education. "If I could change anything it would be students' and teachers' perception of arts education. I feel that many people hold the belief that arts education and opportunities are unimportant, or at the very least a last priority. I want to improve this and show people that having a space for creativity in school is incredibly beneficial."
We look forward to Kathryn bringing her bold creativity and enthusiasm to the board. "I'm incredibly driven and passionate, and that shows when I speak about things that I love," she explains, "Additionally, I'm very eager and willing to learn." That positive attitude extends to her willingness to learn more about the condition of arts education in Marin County. "I would like to have a greater understanding about the current state of arts education in Marin…my ideal goal as a board member, is to be an example of someone who has been greatly influenced by the arts and thus help people understand just why the arts are so vital to both education and life."
Thank you, Kathryn!
by Mentor Artists Kaitlin McGaw and Tommy Shepherd. Photos by Kristin Chalmers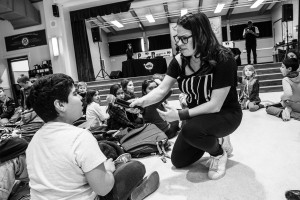 Alphabet Rockers were proud to offer hip hop arts programming in Glenwood Elementary School again this year. In a unique program design, we offered two assemblies (one in fall, one in Spring), along with accompanying dance workshops following each program.
Principal Kim Goodhope understands the importance of equity frameworks – and was eager to see how this model would deepen the experience for the young people.
We ourselves as artists were in the process of evolving our language, performance and messages to step up as allies and advocates for racial justice. Earlier in 2017, we performed "Change the World," with songs like "Gimme Some Skin" inviting young people to see and validate the diversity of skin colors in the room. We invited the audience to envision how they would change the world to make it more fair for all people.
In our return visit this past October, we were in the process of developing a new concert series for the September released album, Rise Shine #Woke. Our music had changed. We had changed as artists. As a multi-racial group of artists, we had advanced our work from "Gimme Some Skin" into songs that talked about discrimination, and took action to interrupt our biases.
In the assembly, we performed the song "Shine" in this way. We talked about how shocking it was for Tommy when someone said to his face, that "Black lives don't matter" when wearing a BLM shirt. This had happened to his 10 year old son only weeks earlier, and we took the story into our show – outlining how friends stood up for him at a time he didn't have the words. The song throws "shine not shade" on all those facing discrimination. The children joined us in dance, and sang out the words "Shine! On my beautiful skin!"
When we went into the classrooms to unpack further, we knew that as a mixed-race group, we would hold different space. A white woman talking about skin color discrimination and a black man talking about skin color discrimination would hold different language, embodiment and throughlines for these classrooms, where the children were from various backgrounds but were navigating a mostly white school and community. We found that the work needed to root in identifying and celebrating difference, before we could address discrimination and advocacy. It was clear that the work we were aiming to accomplish would need further parallel resources in the classrooms and in the school culture.
This album received a GRAMMY Nomination only a few months later; we returned with that glow to Glenwood in March. We performed our song "Walls" – about how folks who speak another language or come from another place are not always made to feel welcome. How can we be "the people" that we really want to be? How can we uphold those ideals of equality and equity at a time when we knew that even our own kids were feeling the pain of discriminating national policies and actions.
Post concert, we went back into the classrooms, charged with a similar inquiry of unpacking discrimination and bias with our young people. In one class, learning the dance moves to "Shine" empowered the children to feel their voices and bodies connected to bold claims of belonging. In another class, we reverted back to trying to describe our skin color, finding that the work around discrimination was still not quite sinking in. We went on a skin color match game, finding articles in the room that reflected our skin colors, from pages of an old book to a wooden clock. We then turned our skin color matches into unique handshakes, which celebrated the diversity and creativity of the students.
What's interesting to know in this path with arts and creativity is that it is not always linear. We do need to circle back, to revisit, to revise and listen. Just the same with adults – we cannot assume that one moment of learning around systems of oppression will lead us entirely to a path of truth and understanding. We are complex beings, seeped in our systems of bias and understanding. Our kids are as well.
In our work at Glenwood, we are reminded of this openness. The principal brought us in with full understanding of the importance of equity. We will continue to support their work – and the students individual and collective journeys – as it is about true embodiment through the years.
We are so grateful to TOAST Restaurant in Novato for exhibiting the beautiful portraits of past participants in the Walker Rezaian Creative Hearts Fund Kindergarten Art Project.
Every year Children work so hard to create their portraits as they study line, color, form, and emotion to create these wonderful works of art.
Portraits will be on display until May 30: stop in and take a look!
TOAST for breakfast lunch or dinner, 5800 Nave Drive, Unit G, Novato, CA 94949
Youth in Arts hosted community leaders, educators and arts organizations in a guided discussion to plan a celebration for National Arts in Education Week.
Executive Director of Marin Cultural Association and Marin Center Gabriella Calicchio provided an overview of the Marin County Arts Plan that is currently in process. Marin County Office of Education's Eileen Smith described the Arts Education planning process and Youth in Arts Executive Director Miko Lee spoke about the San Rafael Cultural Arts District that is underway.
Presentations included:
An overview of statewide arts data being collected around Arts Education in California.
A localized version that is used in LA County Arts Data
The preliminary work in process in Marin that includes elementary and community based organizations Marin Arts Ed Data project
Since these multiple arts planning are underway it was stressed how critical it is to build the case for arts education. Youth in Arts has created an Advocacy page  so that schools/organizations that are ready to develop an arts plan can forge right ahead.
As an arts community in Marin we will begin to focus on celebrating youth artists and sharing the power and story of arts education during National Arts Education Week – September 12-18, 2018
Marin County Office of Education will host a series of professional development workshops both at the county office and then at specific school and community sites. If you are interested in providing a workshops reach out to Eileen Smith.
Samples of how other counties celebrate arts education (month/week)
Alameda with county declaration:
For more information about how you can become involved. Please reach out to Miko Lee.
National Arts in Education Week
Passed by Congress in 2010, House Resolution 275 designates the week beginning with the second Sunday in September as National Arts in Education Week. During this week, the field of arts education joins together in communities across the country to tell the story of the impact of the transformative power of the arts in education. Watch the video and join us in the celebration!
Celebrate. Host a celebration in your community, whether big or small, an existing event, or a new one. Download and use the shared logo and be sure to register your event on ArtsMeet, a national arts event calendar.
Advocate. Work with your elected officials and decision-makers to share the value of the arts in education. Whether a mayor, principal, or U.S. Congressman, check out sample resolutions and videos, send an op-ed to your local newspaper, and use the Arts Education Navigator—an online tool with six action steps to crafting a personal advocacy plan. Be sure to sign the petition encouraging Secretary of Education Betsy DeVos to support the arts!
Participate. Share your story in the social media campaign, #BecauseOfArtsEd, to bring national visibility to the issue of arts education. See below for more information and download the How To Guide. Also, be sure to attend and invite friends to the Facebook Event.
« Newer Entries