By Mentor Artist Cathy Bowman
Recently I worked with a team of San Rafael High School students as part of Italian Street Painting Marin. During a five-day workshop, artists learned to design, grid and create a chalk painting. The festival draws artists from all over the world, and this year's theme –The Wonders of Space and Time – gave us a lot to think about.
"Space is the void of warmth and an engulfing darkness that is both terrifying and mystical at once," wrote one of the YIA artists.  "When I imagine space, I think of planets, stars and black holes. I think of the mysticality of space and the wonders it offers."
While many artists painted important scientific figures, such as Stephen Hawking, our team created a montage of images. They called the piece, "Beautiful Chaos." The painting showed space in the center. Around the edges, vines and roots of trees took over parts of earth polluted with items such as an old car, a discarded can and cigarette butts. A big challenge was decided what colors to use – and working in the heat! Students were flexible and generous with each other, making changes when necessary and helping each other along the way.
 Advisory Class By Mentor Artist Jill Hoefgen
The goals of this Canal Alliance University Prep advisory class were to understand various forms of media and its effects on the individual, the community, and the world; to use images to create a visual message; to inspire students to observe the world through the camera lens and to express their unique perspectives through photography. Together, the students motivated each other to photograph shadows, buildings, signs, people, flowers, food, and even discarded objects. I enjoyed observing the tentative students emerging as thoughtful and enthusiastic photographers. Through practice, they began to discover how they could use light, lines, and angles to create interesting and unique compositions.

Back in the classroom, the students compiled their photos into hand-made accordion books. Each creation was a distinct and condensed collection of the work they had accomplished over the many weeks of photography.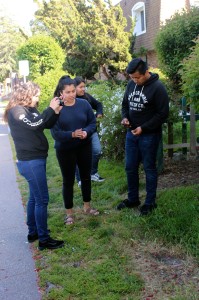 I witnessed many of the students embracing photography, creating something of their own, and expressing how they see the world. I was heartened by the energy and the relative openness as the students shared this experience with each other. I hope these emerging photographers can embrace this visual medium and continue to share their viewpoints through pictures. Ultimately, I hope each of the participating students discovers their own voice and identifies ways they can contribute meaningfully to the wide world of media.
Join Mentor Artist Cathy Bowman for this unique opportunity to not only learn the art of street painting, but to add your voice to the 10′ x 14′ square young artists will be creating during the Italian Street Painting Marin Festival in Downtown San Rafael, June 23 & 24. Learn a new art form, meet professional artists, and work side-by side for the weekend of June 23 and 24.
This year's theme is "The wonders of Time and Space". Scholarships are available, we would love to have you join us. email suzanne@youthinarts.org, or stop by 917 C Street. Open until 8 tonight, and 11-4 all next week.
By YIA Mentor Artist Tracy Eastman
This past winter I had the privilege of working with four fun and friendly San Rafael High School students on creating signage for the Youth in Arts C Street studio and gallery.  The objective of the project was to design and create an eye-catching sign that grabs the attention of the public and invites them to come into the Youth in Arts studio to view and even create art.
The students first brainstormed how to visually portray what YIA is about (i.e. accessible art programs revolving around music, performing, and visual arts.)  They proposed various ideas and discussed the effectiveness of using certain visuals.    The students continued editing their ideas further until they had collaborated a harmonious design and composition.
Not having much experience using paints, the students spent some time familiarizing themselves with basic painting techniques before applying paint to the final surface.  We decided to paint the sign's design on a canvas using acrylic paints and then have the image digitally reproduced with the Youth in Arts logo printed directly onto a sandwich board sign to be placed outside the YIA studio.
The final design of the sign (prior to the digital reproduction) was comprised of colorful music notes dripping with wet paint, theater masks, a violin with a pencil for a bow, a paint-filled drum being played with paintbrushes, and vibrant piano keys atop a pastel rainbow background.  The bold lines and pops of color will definitely grab the attention of the viewers and draw them in to learn more.  The art students fully enjoyed learning what it was like to design and paint like artists, wearing their smocks, using traditional painting palettes and techniques, and thoughtfully orchestrating their physical working positions to allow all four artists to work on the same canvas simultaneously.
On February 20th, as a special program during the "Rising Stars: 27th Annual Marin High School Art Show," Youth in Arts hosted a panel discussion on "How to Pursue Art as a Passion and Profession." We are so grateful to our panelists for sharing their experience and professional and life lessons with students and have received their permission to share some of their presentation materials here with those of you not able to attend.
Jane Baldwin spoke of her activism through photography, documenting the lives of the people of the Omo River Valley in Ethiopia.
This is a project that has evolved for Jane over a decade and she emphasized to young artists interested in documentary work and activism that you don't need to know what your project will be when you set out to find it. She first visited the Omo River Valley to just take photographs, and returned many times in ten years to not only take her photographs, but to also record the stories of the women from the region. This as turned into work on women's rights, clean water, and international education programs. She has exhibited her photographs and the stories she recorded in Sonoma, Korea, and hopefully in Milan Italy next year. Jane says to be open to new experiences and let them take you down new and unexpected paths.
Kanna Aoki, a painter who lives with her family in the East Bay talked about different ways she had put her college art training to use over the course of her career.
Kanna showed images of her work as a commercial artist, which she did both under the direction of commercial art directors (i.e. creating a specific image for a specific product) and "on spec" (developing graphics or patterns that companies might later decide to use in their product design or promotions). After starting her family, Kanna found the deadline-centric world of commercial art was no longer a match for her life. She grew her career as a painter, developing relationships with galleries that now show and sell her works–she also works on commission, creating paintings of specific views or images for clients. Kanna suggested students keep an eye out for galleries (or restaurants or other venues that show and sell art) that seem like they would be a match for your media and creative approach. Then do your research! Look them up online, reach out via email, try to make an appointment to show them your portfolio. "It's important to remember that gallery staff are usually very busy–the gallery is where they work, meeting with clients, handling sales. You can't walk in and expect to  talk with them. You need to make an appointment."
Steven Polacco, Associate Professor, Graphic Arts, Dominican University presented on "Five Things You Must Do When Applying To Art Colleges".
Steven emphasized that students should do their research and find multiple schools to apply to that might meet their needs. The internet is great for research he noted but also urged students to "Get out there! Go visit these places and see what they are like in person." He mentioned that if you meet with faculty on your visit, it's a good idea to have some images of your work (i.e. on a phone or similar) that you can show them informally if you have a chance to do that. Not all faculty will take a look, but some will and it's a good chance to get early feedback on your portfolio. When it comes to the portfolio itself, Steven urged students to pull together work that represents you and your artistic direction. He mentioned that sometimes you will want to "tweak" your portfolio for one school or another (certainly you need to meet whatever requirements they have). But don't choose work to try to please this admissions committee or that one. Choose work that represents who you are as an artist and what you have to say. And, says Steven, "Have someone look at it!" He encouraged students to get lots of feedback before their applications are due, to make sure they are representing their work the way they want to. Finally Steven recommended looking at off-campus opportunities, programs in the community, summer programs, etc. Many art colleges have "pre-college" programs that can give you a sense of whether an art college will be a good next step for you.
Barry Beach, a teacher at Marin Academy, exhibiting sculptor and private college admissions consultant showed some "Do's and Dont's" for portfolio images you may use online or in other formats (link to examples here).
Some advice–keep the background free of distractions and as neutral as possible. Pay attention to how you crop your images to put your work front and center. Don't be afraid to use photo editing tools to create a good, crisp image–while you don't want to actually alter the underlying image, it's definitely not "cheating" to adjust digital parameters (levels, brightness, shadows, etc.) to get a clearer image of your work. Barry also advised students keep and carry a sketchbook so that you are always creating images that may evolve into pieces in your portfolio.
Jay Daniel, owner of Black Cat photography (who also generously photographed work  for students attending the workshop) spoke about  his work as a technician creating high quality images for artists and about his experience in the art field at large.
Jay laid out elements to pay attention to when photographing work (PDF here) and went over a photography set-up that he said works for "75 to 90% of any artwork you might need to photograph" (PDF here). He also talked about how working artists need to balance creativity and financial sustainability. It's a tiny percentage of artists, he noted, that can create absolute anything they want, however and whenever they want, and have that work out financially for them. You need to explore all your options and figure out what will work well for you. Will you be happy adjusting your work to an art director's requests or creating work on a deadline that absolutely can't be missed? Can you find someone who wants to buy the kind of work you like to create? He mentioned that when he was teaching a portfolio course in an art college, he  required students to also create a business plan, something many of them resisted but that he felt was essential. At the same time he asked a "very successful artist friend" he works with what her advice for students would be and she said young artists need to balance the business side of art with their creativity and keep their practice "joyful."
Finally architect, designer and educator Shirl Buss, walked students down the curving and creative pathway from a childhood love of building things with her father, to college at UCLA, to establishing a nonprofit around women in construction, to architecture school and her current work in both design and education.
Shirl talked with students about how the same ideas can come up again and again in different ways, creating new turns in the  pathway–in Shirl's case finding herself in a man's world and deciding what to do about that, first in construction and later in architecture school; her love of teaching children of all ages throughout all the phases of her career; her enthusiasm for power tools (and especially for teaching kids to build with them!) and her interest in design and how humans shape the world around us. She encouraged students to be open and to explore and find their own creative pathways forward, which she is confident they will do!
We are so grateful to all our panelists and the California Arts Council for helping to make this happen–thank you!
The C Street Project met on June 21-23 at Youth In Arts to brainstorm, practice, design and render a design concept to paint in 12 x 14 feet on June 24 and 25 during the Italian Street Painting Marin Festival in downtown San Rafael. Mentor Artist Katy Bernheim and four students from San Rafael High School, Terra Linda High school, San Marin High School and Berkeley High School started with an overview and practice of charcoal and pastel rendering and shading techniques.
Since the Festival's theme was The Summer of Love, celebrating 50 years since the iconic summer of 1967, we looked at images of artwork and art movements happening at that time. We noticed the bright colors, the flattened styles, and how poster making and other reproduction techniques influenced the artwork. We talked about what the artists of the 60s were responding to in their time, especially the anti-Vietnam War activism and the Civil Rights Movement, and how it was a time of change and upheaval, not unlike what is going on in the world today.
We wondered what would the Summer of Love 2017 look like? What sorts of things are the student artists thinking about, sensitive to, upset about? What would they protest or celebrate? Pride immediately came up, (it was Pride weekend, too), Black Lives Matter, and women's rights. They talked about memes as common themes that most kids knew about. We discussed how iconography can be used to get a message across, and came up with the rainbow and Pride flag, and the Black Panthers' (and others') protest fist.
The final piece included a protest fist, an "I love you" hand, a "be cool" hand, a peace sign and a thumbs up sign, along with the Pride rainbow. The artists added the San Francisco skyline, representing where we live, a strong Pride movement, and where the summer of Love began. Lastly, they included a couple of memes: Dark Kermit, a symbol of minor revolt as the id personified, and Babadook, the adopted symbol of the LGBTQ community.
It was a truly collaborative piece. On Saturday morning we outlined the design in the gridded lines, then colored in, shaded, and blended the images with chalk. The artists learned the most effective way to apply chalk, to blend it and add details.
Our design was very well received, and the student artists were thrilled to work in public and to hear the feedback from onlookers. It was hot, it was frustrating at times, it was sometimes hard to control the chalk, and it was a challenge to negotiate how to influence the other artists' techniques or approaches, but the student artists soldiered on. Ultimately they were very proud and very happy with the outcome of their work.
Youth in Arts is thrilled to announce that we have just completed a three-year strategic plan focused on intensifying the impact of our work to ensure all our students receive the full benefits we know arts learning can provide.
The vision behind this new plan is that youth of every background and ability will have the creative skills, compassion, confidence and resilience to share their voices and achieve their goals.
Our work will be guided by key values, reaffirmed in this planning process:
We believe in INCLUSION, that differences are beautiful, and that students of all abilities and backgrounds deserve an education in the arts.
We believe in CELEBRATING young people as artists, knowing one impact of the arts is bringing joy to human lives.
We believe in EMPOWERING youth to share their stories and express their beliefs freely and effectively through music, dance, visual arts, theater and new media.
We believe in ARTISTS of all ages, endorsing a mentorship approach to arts education that connects students with professional working artists, skilled in their art forms and effective in their teaching.
A Focus on Intensive Arts
In our arts residencies in local schools, we are adding new key elements that will now be a part of every program, intensifying the impact on students:
Sequential Instruction  – all residencies will be a minimum of 8 sessions, providing artists a chance to lead students through a meaningful arts learning sequence;
Family Art Night – an intergenerational, hands-on arts exploration led by our YIA teaching artists at your school;
Culminating Student Showcase – a final performance or gallery will celebrate  young artists as they share their arts learning.
We believe that this approach of 8+ week residencies supplemented with events that include family members in children's arts learning will provide a quality educational experience that will not only teach children specific art skills but also foster confidence and self-expression.
Assemblies and Performances
Youth in Arts has historically provided 45-minute performances for students, first through a mainstage series and more recently through our school "Assembly" program. In order to have the kind of impact on students we hope to achieve, we are now connecting any performance we provide to additional arts learning opportunities in the classroom. This means that we may provide schoolwide performances as part of a longer site residency, or in conjunction with curriculum-linked workshops, but we will no longer be providing "stand alone" Assemblies where a short performance is our artists' only interaction with students.
We are in the process of developing a series of performances enhanced with classroom workshops linked to social science and language arts curriculum. While we intend this model especially for middle school sites, we would be happy to talk to elementary schools that are interested in this approach to arts learning.
Intensive Arts for Teens and Model Projects
Youth in Arts will also continue to offer our "Intensive Arts Mentorship" (I AM) programs for teens, including `Til Dawn A Cappella music program and C Street Project visual arts. We will continue to showcase youth voices through exhibits at YIA Gallery, and we are developing a new YIA Theater Ensemble to provide opportunities in a new genre.
We remain strong in our commitment to serving students of all abilities and will continue and hopefully eventually expand  Arts Unite Us residencies serving special education classrooms. We also plan to further refine our model work in creating inclusive arts residencies that bring together students of differing abilities through shared arts experiences.
And we will continue to develop unique program models we have been piloting at some of our closest partner schools. These include piloting a K-8th grade sequential arts program starting the Walker Rezaian Creative HeArts Kindergarten Art Program and "Architecture in Schools," along with several other promising models, including both direct classroom instruction projects and professional development for educators.
Our website will be updated soon to reflect these changes. Meanwhile should you have any questions about specific programs coming to your school, please contact Morgan Schauffler.
If you have questions about the strategic planning process or overall vision for Youth in Arts, contact Executive Director Miko Lee.
We've been busy at Youth in Arts getting Fall programs up and running at schools across the region and here on C Street!
Mentor Artist Cathy Bowman, for example, is teaching visual arts at both Lagunitas in San Geronimo and at Bayside-MLK Academy in Marin City. At Lagunitas, it was challenging to engage middle school teen boys in the visual arts process. But when Cathy encouraged them to carve their own linoleum blocks for prints, entrusting them with sharp tools and teaching them about the importance of caution and control in creating a good design, they rose to the occasion creating beautiful work! You'll be able to see for yourself this January-February when Lagunitas student work is featured in our YIA Gallery!
Mentor Artist Shawna Alapai'i has also started teaching ukelele and hula at Cascade Canyon in Fairfax. Shawna combines music and dance techniques with stories from the native Hawai'ian tradition that link to nature and the Earth.
She will be bringing her own performance ensemble, Halau Hula Na Pua O Ka La'akea to Cascade Canyon for the children to experience, and then students will work up to their own December performance!
YIA Visual Arts specialist Suzanne Joyal is about to start our fourth year of the Walker Rezaian Creative HeArts Kindergarten Arts program. This amazing program engages kindergarteners and their teachers and families in a comprehensive visual arts learning program grounded in a theme of friendship, honoring 5-year-old Walker Rezaian's life and love of art. This year–thanks in particular to donors at our April 2016 "Travel the World" gala–we will be expanding the program to a second site at Venetia Valley this year. Find out more about this special program in the video here.
Out-of-school, in our Intensive Arts Mentorship (I AM) programs, teens have been busy working on visual and performing arts skills and projects. C Street Project students created a giant-sized "Walkable Comic" for "Litquake" San Rafael, on exhibit in our YIA Gallery through mid-November. Click here for details on when to visit or how to arrange a free gallery visit for your school or youth group.
`Til Dawn A Cappella spent a Fall retreat weekend together and this week will open the Youth Leadership section of the National Bioneers Conference on Friday at the Marin Center in San Rafael. We are also taking `Til Dawn and C Street Project students to the Visual and Performing Arts college fair in South San Francisco this Sunday as part of our new "I AM Success" program to help teen artists pursue life beyond high school in the arts.
`Til Dawn is also busy rehearsing for their November 12 performance at "Signed-Sealed-Delivered, A Cappella Live!" at Dominican University. And save the date–Monday, December 26–for the `Til Dawn SING OUT! at Sweetwater Music Hall in Mill Valley!
We have also been busy booking assembly performances for school and community sites. For example, Dance Palace Community Center is presenting a series of Youth in Arts performances for students from West Marin schools–this month Ernesto Olmos and Balamcoatl shared traditional Mayan music and dance. Capoeira is coming up in November and then `Til Dawn A Cappella will round out the series in January.
We have many more performances in schools coming up, and our Assembly Performances are available across the Bay Area. Our Program Manager Morgan Schauffler can help you book Assemblies for your own site–you can give her a call at 415-457-4878 ext. 160 or just stop in at 917 C Street weekdays 11-4 to see "Walkable Comics" and talk with any staff member about all our exciting Fall activities and events!
This month, Youth in Arts C Street Project artists Christopher Do, Ayame Keane-Lee, Marikit Mayeno and Joselyn De Leon have been working with Mentor Artist Cathy Bowman to create an original comic book for Litquake San Rafael, as well as a giant-sized "walkable" illustrated story in our YIA Gallery in Downtown San Rafael.
On Saturday, October 8, C Street Project artists hand-colored dozens of copies of their finished comic book Floating with purple and yellow colors that are important elements of their story. They delivered the books to Blue Moon Comics, where Litquake visitors could pick up a free copy and follow a trail of footprints to YIA Gallery. At the gallery, visitors were able to illustrate their own ending to the story and participate in a workshop with Mentor Artist Cathy Bowman on comic book drawing and design techniques.
C Street Project artists also used a press to create original printed images, both to decorate the outsides of the comic book, and as bookmarks for YIA Gallery visitors to take home with them.
On Sunday, the young artists worked with Youth in Arts Mentor Artists to hand-enlarge their book pages to panels that now fill YIA Gallery. They hand-colored each panel and drew their own "bubble worlds" (another story element) which will be strategically hung from the ceiling.
On each "bubble world," one side of the bubble shows a world the artist wants to see (i.e. a healthy natural world or engaging schooling for everyone) and the other side shows an aspect of the world they want to change (i.e. factories belching pollution or girls excluded from school).
Come visit C Street Project's "Walkable Comics" exhibit free to the public at YIA Gallery through November 18, Monday through Friday 11 am to 4 pm.
We'll also be open free to the public on Friday, October 14 and Friday, October 11 from 5-8 pm for Art Walk Downtown. If you'd like to bring your school or youth group on a private tour with a guided hands-on art activity, contact Jen Daly at jdaly@youthianrts.org (reservations required).
Or see the show when you join us on Saturday, November 5 to "Paint, Print, Cut & Create" at our art-making studio fundraiser ($30 Teens & Adults and $10 Children–info and tickets at youthinarts.ticketleap.com)
Youth in Arts Mentor Artist Cathy Bowman is an award-winning cartoonist and writer who draws for print and online publications. She is the author and illustrator of the mini-comic, "The Old Cat and the Sea." She reports below on her work at Harding Elementary School in El Cerrito.
Teens interested in learning to create their own original comics with Cathy this October should click HERE to check out our C Street Project "Walkable Comics" workshop this October!
This past Spring, Harding Elementary School students learned to write and illustrate their own comics. Comics are part of a rich tradition of storytelling, and Harding's 4th, 5th and 6th grade students were excited to learn about this time honored art form.
Some students wrote short mysteries, starring protagonists that ranged from a talking donut to a n'er-do-well pencil. Others chose familiar storylines–friends on a basketball court, at a park or at school. Some drew their families. One 4th grade girl wrote about the adventures of leukocytes in the human body. Along the way they learned about facial expressions, body positions and how to create drama and action from panel to panel.
One of the biggest challenges was deciding which parts of a story to tell visually and which parts to tell with words. Students learned about speech bubbles, thought bubbles, action words and more. It was exciting to see students learn to draw 3-D objects like couches and chairs while creating images of home or school.
At the end of the session, students learned about lettering and cover art. Using a few colors, they created eye-catching covers.
Older Entries »