Youth in Arts is excited to announce the opening of our new ART LAB at the YIA Gallery.
Located in the gallery's store, the ART LAB is open during regular Youth in Arts hours  – Monday through Friday, 11 a.m. to 4 p.m., and until 8pm during Downtown San Rafael's 2nd Friday Art Walks. It's free and open to the public for art-making activities linked to YIA exhibitions.
"In keeping with our mission of providing arts access to all learners, Youth in Arts is opening its doors to the community to explore its creativity," said Miko Lee, executive director of Youth in Arts. "We're providing free, hands-on art projects for all ages."
Children will enjoy kid-sized tables where they can make art and explore materials. Each exhibition will also feature the artwork of one of Youth in Arts' Mentor Artists. All artwork on view in the space will be for sale, with a portion of the proceeds benefiting Youth in Arts.
Suzanne Joyal's work is currently featured and coincides with Imagining Friendship the Walker Rezaian Creative HeArts exhibition of self portraits by kindergarteners and first graders from Laurel Dell Elementary School in San Rafael. The colorful paintings were created during their Fall residency with Youth in Arts. As part of the exhibit, Youth in Arts' staff have created a kid-sized interactive cardboard world with doors, tunnels and windows for exploring.
Both children and adults are welcome, but we kindly ask that all children be accompanied and supervised by their grownups.
Please come and visit us soon. Just look for our bright red wall!
Nearly 300 people attended the Artists' Awards Reception for RISING STARS, which drew student artists, their parents, grandparents, friends and teachers who braved the rain to see Marin County's top high school art work on display.
The 28th annual high school exhibition at the YIA Gallery, on view through March 29, features nearly 150 paintings, photographs, drawings, sculptures and mixed media works. 16 public, private and alternative high schools are included in the show.
San Rafael High School student Amelie Benicio, 16, won the Best of Show prize. Benicio and Redwood High School student Nick Cook, who won the top prize in the mixed media division, were featured this week in a Marin IJ article.
Benicio, a student of teacher Annie Yi, said her charcoal and newsprint mixed media portrait depicts the "quirky yet fearful personality" of a character called "Crazy Eyes" from a popular television show. "I thought it showed a lot of emotion," Benicio said, after learning she'd won. "I like the eyes and the shading because it came out a lot better than I expected."
The exhibit was blindy judged by a panel that included artists Lynn Sondag, Kay Carlson, Jason Dunn and Jay Daniel, owner of Black Cat Studio.
Nick Cook, 18, won for a mixed media piece called "Human Circus." Art materials he used included markers, stickers and paint pens. Cook is one of five artists who won San Francisco Beautiful's 2019 Muni art contest. His art is now featured on several Muni buses. Speaking about his piece in RISING STARS, Cook said the work deals with the issue of identity and how people choose to reveal their personalities. "People just aren' that comfortable expressing themselves," he said. Cook studies AP Art at Redwood High School with teacher Lauren Bartone and hopes to attend Parsons School of Design.
Please join us for the public opening reception: Friday, February 8, 5 pm–8pm
RISING STARS: Feb. 3–March 29, 11 am–4 pm, M–F YIA GALLERY 917 C Street San Rafael, CA 94901  
  By YIA staff
San Domenico School senior Will Noyce hasn't graduated yet – and he's already a professional filmmaker with a prestigious prize.
Noyce, 17, is one of eight finalists for the National YoungArts Cinematic Arts finalists with the National YoungArts Foundation. Noyce won with his poetic 10-minute film, "The Redwood Grove." You can watch the film here. This month he will take an all-expenses paid trip to the National YoungArts Foundation in Miami, where he will take master classes, mingle with other young filmmakers and compete for cash prizes.
"It's really important and super cool for people to see that you can be awarded for the arts as well as academics and sports," Noyce said. The film is about a man who lives alone with his dog and is seeking closure after the loss of his wife. The film was shown at the Mill Valley Film Festival this year and was a semi-finalist at the Newark IFF Youth Festival. It also won first place in the student filmmakers' showcase at the Lark Theater.
Noyce started making films as a nine-year-old after getting hooked on filmmaking at a summer camp. His current film stars his high school film/video production teacher, Jared Spires. He directed "The Redwood Grove" with August Mesarchik, who also wrote the score; the screenplay was written by Aiden Kwasneski.
When he's not making music with his band or at school, he might be found at Youth In Arts, where he is a member of the a cappella ensemble, ' Til Dawn. He also works twice a week at Where The Buffalo Roam, a production company in Oakland.
"I think it's becoming more acceptable to be an artist. It's important to know you do not have to stick to what the educational system is telling you," he said. "Arts are an amazing way to find out who you are and what you enjoy."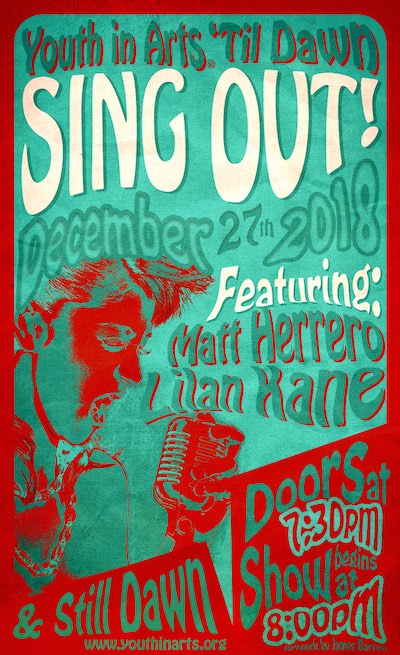 'Til Dawn alum James Barton designed this year's Sing Out! Poster, which will is still available for sale at Youth in Arts! It was unveiled at the 'Til Dawn performance Thursday at the Osher Marin JCC.
Barton, 21, is now a junior at UCLA. He said he created the poster, in shades of turquoise and reds, in the Fillmore style of art, using Photoshop.
"I sort of just went with that style," he said.
Barton was in 'Til Dawn for three years while a high school student at Marin Catholic High School. He now studies molecular biology.
Art "really provides an outlet for creative expression," he said. "Graphic design is definitely one of my passions."
Barton has fond memories of being a part of 'Til Dawn and was happy to help out. The poster was sponsored by the Herrero family and Black Cat Studio.
"I don't think I would have had the high school experience that I had without 'Til Dawn," he said. "It was such a support system."
Current and former 'Til Dawn members performed Thursday at Youth In Arts' Sing Out! at the Osher Marin JCC in San Rafael.
Master Architect Shirl Buss has been working with Laurel Dell Elementary students on their vision for the San Rafael 2040 Plan. Students presented their projects (sea level rise, their 2018-2040 Portfolios and their proposals for Gateways to San Rafael) to Kate Powers, environmental advocate who is on the San Rafael 2040 general plan steering committee. Kate served as a great audience for the students to practice their public speaking skills and shared information about the San Rafael 2040 General Plan  and the work of the Steering Committee.
The students showed off their model and the city started to look more artful and bright—one of their key hopes for the city!  Fun! Thank you to the Y Plan of UC Berkeley and the California Arts Council for supporting this work.
Join Youth in Arts at the
WestEnd Fall Celebration
on November 4, from 12-5pm where we will invite community input and artistry to add to the process.
Arts leaders, local officials, and community members gathered at the YIA Gallery to celebrate the launch of the Downtown San Rafael Arts District on Friday, October 12th. The district, located along the spine of 4th street, is home to numerous arts-related organizations including Artworks Downtown, the Falkirk Cultural Center, and the California Film Institute. Downtown San Rafael is one of only 14 inaugural state-designated cultural arts districts. Speakers included Supervisor Damon Connolly, CFI's Dane Callihan, AWD's Elisabeth Setten, Bank of Marin's Jaime Ortiz, Marin Arts' Kathie Gaines, Youth in Arts Mentor architect Shirl Buss, and YIA youth board member Kathryn Hasson.
On behalf of YIA's board and staff, Executive Director Miko Lee presented the Pamela Levine Arts Education Leadership Award to Dominican University professor, Lynn Sondag. The award is given to individuals for exceptional accomplishments in arts education in memory of Youth in Arts' former Executive Director Pamela Levine. "We are thrilled to celebrate Lynn, who is an exemplar of arts education and leadership," Lee said. "Lynn is a driving force in making the arts come alive in San Rafael."
Thank you do our food donors Arizmendi Bakery, LaVier Latin Fusion Restaurant & Safeway.
Join Mentor Artist Cathy Bowman for this unique opportunity to not only learn the art of street painting, but to add your voice to the 10′ x 14′ square young artists will be creating during the Italian Street Painting Marin Festival in Downtown San Rafael, June 23 & 24. Learn a new art form, meet professional artists, and work side-by side for the weekend of June 23 and 24.
This year's theme is "The wonders of Time and Space". Scholarships are available, we would love to have you join us. email suzanne@youthinarts.org, or stop by 917 C Street. Open until 8 tonight, and 11-4 all next week.
By YIA Mentor Artist Tracy Eastman
This past winter I had the privilege of working with four fun and friendly San Rafael High School students on creating signage for the Youth in Arts C Street studio and gallery.  The objective of the project was to design and create an eye-catching sign that grabs the attention of the public and invites them to come into the Youth in Arts studio to view and even create art.
The students first brainstormed how to visually portray what YIA is about (i.e. accessible art programs revolving around music, performing, and visual arts.)  They proposed various ideas and discussed the effectiveness of using certain visuals.    The students continued editing their ideas further until they had collaborated a harmonious design and composition.
Not having much experience using paints, the students spent some time familiarizing themselves with basic painting techniques before applying paint to the final surface.  We decided to paint the sign's design on a canvas using acrylic paints and then have the image digitally reproduced with the Youth in Arts logo printed directly onto a sandwich board sign to be placed outside the YIA studio.
The final design of the sign (prior to the digital reproduction) was comprised of colorful music notes dripping with wet paint, theater masks, a violin with a pencil for a bow, a paint-filled drum being played with paintbrushes, and vibrant piano keys atop a pastel rainbow background.  The bold lines and pops of color will definitely grab the attention of the viewers and draw them in to learn more.  The art students fully enjoyed learning what it was like to design and paint like artists, wearing their smocks, using traditional painting palettes and techniques, and thoughtfully orchestrating their physical working positions to allow all four artists to work on the same canvas simultaneously.
Rising Stars the 25th Annual Marin County High School Art Show has traveled to the Marin Center Exhibition Hall!
Thanks to Charlie Barboni, Libby Garrison and all the Marin Center staff for re-installing the show so beautifully. Artists and families can visit during 9-to-5 weekday hours or come to one of Marin Center's Showcase Theater events to see the exhibit in the lobby space of the theater.
You might especially want to catch the "Best of the IJ Lobby Lounge" performance on Friday, April 22, featuring teens from around Marin, including Youth in Arts own `Til Dawn A Cappella. Great teen visual art and performing art in one night–what could be better?!
Rising Stars will continue at the Marin Center through the end of May. Students should pick up art June 2-3 OR if you want to enter your piece in the Marin County Fair, you can do that in the same space where the exhibit is located during open hours.
Here are a few photos, but we really hope you'll go see the show in person! Congratulations to all the exhibiting students!
Check out this featured article on this exhibit in the Marin IJ.
Youth in Arts silent auction of work in our gallery by youth artists will close at 8 pm at the end of 2nd Fridays Art Walk Downtown on Friday, August 14. The auction is running concurrently with our exhibit Creative San Rafael, comprised of the original works for public art banners going up around the Downtown San Rafael area this Spring and Summer.
Works available via auction include 6 paintings by Youth in Arts C Street Project teen students that are the originals for reproductions displayed along 3rd Street Downtown. The works were inspired by an Isabel Allende quote "Today's girls are tomorrow's women—and leaders" and each piece is signed personally by Ms. Allende who visited with C Street Project students this Spring.
Also available for bidding are four large pieces created collaboratively by groups of students for the Creative San Rafael project. These are the originals for banners that can be found around the Downtown area.
To submit a bid on any of the above works, come by Youth in Arts any Monday-Friday from 10-4 until August 14 or join us from 5-8 pm during Art Walk for the official auction close. You may also contact us at 415-457-4878 during M-F business hours or on August 14 from 5-8 pm to inquire and bid via phone.
Two works by professional artists from the exhibit are also available for sale in the current exhibit (but are not included in the auction). If you have questions, feel free to call us at 415-457-4878 or email yia@youthinarts.org.
Older Entries »