More than 100 parents, students and civic leaders attended a presentation of fourth and fifth grade art at Laurel Dell Elementary School in San Rafael. Through an innovative partnership between Youth in Arts, UC Berkeley's Y-PLAN and the California Arts Council, mentor teachers taught a 12-week course that explored the fascinating relationship between art and architecture. It was a wonderful way to introduce students to the field of architecture.
Visiting architects who generously participated were led by architects and educators Shirl Buss of UC Berkeley's Y-PLAN and Janine Lovejoy Wilford, who taught fifth graders how to measure, design and build. Other architects who worked with the classes were Sally Dominguez and Dustin Foster.
Fifth graders worked hard to contributed to San Rafael's 2040 plan, trying to imagine a city of the future and what sort of bridges it will need. We looked at pressing issues such as climate change and the need for affordable housing. We looked at the Canal Community, where many of them live.
Fourth graders engaged in a variety of projects, such as building Towers of Power using wood scraps and found objects and tiny bridges in a box. Throughout the course we refined our design skills along with practicing cutting, measuring and designing for small spaces. Using symbols, we bridged our current selves with ourselves and dreams of the future. Students also made beautiful paintings of their towers and worked collaboratively to bridge them together. Often students worked in their sketchbooks, designing projects before construction.
A cappella music filled the Osher Marin JCC on December 27th as 17 current 'Til Dawn members and more than 40 alumni (Still Dawn) took the stage to perform for 140 guests at this year's SING OUT! Alums Matt Herrero and Lilan Kane headlined this year's concert, which raised over $6,000 for 'Til Dawn Scholarships, our biggest most successful SING OUT to date! The event started at 8pm, and 'Til Dawn & Still Dawn were still singing songs from their repertoire at 10:30. What a fun evening!
We were also excited that our generous audience helped us "make to to 2019″ by donating or pledging $2019 in honor of the new year–thank you so much to all who made this possible.
This year, 'Til Dawn alum James Barton designed a "Fillmore-style" concert poster to sell at the event. Thanks to our generous poster sponsors, The Herrero Family and Black Cat Studio for helping us raise more scholarship funds.
Drinks, dessert and raffle proceeds also went to support scholarships. Thank you to our wonderful food and beverage sponsors:
Sophie James Winery
Lagunitas Brewery
YIA Board Treasurer, Tim Distler
Montagne Russe Wines
Marin Kombucha
Trader Joe's
Johnny's Doughnuts
Arizmendi Bakery
United Market
Youth in Arts is able to offer up to 100% scholarship aid to any student who passes the audition process, thanks to generous donors like these. You can still DONATE to support the scholarship fund or text SING to 41444.
Laurel Dell fourth graders embarked on a 12-week journey exploring bridges to make connections between art and architecture. The course ended with tiny bridges that were built in a box. This project was another approach to a self portrait. Where are we now? Where to we want to go in our lives? The goal of this project was to bridge our current and future selves and dreams.
We began with a discussion of symbols and what images we would use to show our present and future selves. We sketched a design in our sketchbooks to work out what our bridges would look like. This was a crucial step in working out the details. Then we used watercolor to paint the backgrounds, carefully adding details with colored pencils. It was hard to wait for the paintings to dry! The paper was pre-cut so it would fit into 6 by 6-inch wooden boxes.
The final class was devoted to building tiny bridges made from thick white paper, string, buttons and glue. We used Q-tips to carefully apply the glue to small places. It was challenging to work small, but good practice using scissors and hole punches.  Some students used traditional bridge designs while others got quite creative! One student built a lily pad bridge using clay. Several students said this was their favorite project.
Second graders at Laurel  Dell Elementary School made their own murals by studying the great collage artists. We looked at art by Romare Bearden and other well known collage artists, looking at how they used textures, shapes and colors to layer their work. We began with a lively discussion of what a healthy neighborhood contains. What do we need besides a home, a school, a library, a hospital, a fire station and a police station? We divided up into teams to make the buildings, trees and parks that we needed. First we sketched in our sketchbooks. Then we turned the sketches into collages. We glued down the roads to provide a framework. Homes included apartment buildings and houses. One student made a motorcycle airplane; another student created a moon house!  The art will be displayed in the hallway at school and added to throughout the year.  
For our final project at Laurel Dell Elementary School, kindergarteners and first graders played with clay. Working with Sculpey builds strong fine motor skills, since the hard clay has to be softened by warm hands. Students used a maquette, a small model made of pipe cleaners as a structure, then built their clay creatures around it. We then tested beads for size, choosing the ones that fit to slide onto arms and legs. It was a challenge to squeeze the clay tightly around the form. Many students got quite creative with their people! We baked the clay to make it hard and more permanent.
Third Graders at Laurel Dell Elementary School spent three afternoons making comics!  They based their stories on super heroes they designed and created. Each superhero had a special power they used to address a problem in their community. One wolf character breathed fire to light up dark places; another had special hands to help pick up trash. They learned about making speech bubbles, thought bubbles, and background, foreground and middle ground. They also practiced drawing characters in profile so they faced each other while talking. One challenge was drawing characters in profile instead of facing forward. This was a great exercise in practicing that a story has a beginning, middle and end. And something exciting happens! We used a worksheet with question prompt to help the process along.
After making their rough sketches, students copied their best lines onto Bristol board – popular for its smooth, shiny, durable surface. They used special cartooning pens for the final inking. Finally those who had time and interest added color using colored pencils.
What do we look like? What do you see? These are some of the questions that kindergarteners and first graders pondered at Laurel Dell Elementary School.
Looking into mirrors, we touched our faces. Where are our eyes, noses and ears? What color is our skin? How do we show emotion with our expressions? Students started with a sketch, encouraged to draw themselves big enough to use the whole page. We drew faces, necks and the tops of shoulders. Once the sketches were done, students copied their best lines in Sharpie markers. At the following class, we added watercolor. It was important to know when to stop and how to use watercolors carefully so we didn't make mud! Kindergarteners then decorated cardboard frames, using black and white pastels. First graders used white pencils on black frames. We told a story in the pictures and words we used. The results were wonderful. The portraits will be part of a spring show at the YIA gallery. Stay tuned!
  By YIA staff
San Domenico School senior Will Noyce hasn't graduated yet – and he's already a professional filmmaker with a prestigious prize.
Noyce, 17, is one of eight finalists for the National YoungArts Cinematic Arts finalists with the National YoungArts Foundation. Noyce won with his poetic 10-minute film, "The Redwood Grove." You can watch the film here. This month he will take an all-expenses paid trip to the National YoungArts Foundation in Miami, where he will take master classes, mingle with other young filmmakers and compete for cash prizes.
"It's really important and super cool for people to see that you can be awarded for the arts as well as academics and sports," Noyce said. The film is about a man who lives alone with his dog and is seeking closure after the loss of his wife. The film was shown at the Mill Valley Film Festival this year and was a semi-finalist at the Newark IFF Youth Festival. It also won first place in the student filmmakers' showcase at the Lark Theater.
Noyce started making films as a nine-year-old after getting hooked on filmmaking at a summer camp. His current film stars his high school film/video production teacher, Jared Spires. He directed "The Redwood Grove" with August Mesarchik, who also wrote the score; the screenplay was written by Aiden Kwasneski.
When he's not making music with his band or at school, he might be found at Youth In Arts, where he is a member of the a cappella ensemble, ' Til Dawn. He also works twice a week at Where The Buffalo Roam, a production company in Oakland.
"I think it's becoming more acceptable to be an artist. It's important to know you do not have to stick to what the educational system is telling you," he said. "Arts are an amazing way to find out who you are and what you enjoy."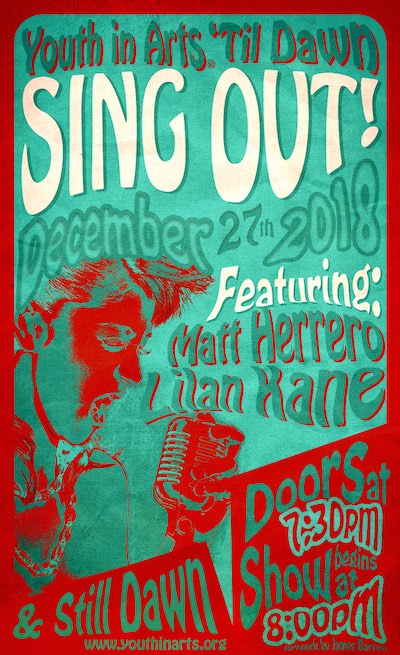 'Til Dawn alum James Barton designed this year's Sing Out! Poster, which will is still available for sale at Youth in Arts! It was unveiled at the 'Til Dawn performance Thursday at the Osher Marin JCC.
Barton, 21, is now a junior at UCLA. He said he created the poster, in shades of turquoise and reds, in the Fillmore style of art, using Photoshop.
"I sort of just went with that style," he said.
Barton was in 'Til Dawn for three years while a high school student at Marin Catholic High School. He now studies molecular biology.
Art "really provides an outlet for creative expression," he said. "Graphic design is definitely one of my passions."
Barton has fond memories of being a part of 'Til Dawn and was happy to help out. The poster was sponsored by the Herrero family and Black Cat Studio.
"I don't think I would have had the high school experience that I had without 'Til Dawn," he said. "It was such a support system."
Current and former 'Til Dawn members performed Thursday at Youth In Arts' Sing Out! at the Osher Marin JCC in San Rafael.
'Til Dawn alumni Matt Herrero is one of the featured performers at Youth In Arts' spectacular Sing Out! event on Thursday — and he's busy polishing several original songs.
Herrero, 23, a multi-instrumentalist composer, creator and performer who spent four years with Youth In Arts' wonderful 'Til Dawn a cappella troupe, now performs professionally. He credits 'Til Dawn with helping to get it all started.
"It was the most musically rigorous group I'd ever been a part of," he said. "It gave me a family outside of high school that I bonded to way more than with anyone else. They taught me how to make music with people."
Herrero, who attended Marin Academy and graduated from Stanford University last year, is a storyteller who is amazing on the acoustic guitar. He said a friend described his music "as if Justin Timberlake wrote campfire songs."
Joining Herrero on stage will be fellow alum Lilan Kane. She'll be playing with her guitarist, James Harman.
Kane, 33, is looking forward to singing jazz and R & B influenced pop tunes.  Kane, a graduate of Novato High and the Berklee College of Music in Boston, credits 'Til Dawn with helping to set her on the path to performing.
"The community that it gave me … came at a time in my life that really saved me," she said.
Being in the troupe also made her want to teach. Many of her former students, she said, are now 'Til Dawn members.
'Til Dawn made up of local high school students in Marin County. They are led by renowned director Austin Willacy. Both current `Til Dawn high school troupe members and alum called "Still Dawn" will perform Thursday.
The show starts at 8 p.m. at the Osher Marin JCC in San Rafael. Tables are $250; Adults are $35 and youth are $25. Tickets can be purchased here.
Older Entries »