Since Youth in Arts completed our new strategic plan this spring, we wanted to properly introduce our Mentor Artists to our more in-depth model, and to each other.  Our artists work directly in the classrooms, so they rarely have a chance to interact.  We hosted an "all artist meeting" in August, and it was wonderful to see them talk to, listen to, and learn from one another.  Our icebreaker activity was a worksheet that asked the artists to identify a problem in the world today, and how they would use their art form to solve it (using words and/or pictures).  The prompt was WITH MY ART I CAN…
Here is theater artist Hannah Gavagan's thoughtful response and accompanying artwork:
"A problem I see in the world today is a cycle of hate spurred by fear of difference.  With my art I can…bring youth together from different backgrounds to share their experiences and stories.  I can create theatre with youth that teaches an adult audience how to step outside of their comfort zone to stop oppression.

I can create worlds where sexism and racism do not exist, and show what our world can look like with equity.  I can teach youth about oppression and how to be "upstanders" in their community."

Hannah is doing wonderful work in two Youth in Arts residencies this fall: Devised Theater for an after school program at Canal Alliance, and Theater for Social Change at Santa Rosa Charter School for the Arts.  She will return to Cornell Elementary to teach her Civil Rights Storytelling & Theater residency this spring.
BIO: Hannah Gavagan is an actress, teacher, and mentor whose heart lies in social justice. She is passionate about devising issue-based theatre with youth so they may gain personal awareness and understanding of the issues in our world today. This awareness leads to students creating a positive impact through performances and social-action. Through her skills-based drama classes, she works to help unlock students' personal power so that they may learn, grow, and thrive. Building trust with students, helping them trust each other, and practicing social-emotional skills through play are the foundation of her classes. She earned a BFA in theatre performance at the University of the Arts in Philadelphia. She is inspired by the teachings of Sanford Meisner and Michael Chekhov. She acts in plays and films, directs student-devised plays, creates films with a social-justice lens, and stars in a YouTube series called the Go-To Go Girl! which aims to inspire girls to be the change they wish to see in the world.

Since Youth in Arts completed our new strategic plan this spring, we wanted to properly introduce our Mentor Artists to our more in-depth model, and to each other.  Our artists work directly in the classrooms, so they rarely have a chance to interact.  We hosted an "all artist meeting" in August, and it was wonderful to see them talk to, listen to, and learn from one another.  Our icebreaker activity was a worksheet that asked the artists to identify a problem in the world today, and how they would use their art form to solve it (using words and/or pictures).  The prompt was WITH MY ART I CAN…
Here is Mentor Artist, Katie Issel Pitre's response and accompanying artwork:
"A problem I see in the world today, is many people being uncomfortable with their own emotions – escaping/avoiding difficult feelings, reactive disempowered people lacking a deep knowledge of self.  With my art I can…create a space to explore the self, face, dimensions of human experience and emotion, and gain confidence and compassion to build community.  I model moving through emotion using all my actor's tools.  I craft experiences that ask students to step into others shoes, as actors for each other (classroom) and for communities (family)."
Katie teaches various forms of theater and creative movement for Youth in Arts, both in our Arts Unite Us and Artist in Schools programs.  She is currently teaching Devised Theater at Davidson Middle School, and at the Canal Alliance's after school program.  
BIO: Katie Issel Pitre is a Berkeley native who recently returned to the Bay Area after 11 years based in Brooklyn.  There she worked as a teaching artist in spoken word, devised theatre, mural arts and playwriting throughout the boroughs of New York and New Jersey for Urban Word, Community Word Project, New Victory Theatre, BAM, and New Jersey Performing Arts Center.  Katie expresses her artistry as a facilitator as she works to bridge the gap between personal and cultural experiences by creating community-building opportunities via the creative process.  Her background in dance, voice, theatre and poetry shape her focus as an artist and educator.
Most recently she starred in two short films written and directed by Christopher Wells of Kaleidoscope Pictures called Cynthia and My Fondest which can be found on YouTube.  She also participated in an online writing course for women facilitated by Caits Meisner where she produced several new works of poetry.  Her writing was featured in a site-specific play series Play/Date, produced by Blake McCarty. As a devising actor she worked with the Trusty Sidekick company, and on two interview theatre pieces, The Class Project, directed by Joe Salvatore, and Layer Cake(actor and writer) performed at the Looking Glass theatre.  As a singer in Shell, she wrote and produced an EP.  Katie has also performed in multidisciplinary projects featuring her dance training.  She designs jewelry for City Seed.  Katie holds a MA in Educational Theatre in Colleges and Communities from NYU Steinhardt.
Mentor Artist Sofie Siegmann reports on her after school Drawing and Sculpture Class this past year at Canal Alliance
The first time our group of after school artists met on a Friday in January, we brainstormed ideas of what we wanted to do. I tried to extract the students' preferences (definitively no printmaking, but yes, we want to draw a lot).  Besides contour drawings, we worked on observational drawings, watercolors, and collage (with newspaper).
The most difficult project was the wire sculpture. As anybody knows who has worked with wire before, it's hard on your fingers, there is a lot of poking, and wire doesn't necessarily do what you would like it to – but we all endured for many weeks to first sketch ideas, then build a structure, and finally add details.
We looked at artists such as Ruth Asawa and Alexander Calder to discuss how they manipulated and used wire to express their ideas. We looked at videos of contemporary artists such as Nick Cave, Elisabeth Higgins O'Connor, and one day I brought in my work as well. While wrapping the toy sculptures with masking tape, I introduced the gigantic and temporary art of Christo.We listened to music as we worked, we got to relax as the weeks went by and build new friendships. We will miss each other! Here some testimonials from the students:
There are only two things utilized in this type of drawing: a pencil and an eraser. I decided to draw a dandelion. I chose this, because it seemed as if it would be simple to create, but as it turned out, it was actually kind of complicated to get the exact details. In my opinion, art is a satisfying activity. I like to spread paint on my hands. –Donna
The black and white pencil project was a kind of difficult project. We had to find an image we liked and draw it with only pencil. We had to add every detail we could that was on the image the we picked. Once we finished, our images looked almost 3 dimensional. To me, art is everything, a cactus, a car, a simple pen, it is all art.–Nayed
The b/w drawing is great, because I like explosions.  If I mess up I go back and redo my mistake. It looks like an explosion/hamburger. Art is beautiful.–Alex Bautista
I chose to write about my tree wire sculpture, because I am very proud of how it looks. I really like trees and I liked how I was inspired by my love for trees to make this sculpture. I especially like this tree, because it's my creation and I can make it symbolize it whatever I want. For example, this is the tree of Dreams and Hope.
Art is really important to me, because it makes me feel free (and stressed) at the same time. I enjoy the feel of the clay or wire touching my hands. I might not be the best artist, but I hope to improve, it's a way to express myself. –Daneidy
The Amaryllis Watercolor Collage was a unique artwork, because there was a lot of personal freedom. So everyone put their own style to their project. Art makes me relax.–Marina
I chose the amaryllis watercolor collage to write about because it drew my attention. It was a way for me to join different colors and pictures together. It is a representation of life. It shows that sometimes you don't need the same thing to make something look pretty. You need to blend, match, and mix to see the beauty within it. Maybe that's why I like art, it gives you a blend of reality and a dream creating this beautiful masterpiece. Art is able to make me see different perspectives, opinions, and open my eyes more to everything I haven't learned yet.  Art is able to make me believe everything is going to be ok.–Naedy
The toy sculpture was really easy and fun to do. You got to choose the toys you wanted to have in your sculpture. Once you decided what you wanted to have you started arranging the toys the way you wanted it to look. Then you put the pieces together with hot glue. You waited. Once everything was dried, (you wrapped the toy sculpture with masking tape and then) you decided the color you wanted then you painted over the sculpture many times. After all of these steps you had this amazing, cool toy sculpture. I express art in a number of ways. The first way I think I would describe art is creative. You can do whatever you want and design anything you want in a way you like. Art can sometimes be stressing, but also very fun. Art is beautiful, fun, cool, and awesome. I enjoyed the weeks I have been doing art and I hope I can take this class again.–Tanya
Youth in Arts organized two wonderful multigenerational art events with the Canal Alliance's University Prep students on March 24th and April 21st.  The students, their parents and siblings worked together on collaging large puzzle pieces that when put together created the letters U and P (University Prep's acronym).  The letters are on a banner that will eventually hang at UP!.
Everyone wrote their goals for the future on the background of the banner in black sharpie, so that the large letters stand out against a black and white background.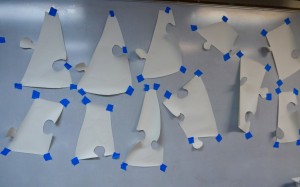 All of the participants worked together at the end of the evening to put the puzzle pieces back together.
We had a great time with the UP! students, their families, the staff, and YIA mentor artists Sophie Cooper and Sofie Siegmann.
Every now and then as a teaching artist you find yourself with a really special class. The Harding After-School Playwright Program was an absolute joy to teach. They learned story structure and created original scripts. They learned the basics of directing. They strengthened the acting skills they learned through the in-school program. But the fairy dust that sprinkled over this group was the ensemble they created.
Their team was strong in every sense of the word. They collaborated. They listened to each other. They helped each other through their mistakes. They believed in each other. When these students gave away their original short plays to an audience my heart filled with pride and gratitude. Because a truly amazing class teaches the teacher. These 5th and 6th graders taught me to be a bit more silly. To let go a little bit more of perfection. To support each other unconditionally.
There was one student in the class who needed a little extra support.  He didn't want to perform or write a play, but my goodness could he draw. So, to invite his skills through the process that everyone went through, he created a story-board about UFOs. To say it was incredible would be an understatement. I planned to show his story-board over a projector during the short play festival. But when we got to the school that evening, the projector I reserved was broken. All the other projectors were locked up. I started to feel anxious imagining his disappointment when I broke the news. But I caught myself with an idea. The rest of the ensemble should just act out his story-board on the fly! Would they be willing?
When I asked the class who would be willing to improvise his story on the spot, every single student raised their hand. Every. Single. One.
The last "play" was the improvisation of this student's script and I grinned with tears in my eyes as every student zoomed on stage as fighter jets, UFOs, and aliens. They had so much fun. The creator of the story beamed with pride at what they created together. That is a true ensemble. It was one of the best moments of my teaching career.
Author Isabel Allende visited with C Street Project at Youth in Arts last week to see visual art created by the students, inspired by her words as part of the Creative San Rafael project, and to talk with the youth. Ms. Allende was so gracious and generous with her time, wit and advice–and all our C Street Project students asked great, insightful questions on topics ranging from how an artist finds inspiration to the experience of writing in a second language.
Students shared their original art work inspired by the quote "Today's girls are tomorrow's women–and leaders." Ms. Allende was kind enough to sign students' works, which will be on exhibit and available for purchase via silent auction starting June 12 at YIA Gallery at 917 C Street. Join us for our June 12 opening celebration or visit Monday-Friday 10 am to 4 pm through the run of the exhibit.
Youth in Arts C Street Project provides training in writing for performance, acting and visual arts techniques, along with unique opportunities to participate in community engagement and public art projects and site-specific performances. This year, students have been working on a series of murals for the Creative San Rafael project soon to appear as public art banners along Third Street in Downtown San Rafael! Next year will bring more public art and performance opportunities for our newest after school program for teen artists–contact Suzanne Joyal for more information about becoming a C Street Project member.
And check out more great photos below by Peter Rodgers from our visit with Ms. Allende!
If you haven't seen our latest exhibit, stop by 917 C Street next Friday, 11/9, from 5-8 p.m. during 2nd Fridays Art Walk!
See beautiful paintings by Mentor Artist Ernesto Olmos and San Rafael students and families.Find your own Mayan "day sign" or nahual and make a necklace featuring your own special glyph. (We also have earrings with Mayan signs available in our store–a great birthday or holiday gift!)




Learn about the forces of nature associated with each day in the sacred calendar, or Cholq'ij, and see a display of indigenous plants that promote health and wellness. Try out hands-on gallery activities and listen to a special audio performance created by Ernesto Olmos and Miguel Martinez to tell the story of the Cholq'ij.
Great for all ages–snacks and juice available. Admission is free. See you there! This project has been supported by a grant from the Creative Work Fund.
[singlepic id=477 h=290 float=left]Students and families from San Pedro Elementary School in San Rafael visited Youth in Arts on Friday for the opening of our latest exhibit Cholq'ij–Voices of Our Ancestors. The exhibit and community event were part of a special project with Mentor Artists Ernesto Olmos, Mayra Hernandez and Miguel Martinez supported by the Creative Work Fund.
The special event, which was also open to the public as part of 2nd Fridays Art Walk, included a ceremony with the artists and an opportunity for students to explore traditional instruments and ceremonial objects. Families had a chance to sample a wide range of nutritious foods and beverages based on indigenous plants, and each child received a take-home copy of a CD created by the artists to tell the story of the Cholq'ij. Visitors could also identify their own Cholq'ij day sign or nahual and create an "engraved" necklace at a hands-on activity table.
[singlepic id=492 w=260 float=left][singlepic id=514 w=260 float=right]
The Cholq'ij exhibit, which runs through November 23, includes work by San Pedro students and by Ernesto Olmos incorporating traditional iconography. The exhibit also includes a display on natural plant-based medicine and a video featuring natural medicine practitioner Marya Hernandez, along with a listening station in English and Spanish featuring the audio from the CD.
[singlepic id=504 h=240 float=left][singlepic id=479 w=360 float=right]
School and youth groups can book a FREE special tour of the exhibit, including a hands on art activity (reservations required). The gallery at 917 C Street in San Rafael is also open to the general public Monday-Friday from 10 am-4 pm. We will be open late on Friday, November 9 for 2nd Fridays Art Walk.
For more photos from this special event, click here.
Join Youth in Arts and Mentor Artists Maestro Ernesto Olmos and Maestra Mayra Hernandez to celebrate the opening of our new exhibit "Cholq'ij: Voice of Our Ancestors" this Friday, October 12 from 5-8 pm.
The exhibit features art created by Maestro Ernesto with San Rafael students and families, primarily from San Pedro Elementary school, as part of an exploration of the sacred Mayan and Aztec calendars and traditional wisdom around our individual and community connections to nature. Hands-on art activities and a display of medicinal plants that families learned about with Maestra Mayra are also included.
Friday's event, which is free and open to the public as part of 2nd Fridays Art Walk Downtown, will feature music and dance ceremonies as well as food stations where families can sample healthy and healing foods and beverages made from indigenous plant ingredients.
For more information, contact 415-457-4878 x16 or email ngonzalez@youthinarts.org (se habla español)
Para ver este anuncio en español, haga clic aquí (PDF)
[singlepic id=442 w=320 h=240 float=right]Students, families, friends and community members enjoyed the Bay Area's warm September weather and celebrated the artistic accomplishments of Davidson students at a special Friday evening event in downtown San Rafael.
Held in front of Youth in Arts home at 917 C Street, the event included the dedication of a historically themed mural created in 2011-12 by Davidson students with Youth in Arts Mentor Artist Brooke Toczylowski. Youth in Arts Gallery was also open, featuring an exhibit on the mural, curated and installed in part by Davidson students. The event was featured as part of ArtWorks Downtown's 2nd Fridays Art Walk.
[singlepic id=427 w=320 h=240 float=left]Visitors had a chance to see the gallery exhibit and enjoy refreshments and hands-on arts activities. Musical accompaniment and dance demonstrations were provided by Joti Singh and Bongo Sidibe of Duniya Drum & Dance Company. Joti also teaches students at Davidson, through Youth in Arts.
San Rafael Mayor Gary Phillips was on hand for the dedication ceremony, along with Marin County Supervisor Susan Adams. The Davidson mural project was supported in part by the County, and also by the Fenwick Foundation, the Marin Community Foundation and the MacPhail Family, which has owned the building currently housing Youth in Arts since the 1800s.
Youth in Arts also presented the 2012 Pamela Levine Arts Education Leadership Award at the event, to Carol Cooper, founding Head of School for Willow Creek Academy in Sausalito/Marin City and a strong supporter of arts education. (For more information on the Pamela Levine Award and Ms. Cooper, please visit the Youth in Arts website).
Students from the Davidson Mural team spoke as part of the mural dedication ceremony, along with Mayor Phillips, Davidson Principal Harriet MacLean, and Mentor Artist Brooke Toczylowski. Many spoke of how impressed they were by the students' work and by their dedication to the mural project. Brooke pointed out how the young artists had chosen to include images of themselves painting in the center of the mural. The painting explores many themes from San Rafael's past, she said, but "they are the future–and the future is so bright."
The Mural Team, comprised of 17 students (now 8th and 9th graders), worked throughout the Fall and Winter of 2011-12 to research, plan, design and create the mural. Hundreds of Davidson seventh graders also worked for a shorter period of time with Brooke on "mini-murals" which were also on display.
A plaque installed by Youth in Arts at the site provides passers-by at 917 C Street with a sketch of the mural, explaining the history behind each of the features included.
Click here for more event photos
Older Entries »