When Vallecito Elementary School students return to their school, they will see an outdoor mural that graduating 5th graders left for them – all of it created through distance learning.
Youth in Arts had just begun a partnership with the San Rafael school when the coronavirus pandemic forced it to close. Pivoting quickly, Program Director Kelsey Rieger worked with Principal Elizabeth Foehr and teachers Erin Baker, Robin Hassan, Sarah Lai, Julie McKeon and Hildie Sims to find a way to do the mural digitally. The project included 5th graders from five different classes.
"The teachers and the staff are the ones that made it happen, hands down," Kelsey said. "The school still really wanted to provide this opportunity for the 5th graders, especially since Shelter in Place was taking a lot of their last year away from them."
First, Kelsey filmed short instructional videos from home that explained the project. Students began by creating identity maps in the shape of a starburst. Kelsey explains, "We looked at the things that make up who we are, and what aspects of this identity we give to ourselves and also aspects given to us by other people. From there, each students created what we call a Power Word by choosing a part of their identity that they felt was most representative of who they are and that made them feel powerful."
Students chose words like ardent, adventurous, creative, kind, ambitious, brave, and hopeful.
Using the Principles of Design, they then talked about how shape, color, texture and scale can be used to communicate messaging more effectively. Together, they also discussed typographical concepts and how to pay attention to spacing and shape to keep things legible. "Our goal was to create our own font for our Power Words that would further convey the meaning of that word based on the students' interpretations and values," Kelsey explains.
Students photographed their art and sent it to their teachers, who  sent it directly to Kelsey. Again, teacher participation was key. Because Kelsey never saw the students, she relied on teachers to communicate any questions or areas that the students required more support in. "I wasn't with them in the classroom, so I couldn't respond to student cues like you normally do when you're teaching something new," Kelsey said.
Upon completion, the mural was created from over 80 Power Words using materials students had at home – colored pencils, regular pencils, paint and markers. A few artists created their work digitally. The completed collaged mural was delivered to the school, where it will be installed for fellow students to engage with when they return in the Fall.
"They did a great job," Kelsey said. "The works were personal and thoughtful, and were excellent examples of how the arts can bring us together in extremely unique and unexpected ways."
Special thanks to the Vallecito PTA, educators, and staff for helping to make this project possible.
As schools scramble to find virtual ways to reach their students, Madera Elementary School stands out as a model for continuing to provide its students access to innovative arts programs.
Youth in Arts teaching artists had just started an 11-week music program at the El Cerrito elementary school when the coronavirus pandemic forced Madera to close temporarily.
That didn't discourage Madera leaders. The Madera Elementary Foundation, comprised of school families, met with Youth in Arts staff and teachers via Zoom to work out the details of how to create a virtual program. Thanks to those efforts, music programs in nearly 20 classrooms resumed after Spring Break. Instead of being together in a classroom, students tune in online.
"Madera has really gone the extra mile to ensure their students continue to receive the arts they deserve," said Youth in Arts Visual Arts Director Suzanne Joyal. "We're not giving up and neither are they."
Youth in Arts has three teaching artists at Madera. They are: Brian Dyer, who teaches vocal and beginning percussion in kindergarten and first grade; Aaron Kierbel, who teaches percussion and drum in second grade; and Antwan Davis, who teaches body percussion and rhythm in third through sixth grades.
Youth in Arts Program Director Kelsey Rieger, who coordinated the move to digital teaching, said she hopes more schools will follow Madera's lead.
"This is really the way of the future," Kelsey said. "When schools partner with us, we find innovative ways to provide meaningful programs. It's more important than ever than students have healthy and creative ways to express themselves."
Youth in Arts has another Madera connection as well. Youth in Arts Mentor Artist Cathy Bowman attended the school in second and third grade.
"Madera was a great place to go to school," Cathy said. "It's nice to know that hasn't changed."
At Youth in Arts, our goal is to build creativity, confidence and compassion in all learners. But how do we do that?
A self-portrait is the perfect place start.
The Walker Rezaian Creative HeArts program focuses on Social and Emotional Learning through the arts. Students develop friendship skills and empathy as they learn to look closely and reflect on their world.  Kindergarteners and first graders explore making different expressions, then look in the mirror at their own faces to draw what they see. After several weeks of skill building, students have practiced looking closely, and the self portraits they create are amazingly accurate.
Over and over again, we see students using art as a safe space for risk taking. Art gives them a chance to try things they might not try anywhere else and also use those new skills in other areas.
One first grader, who is in her second year of the scaffolded, sequential program, had this to say about her Youth in Arts' experience.
"I felt happy, because people tell me I'm not pretty, so I don't look in the mirror," she said. "I looked in the mirror to draw myself, and I see that people are lying. I love the way I look."
By Mentor Artist Cathy Bowman
At Youth in Arts, we strive to instill creativity, confidence and compassion in all learners.
Creativity is supported through sensory rich materials and innovative projects – and learning to work together. Confidence comes from making choices and reflection, and being willing to share your feelings with your peers. But how do you build compassion?
One of the ways is through the sharing of materials. As a teaching artist, I put out only a few materials to encourage students to share, learn to ask how to share, and what to say when a friend wants the same pastel.
I'm always amazed at how art making supports this crucial social emotional skill. I've watched the student who knows how to tie help another student with his apron strings. I've watched students wash the paintbrush of a friend. And I've watched first graders discuss what different facial expressions say – and how to be a good friend to someone who looks sad.
Another important piece of Youth in Arts' programs involves conscious choice making. Children can't grow up to be good decision makers unless they get some practice.  Throughout much of their school day, they are told what to do and how to do it.
That's where a Youth in Arts program can make a difference. Our lessons are sequential and scaffolded, meaning we build upon skills learned from week to week. We make conscious choices about when to introduce drawing or sculpture so that students can be successful. When students are encouraged to make choices and also to explain them, they develop confidence, independence and voice.
Even a seemingly small choice, like whether to use a blue or orange pastel, builds confidence in bigger decisions. Helping to clean up at the end of class also supports executive function skills. Our art programs support the same skills students need across their young lives, from fine motor skill practice to math facts. Who doesn't want that?
Why do the arts matter? Look no further than Laurel Dell School.
The San Rafael elementary school recently celebrated its reopening with a joyful ribbon-cutting ceremony that drew dozens of students, staff and members of the community. Youth in Arts was there to celebrate its Architects in Schools program and to showcase the amazing work made during residencies last Fall while the school was being rebuilt.
Youth in Arts' Visual Arts Director Suzanne Joyal presented Principal Pepe Gonzalez with the this year's Pamela Levine award for his outstanding support of arts education. It was evident how much he is loved by the thick book Suzanne made that was filled with hundreds of cards and drawings from students, teachers and specialists. There were so many cards from well wishers that the book couldn't hold them all.
Although Suzanne has never seen Pepe draw a picture, dance or sing, she considers him a kindred spirit who thinks like an artist.
"He enjoys the success that comes from solving problems as much as I do," she said. "Mr. Gonzalez understand that the arts are about so much more than the pretty object we draw. The arts offer students a safe space to explore their world, to stand up to speak out and to believe in themselves."
The day included visits to a special exhibition of work made with Youth in Arts' architects Shirl Buss and Janine Lovejoy Wilford, and Mentor Artist Cathy Bowman. Visitors were encouraged to look closely at how Youth in Arts teaches a sequential program in which skills are built upon from one year to the next. The lines and curves in a kindergarteners' self portraits, for example, leads to a third graders' colorful model of what Fourth Street in San Rafael could look like. That model gives fifth graders the skills they need to design spaces for the city's future library.
Pairs of students from each class served as docents, giving tours, answering questions and explaining their work. Practicing speaking in public supports one of Youth in Arts' goals: that students reflect upon making art and can speak confidently about their work. Third graders who worked with Shirl (creative director at UC Berkeley's Y-PLAN) will present their design and policy proposals for downtown San Rafael the city's 2040 general plan steering committee on March 11.
The daylong celebration ended with a Family Art Night with Youth in Arts. Children in after school care, as well as families and friends, stopped by to make tiny bridges for crossing the canal. It required them to find a place where they thought a bridge was needed, then to measure the spot to make sure the bridge was long enough. They used buttons, embroidery hoops, clay, bumpy paper and wood scraps to bring their models to life.
Family Art Nights are a great way to involve families in the art their children are making and are usually a part of all Youth in Arts'
Artists in Schools residencies. For more information about art nights and Youth in Arts' residencies, please contact Program Director Kelsey Rieger at (415) 457-4878 ext 110.
By Mentor Architect Shirl Buss
Laurel Dell Elementary School third graders recently hosted Transit Practice Leader Bob Grandy in their newly renovated school in San Rafael. Bob, an engineer and principal at Fehr & Peers, introduced students to a possible career in engineering while sharing his expertise with them. He also presented a wonderful slideshow with images relating to transportation planning and design.
Architect Shirl Buss has been teaching at Laurel Dell through Youth in Arts' Architects in Schools program, which she helped develop. Shirl is also the Y-PLAN elementary director at the Center for Cities + Schools at UC Berkeley.
Bob familiarized the students with the opportunities and constraints along Fourth Street in downtown San Rafael with a special focus on mobility and access. Shirl reported that his presentation was both inspiring and instructive, and will help students as they take on the challenges of how to make Fourth Street safe, welcoming, fun and hopeful for everyone.
"These children are continuing to build upon the work from the past two years that Laurel Dell students and teachers – in collaboration with Youth in Arts and UC Berkeley's Y-PLAN – have been doing on issues related to sea level rise and the San Rafael 2040 General Plan," Shirl said. "We expect these students to generate some exciting policy and design recommendations to offer to the Downtown Precise Plan."
Thank you, Bob, for donating your time and expertise to our future civic leaders!
Julia Chigamba and the Chinyakare Ensemble, a family of musicians, dancers and teachers committed to preserving and sharing traditional Zimbabwean culture and promoting community building and education through art, put on an incredible performance at Dance Palace Community & Cultural Center. Sharing an electrifying display of the traditional dance, music, and culture of Zimbabwe and Southern Africa, ensemble members Kanukai Chigamba, Julia Chigamba, and Augusten Basa performed three traditional dances for students from across West Marin. The first dance was a welcome dance called Mauya in the Shona language.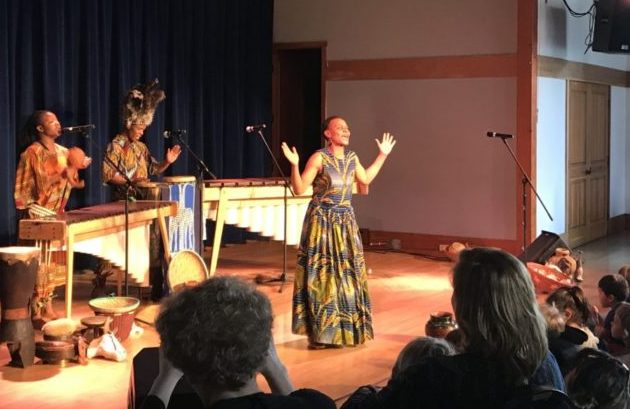 Next, Julia wowed audience members with a dance that is a celebration of the vital source of water. Students gasped and cheered as Julia danced with a full ceramic jug of water balanced on her head. Occasionally, the water would jump over the edges of the container – "the water is excited and wants to dance too!" Julia shares with students after the conclusion fo the song.
In a performance meant to rejoice in harvest, Julia and Kanukai performed with baskets containing various seeds and beans. As many of the dances are about weaving a colorful story of everyday life while teaching important life lessons such as goal-setting, perseverance, and thankfulness, students were encouraged to think about the celebratory and community aspects of music and dance for cultures around the world.
The Chinyakare Ensemble then encouraged everyone in the room to stand up and learn the narrative movements of a warrior's dance while Augusten and Kanukai played marimbas and sang. When asked what the dance was about, one young students raised her hand and shared "I think it's a dance about planting and growing things, and telling the story of our every day lives". Together, we celebrated while Julia encouraged students to engage with items that the ensemble had brought with them from Zimbabwe, including mbiras and other instruments, as well as sculptures and wearable accessories. Students handled everything with care and respect, and we left the shared space of the performance feeling the joy of new connections being made!
Youth in Arts extends a special thank you to the California Arts Council, who's support makes this program possible. 
How do we build a tower? What makes us powerful? How can we build a bridge to connect our current and future selves? Fourth graders at Laurel Dell Elementary School considered these and other questions as they practiced design and build skills through Youth in Arts' Architects in Schools program.
Through a 12-week residency with Mentor Artist Cathy Bowman, students measured, designed, built, and drew. They began the residency by coming up with five words to describe themselves and building "towers of power." Each student received a four-inch square base and had to build within the constraints of that size. After building individual towers, they formed pairs and brainstormed ways to connect the towers as a single bridge.
The residency ended with the creation of tiny bridges within a wooden box, connecting their current and future selves. Students spent time brainstorming about what they wanted to be, any obstacles they needed to overcome, and what career they wish to pursue. They looked at bridges from around the world and considered how they were designed, taking into account strength and aesthetics. They developed visual images for each, such as books for a career as a librarian and a camera and globe for a future world traveler. The building materials were simple: toothpicks, buttons, Q-tips, paper scraps and other found objects.
"It was really exciting to see students improve from week to week, tackling each project with curiosity," Cathy said. "It's important to find as many ways as possible to support young people as they try to find out who they are and who they want to become."
With the pilot project now in its fourth year, Youth in Arts placed mentor artists or teaching architects in K-5th grade classes at Laurel Dell Elementary School in San Rafael. Each grade's curriculum builds on the previous year's skills. As with all our programs, we strive to foster confidence, creativity and compassion in all learners by offering innovative programs and teaching multiple ways. The Architects in Schools program was launched in 2016 with Youth in Arts in collaboration with UC Berkeley's Y-PLAN/Center for Cities + Schools .
We hope to expand this program to more sites in the future.

By Mentor Artist Cathy Bowman
This year, I decided to start all of my art classes with a Brain Dance, a series of movements developed by dance educator and author Anne Green Gilbert to wake up the brain and improve focus. Often I see students at the end or beginning of the day, when they are restless or tired.  My five-minute version of the Brain Dance helps reinvigorate them while focusing on re-mapping of brain-body connections.
Inevitably it's the wiggly students, the ones who need it the most, who are the most resistant. As an introduction activity, the Brain Dance acts as a daily assessment tool for my students. Who is having trouble calming their body or mind? Who has trouble with cross lateral movements? Who confuses left and right? Even, how is their sense of self today? Watching them move gives me valuable information about what skills they may find challenging when it comes to art making or the level of engagement I may need to address.
The dance includes eight patterns of movement, starting and ending with the breath. Deep breathing is essential for all healthy bodies. When children are stressed, it's no coincidence that they take short, shallow breaths. Starting and ending with belly breaths means more oxygen for young brains. From breath, the Brain Dance moves through the developmental patterns of movement (the movements we take in our first year after birth) to the most integrated pattern, cross-lateral connectivity. Cross-lateral is the pattern that crosses the four quadrants of the body (upper, lower, right, left) which supports higher thinking and even eye tracking used for reading and reading-readiness.
Recently I had a kindergartener who always wore a serious expression. Adrian solemnly watched his classmates do the Brain Dance, week after week, without joining in. On the seventh week, he spontaneously started participating in the warm up with a big smile on his face. Instead of saying "good job" or "well done" (vague) I looked for something specific in Adrian's movements that I could point out, and others could follow.  He found confidence in his kinesthetic learning that day; and my acknowledgement of his effort (by name) reinforced his effort and ability. He became a positive role model for the rest of the class.
When I started doing the Brain Dance it felt uncomfortable for me, since I see myself as a visual artist rather than a dancer. But as we learn more about how children learn and absorb information in multiple ways, integrating different art forms makes sense. When Laurel Dell 2nd graders visited the YIA Gallery recently, they learned an extended version of the Brain Dance from Youth in Arts' Executive Director Kristen Jacobson. I picked up some tips as well.
The Brain Dance also helps teachers stay centered and focused.  Who doesn't need a belly breath during the day? You can learn more about the Brain Dance by viewing this video, Brain Dance, which is a part of Youth in Arts Digital Tool Kit.
Thank you to our very generous donors, sponsors and partners:
How do I make brown? How many different shades of brown can I make? Second graders at Short and Laurel Dell elementary schools practiced mixing colors using only the primaries red, yellow and blue plus white.
We worked with tempera paint, waxy black markers and mat board. First we traced our own hands and the hands of our table mates, overlapping to create interesting shapes. We mixed different browns carefully and painted in each area. It was fun to see how purple and yellow make a brown that is different from the brown that blue and orange makes. We used donated mat board instead of paper to give students a velvety and durable service on which to work. Mat board is especially helpful with children with learning differences as it offers a strong sensory response, and won't crumple with lots of paint.
Working with Youth in Arts Mentor Artist Cathy Bowman, we have been exploring identity and our role in our communities and neighborhoods. The lesson followed a multi-week project in which students created richly detailed murals using collage papers, pastels and glue. In each class, we designed and envisioned our dream neighborhood after looking at artists Romare Bearden, Faith Ringgold and others.
Thank you to Lo Forti Fine Prints in San Anselmo for the generous donation of mat board.
Older Entries »