More than 100 parents, students and civic leaders attended a presentation of fourth and fifth grade art at Laurel Dell Elementary School in San Rafael. Through an innovative partnership between Youth in Arts, UC Berkeley's Y-PLAN and the California Arts Council, mentor teachers taught a 12-week course that explored the fascinating relationship between art and architecture. It was a wonderful way to introduce students to the field of architecture.
Visiting architects who generously participated were led by architects and educators Shirl Buss of UC Berkeley's Y-PLAN and Janine Lovejoy Wilford, who taught fifth graders how to measure, design and build. Other architects who worked with the classes were Sally Dominguez and Dustin Foster.
Fifth graders worked hard to contributed to San Rafael's 2040 plan, trying to imagine a city of the future and what sort of bridges it will need. We looked at pressing issues such as climate change and the need for affordable housing. We looked at the Canal Community, where many of them live.
Fourth graders engaged in a variety of projects, such as building Towers of Power using wood scraps and found objects and tiny bridges in a box. Throughout the course we refined our design skills along with practicing cutting, measuring and designing for small spaces. Using symbols, we bridged our current selves with ourselves and dreams of the future. Students also made beautiful paintings of their towers and worked collaboratively to bridge them together. Often students worked in their sketchbooks, designing projects before construction.
Laurel Dell fourth graders embarked on a 12-week journey exploring bridges to make connections between art and architecture. The course ended with tiny bridges that were built in a box. This project was another approach to a self portrait. Where are we now? Where to we want to go in our lives? The goal of this project was to bridge our current and future selves and dreams.
We began with a discussion of symbols and what images we would use to show our present and future selves. We sketched a design in our sketchbooks to work out what our bridges would look like. This was a crucial step in working out the details. Then we used watercolor to paint the backgrounds, carefully adding details with colored pencils. It was hard to wait for the paintings to dry! The paper was pre-cut so it would fit into 6 by 6-inch wooden boxes.
The final class was devoted to building tiny bridges made from thick white paper, string, buttons and glue. We used Q-tips to carefully apply the glue to small places. It was challenging to work small, but good practice using scissors and hole punches.  Some students used traditional bridge designs while others got quite creative! One student built a lily pad bridge using clay. Several students said this was their favorite project.
Second graders at Laurel  Dell Elementary School made their own murals by studying the great collage artists. We looked at art by Romare Bearden and other well known collage artists, looking at how they used textures, shapes and colors to layer their work. We began with a lively discussion of what a healthy neighborhood contains. What do we need besides a home, a school, a library, a hospital, a fire station and a police station? We divided up into teams to make the buildings, trees and parks that we needed. First we sketched in our sketchbooks. Then we turned the sketches into collages. We glued down the roads to provide a framework. Homes included apartment buildings and houses. One student made a motorcycle airplane; another student created a moon house!  The art will be displayed in the hallway at school and added to throughout the year.  
Third Graders at Laurel Dell Elementary School spent three afternoons making comics!  They based their stories on super heroes they designed and created. Each superhero had a special power they used to address a problem in their community. One wolf character breathed fire to light up dark places; another had special hands to help pick up trash. They learned about making speech bubbles, thought bubbles, and background, foreground and middle ground. They also practiced drawing characters in profile so they faced each other while talking. One challenge was drawing characters in profile instead of facing forward. This was a great exercise in practicing that a story has a beginning, middle and end. And something exciting happens! We used a worksheet with question prompt to help the process along.
After making their rough sketches, students copied their best lines onto Bristol board – popular for its smooth, shiny, durable surface. They used special cartooning pens for the final inking. Finally those who had time and interest added color using colored pencils.
What do we look like? What do you see? These are some of the questions that kindergarteners and first graders pondered at Laurel Dell Elementary School.
Looking into mirrors, we touched our faces. Where are our eyes, noses and ears? What color is our skin? How do we show emotion with our expressions? Students started with a sketch, encouraged to draw themselves big enough to use the whole page. We drew faces, necks and the tops of shoulders. Once the sketches were done, students copied their best lines in Sharpie markers. At the following class, we added watercolor. It was important to know when to stop and how to use watercolors carefully so we didn't make mud! Kindergarteners then decorated cardboard frames, using black and white pastels. First graders used white pencils on black frames. We told a story in the pictures and words we used. The results were wonderful. The portraits will be part of a spring show at the YIA gallery. Stay tuned!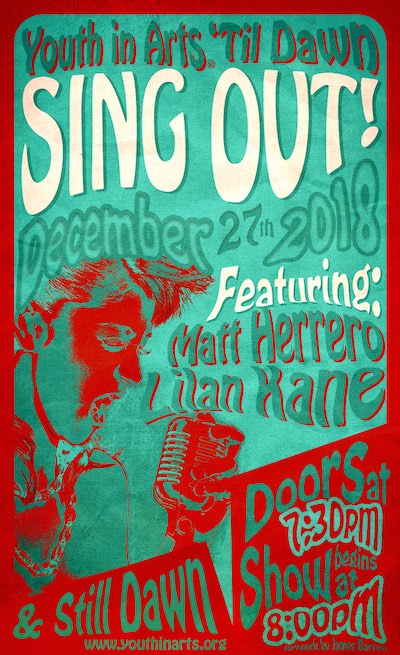 'Til Dawn alum James Barton designed this year's Sing Out! Poster, which will is still available for sale at Youth in Arts! It was unveiled at the 'Til Dawn performance Thursday at the Osher Marin JCC.
Barton, 21, is now a junior at UCLA. He said he created the poster, in shades of turquoise and reds, in the Fillmore style of art, using Photoshop.
"I sort of just went with that style," he said.
Barton was in 'Til Dawn for three years while a high school student at Marin Catholic High School. He now studies molecular biology.
Art "really provides an outlet for creative expression," he said. "Graphic design is definitely one of my passions."
Barton has fond memories of being a part of 'Til Dawn and was happy to help out. The poster was sponsored by the Herrero family and Black Cat Studio.
"I don't think I would have had the high school experience that I had without 'Til Dawn," he said. "It was such a support system."
Current and former 'Til Dawn members performed Thursday at Youth In Arts' Sing Out! at the Osher Marin JCC in San Rafael.
Master storyteller Diane Ferlatte, accompanied by musician Erik Pearson on the banjo, performed for hundreds of K-8 students at Dance Palace in Point Reyes this Fall. Diane believes that story telling enables us to understand each other better, and many of the stories she shared with students emphasized empathy, tolerance, respect for others, the importance of working hard, and the value of our environment. From the adventures of the clever Brer Rabbit to the history of slavery in the United States, Diane's tales engaged with social studies standards for middle school students through folk traditions, song, percussion, and American Sign Language.
Students and teachers listen to the story of Brer Rabbit's Dance. Ferlatte uses ASL, intonation, music, and body language to engage students.
Following the Assembly, Diane and Erik held a workshop with 5th grade students. Students engaged in a discussion about what makes a story successful, and how to utilize performative tools to share their stories with others.
A special thank you to the Dance Palace and the California Arts Council for their support of this program!
Mr. Belmont's fifth graders have been working with Architect and Educator Shirl Buss for the last 12 weeks. They have focused this year's work on the San Rafael 2040 Plan: what do today's young people want for their city when they are grown up? Lots of green space and color, educational opportunities for Boyd Park, transportation that includes buses, bike and walking paths from end to end, safe affordable housing, more jobs, turning buildings along the canal toward the water, and designing new structures for sea level rise.
Last night, four representatives from the class joined Ms. Buss at the San Rafael 2040 Plan General Meeting. Students presented their ideas to the entire planning committee, and were articulate and thoughtful and clearly very knowledgeable about their work. The city planners asked many questions, and students not only answered them all, but wanted even MORE!
See the video here.
Ms. McCarthy's Fifth graders at Laurel Dell Elementary School have been working with Janine Lovejoy Wilford (a practicing architect and educator). They, along with Shirl Buss and Mr. Belmont's fifth grade class, have been working on the question, "What Do You Imagine for San Rafael in the year 2040?
Ms. Janine created map worksheets of five zones in San Rafael, and the students worked in pairs to design for that area.  Three of the zones are right on the canal and the other two are on the shoreline. The students sketched out ideas for their areas, and added more and more details as they persevered. In 2040, these future residents of San Rafael would like to see safer, prettier walking routes, more affordable housing, more playgrounds, and a lot more gardens.
The final presentations were great and  students had many ideas including a waterpark in the canal that would recirculate and clean water. Students were asked why their design will be better for SR. Some of our favorite responses: "because it's better than what's there."  And "because in the future people will use alot of electronics and they will need to go outside more."
This week students will build 3D versions of these ideas.
Thank you so much to the wonderful supporters of this project: UC Berkeley's Y-Plan, the California Arts Council, and the teachers, staff and parents of Laurel Dell Elementary School.
By Shirl Buss, Architect and Educator and Cathy Bowman, Mentor Artist
Building upon the work they have done with Dustin Foster, Suzanne Joyal and us, Mr. Seligman's fourth grade class started looking at San Rafael Creek/Canal in more detail, studying photos of different conditions along the waterway.
We also studied images of different types of river bridges and best practices for bridging small urban waterways.  We focused on how to how bridging can be a part of efforts to bring formerly degraded rivers back to life as an asset in the city.
Then the students worked in teams to draw and design small pedestrian bridges (and some vehicular ones as well) to span the creek at different points. They did a wonderful job of designing and thinking!  And building!  All in an hour and a half!
Thank you so much to the wonderful supporters of this project: UC Berkeley's Y-Plan, the California Arts Council, and the teachers, staff and parents of Laurel Dell Elementary School.
Older Entries »