Compass Academy is an alternative elementary/middle/high school for students who experience underlying mental health challenges. Marty Meade, a certified Art Therapist  who works year-round with Compass Academy, says of her goal is to have the students "connect with the creative process, and to know that it is a safe space to inhabit when they are feeling powerless."
She expands on their projects over the last semester, explaining: "We have painted with watercolors and acrylics, decorated sugar skulls, and made fused glass pendants and small plates.  The students have experimented with marbling paper and some print making as well. We play with concepts like scale, sometimes working big and sometimes in miniature. For some, it's a process of learning to live with mistakes and let go, and for others it's a time to slow down."
Every day brings new adventure, and sometimes new challenges. Students who are new to the class in particular can experience understandable hesitation. Marty explains "I have new students who come in feeling unsure and occasionally defensive. One particular high school student painted a beautiful apple on her first day, but when I complimented her, her response was that she 'didn't like art'. I backed off, and as the following weeks went by she became more and more engaged. Her Sugar skull was delicate as was the trinket box that she carefully painted. Last week we did marbling and I gave them straws to blow the paint around in the water. She soon was dropping the dyes into the bubbles and then experimented with dish detergent. On Halloween as they were painting masks I read two stories from Grimm Fairy Tales. She immediately knew the version of Cinderella, and giggled as I read the vivid descriptions of the stepsisters trying on the shoe. All the while, I'm watching the hard-edged woman become a playful child again."
However, time has had a positive effect on many of her students. Now in his second year, one student has transformed from being disruptive to the class leader. Marty notes that "his art is wonderful, and I'm trying to think of a creative way to gather his images of cats." Another student, who Marty refers to as "I", can hardly contain himself during art class and loves making things for his mother. Marty builds on these experiences to help students think about who they are and how their work might reflect their character, beliefs, and values. During the trinket box project, Marty brought in uncut rocks with opals inside and asked everyone to pick a stone that they felt reflected them most. She adds, "They were all very careful as they examined the stones."
Marty credits her time in the classroom to the collaboration of the Marin County Office of Education and Youth in Arts. She is grateful for the opportunity to be with the children for the entire school year, and adds: "It has made such a difference in my relationship to the students."
Thank you to the contract from the Kennedy Center and the funders who helped to make this happen:
At Willow Creek Academy and Short Elementary School, Mentor Artist Cathy Bowman worked with students to make wonderful collages using textures of different shapes and colors. Many students in special day classrooms experience sensory defensiveness, so Visual Arts Director Suzanne Joyal developed this as one technique to address this issue. Joyal explains, "For kids with special needs there is so much beyond their control that can be frightening and art is a safe way to take risks. Using textures in art provides children with a safe and fun way to confront potential anxiety around new experiences."
Cathy describes the process, "Instead of glue, we used self-stick paper to hold down our shapes. We had to use at least five different shapes and colors. We felt each piece carefully before we placed it on our collage. Some shapes were rough and bumpy, while others were smooth or shiny. The soft feathers were especially fun! After pressing down our shapes we drew around them or on top of them with oil pastels. It felt unfamiliar to draw directly on the sticky paper. The final step was rubbing on the magic gold foil. It was hard to wait for the shiny foil but we did. We finished with a group discussion reflecting on the choices we made. It was a good chance to practice our speaking and listening skills"
The program was part of Youth in Arts' Arts Unite Us program, which serves students in special day and severely handicapped classes throughout Marin County. Thank you to the contract from the Kennedy Center and the funders who helped to make this happen:
By YIA Sachiko Moran, UCLA World Arts & Culture intern
Staff Miko Lee and Suzanne Joyal recently presented at the Kennedy Center VSA Intersections International conference in Atlanta on the upcoming IEP Arts Lesson Exchange. They introduced the concept to teachers and asked for their feedback and ideas on how to make it meaningful and useful to them and their students.
For years YIA has seen the impact that arts has on all students and particularly students with disabilities. For students with special needs, teachers must make the time to fill out Individualized Evaluation Plans (IEPs). Often times, when creating these plans, arts are left out of the picture.
YIA began working with a small group to create the beginning of an IEP Arts Lesson Exchange. This will be a free searchable database of arts activities for teachers and teaching artists to access in order to reach all types of learners. Through this exchange, YIA hopes that teachers and artists alike can contribute and benefit from one another's knowledge and skills, making arts education more accessible. YIA knows that there are countless motivated educators that are keen on sharing and learning. The IEP Arts Lesson Exchange will be a platform on which they can do so.
To add your own activities and learn more go here.
Shout out to UCLA World Arts & Culture intern Sachiko Moran who created the rainbow and tested out the online forms.
By Mentor Artist Cathy Bowman
For the past year, Oak Hill students have been exploring painting and sculpture. We ended the year with a student exhibit that featured several exciting projects. The display featured masks, paintings, drawings and two collaborative works based on the number paintings of artist Jasper Johns. It was important for students to get a chance to survey their own work as well as the art made by their friends. It was hard not to touch the art!
One of the projects the students liked best was using tape to separate space on pieces of canvas. The artists applied oil pastels and paint; once dry, they removed the tape. Some students enjoyed pulling off the tape more than painting! There were surprises of color and lines everywhere, and decisions to be made about whether to leave parts of the canvas bare. We finished off the project by using letter stencils. The artists were very creative and used the stencils randomly, rather than spelling out recognizable words or names.
Another popular project was making sculptures based on the work of Alberto Giacometti. Students began by making wire forms and then covering them with foil and clay. Once the clay dried, the sculptures were painted. Some students made human forms while others created animals.
Written by Mentor Artist Cathy Bowman
This spring, students in two special day classes at Venetia Valley Elementary School explored different tools and materials. Artists experimented with a variety of adaptive tools for making marks: wide handled brushes, sea sponges, rollers, balls and soft toys. These tools were easier to grip than a thin paintbrush or pencil and allowed students a lot of control in how they painted. For many projects, they also worked on heavy mat board instead of paper. We also explored texture, using sticky contact paper as a canvas on which to apply various papers and materials. Using black paper, color and white paint students practiced layering colors.
The last two weeks of the class focused on making collages inspired by the work of artist Louise Nevelson. Students spent one class choosing and gluing down various forms and shapes that included Lincoln Logs, CDs, bottle caps, slides and other materials. Next, they added paint, which posed a new set of challenges as students turned and moved their artworks to paint various surfaces and angles. Once the objects were painted, the meaning behind them changed. Slides became obscured; CDs less shiny. Lincoln log pieces became exciting sculptural elements!
by YIA Mentor Artist Cynthia Pepper
What a wonderful day we had with the Terra Linda Special Day Classes led by Rachel and Abby. We had 9 adults assisting the 12 students on the final sharing day of my residency last week. I thought it would be nice to start our day off with a warm up to Bob Marley. The man! He cuts to the chase with his lyrics of "Is it love?". It must be love because everyone was smiling while we moved all our bodies in unison to get ready for the big dance called KUKU. It is from Guinea West Africa and it involves fishing with nets, sharing our catch, becoming fishes and having a full on party at the end. The African based cultural dance day eased in with our sharing of energy around the room both in clockwise and counter clockwise directions. We cleaned up the day with Keb Mo and Michael Jackson and my all time favorite get funky dance song "Green Onions" by Booker T. and The M.G.'s. It just takes it away. The paras and the aides all danced a solo in the middle of the room which they all accomplished with flair. Each wheelchair got a pirouette opportunity and the students crushed it with smiles. I love sharing with so many students the joy of movement and music. It seems like it keeps getting better the more we do it. Each time feels better than the next.
Thank you Abby and Rachel for always being so ready to rock. And thank you to our very generous supporters: 
Students at the Short School in San Rafael experimented with paint, paper and various materials as part of a grant from the Kennedy Center. Using a lesson plan titled "Motivated to Create … HARMONY," Mentor Artist Cathy Bowman helped students translate jazz into paint.
The purpose of the lesson was to give students the experience of drawing on the inspiration of sounds as a foundation for their art. Working individually and in pairs, they listened to excerpts from "West Side Story" by composer and conductor Leonard Bernstein. Key vocabulary artists reviewed included "harmony," "tone" and "abstract."  Using tempera paint, paper and canvas they listened, and painted what they heard. We considered how sound affects our feelings. Students were given an array of materials to use, including toothbrushes, corks, rollers, plastic packing material and forks. They practiced making marks, covering marks and making more marks. Working together was a good lesson in collaboration and respect … Is it ok to cover another artists' marks?
Working in pairs allowed students to create multiple layers of color.
In the final session artists were given an 18 by 24 inch canvas. They tore up their smaller works on paper and reassembled the pieces into a collage on the canvas. They applied more paint and color while listening to music. Working outside for the final painting freed the young artists to move in ways that can't happen in a carpeted classroom. 
The last artist to work on the painting added a tiny touch of black, noting that she was thinking about her favorite fruit – blackberries. Can you find her mark?
This VSA program is provided in 2017-2018 under a contract with the John F. Kennedy Center for the Performing Arts. This program is also supported by the Buck Family Foundation and Marin Charitable.
Magnolia Park is a small early intervention school site nestled by open space in Lucas Valley. Most of the young students were born without the sense of hearing and are now learning sounds and language with hearing implants. This is our first year working at Magnolia Park, and Mentor Artist Julia James introduced the young artists to a world of color and shapes and textures.
Over the course of ten weeks students used a variety of art tools, materials and surfaces. Highlights were working and collaborating on a large canvas for the Kennedy center. The canvas was created over four weeks using paints, stamped textures, printing with ink on rollers, bubble wrap, sponges and a variety of brushes. The beautiful canvas will become a part of the Kennedy Center's International Art Exhibit.
Students celebrated the residency with work displayed in the classroom along with an according book which illustrated their person art journey.
Thank you to following funders for helping to make this program happen: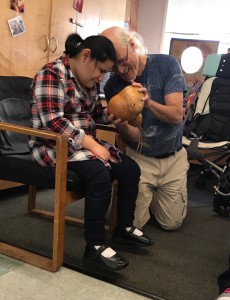 Mentor Artist Ian Dogole has been making music with the students in Kim Cochrane's and Katie Peter's classes at Redwood High School.
Ian Dogole's Thoughts:
"These have been profound and unforgettable experiences. One lasting impression will be the heroic commitment that the educators, nurses and aids make to each one of these students and the exuberance and joy that accompany each positive outcome.
In Kim Cochrane's class, the students have very limited mobility. I had some trepidation prior to my first class as to whether I could have a positive impact with them. After 7 classes, my perspective has undergone a complete transformation! I feel deely connected to these students and when a breakthrough occurs … even at the most subtle level … there is a celebratory feeling in the classroom and I feel so uplifted. Kim and all of the nurses and aids have been unbelievably supportive and appreciative and I am deeply grateful. From my perspective, they are all heroes for their devotion to these students and for their consistently positive attitude.
Katie Peter's class presents a different type of challenge — her students are mobile and capable of holding and playing percussion instruments to varying degrees. The goal for me is to attempt to keep them engaged and look for ways to raise the bar for them in the most supportive and fun way that I can. Like Kim's class, Katie and her support staff have been quite helpful in this endeavor. We did experience mini-breakthroughs with a few students this past week using repeated spoken words to convey specific rhythms. Quite powerful.
Many thanks to Youth In Arts for offering me this opportunity. It has been revelatory."
Thanks to the Buck Family Fund of MCF and Marin Charitable for making this program possible.
Older Entries »