We were thrilled to get a call recently from Pierre-Yann Guidetti, chief executive officer of Savoir Faire. The Novato company imports beautiful, high end art materials from Europe and sells them wholesale.
When the coronavirus forced schools to shut, Pierre asked himself what he could do for his community. He thought about all the kids stranded at home without art supplies – and he thought of us.
"Art is good for you, and it is good for the world," he said. "I'm always fighting for the fact that art is very important. I think it's essential."
Pierre donated more than 80 sets of lovely Austrian CretaColor pencils, 70 packets of gorgeous Fabriano paper and high quality white paper, too! Youth in Arts has already begun distributing them to students in our Arts Unite Us program, which serves young artists experiencing disabilities.
"These children are most at risk for being left behind as schools move to online learning, " said Youth in Arts' Program Director Kelsey Rieger. "We're so grateful that Pierre stepped in to help us serve them."
Pierre travels the world lecturing about art and meeting with suppliers, often influencing product design. The paper he gave our students comes from Fabriano, an old Italian company that invented the modern cotton paper and once served great artists like Michelangelo and Da Vinci.
"It was like the Silicon Valley of the 13th century," he said.
Pierre shares one of Youth in Arts' core philosophies: give kids the best art materials you can.
"The experience of making a mark with a bad color and bad paper is different from making a mark with a beautiful color and beautiful paper," Pierre said. "If kids don't know the difference, they feel it."
To learn more about Savoir Faire, please visit their website to see which local stores carry their supplies. It was Pierre's wife, Maureen Labro, who began importing fine art supplies in the early 1980s. She and Pierre went into business together (she is president), fell in love and got married.
"Everything we sell, I've seen how it's made," he said.
Thank you Pierre, Maureen and everyone at Savoir-Faire! And thanks to artist Kay Carlson, executive director of Marin Open Studios, who helped Pierre connect with us. Community support like this makes all the difference.
Students at Oak Hill students explored themselves by making different lines.
Working with Mentor Artist Cathy Bowman, they used black and white pastels on a beautiful brown paper. We looked at thick lines and thin lines, curvy lines and bumpy lines. Some artists worked precisely and methodically and made only straight lines; others used only curves and made spontaneous marks everywhere.
When we finished, we laid the work on a table and talked about connections.
At the next session, we looked at the portraits and then made different portraits using water soluble Lyra graphic crayons and white pastels. Students made more lines and shapes, then activated the pencil lines by tracing them with a paintbrush dipped in water. It was fun to look at the two portraits together.
"This is another example of how we scaffold," Cathy said. "It builds confidence in artists when they can practice a familiar subject with new materials."
Cathy is at Oak Hill as part of Youth in Arts' Arts Unite Us program, which supports students experiencing disabilities.
Students at Olive Elementary School found an interesting way to make prints. They used their hands.
Working with Youth in Arts Mentor Artist Cathy Bowman, students in Joe Smith's class began by creating small collages using at least five torn pieces of colorful paper. They arranged the composition first, then glued them flat onto mat board.
That's when the real the fun began. Using black printer's ink, students took turns rolling out the ink, listening for the "sticky" or "tacky" sound that indicated it was ready. Using the sides of their palms, their fingertips and other parts, they created self portraits.
Cathy likes to show students that a self portrait doesn't have to be a realistic image of your face. Just as Van Gogh painted his shoes, young artists can show themselves through a painting of an object or image – or choosing what part of their hands to use for a print tool.
Cathy taught the same class at San Ramon Elementary School with Kelsey Olson. This project engaged many important skills, from rolling out the paint to tearing the collage papers into manageable pieces. For young artists in our Arts Unite Us program, which supports artists experiencing disabilities, these can be crucial skills to master.
While rolling out the thick black ink, one student sighed happily.
"I could do this all day," she said.
How do you learn how to mix color? By dipping your brush in different paints over and over. Why should we teach students to mix colors? This is the beginning of STEAM for students: they practice the Engineering Design Cycle when they learn to mix colors: Ask, Imagine, Plan, Create, Improve (which means repeat).
Students in Katie Kelly's class at Olive Elementary School in Novato practiced color mixing while making paintings of sculptures they had already created. The students are working with Mentor Artist Cathy Bowman through our Arts Unite Us (AUU) program. Through AUU, YIA is the only provider of arts education programming to many students experiencing disabilities in Marin County.
It was fun to look at the black and white sculptures and transform them into vibrant, colorful paintings. We made beautiful secondary colors and learned that if we mixed everything together, we ended up with a muddy brown!
Color mixing is something you can only learn by doing. We practiced the basics –  red and yellow make orange, blue and yellow make green, and red and blue make purple. But through experimentation we learned that we could make myriad shades of oranges, greens and purples by adjusting how much red, yellow, or blue we used.
Students looked carefully at the shapes they had used in their sculptures and repeated them in their paintings. On some, the shapes were quite clear, while on others, the shapes were hiding under more freeform lines.
At the end of class we put our work together and talked about what connections we could see in the shapes, colors and lines that we used. It was interesting to see that even though we used the same paint, the way we made our marks was unique.
Circles come in all colors and sizes. We can find them everywhere.
Students in Kathleen Haulot's class at San Ramon Elementary School used Mason jar lids, tape rolls, tiny dishes and an empty yogurt container to make circles on black paper. Inspired by the work of Kandinsky, these young artists explored making circles big and small, loose and tight, thick and thin.
The students are working with Mentor Artist Cathy Bowman as part of a 10-week residency at Olive Elementary School in Novato. This is the second year she has worked with Kathleen, whose students range in age from kindergarten to second grade. She taught the same project at Olive Elementary School with Joe Smith.
The artists used thick, creamy tempera crayons that are easy to hold and use for students experiencing disabilities. Instead of working on white paper, they drew on black. The stark contrast created visual interest, and students had to think about what happens when yellow is applied to black paper (more green) than white paper (more yellow).
"I want my students to know the joy of making art with anything, and working on black paper produces exciting, dramatic art," Cathy said. "This is a great way for students to practice fine motor skills because they have to hold the lid with one hand and trace with the other."
Cathy likes Mason jar lids because they are sturdy and easy to hold. Artists had fun using different objects to make different circles. When we finished, we put them together on a table and talked about how each piece connected with the others. Reflection on art making is a key part of our Youth in Arts' programs, and it's wonderful to witness the many ways students share their voices.
Youth in Arts is the only provider of arts classes (visual, dance or music) to nearly 40 self-contained classrooms of students experiencing disabilities in Marin County. You can see art created by these very talented students this summer at our annual "Outside the Lines" art exhibit at the Youth in Arts Gallery.
By Mentor Artist Cathy Bowman
I love it when students ignore my directions.
I don't mean the important rules: be kind, share, and respect yourselves, others and materials. But following the directions for how to do a project? It's not on my list.
Making art intuitively is common among students with different learning styles. They care far more about process than result. They rarely ask if you like what they create, because frankly, they don't care – and they shouldn't. Often they use tools in new and unexpected ways, such as the handle of a brush (instead of the bristles) to scratch into wet paint.
Recently I taught at an elementary school through our Arts Unite Us program. I asked each student to come up with three words to describe themselves, and then turn each word into a line to make an abstract self portrait.
I met a young boy who slumped at the table, clearly disengaged. When asked for his words, he shrugged and said nothing. The kindly paraprofessional told him he either had to make art or go back to his desk and do school work, and he started to get up. I asked her to wait, feeling that if he was at least willing to stay at the table, some part of him might be interested. Even if all he did was sit there, I knew eventually he might make a mark … even if it took several weeks.
Suddenly, he wanted to draw Frankenstein. Great, I replied. What words would you use to describe him? His face lit up and he quickly came up with two words: creative and strong. Instead of an abstract line drawing, he created his own monster portrait. His work was different from everyone else's – and just as engaging. I saw him a few weeks later, and he is still enthralled with making art.
As teachers, we are constantly reassessing how we define success. I see my job as being a trail guide – to point out the boulders rolling down the hill and which way the trail goes. The path artists take is up to them.
Children's art created during Youth in Arts residencies has been selected as part of San Rafael's public art project to beautify the Third Street Garage.
The city's Parking Services Division selected two works created during arts residencies with Youth in Arts' Mentor Artists Julia James and Cathy Bowman. Each mixed media work will be temporarily transformed into a 3 by 6 foot sign at Fifth Avenue and C Street while the new public safety center is being built across the street.
City officials said once they started looking at the garage, they realized it was time for a facelift.
"We're really excited about this out-of-the-box project," said Sean Mooney, San Rafael's civic design manager.
City Manager Jim Schutz said he wants the city to have more public art that people happen upon and are delighted by, rather than seeing art only in a museum. San Rafael has been designated as a Downtown Cultural Arts District by the state because of its vibrant arts community.
"One of my visions … is that that happens all over downtown," Jim said.
A mixed media piece by students at Willow Creek Academy is currently on display at the garage. The art was created last spring in a self-contained class of kindergarten and first graders who worked with Cathy. The art will be up through May.
The city also selected a piece created by students who worked with Julia James at Magnolia Park School in San Rafael. Cathy's and Julia's classes were part of Youth in Arts' Arts Unite Us (AUU) Program, which serves young artists experiencing disabilities. Some of the young artists who created the Magnolia Park piece attended the city's celebration.
Each children's art piece selected, is paired with work by an adult artist that appears on the opposite side of the sign, celebrating San Rafael. Adult artists chosen include "Under the Surface" by Travis Weller, which is paired with the collaborative work by Julia's students; and "Visions of San Rafael," by Isabel Hayes, which is paired by the collaborative piece by Cathy's students.
Students at Olive Elementary School explored shapes recently in a sculpture project that involved using common geometric forms: a sphere or circle, a square, a rectangle, a diamond and a triangle.
The young artists are part of Katie Kelly's class receiving a 10-week Youth in Arts' residency with Mentor Artist Cathy Bowman. The residency is part of Youth in Arts' Arts Unite Us program, which works with young artists experiencing disabilities.
The children named the shapes made of foam core scraps and selected at least one of each for their sculptures. While the sculptures were drying, students looked at them all together on a table. We talked about the connection between the different sculptures and which ones fit together most easily.
"Working with shapes to make sculptures is one of my favorite projects to teach," Cathy said. "I love that students are making connections between their own art and the work of their classmates. It really reinforces critical thinking and observational skills."
To encourage sharing, Cathy provided one plate of glue for every two students. Building social-emotional skills through art making is a key part of what Youth in Arts teaching artists do. When students wanted more shapes, instead of saying "I need more shapes!" they were encouraged to transform that into a question, such as "May I please have more shapes?"
After making their sculptures, children will paint them and then create a painting of  their sculpture. This supports hand-eye coordination and observational drawing skills. The sculpture lesson is an important foundation for lessons to come.
Concluding an Arts Unite Us residency at Magnolia Park School, Youth in Arts Mentor Artist Julia James and her students used their last day together to finish a collaborative painting they had been working on for over six weeks. The project began early on in the residency as students experimented with various tools and materials. Over the ten-week program, oil pastels, tempera paint, watercolors, rollers and different tools were used to make new textures and colors.
The first few layers of the painting demonstrated some of the early skill-building that students participated in. As we learned more about what materials were available and how to use them, we built upon our initial work using adaptive mark-making tools. Each week we practiced fine a gross-motor movement and built fine arts skills in color mixing, paint application, and decision-making.
On the last day of class, we gathered together to reflect on the artwork and come up with a title based on what we saw in our painting. We discussed the colors we had chosen, and thought collectively about what our artwork made us think about, and how it made us feel. During our conversation and throughout the residency, we worked on building our social emotional core competencies by exercising our sharing, listening, decision-making and collaboration skills.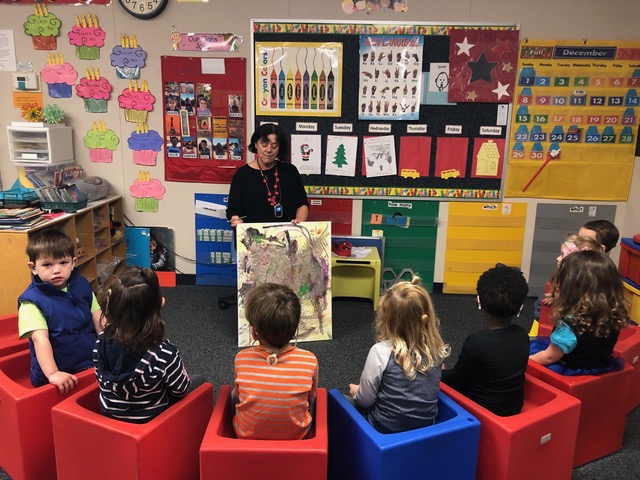 Together, we decided that our classroom painting would be called, "The Story of the Leaf". Can you see it too?
This program was made possible thanks to the generous support of our partners.
As part of this year's  Arts Unite Us residencies, mentor artist Julia James works with TK and Kindergarten students at Magnolia Park School through their early intervention program. Over the course of ten weeks, Julia explains, "we will be using a variety of adaptive art tools, materials and surfaces to explore alternative ways to make marks and actively create artworks." Key goals for the residency include personal expression, developing fine motor skills, and interpersonal communication and collaboration. Students will practice working with primary and secondary colors, using a broad assortment of materials to mix and apply paint.
As a final project for the residency, students will create an abstract collaborative painting that will be including in the Kennedy Center's national online VSA exhibition for 2019-20 representing San Rafael, CA, as well as the annual YIA Gallery exhibition, "Outside the Lines: Collaborative Art in Special Day Classrooms".
Thank you to the Kennedy Center, Marin Community Foundation, and Marin County Office of Education for making this program possible.
Older Entries »