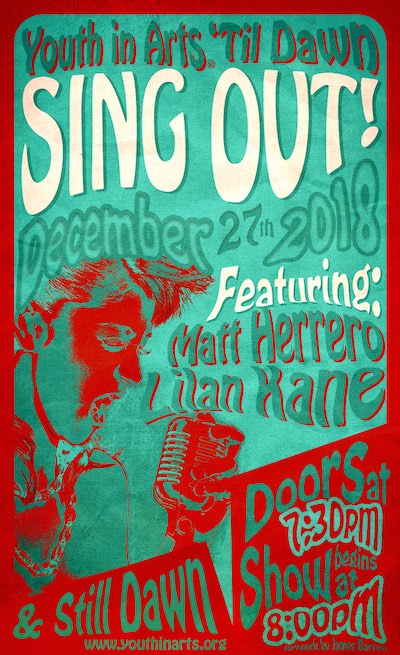 'Til Dawn alum James Barton designed this year's Sing Out! Poster, which will is still available for sale at Youth in Arts! It was unveiled at the 'Til Dawn performance Thursday at the Osher Marin JCC.
Barton, 21, is now a junior at UCLA. He said he created the poster, in shades of turquoise and reds, in the Fillmore style of art, using Photoshop.
"I sort of just went with that style," he said.
Barton was in 'Til Dawn for three years while a high school student at Marin Catholic High School. He now studies molecular biology.
Art "really provides an outlet for creative expression," he said. "Graphic design is definitely one of my passions."
Barton has fond memories of being a part of 'Til Dawn and was happy to help out. The poster was sponsored by the Herrero family and Black Cat Studio.
"I don't think I would have had the high school experience that I had without 'Til Dawn," he said. "It was such a support system."
Current and former 'Til Dawn members performed Thursday at Youth In Arts' Sing Out! at the Osher Marin JCC in San Rafael.
'Til Dawn alumni Matt Herrero is one of the featured performers at Youth In Arts' spectacular Sing Out! event on Thursday — and he's busy polishing several original songs.
Herrero, 23, a multi-instrumentalist composer, creator and performer who spent four years with Youth In Arts' wonderful 'Til Dawn a cappella troupe, now performs professionally. He credits 'Til Dawn with helping to get it all started.
"It was the most musically rigorous group I'd ever been a part of," he said. "It gave me a family outside of high school that I bonded to way more than with anyone else. They taught me how to make music with people."
Herrero, who attended Marin Academy and graduated from Stanford University last year, is a storyteller who is amazing on the acoustic guitar. He said a friend described his music "as if Justin Timberlake wrote campfire songs."
Joining Herrero on stage will be fellow alum Lilan Kane. She'll be playing with her guitarist, James Harman.
Kane, 33, is looking forward to singing jazz and R & B influenced pop tunes.  Kane, a graduate of Novato High and the Berklee College of Music in Boston, credits 'Til Dawn with helping to set her on the path to performing.
"The community that it gave me … came at a time in my life that really saved me," she said.
Being in the troupe also made her want to teach. Many of her former students, she said, are now 'Til Dawn members.
'Til Dawn made up of local high school students in Marin County. They are led by renowned director Austin Willacy. Both current `Til Dawn high school troupe members and alum called "Still Dawn" will perform Thursday.
The show starts at 8 p.m. at the Osher Marin JCC in San Rafael. Tables are $250; Adults are $35 and youth are $25. Tickets can be purchased here.
We are very excited to welcome, Kathryn Hasson, as the new student representative on the Youth in Arts board. Kathryn, an incoming senior at Marin Academy, has been a member of 'Til Dawn since her sophomore year. In addition to being an incredibly talented vocalist, Kathryn has seriously pursued acting, and creative writing throughout her high school career.
She appreciates and creates art in ALL of its forms, dabbling in photography, drawing, and painting as well. "So much happiness in my life comes from creating things," she exclaims, "I consider myself a proud and extremely passionate artist."
Kathryn has had access to excellent arts education throughout her life, but realizes that everyone isn't as lucky. While she wouldn't change anything about her personal arts education experience, she would like to open up the dialogue around the importance of the arts in education. "If I could change anything it would be students' and teachers' perception of arts education. I feel that many people hold the belief that arts education and opportunities are unimportant, or at the very least a last priority. I want to improve this and show people that having a space for creativity in school is incredibly beneficial."
We look forward to Kathryn bringing her bold creativity and enthusiasm to the board. "I'm incredibly driven and passionate, and that shows when I speak about things that I love," she explains, "Additionally, I'm very eager and willing to learn." That positive attitude extends to her willingness to learn more about the condition of arts education in Marin County. "I would like to have a greater understanding about the current state of arts education in Marin…my ideal goal as a board member, is to be an example of someone who has been greatly influenced by the arts and thus help people understand just why the arts are so vital to both education and life."
Thank you, Kathryn!
We had a lovely Spring Annual Show at Carol Franc Buck Hall of the Arts at San Domenico School.
We had a send off to our Seniors: Siena Starbird who will attend CalArts, Rose Myers who will attend Cal State San Marcos and Will Salaverry who will attend Yale.
Thank you to Curtis Myers for the beautiful photographs. See gallery below. Thank you `Til Dawn Alum Harrison Moye for tech wizardy and to Cecily Stock and San Domenico staff for their support.
Here is a playlist of some of the songs.
Announcing the new members of `Til Dawn.
Aidan Bergman, Sir Francis Drake High School
Aidan sang before he could talk and has never stopped. Over the years he has played piano and sung in community talent shows, school and camp musicals and graduation ceremonies. He was a soloist in the ROCK gospel choir at Drake and also loves to play baseball. Aidan has played and sung music as long as he can remember and hopes to continue through high school and into his adult life.
Lara Burgert, Redwood High School
Lara has been singing for as long as she can remember. She loves to sing, dance, act, and perform on stage. Before doing musicals with Performing Arts Academy of Marin, she was a part of the Marin Girls Chorus. Lara has always wanted to be in an a cappella group, and is so excited to be in `Til Dawn.
Maycie Cooper, San Domenico
Maycie has been involved with music for over 8 years, and finds way to incorporate it into her life as much as possible. She sees it as a way to express herself and also to connect with others. Since living in California, she's participated in every singing program her school has to offer, including annually acting in musicals since she started attending San Domenico. She loves the social side of singing and plans to keep music in her life forever.
Paul Makuh, Sir Francis Drake High School
Paul has been singing under the direction of Susie Martone from fifth grade through eighth grade and would love to keep it going into High School. He has made new friends through singing and feels that it would be great to keep singing in his life.
Zaria Willis, Marin School of the Arts
Bio coming soon
Isadora Zucker, Sir Francis Drake High School
Isadora Belle Zucker, a student at Sir Francis Drake High School, is a multifaceted performer active in music, theater, and dance, all of which she's been studying since early childhood. Outside of the arts, Izzy enjoys mountain biking, swimming, her cat Hollywood, and spending summers traveling with her musical family, better known as the Zucker Family Band.
In honor of Leonard Bernstein's 100th anniversary and to celebrate Dominican University's Music For All program, Enriching Lives Through Music (ELM) and Youth in Arts `Til Dawn performed a joint concert at Angelico Concert Hall, Dominican University on Sunday, April 29 at 2:00 p.m.
Marin County Office of Education Superintendent Mary Jane Burke opened the concert up with praise for both intensive music programs. Youth in Arts award winning teen a capella ensemble, `Til Dawn began the concert with some Motown music, some '80's music, and some jazz standards. ELM performed a selection of classical music from Bach to Mahler. The two advanced youth groups then collaborated on the iconic Leonard Bernstein song "Somewhere" from the musical West Side Story.
"We couldn't be prouder to host this collaboration to shine a light on two exceptional youth music ensembles in Marin County, in celebration of our University wide initiative to promote inclusivity and equity"  notes June Choi Oh, Chair, Department of Music, Dance and Performing Arts, Dominican University.
A panel discussion followed featuring `Til Dawn Director Austin Willacy, ELM's Conductor Martha Stoddard, an ELM parent and student, along with YIA student board member Rose Myers and her mom Tanya Myers. Thank you to June Oh
Dominican College, Chair, Department of Music, Dance and Performing Arts for helping to make this concert possible and to ELM Founder and Pamela Levine Arts Education Awardee Jane Kramer for coming up with the collaborative approach.
Check out our Facebook page for some video of the show.
We had another terrific installment of the `Til Dawn SING OUT! our annual alumni concert and fundraiser at the renowned Sweetwater Music Hall in Mill Valley. Nearly 200 audience members enjoyed two great sets from Happnstance, featuring `Til Dawn alums Sean Simerly and Maria Pougiales-Posey with Danielle Bezalel.
We also had great performances from this year's current `Til Dawn ensemble along with "Still Dawn" our chorus of alumni home for the holidays, singing hits from the `Til Dawn repertoire. All 50+ alumni, including Happnstance, donated their performances, helping us to raise $5,700, even more than we did at last year's event! Thank you! Several alums, including Emily Kibbe, James Barton and our current Student Board Member Rose Myers also spoke from the stage about how much the valued the `Til Dawn experience and Austin Willacy's mentorship.
We were also excited that our generous audience helped us "make to to 2018" by donating or pledging $2018 in honor of the new year–thank you so much to all who made this possible!
We would especially like to thank Entelo for their sponsorship and our `Til Dawn Scholarship Campaign Leadership Circle–David and Janine Simerly, Rick and Suzanne Herrero and Linda Sudduth and Buck Smith.
Youth in Arts is able to offer up to 100% scholarship aid to any student who passes the audition process, thanks to generous donors like these.  If you'd like to make a donation to `Til Dawn to support our scholarship fund and our program in general, you can do that here.
Thanks again to all who made it to this year's event–we look forward to seeing you again soon!
Meanwhile, enjoy this video of alum Sean Simerly and `Til Dawn member Will Salaverry singing "Steal My Kisses" with "Still Dawn" (Thanks, Linda Sudduth for the video!) You can find a few more on our Youth in Arts YouTube channel here.
Youth in Arts is thrilled to announce that we have just completed a three-year strategic plan focused on intensifying the impact of our work to ensure all our students receive the full benefits we know arts learning can provide.
The vision behind this new plan is that youth of every background and ability will have the creative skills, compassion, confidence and resilience to share their voices and achieve their goals.
Our work will be guided by key values, reaffirmed in this planning process:
We believe in INCLUSION, that differences are beautiful, and that students of all abilities and backgrounds deserve an education in the arts.
We believe in CELEBRATING young people as artists, knowing one impact of the arts is bringing joy to human lives.
We believe in EMPOWERING youth to share their stories and express their beliefs freely and effectively through music, dance, visual arts, theater and new media.
We believe in ARTISTS of all ages, endorsing a mentorship approach to arts education that connects students with professional working artists, skilled in their art forms and effective in their teaching.
A Focus on Intensive Arts
In our arts residencies in local schools, we are adding new key elements that will now be a part of every program, intensifying the impact on students:
Sequential Instruction  – all residencies will be a minimum of 8 sessions, providing artists a chance to lead students through a meaningful arts learning sequence;
Family Art Night – an intergenerational, hands-on arts exploration led by our YIA teaching artists at your school;
Culminating Student Showcase – a final performance or gallery will celebrate  young artists as they share their arts learning.
We believe that this approach of 8+ week residencies supplemented with events that include family members in children's arts learning will provide a quality educational experience that will not only teach children specific art skills but also foster confidence and self-expression.
Assemblies and Performances
Youth in Arts has historically provided 45-minute performances for students, first through a mainstage series and more recently through our school "Assembly" program. In order to have the kind of impact on students we hope to achieve, we are now connecting any performance we provide to additional arts learning opportunities in the classroom. This means that we may provide schoolwide performances as part of a longer site residency, or in conjunction with curriculum-linked workshops, but we will no longer be providing "stand alone" Assemblies where a short performance is our artists' only interaction with students.
We are in the process of developing a series of performances enhanced with classroom workshops linked to social science and language arts curriculum. While we intend this model especially for middle school sites, we would be happy to talk to elementary schools that are interested in this approach to arts learning.
Intensive Arts for Teens and Model Projects
Youth in Arts will also continue to offer our "Intensive Arts Mentorship" (I AM) programs for teens, including `Til Dawn A Cappella music program and C Street Project visual arts. We will continue to showcase youth voices through exhibits at YIA Gallery, and we are developing a new YIA Theater Ensemble to provide opportunities in a new genre.
We remain strong in our commitment to serving students of all abilities and will continue and hopefully eventually expand  Arts Unite Us residencies serving special education classrooms. We also plan to further refine our model work in creating inclusive arts residencies that bring together students of differing abilities through shared arts experiences.
And we will continue to develop unique program models we have been piloting at some of our closest partner schools. These include piloting a K-8th grade sequential arts program starting the Walker Rezaian Creative HeArts Kindergarten Art Program and "Architecture in Schools," along with several other promising models, including both direct classroom instruction projects and professional development for educators.
Our website will be updated soon to reflect these changes. Meanwhile should you have any questions about specific programs coming to your school, please contact Morgan Schauffler.
If you have questions about the strategic planning process or overall vision for Youth in Arts, contact Executive Director Miko Lee.
UPDATE: The 2016 SING OUT! will be on Monday, December 26 at Sweetwater Music Hall in Mill Valley. Click here to grab your tickets now!
Thanks to Peter Rodgers for the beautiful images from our 20th Anniversary `Til Dawn SING OUT! at Great American Music Hall, and thank you so much to Delta Rae and all our alumni vocalists for donating their time to raise funds for `Til Dawn scholarships.
On June 12, an enthusiastic crowd celebrated the series of murals going up throughout downtown San Rafael as part of the Creative San Rafael project. The C Street garage was unveiled with a series of 12 murals entitled, "Travel the World with Youth in Arts" illustrating explorer and photographer Louise Arner Boyd's observation, "You're an explorer even when you are at home." The murals were created by 700 children at the Marin County Fair.  Additional murals will continue to go up all throughout downtown San Rafael and will be announced on the Creative San Rafael website and facebook.
The mission to beautify Downtown San Rafael is part of a collaboration involving local government, businesses and nonprofits. Youth in Arts has brought PreK-high school creators to  the project, while Dominican College has showcased work from  college students with members of the Downtown Street Team.  ArtWorks Downtown has featured professional artists Lauren Bartone and Ernesto Hernandez Olmos.
The crowded event was highlighted by performances from Youth in Arts teen companies including`Til Dawn a capella and an ensemble
performance of C Street Project's spoken word poem "Today's Tomorrow." The poem and accompanying murals were inspired by Isabelle Allende's quote "Today's girls are tomorrow's women and leaders."  All original artworks created by youth are available via silent auction at the YIA Gallery through July 30.
Distinguished community leaders helped to give C Street Project's work its first performance,  including Tom Peters, President/CEO of Marin Community Foundation; San Rafael Mayor Gary Phillips; District 1 Supervisor Damon Connolly; Gabriella Callicchio, Director of Cultural and Visitor Services for the Marin Center; Cecilia Zamora, President of the Hispanic Chamber of Commerce of Marin; Nikki Wood, Editor of Marin Magazine; Pepe Gonzalez, Principal Laurel Dell School; Merl Saunders, Jr., Executive Director, Fenix Entertainment; Donn K. Harris, Chairman California Arts Council; Joanne Dunn, Co-Founder of Youth in Arts,  Comedian/Writer Geoff Bolt and Thomas Roedoc, Art Walk Downtown.
Youth in Arts transforms young lives. With your help we can make sure each of our young artists learn to share their vision and voice through the arts.
This program was supported by the following generous donors:
Til Dawn sang "If You're Out There" by John Legend as a welcome to the Marin County Board of Supervisors new year on Tuesday January 6. Incoming Supervisor Katie Rice saw 'Til Dawn's performance at a party and was so impressed that she wanted to honor her first meeting as Board President, with the group singing "If You're Out There."  She wanted to acknowledge their incredible talent, and give the gift of their song through the public meeting venue. The song also provided a tribute to outgoing Board President Supervisor Kate Sears.
Here's a story about the swearing in.
Check out of a video of the meeting, `Til Dawn can be heard at the 27:42 minute mark on the recording.
« Newer Entries
Older Entries »