Youth in Arts' Mentor Artist Eddie Madril taught counter narratives to a group of Marin County teachers by sharing his experience as a member of the Native American community.
Madril is part of the Pascua Yaqui tribe of southern Arizona and northern Sonora Mexico and represents his culture as a dancer, singer, teacher, playwright and filmmaker. During his presentation, teachers experienced history differently and learned how to make a corn husk figure (not a doll). Madrid talked about how important it is to understand multiple perspectives, including how tribes historically cared for and respected the land where they lived and did not consider it something that could be bought and sold. He also explained that if there is only one student in a class who is Native, for example, that student should not be singled out or made to represent all Native American people. Teachers ended the day with a hoop dance.
"It's critical for teachers to be able to hear counter-narratives to expand their teaching to reach all learners," said Youth in Arts' Executive Director Miko Lee. "It's through these culturally responsive teaching practices that our students can learn about the world that we live in with a more balanced perspective."
Madril has taught American Indian music at San Francisco State University and was a three-year recipient of the California Arts Council Artist-In-Residence grant. As a dancer and educator, he has performed throughout the western United States, including the San Francisco Ethnic Dance Festival and World Arts West's arts education program People Like Me. He works with students to encourage the appreciation of and respect for American Indian dance, music, culture, history, art and sign language.
To review the hands-outs and suggested readings, go here.
Youth in Arts worked with the Marin County Office of Education to provide professional development courses like these. We are proud to announce a generous grant from the California Arts Council to provide for Eddie Madrill's Assembly Performance and Workshops for Title 1 schools whose teachers attended the counter narrative training. Thanks also to Marin Community Foundation for supporting our work.
Past, Present and Future: Teaching History Through Counter Narratives
Arts based workshops to foster critical inquiry and civic engagement
Teaching Native Americans Past and Present
Culturally Authentic Books
The Brown Bookshelf, designed to push awareness of the myriad Black voices writing for young readers.
The Conscious Kid Library is an education, research, and policy organization dedicated to reducing bias and promoting positive identity development in young children. They promote access to diverse children's books that center underrepresented and oppressed groups.
Lee and Low Books, a family run company committed to publishing diverse books that are about everyone, for everyone. They are dedicated to cultural authenticity.
Diverse Book Finder, a database collection of more than 2,000 children's picture books featuring people of color and Indigenous people.
Indigenous peoples
Only 1% of the children's books published in the U.S. in 2016 featured Indigenous characters, and even fewer (1/4 of the 1% = 8 books total) were written by Indigenous authors. The following are by Indigenous authors.
First Nations Reading List – The staff members of First Nations Development Institute have compiled a list of what they consider to be essential reading for anyone interested in the Native American experience.
Elementary School
by Jenny Kay Dupuis and Kathy Kacer, illustrated by Gillian Newland
When Irene is removed from her First Nations family to live in a residential school, she is confused, frightened and terribly homesick. She tries to remember who she is and where she came from despite being told to do otherwise.
by Monique Gray Smith, illustrated by Danielle Daniel
Written to prompt a dialogue among young people, their care providers and educators about reconciliation and the importance of the connections children make with their friends, classmates and families.
Go Show the World: A Celebration of Indigenous Heroes    
by Wab Kinew, illustrated by Joe Morse
Celebrating the stories of Indigenous people throughout time, Wab Kinew has created a powerful rap song, the lyrics of which are the basis for the text in this beautiful picture book.
by David A. Robertson, illustrated by Julie Flett
When a young girl helps tend to her grandmother's garden, she begins to notice things that make her curious. Why does her grandmother have long, braided hair and beautifully colored clothing? Why does she speak another language and spend so much time with her family?
by Robbie Robertson, illustrated by David Shannon
Tells the story of Hiawatha, a strong Mohawk who was chosen to translate the Peacemaker's message of unity for the five warring Iroquois nations during the 14th century. This message not only succeeded in uniting the tribes but also forever changed how the Iroquois governed themselves — a blueprint for democracy that would later inspire the authors of the U.S. Constitution.
By Chiori Santiago, illustrated by Judith Lowry
Two young brothers are separated from their family and sent to live in a government-run Indian residential school in the 1930s—an experience shared by generations of Native American children throughout North America. At these schools, children were forbidden to speak their Indian languages and made to unlearn their Indian ways. Sadly, they were often not able to go home to their families for summer vacation.  Native American artist Judith Lowry based this story on the experiences of her father and her Uncle Stanley.
by Cynthia Leitich Smith, illustrated by Cornelius Van Wright and Ying-Hwa Hu
The affirming story of how a contemporary Native girl turns to her family and community to help her dance find a voice.
Tip: Cynthia Leitich Smith has written and/or illustrated many high quality children's books.
by Traci Sorell and Frané Lessac
A picture book about gratitude, which features Cherokee words and the Cherokee alphabet. From celebrating "the ancestors' sacrifices to preserve our way of life" to a Grandmother revealing what the Cherokee name of a newborn baby will be, the people give thanks.
Saltypie: A Choctaw Journey From Darkness Into Light
by Tim Tingle, illustrated by Karen Clarkson
Tells the story of the author's family move from Oklahoma Choctaw country to Pasadena, TX. Spanning 50 years, Saltypie describes the problems encountered by his Choctaw grandmother — from her orphan days at an Indian boarding school to hardships encountered in her new home on the Gulf Coast.
Young Water Protectors: A Story About Standing Rock
By Aslan Tudor
At the not-so-tender age of 8, Aslan arrived in North Dakota to help stop a pipeline. A few months later he returned – and saw the whole world watching. Read about his inspiring experiences in the Oceti Sakowin Camp at Standing Rock.
Crossing Bok Chitto: A Choctaw Tale of Friendship and Freedom
by Tim Tingle and Jeanne Rorex Bridges
A fictional picture book inspired by true tales of Native Americans in the Southeastern United States aiding African Americans who were escaping slavery. In what is Mississippi today, the Bok Chitto river was the border between the Choctaw nation and a plantation. Before the Trail of Tears, if an enslaved person escaped into Choctaw land, the slave owner could not follow to catch him.
Middle School
By Louise Erdrich
This charming, yet unstintingly realistic novel tells the story of Omakayas, a girl whose name means Little Frog, who is growing up near Lake Superior in the 1840s. This makes a great companion series for those who love the Little House on the Prairie Books
by Simon Ortiz and Sharol Graves
This groundbreaking tale of American Indian history, oppression, and resistance was first written in 1977 and was recently re-released for today's children. In just 24 pages, this picture book powerfully shares history that spans from first contact with the Europeans to modern struggles against poverty and suffering.
High School
Code Talker: A Novel About the Navajo Marines of World War Two
by Bruchac, Joseph
After being taught in a boarding school run by whites that Navajo is a useless language, Ned Begay and other Navajo men are recruited by the Marines to become Code Talkers, sending messages during World War II in their native tongue.
Tip: Joseph Bruchac has written many books for all ages, including multiple creation story books.
By Louise Erdrich
Won the National Book Critics Circle Award, and introduced many of the characters that populated her subsequent books. The book spans sixty years and centers on the love triangle between members of the Ojibwa tribe living on the Turtle Mountain Indian Reservation in North Dakota
Tip: Louise Erdrich has written an entire brilliant series based on these same characters.
By Joyce Harjo
In this transcendent memoir, grounded in tribal myth and ancestry, music and poetry, Joy Harjo details her journey to becoming a poet. Born in Oklahoma, the end place of the Trail of Tears, Harjo grew up learning to dodge an abusive stepfather by finding shelter in her imagination, a deep spiritual life, and connection with the natural world.
by Tommy Orange
Multigenerational story about violence and recovery, memory and identity, and the beauty and despair woven into the history of a nation and its people. It tells the story of twelve characters, each of whom have private reasons for traveling to the Big Oakland Powwow. Finalist for Pulitzer Prize. Local writer.
Master Dancer Shahrzad Khorsandi brought company members with her to perform for Hamilton and Venetia Valley Middle Schools. She also provided in-depth classroom workshops for students to share about traditional and modern Persian dance, and the strong connection to the history, language, and geography of Iran.
Thank you to the California Arts Council for making this program possible.
Master Performer Eddie Madril wowed the students at Davidson Middle School as he performed sacred dances and spoke about the importance of understanding Native American history. Eddie, also a professor at San Francisco State University, talked about the Iroquois Confederacy which had operated since the 16th century and was the basis of the American constitution. He invited students up to the stage to learn some of the dances, and Principal Bob Marcucci was even game to join in learning some of the challenging, Hoop Dance.
In addition, Youth in Arts honored students in the Media and Theatre arts classes taught by Mentor Artists, Sophie Cooper and Margaret Hee, with a series of awards. The following were recognized:
Youth in Arts Awards
Cody Lucich Award for Confidence is given to students who exhibit a willingness to take risks and show confidence in their approach to making art. It is given to students who are undaunted in their approach to art-making and utilize innovative ideas to express themselves. Cody Lucich is a filmmaker who works extensively in community-based 'Native media.'
Luna Correa is a talented visual artist, with excellent drawing skills and unique imagination. She is always engaged and is able to connect what happens in the classroom with the broader community.
Daisy Perez inspires the classroom with her positive attitude, leadership, critical thinking and inquisitive nature.
Bradley Cornett is consistently engaged and is always ready to participate. He brings a positive attitude and maturity to class.
Dayana Calderon is brave! She is always willing to voice her opinions, appreciative of others' opinions, and engages positively and creatively in class.
Carrie Mae Weems Award for Compassion is given to students who are good listeners, who care about other people's perspectives, and who demonstrate the potential to be a positive community-builder. Carrie Mae Weems is a photographer who also works with text, fabric, audio, digital images, and installation video.
Aileen Beltran brings a positive attitude to class and is always willing to help others. She leads by example and has an artistic eye.
Yanira Lucia Gonzalez is consistently dedicated and on task. She puts deep consideration into her work and appreciates the arts. She also helps other students with their work.
Zandy Bautista has an excellent attitude. She always helps others and makes the room shine with her compassionate outlook.
Juana Alicia Award for Creativity is given to students who utilize their imagination to create exciting new ways to showcase their artistic voice. Juana Alicia, is a Bay Area muralist, printmaker, educator, activist and, painter.
Yessica Mazariegos is an insightful visual artist. She is always on track, and has a calm presence in class.
Jasmin Tlachi has a very creative eye for photography and has demonstrated artistic excellence in her work as a photographer.
Harvin Sanchez has excellent drawing skills, which he brings to his storyboarding and storytelling through drawing.
Alexis Alejandre has a very good eye for photography. She comes up with very original and creative ideas and is able to transform her mood by engaging in class work.
Wilibaldo Baten-Rosas & Carina Cabrera are the best artistic collaboration!! Their work demonstrates an excellent, creative team.
Jeffrey Mazariegos is an excellent photographer and demonstrates a creative use of perspective in his work.
Ana Olvera is a highly engaged creative artist. She thinks deeply about her work and has a flare for working with the camera.
Lin-Manuel Miranda Award for Determination is given to students who are hard workers, determined and diligent about learning and making art. Lin-Manuel Miranda is an American composer, lyricist, playwright, and actor best known for creating and starring in the Broadway musicals In the Heights and Hamilton.
Angel Mauricio is an eager participant who is inquisitive and brings a fresh outlook and positive attitude to class.
Jorge Pech is not afraid to stand out as someone who cares and who has ideas and participates. He shines in the classroom with his courage and strength of character.
Andy Romero is a good listener, consistently engaged, and a strong leader. His hard work has made him the most improved student in his class.
Dave Mazariegos demonstrates creativity and positive engagement in class.
Thank you the California Arts Council for supporting this program.
Every day at the Marin County Fair this year, Youth in Arts Global Stage featured our mentor artists in interactive performances from around the world. We celebrated the theme of the Marin County Fair "All for One and Fun for All" in our own artistic style with our amazing artists.
Audience members learned how to balance a bowl on their head in a dance from the Uyghur peoples of Central Asia, check out master artist Tara Pandeya demonstrating to the left with multiple bowls, including the top one full of water. We had audience up dancing a Peruvian samba around the Exhibit Hall. There was Indian Bollywood dancing, Brazillian capoeria, Japanese folk dance and so many others. Check out our gallery below.
To find out about bringing these artists to a school site near you. Click here.
Read Executive Director Miko Lee's Op Ed in the IJ here.
"This was the most engaged that I have seen students yet!" –Chris Grace, Dance Palace
Flamenco dancers Sara Moncada and Damien Alvarez, along with Clara Rodriquez on vocals, and guitarist David McLean, entertained and engaged hundreds of students from throughout West Marin at the Dance Palace. Students watched the dancers, listened to the beautiful music of Andalucia Spain, and even practiced the rhythms as well. Students learned about the nomadic life of the gypsies who travelled the region sharing their music and dance and inspiring an international movement.
The Shawl Dance: Sara explained how shawls from Manilla were imported, and then personalized with long fringe before they were incorporated into their own Flamenco dances.
More than 80 students stayed after the assembly to learn even more from Sara with a hands-on workshop to practice a short choreographed piece together.
A special thank you to the California Arts Council for their support of this program!
On a beautiful, sunny late-January day in Point Reyes, Eddie Madril put on two energetic performances of his Sewam Dance of the Plains Indians assembly, as well as a follow-up workshop for 250 PreK–8th grade students at Dance Palace.  Many local students attended, as did students who were bussed in from Bolinas-Stinson Union School District, and from all over the Shoreline Unified School District.  Eddie Madril, is a member of the Pascua Yaqui tribe of Southern Arizona and Northern Sonora Mexico, and his 50-minute performance introduced students to several Native American dances including the Grass Dance, and Hoop Dance. The origins and meanings of each song and dance were explained to the audience, as he performed.
Eddie's handmade regalia is artwork unto itself.  The colorful feathers, embroidery and beadwork bring even more life to his dances.  During the assemblies and workshop, Eddie explained the significance of what he wore in relation to the cultural history and traditions of various Native American tribes.
As always, the hoop dance was a particular highlight. Eddie put on a breathtaking performance of the very complicated dance.  Using eight hoops, Eddie transformed himself into several forms, including a bird.  The audible audience reactions clearly showed how awestruck the students were. Selected students and teachers experienced firsthand how challenging was to work with the hoops when Eddie asked them up to the stage during the workshop component of the morning.  He had them use different methods to try to pick the hoops up with their feet, to varying levels of success.  Everyone has a wonderful time!
A special thank you to the California Arts Council for their generous support of this program!
Capoeira Mentor Artist Daniel Mattar and his International Capoeira Angola Foundation (ICAF) troupe have been very busy putting on assemblies for us!
Their first back-to-back performances were last week at Marin Country Day School in Corte Madera.  Daniel brought five Capoeira artists to perform with him.  They played music on their Berimbaus (similar to guitars, made of a gourd and one string) and Pandeiros (tambourines) while demonstrating the beautiful art of Capoeira Angola for two large groups of K-4th grade students.  After their demonstration, they brought several kids up on stage to practice Capoeira while doing call and response songs with the audience in Portuguese.  They were lively and fun performances.
Educator Alina said, "The performers were wonderful!  I loved how they went into the audience as kids were coming in to show them the instruments etc. – nice touch.  I received positive feedback from teachers too!"
Yesterday, they put on two more assemblies at Dance Palace in Point Reyes for a huge group of students from several elementary schools in West Marin.  Daniel brought six Capoeira artists from ICAF and the reviews were outstanding!
Dance Palace Executive Director Margarita raved, "Daniel and his ICAF troupe were absolutely wonderful! The music was great and the kids just LOVED them! Everyone was singing and dancing. They even got a reluctant teacher up and dancing. What a great recommendation from Youth in Arts!"
Book your assembly today!  Visit our website at youthinarts.org to see all the available options, or call Morgan Schauffler to book (415) 457-4878 x160
by Mentor Artist Shawna Alapa'i
Update: See Shawna and Halau Hula Na Pua O Ka La'akea at Marin County Fair on Thursday, June 30 at 6 pm.
Hula hit the scene at Laurel Dell Elementary School once again, and this year's students were no strangers to the strum and dance of Hawai'i!
Haumana (students) fell right into the flow of the steps and movements as we began our session in March, and we kept going strong all Spring.  Even the Pre-K students who were new to the dance found their groove! Incorporating the art of Ha'i 'Olelo (Storytelling) into teaching a dance to the youngest children was an especially fun way to engage them and help them to connect to the movements and motions to tell the story of their hula.
Last years' favorite mele (song) to dance to was "He Mele Inoa No Lilo" from the movie, Lilo and Stitch.  Since it was such a huge hit, I decided to choreograph a hula to another song from that same movie.  This year we rode the surf of Hawai'i and enjoyed the bliss of a Hawaiian beach, with the male "Hawaiian Roller Coaster".  And without a doubt, those Hawaiian waves can truly feel like you're on a roller coaster ride on your surfboard…"Whooooooooaaaaaa!"
We had a great culminating performance at the Fiesta Del Sol, on Saturday, June 4th.
Aloha…Mahalo…and as always…Hula On!
Mahalo to the California Arts Council for helping to make this Travel the World residency happen.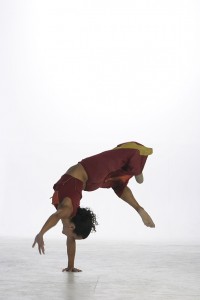 On December 15 Mentor Artist Stephanie Bastos lead six classrooms of energetic K-3rd graders in a holiday Dance Performance at Harding Elementary School. Students showcased their understanding of choreography and improvisation. They showed parts of the Brain Dance emphasizing high, low, mid and cross body movements to stimulate brain activity.
As a culminating event to eight sessions of dance, Stephanie led the entire body of dancers (students and their families) in a big Samba Dance A Long. Check out the video below.
A Question and Answer session followed. One parent asked the students, "How do you feel when you improvise?" Six year old Blake answered, "I go with the flow and have fun."  Another parent asked, "Does anyone want to be a dancer when they grow up?" Some hands went up when Mentor Artist Stephanie stated, "You are ALL already dancers. Look what you just accomplished." to a round of applause from the audience.
Check out the community dance here:  https://youtu.be/IQLxwSL56ss
Older Entries »