by Mentor Artist Cynthia Pepper
The Terra Linda Special Day Dance Class taught by Rachel Hughes got a full dose of The Sleeping Beauty this week. Well, maybe not a full dose but a tiny dose that was so meaningful.
I decided it was time for the students to learn my favorite section from The Sleeping Beauty by the composer Tchaikovsky to start off the holiday season. Nutcracker will just have to wait in line.
We are doing a dance where the lead sleeps for 100 years, which seems more like teenager style. The dancers learned the swinging shape-oriented choreography of the Garland Dance with full excitement. It's a fun dance and the music says "swing swing swing" throughout each stanza. That is exactly what we did every chance we could find. Side to side, and even more swinging after we created shapes with the hula hoops.
The hoops assist in mimicking the feel of holding flower garlands like a halo above our heads. It really helped students to use their arms in a new and fun way.
The last I heard, the dancers started to do ballet in full force with the guidance of Rachel Hughes who is a fine dancer herself. The dancers went on to YouTube and started to absorb ballet. The new bun-head groupies pirouetted a fresh pathway to ballet bliss. Ballet is worth it–it's fun, historical, challenging and most of all it feels so much like well…dancing!
Thank you to the Buck Family Fund of MCF and to Marin Charitable for supporting this work.
Mentor Artist Hannah Dworkin writes about her work in Glenwood Elementary's Special Day Classroom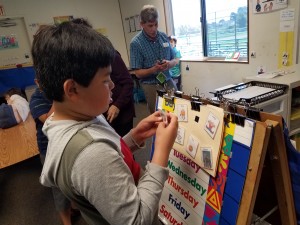 We had a wonderful 10th year together in Rockne Beeman's upper elementary special day class, and this year we had an extra special outcome with one of our students.  This student, who I will call Leah, has minimal language skills and does not read, but she responds incredibly well to rhythm.  Through a series of scaffolded rhythm based activities, Leah was able to identify, name and perform rhythmic phrases. She and her classmates also really loved our new song choice board pictured below.
The steps that lead to her breakthrough are as follows: aurel exercises with rhythmic phrases familiar to the students; visuals that integrate music notation, pictures that represent the previous familiar words and the words written out; move to color coded visuals with only the music notation.
The familiar words I use are "Pepperoni" for 4 sixteenth notes, "pizza" for two eighth notes, "pie" for one quarter note, and "cheese" for one half note.
This year we were also visited by students from mainstream classes through a reverse integration model.  It is amazing to see the increased engagement of the students in the special day class when their peers from other classes join them.  This year we noted that they participated with greater depth, were more willing to incorporate dances and displayed fewer behaviors when these children joined our music and dance sessions.
Thank you to the Buck Family Fund of the Marin Community Foundation for supporting this program.
Youth in Arts is thrilled to announce that we have just completed a three-year strategic plan focused on intensifying the impact of our work to ensure all our students receive the full benefits we know arts learning can provide.
The vision behind this new plan is that youth of every background and ability will have the creative skills, compassion, confidence and resilience to share their voices and achieve their goals.
Our work will be guided by key values, reaffirmed in this planning process:
We believe in INCLUSION, that differences are beautiful, and that students of all abilities and backgrounds deserve an education in the arts.
We believe in CELEBRATING young people as artists, knowing one impact of the arts is bringing joy to human lives.
We believe in EMPOWERING youth to share their stories and express their beliefs freely and effectively through music, dance, visual arts, theater and new media.
We believe in ARTISTS of all ages, endorsing a mentorship approach to arts education that connects students with professional working artists, skilled in their art forms and effective in their teaching.
A Focus on Intensive Arts
In our arts residencies in local schools, we are adding new key elements that will now be a part of every program, intensifying the impact on students:
Sequential Instruction  – all residencies will be a minimum of 8 sessions, providing artists a chance to lead students through a meaningful arts learning sequence;
Family Art Night - an intergenerational, hands-on arts exploration led by our YIA teaching artists at your school;
Culminating Student Showcase – a final performance or gallery will celebrate  young artists as they share their arts learning.
We believe that this approach of 8+ week residencies supplemented with events that include family members in children's arts learning will provide a quality educational experience that will not only teach children specific art skills but also foster confidence and self-expression.
Assemblies and Performances
Youth in Arts has historically provided 45-minute performances for students, first through a mainstage series and more recently through our school "Assembly" program. In order to have the kind of impact on students we hope to achieve, we are now connecting any performance we provide to additional arts learning opportunities in the classroom. This means that we may provide schoolwide performances as part of a longer site residency, or in conjunction with curriculum-linked workshops, but we will no longer be providing "stand alone" Assemblies where a short performance is our artists' only interaction with students.
We are in the process of developing a series of performances enhanced with classroom workshops linked to social science and language arts curriculum. While we intend this model especially for middle school sites, we would be happy to talk to elementary schools that are interested in this approach to arts learning.
Intensive Arts for Teens and Model Projects
Youth in Arts will also continue to offer our "Intensive Arts Mentorship" (I AM) programs for teens, including `Til Dawn A Cappella music program and C Street Project visual arts. We will continue to showcase youth voices through exhibits at YIA Gallery, and we are developing a new YIA Theater Ensemble to provide opportunities in a new genre.
We remain strong in our commitment to serving students of all abilities and will continue and hopefully eventually expand  Arts Unite Us residencies serving special education classrooms. We also plan to further refine our model work in creating inclusive arts residencies that bring together students of differing abilities through shared arts experiences.
And we will continue to develop unique program models we have been piloting at some of our closest partner schools. These include the Walker Rezaian Creative HeArts Kindergarten Art Program and "Architecture in Schools," along with several other promising models, including both direct classroom instruction projects and professional development for educators.
Our website will be updated soon to reflect these changes. Meanwhile should you have any questions about specific programs coming to your school, please contact Morgan Schauffler.
If you have questions about the strategic planning process or overall vision for Youth in Arts, contact Executive Director Miko Lee.
April is Autism Awareness Month.  Youth in Arts is the only arts education provider to special day and severely handicapped classrooms in Marin. We also provide arts programming at Oak Hill School which is focused on students with autism from 5-22 years old.
Check out this CD C'mon Everybody! which was produced with support from FirstFive Marin as part of a special workshop for families with children on the autistic spectrum.
C'mon Everybody! features original music composed by Youth in Arts Mentor Artist Miguel Martinez and featuring performances by additional YIA Mentor Artists Nydia Gonzalez and Hannah Dworkin. Songs encouraging response to direction, social behavior and language acquisition. It is fun and accessible for developmentally typical PreK children, as well as children with cognitive or developmental delays.
Come into our YIA shop on 917 C Street to buy the CD, or you can get a free download of a couple of the songs here Good Morning My Love, and  King of the Beat.
Thank you to the Buck Family Fund of the MCF for supporting our programs reaching children of all abilities.
Mentor Artist Marty Meade worked again with the students of Braun Day Treatment to create expressive and unique works of art. (it's her tenth year with YIA!) From Marty:
Braun High School is a Special Needs school for young people with emotional problems, supported with a clinical team.
I am just finishing another 'blessed' year with these students providing them a creative outlet to express their feelings, to explore something new, and to just have fun.  Besides offering a visual arts experience, I am also certified in Expressive Arts Therapy.
Students were able to explore acrylic paintings on canvas, watercolors and pastels.  Fused glass, and decorating sugar skulls. Each week they join me with enthusiasm and "what are we doing today, Marty".  I have many who are reluctant to participate for fear of failure, but because of the variety of materials they slowly begin to participate.  Glass art is always a mystery, as they have no control over the finished piece.  Sugar skulls are just plain fun, as they are working with bright colored icings, and sugar.
The environment provides a safe place for these kids, but it takes patience as you plow through their resistance.  After a year of absolutely not wanting to participate, X, a beautiful young woman began to open up and express her feelings.   She was given a pumpkin shape, and I asked her to write some poetry… when she handed the finished piece to me there was a look of anxiety in her face.  When I read her words, I held back the tears, as she began to express sexual abuse at an early age.
A clinical staff person was with me, and we were able to work together as we sat with her privately.  I expressed how it made me feel, that she did not deserve this and that we were there for her. The following week, she returned to the classroom, but asked if she could just write, but stay in the classroom.  (That was fine with me).
I am grateful for Youth in Arts as they first provided my services to this school.   Additional funding is coming in to continue this weekly class, but one hour a week for art is still not enough.
Arts Unite Us is Youth in Arts program tailored for students in school with special needs. Youth in Arts is the only consistent provider of arts for special education programs in Marin.
Thank you to the Buck Family Fund of the Marin Community Foundation for supporting this program.
Once again our fabulous cast of Youth in Arts Mentor Artists created art, community and opportunities for students in the Bay Area.  Students in 25 Special Day Classes, Pre-K to Post-Secondary, explored techniques in Visual Art, Music, Dance and Theater and shared their talents with the community through culminating events.
The Arts Unite Us program aims to make high quality arts opportunities accessible to students of all abilities and to build understanding and acceptance in our communities.  This year students from Redwood High School, Harding Elementary and Mount Tamalpais High School participated in collaborative residencies in which students from Special Day Classes and General Education classes worked together to create art.
Teachers in the Special Day Classes we serve value the program and what YIA Mentor Artists bring to their classroom:
"I am always so blown away and impressed with all the skills learned by our students during the YIA sessions, but am especially impressed with the leadership skills, creative thinking, self-expression and artistic expression that our students learn. The YIA artists and lessons bring out skills in my students that I don't always have the opportunity to bring out. Without the professional artists coming into our classes, we do not have the access to adults with these skills at our schools. Mainstream classes can be too impacted, and general education teachers are not always equipped to handle the needs of students with special needs in their classes. Having art activities that are tailored to meet our students needs enables all students to access curriculum and experiences that their general education peers receive." SDC Teacher Rachel Hughes, Terra Linda High School
Under the guidance of YIA Mentor Artist William Rossel, students from Katie Peter's Special Day class worked with students from the Band program and opened the music concert at Redwood High School with a percussion piece.  YIA Mentor Artist Melissa Briggs worked with Tam High's Julianna Rees to lead students from Michael Lovejoy's Special Day Class and Advanced Theater students in writing and performing an original play.  At Harding Elementary, YIA Mentor Artist Thomas Arndt lead a group of 40 students in writing, directing and performing a play that incorporated American Sign Language and featured students from Harding's HOH (Hard of Hearing) program.
ASL Translator Paul says this about the program at Harding:
"I have truly enjoyed being a part of The Arts Unite Us program and watching HOH students as well as other students in the classroom where I work grow in confidence in their class room participation. Maya, the primary HOH student I work with rarely spoke up in class. This changed dramatically after she started participating in the program and after taking on a significant speaking part in the play. It is amazing to see how her and other students confidence begin to soar so quickly!"
Each of these experiences have left a lasting impact on the students involved.  Many students from Special Day Classes and HOH programs performed in front of their peers for the first time.  Many of the General Education students had their first experience interacting with their peers who have abilities that are different than their own, gaining understanding and empathy.
This is what a few General Education students had to say about that experience:
"I loved participating in this project.  I thought it was a great way for me to learn about people who have different abilities.  I learned that they have the ability to create great things."

"It was really fun to meet and interact with the Special Ed class. They were so sweet and friendly. I learned that some things that are easy to me are difficult to other people."

"I had fun! I really enjoyed spending time with the [Special Ed] kids and would do it again.  I learned they often have interesting ways of thinking about things. It was interesting to hear their perspectives."

"I learned that everyone is unique in their own way. Not everyone does the same moves or talks frequently.  I feel like I've learned so much about interacting with other people."
As the creator and director of the Arts Unite Us program, I am so proud of the work we have done over the years and I have witnessed first hand the impacts that this program has had on students, teachers, artists and families.  This program has served as a catalyst for progress, acceptance, understanding and art making that will last a lifetime.
This year, as I step down as Program Director, I pass the torch over to my colleagues at Youth in Arts so that they may continue to promote accessible programming for everyone in our community.  I would like to thank every artist, teacher, administrator and student who has participated in this program.  And, thank you to those who have provided much needed funding for this program, including Thomas J Long Foundation, The Green Foundation, Marin Community Foundation, Green Foundation, Marin Charitable, and Italian Street Painting Marin.
This year, in the Arts Unite Us After-School Playwriting and Performance Group, we created an immensely powerful show about the need to celebrate diversity.  The story and themes were built over 15-weeks together of 2-hour sessions with a 38 member cast at Harding Elementary.  Once we had picked a topic and a frame (Time Travel and the Future), the students created short skits, which we used as fodder for our playwriting.
Starting in the bleak future, where it's the law that your favorite color is GRAY, "The Futuristas" soon find themselves chased by robot enforcers for admitting that they love BLUE.  They are saved in the nick
of time by "The Time Traveling Triplets," (played, ironically, NOT by the actual triplets who are in the class), and soon find themselves traveling through time (and space?) to learn their forgotten history.   Dinosaurs teach them lessons of bio-diversity, with the Spirits of the Really Past reminding The Futuristas "YOUR survival depends on YOUR diversity."  Then they are swept into an era of Social Justice Heroes, from Martin Luther King Jr. to Rosa Parks to Audre Lorde to I. King Jordan (the first deaf president of Gallaudet University).  For the I. King Jordan piece, we had Paul, our interpreter, work with a hearing student who
has a passion for American Sign Language.  For her piece, Paul switched from interpreting in ASL to speaking out loud, and it was a joy to see some of the non-hearing kids in the front row of the audience light up as the actors began to speak their language.  "DEAF PRESIDENT NOW!"
In the end, by celebrating diversity, the Futuristas were able to get people in the Present to commit to getting off their phones and connecting with each other in more direct ways.  When they finally returned to the future, April 1st (the day of our show) had become an international "Diversity Day!"
The process was one of community building and personal growth.  Many students in the class do not see themselves as actors or performers, but stepped up in big ways and let their voices be loud and proud.  After each performance, we had a "Talk-Back" session with the audience, inviting first the audience to give appreciations and then speak to what they learned from the show.  The actors then responded with how it felt to hear their work celebrated and it was clear that they all felt deeply proud of themselves for the work they had done.
We are excited to keep this program going, as it serves so many purposes from artistic expression to social-emotional skill building to team work.  I'm so proud of the Harding kids and wish them all a fabulous summer!
Thank you to the Thomas J Long Foundation and the Green Foundation for their continued support that makes this program possible!
By YIA Mentor Artist Sophie Cooper
By YIA Mentor Artist Sophie Cooper
Written by YIA Mentor Artist, Marty Meade
VSA Braun High School
Braun High School changed the Clinical component this year, and the approach to working with these "At Risk" Students is different.
These are Junior and Senior High School students who suffer from emotional problems.   Many have disruptive control issues, others suffer deep depression. My challenge, is how to connect with them as a group.  Those students with control issues need to be 'reeled' in, so that they do not sabotage those who suffer depression.
I prepared a variety of art projects that would not only help them to express what they cannot talk about, but those that would provide them to new skills:
Upside Drawing Exercise using Watercolors:  learning to see in a new way, and how to control a medium that is difficult.  These pieces were matted in pre-cut mats.
Canvas/Acrylic paintings:  using a medium that can be controlled. Some students used drafting tape to create straight lines and patterns.
Haunted House: a photograph of a classic haunted house evokes hidden feelings.  In this exercise, a child revealed that he was carrying a secret that he was NEVER going to reveal, and that he hadn't 'gotten sick' yet.  Another student was able to use rainbow colors behind the house to communicate about being bisexual… In each incident, I shared this information with the Clinical staff
Sugar Skulls:  We talk about Day of the Dead being a universal celebration at this time of year…
Remembering loved ones, and also to be thankful for the harvests that we receive at this time. We used Royal Icing and Candied sugar for this project. This project always brings up discussions about families, their beliefs, and members that have died.
Glass Fusing/Jewelry and Small Plates: I decided to do this project for two days, as not all of the students were sure of the results.  There was a particularly powerful breakthrough with a junior high school student named "Jerry".  He has been off the wall each week, unable to sit in my group with out disrupting. I met with the Director and Jerry before we began and told him that we were using material that would be potentially dangerous (cut glass), and asked if he thought he could control himself enough to participate.  He shrugged his shoulder and the Director indicated that that meant "Yes." When Jerry came in he joked a few minutes, but then asked me to show him how to cut glass. He watched closely, following the precise direction that he needed without cutting himself. A few minutes later, he was completely engaged, focused and creating two beautiful pieces. I called the Director to observe what was going on, as it had not happened all year, and suggested that he be given more hands-on experiences.
Moments like Jerry's breakthrough, or moments when a student confides in me and accepts the fact that I have to report it because "they mean something to me," is why I continue this work.
Thank you again for supporting me to do this valuable work.
Marty Meade
Older Entries »