Concluding an Arts Unite Us residency at Magnolia Park School, Youth in Arts Mentor Artist Julia James and her students used their last day together to finish a collaborative painting they had been working on for over six weeks. The project began early on in the residency as students experimented with various tools and materials. Over the ten-week program, oil pastels, tempera paint, watercolors, rollers and different tools were used to make new textures and colors.
The first few layers of the painting demonstrated some of the early skill-building that students participated in. As we learned more about what materials were available and how to use them, we built upon our initial work using adaptive mark-making tools. Each week we practiced fine a gross-motor movement and built fine arts skills in color mixing, paint application, and decision-making.
On the last day of class, we gathered together to reflect on the artwork and come up with a title based on what we saw in our painting. We discussed the colors we had chosen, and thought collectively about what our artwork made us think about, and how it made us feel. During our conversation and throughout the residency, we worked on building our social emotional core competencies by exercising our sharing, listening, decision-making and collaboration skills.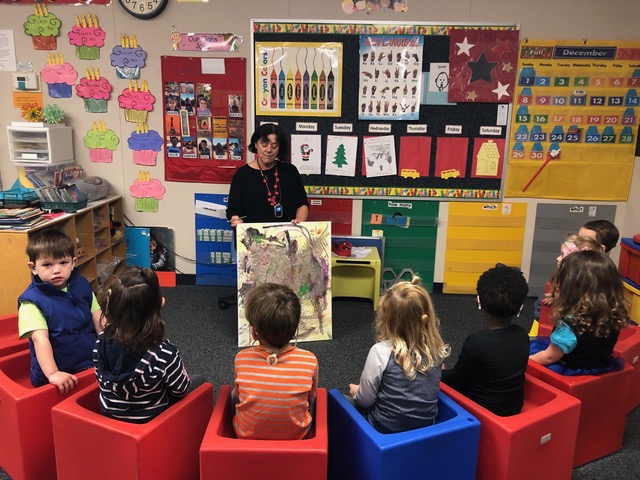 Together, we decided that our classroom painting would be called, "The Story of the Leaf". Can you see it too?
This program was made possible thanks to the generous support of our partners.
As part of this year's  Arts Unite Us residencies, mentor artist Julia James works with TK and Kindergarten students at Magnolia Park School through their early intervention program. Over the course of ten weeks, Julia explains, "we will be using a variety of adaptive art tools, materials and surfaces to explore alternative ways to make marks and actively create artworks." Key goals for the residency include personal expression, developing fine motor skills, and interpersonal communication and collaboration. Students will practice working with primary and secondary colors, using a broad assortment of materials to mix and apply paint.
As a final project for the residency, students will create an abstract collaborative painting that will be including in the Kennedy Center's national online VSA exhibition for 2019-20 representing San Rafael, CA, as well as the annual YIA Gallery exhibition, "Outside the Lines: Collaborative Art in Special Day Classrooms".
Thank you to the Kennedy Center, Marin Community Foundation, and Marin County Office of Education for making this program possible.
Mentor Artist Tracy Eastman says of her Arts Unite Us Residency at San Jose Middle School: "The students explored art in very creative ways!"
"Texture Collage Boards" —  Our first class project was all about textures. Each student was given contact paper with the adhesive side up (secured to white foam board) and choices of textured materials to add. We discussed what the materials felt like and described the feeling it gave, (i.e. soft, bumpy, rough, smooth, noisy/crunchy, hard, etc.). We then took oil pastels and drew across many of the textures. As the last step, we covered the remaining sticky areas with magic gold transfer foil. Some of the classes removed the white foam board from the back of the artwork and displayed them in the window, while others left them with the white background and hung them on the wall.
Our second class project was making stained glass window kites, which focused on creating shapes, working within borders and cutting with scissors. The students were given the same set up of contact paper placed on a white foam board, but with different instructions. Each student was given four strips of black construction paper to create a diamond shape on their contact paper and were given additional strips to add anywhere within the diamond's borders. Within the spaces of the black strips, the students placed square pieces of colored and patterned tissue paper to further decorate their kites. The students then smoothed on a top layer of contact paper to seal the pieces in place and then cut them out, staying on the outside of the black diamond borders. Most students needed assistance and/or adaptive scissors, which were provided by the classroom teachers. Lastly, the students taped a yarn tail with a tissue paper bow to complete their kites. All of the students held up their kites and pretended to fly them around the room before they were hung in the windows.
During this residency program, we also focused on creating various marks on watercolor paper with tempera watercolor cakes and an array of adaptive tools. The tools ranged from paint brushes with variously shaped handles, sponges, roller sponges, silicone stamps, etc. Prior to adding paint with the adaptive tools, the students drew on their paper with oil pastels to create resistance artwork. Together, we talked about oil and water resist each other and how the oil will fight with the watercolor to show through. The students improvised on making marks with different parts of each tool. One student even used the foam roller as a hammer and made small circles on his page. We used these skills to work on three-dimensional and two-dimensional projects throughout the residency.
These programs were made possible with support from the following sources:
Lisa Summers, a teaching poet and artist, worked with two special day classes at San Marin High School through our Arts Unite Us program to create work representing "spirit animals." In Brian Khoury's class, students practiced observational drawing skills including gestural drawings, calligraphic imagery using handmade bamboo pens and inks, and learned to make patterns. After sewing lessons, students cut out spirit animals in felt, sewed and stuffed them, then displayed sketches, patterns, and sewn animals in the front office of the school.
Lisa explored the idea of a spirit animal with Steve Lamott's class while they were reading Bless Me, Ultima by Rudolfo Anaya. In the novel, the curandera Ultima arrives with her spirit animal, the owl. Students considered what their protective spirit animal might be through lessons that ranged from gestural drawing to pen and ink to a group portrait project. In the second half of the residency, students prepared sketches for a triptych that displayed their spirit animal and elements of their "interior world" including landscapes, colors, and symbols that hold meaning for each of them. Students prepared and mixed colors, used collage techniques, and learned to transfer elements of their original sketches to the panels.
Lisa says, "I learned so much from working with Brian and Steve's students about process, and the relationship between creative exploration and identity development. Brian's students especially loved sharing their work with teachers and other San Marin students." Selected works will be on display at Youth In Arts during the July exhibition.
Through the California Department of Education's Student Support and Academic Enrichment (SSAE) grant that the Marin County Office of Education received, Youth in Arts was in multiple Special Day Classes this spring.
This Spring, Mentor Artist Lisa Summers worked with students at Hamilton Middle School to create multi-media projects based on the work of folk and vanguard artists through Youth in Arts' Arts Unite Us program. Students started with metallic pens and black gesso boards to assign lines to words they felt best described them. Over the next several weeks, students used a bird pattern to create work inspired by Indian Gond art, a form of painting that is practiced by one of the largest tribes in India with whom it shares its name. We began by looking at examples of Gond paintings, and then started our own artworks by incorporating our individual "lines" into the composition.
We built upon these skills with exercises such as contour line drawing of faces and animals, in which we used unconventional drawing and painting utensils like sticks and cotton swabs to experiment with pattern, color theory, composition, geometric shapes and shadows. Students learned about graphic artists like Peter Max and self-taught artist Kiyoshi Awazu by making posters using collage and oil pastel. As a reflection exercise, students were asked to consider advertisements that use visual language and to evaluate their own work by asking questions such as: "What makes this pop? What gives this line or shape emphasis? What attracts you to these colors and the design? What do you think the message is?"
We had lively discussions about their work, and students were encouraged to revise if they felt a particular work was not complete. Classroom teacher Ms. Moon and staff jumped into the collage project as well. Examples of student artwork were hung in the front office, and many of the artworks created throughout the residency will be on display at Youth In Arts during the summer exhibition, "Outside the Lines: Collaborative Art in Special Day Classrooms" opening on July 31st, 2019 at the YIA gallery.
Through the California Department of Education's Student Support and Academic Enrichment (SSAE) grant that the Marin County Office of Education received, Youth in Arts was in multiple Special Day Classes this spring.
In Steve Maldonado's class, Youth in Arts Mentor Artist Lisa Summers introduced students to a range of drawing and ink wash techniques to play with lines, shape, color, dimension, and perspective as part of this year's Arts Unite Us residency at College of Marin. Throughout this ten-week program, students explored different ways of seeing, starting with a variety of graphite pencils and crayons and working on gaining exposure to more and more visual arts materials. We considered questions like: "Which one feels comfortable in your hand? Which one feels heavy or awkward? What kinds of lines to different kinds of pencils and pens make? What happens when you draw a face or an object without lifting your pencil from the paper? How do seemingly random lines and shapes organized into an image?"
Next we played with oil pastels and an ink wash. Students used simple wooden blocks to assemble familiar structures that they could draw using observational drawing techniques. During this exercise, we considered the following questions: "Where were the shadows? How do we make something become three dimensional?"
Following the observational drawing lesson, we continued learning with lines and shapes. After looking at a few examples from American artist, cartoonist and puppeteer Wayne White, students drew horizon lines to explore perspective using block letters that spelled out words they chose. Some of the questions we asked were: "What are some words people might use to describe you?" Or, "What's your favorite pastime?"
Examples of student work from Steve's COM class will be on display at Youth In Arts during the summer exhibition, "Outside the Lines: Collaborative Art in Special Day Classrooms" opening on July 31st, 2019.
Through the California Department of Education's Student Support and Academic Enrichment (SSAE) grant that the Marin County Office of Education received, Youth in Arts was in multiple Special Day Classes this spring.
Shahrzad Khorsandi, a seasoned teacher and performer in Persian Dance, stepped out of her comfort zone into a new area this semester! She worked with two special day classes at Terra Linda High School through our Arts Unite Us program, teaching Persian dance and music. Though a bit nervous on the first day, she soon fit right in. With the help of the wonderful teachers at Terra Linda she engaged students, encouraging them to take part in playing percussive instruments and dancing and cheering each other on during the performances.
Shahrzad says of her experience, "Throughout the residency, we researched Persian culture, learning about various Persian instruments by watching videos of professional musicians playing the instruments". Shahrzad was even able to bring in several instruments for the kids to see, touch, and play with. She adds, "We looked at the map of Iran and talked about the various regions of the country, and learned a sampling of various dance styles from each region. In the following weeks each of the two classes focused on one particular region, learning the choreography. While learning the movement patterns, we were exposed to concepts like making floor patterns with circles and line, and directional cues like facing our partner, or facing back or forward, etc."
The residency culminated in a student performance. Parents were invited and both classes got to see each other perform. Shahrzad shares, "We had a great time and everyone did a wonderful job. It was interesting to see that some kids who seemed shy at first really hammed it up when faced with an audience. After the performance the audience was asked to join the performers in an improvisational social dance with Persian music. All in all, it was a hit!"
Thank you to VSA Kennedy Center, Marin County Office of Education, and the Marin Community Foundation for making these programs possible for our youth and community!
Youth in Art's Mentor Artist, Risa Dye lead creative movement with the students at the Early Childhood Intervention Center at Marindale School in a ten week residency as part of the Arts Unite Us Program.
In this residency, we started with the basic structure of the brain dance created by Anne Green Gilbert through songs and movement. As Risa got more familiar with the children, she adapted her program to fit their needs and applied her creative and theatrical touches.  Risa loosely explored dance concepts such as speed, levels and size through playful movement guiding songs. As the ten weeks progressed, the students became more and more familiar with her structure and expectations. They gained more ownership over the movement and everyone became more able to play within the structure of the songs.
Youth in Arts is excited to announce the opening of our new ART LAB at the YIA Gallery.
Located in the gallery's store, the ART LAB is open during regular Youth in Arts hours  – Monday through Friday, 11 a.m. to 4 p.m., and until 8pm during Downtown San Rafael's 2nd Friday Art Walks. It's free and open to the public for art-making activities linked to YIA exhibitions.
"In keeping with our mission of providing arts access to all learners, Youth in Arts is opening its doors to the community to explore its creativity," said Miko Lee, executive director of Youth in Arts. "We're providing free, hands-on art projects for all ages."
Children will enjoy kid-sized tables where they can make art and explore materials. Each exhibition will also feature the artwork of one of Youth in Arts' Mentor Artists. All artwork on view in the space will be for sale, with a portion of the proceeds benefiting Youth in Arts.
Suzanne Joyal's work is currently featured and coincides with Imagining Friendship the Walker Rezaian Creative HeArts exhibition of self portraits by kindergarteners and first graders from Laurel Dell Elementary School in San Rafael. The colorful paintings were created during their Fall residency with Youth in Arts. As part of the exhibit, Youth in Arts' staff have created a kid-sized interactive cardboard world with doors, tunnels and windows for exploring.
Both children and adults are welcome, but we kindly ask that all children be accompanied and supervised by their grownups.
Please come and visit us soon. Just look for our bright red wall!
Pre-K students in the Ready, Set, Grow! program at Rancho Elementary School explored various tools while painting to music. Part of a sensory-rich arts experience for students with Youth in Arts' Mentor Artist Cathy Bowman, this 10-week Rancho residency is part of the Arts Unite Us program.
Cathy says of her classes: "Recently, we painted to different pieces of music. We talked about how different music makes our bodies feel different things. First, we listened to  "Gymnopedie No. 1" by Erik Satie. Then we listened to a lively bit of Scott Joplin's "Maple Leaf Rag." Finally, we heard Duke Ellington play. It was fun to try different things to paint with, from creamy crayons to toothbrushes dipped in tempera paint. How does a sponge make marks differently from a roller? We used two colors of paint, pink and yellow-green, to explore mark making on sturdy mat board generous".
Through the California Department of Education's Student Support and Academic Enrichment (SSAE) Grant that Marin County Office of Education received, we are in multiple Special Day Classrooms. This residency is one of the programs that have benefitted from this collaboration.
Older Entries »