by YIA Mentor Artist Cynthia Pepper
What a wonderful day we had with the Terra Linda Special Day Classes led by Rachel and Abby. We had 9 adults assisting the 12 students on the final sharing day of my residency last week. I thought it would be nice to start our day off with a warm up to Bob Marley. The man! He cuts to the chase with his lyrics of "Is it love?". It must be love because everyone was smiling while we moved all our bodies in unison to get ready for the big dance called KUKU. It is from Guinea West Africa and it involves fishing with nets, sharing our catch, becoming fishes and having a full on party at the end. The African based cultural dance day eased in with our sharing of energy around the room both in clockwise and counter clockwise directions. We cleaned up the day with Keb Mo and Michael Jackson and my all time favorite get funky dance song "Green Onions" by Booker T. and The M.G.'s. It just takes it away. The paras and the aides all danced a solo in the middle of the room which they all accomplished with flair. Each wheelchair got a pirouette opportunity and the students crushed it with smiles. I love sharing with so many students the joy of movement and music. It seems like it keeps getting better the more we do it. Each time feels better than the next.
Thank you Abby and Rachel for always being so ready to rock. And thank you to our very generous supporters: 
By Mentor Artist Cathy Bowman
Students at the College of Marin have been working with clay, beads, buttons and paper foil to create beautiful mosaics inspired by the work of Iranian artist Monir Shahroudy Farmanfarmaian.  Farmanfarmaian forms 3-dimensional works using pieces of mirror cut into geometric shapes.
Using a Kennedy Center lesson titled "Looking in the Mirror," Mentor Artist Cathy Bowman discussed the use of mosaics in art and showed students a short film about Farmanfarmaian's work. Students in the special day class started with lumps of white Model Magic, a nonsticky, nontoxic clay. They learned how to roll, twist and manipulate the clay, and how it softens the more you work with it. Some artists made abstract forms, while others enthusiastically used thumbs and fingers to form bowls, baskets and other objects. Students were encouraged to consider how they felt about making art and what they wanted to say. If their bowls were "wishing bowls," for example, what were their dreams? The class also talked about how mirrors reflect and how the word "reflection" can refer to a physical image as well as deep contemplation.
One artist spoke about about kindness and joy. Others saw their art as gifts. A woman made a bowl for her father "because he is kind to me;" a man made a tiny basket for his aunt expecting a baby.
Instead of mirrors, artists used silver Origami paper, gold foil and other brightly colored paper that was cut into geometric shapes. Artists also used recycled beads and buttons. They were encouraged to think about making patterns in their work, considering both the negative and positive space. It was interesting to consider how different art feels when a single color and material is used v.s. when multiple colors, textures and shapes are used.
This VSA program is provided in 2017-2018 under a contract with the John F. Kennedy Center for the Performing Arts.
Students at the Short School in San Rafael experimented with paint, paper and various materials as part of a grant from the Kennedy Center. Using a lesson plan titled "Motivated to Create … HARMONY," Mentor Artist Cathy Bowman helped students translate jazz into paint.
The purpose of the lesson was to give students the experience of drawing on the inspiration of sounds as a foundation for their art. Working individually and in pairs, they listened to excerpts from "West Side Story" by composer and conductor Leonard Bernstein. Key vocabulary artists reviewed included "harmony," "tone" and "abstract."  Using tempera paint, paper and canvas they listened, and painted what they heard. We considered how sound affects our feelings. Students were given an array of materials to use, including toothbrushes, corks, rollers, plastic packing material and forks. They practiced making marks, covering marks and making more marks. Working together was a good lesson in collaboration and respect … Is it ok to cover another artists' marks?
Working in pairs allowed students to create multiple layers of color.
In the final session artists were given an 18 by 24 inch canvas. They tore up their smaller works on paper and reassembled the pieces into a collage on the canvas. They applied more paint and color while listening to music. Working outside for the final painting freed the young artists to move in ways that can't happen in a carpeted classroom. 
The last artist to work on the painting added a tiny touch of black, noting that she was thinking about her favorite fruit – blackberries. Can you find her mark?
Thank you to following funders for helping to make this program happen: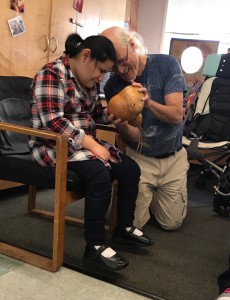 Mentor Artist Ian Dogole has been making music with the students in Kim Cochrane's and Katie Peter's classes at Redwood High School.
Ian Dogole's Thoughts:
"These have been profound and unforgettable experiences. One lasting impression will be the heroic commitment that the educators, nurses and aids make to each one of these students and the exuberance and joy that accompany each positive outcome.
In Kim Cochrane's class, the students have very limited mobility. I had some trepidation prior to my first class as to whether I could have a positive impact with them. After 7 classes, my perspective has undergone a complete transformation! I feel deely connected to these students and when a breakthrough occurs … even at the most subtle level … there is a celebratory feeling in the classroom and I feel so uplifted. Kim and all of the nurses and aids have been unbelievably supportive and appreciative and I am deeply grateful. From my perspective, they are all heroes for their devotion to these students and for their consistently positive attitude.
Katie Peter's class presents a different type of challenge — her students are mobile and capable of holding and playing percussion instruments to varying degrees. The goal for me is to attempt to keep them engaged and look for ways to raise the bar for them in the most supportive and fun way that I can. Like Kim's class, Katie and her support staff have been quite helpful in this endeavor. We did experience mini-breakthroughs with a few students this past week using repeated spoken words to convey specific rhythms. Quite powerful.
Many thanks to Youth In Arts for offering me this opportunity. It has been revelatory."
Thanks to the Buck Family Fund of MCF and Marin Charitable for making this program possible.
Inspired by the paintings of artist Jasper Johns, students at Oak Hill school created their own numerical works of art. Using large stencils made by Mentor Artist Cathy Bowman, they traced numbers 0 through 9. Nearly 30 students worked on the collaborative project. Some created a single number, while others made several. In the end there were 70 numbers – 7 sets of 0 through 9.
Students enjoyed working with a familiar subject matter, and the straight and curved sides of the stencils gave them a solid framework for drawing. Once the numbers were stenciled onto watercolor paper, they used oil pastels and watercolors to explore pattern, color and shape. They were encouraged to look at the entire page and decide where to apply the pastel, knowing that the pastel would "resist" the watercolor that came later. Some students worked entirely with pastels, giving their numbers bright, bold lines and shapes. Others used mostly paint, preferring to create numbers with soft edges. The project was a wonderful opportunity for young artists to experiment with unfamiliar materials, including water-soluble graphite. For some, it was a chance to practice touching and using pastels that were freed long ago from their paper sleeves. The pebbled surface of the heavy watercolor paper was a satisfying  and sturdy surface on which to create. The project was also a chance for artists to practice thoughtful watercolor techniques and gentle brush motion.
When the paintings were finished, we looked at the stencils. After being handled, touched and scribbled on by numerous students, the stencils had become works of art. With each mark and splotch of paint that remained, the numbers told a story far beyond what ended up on paper.
Thank you to the following for helping to make this program happen:
This year Youth in Arts received the Childrens Visual Art Discovery grant from the Kennedy Center. As part of that grant, every student participating in the program will be participating in the Kennedy Center's digital art exhibit, with the potential for their art to be chosen to travel to the Kennedy Center and to be exhibited there for an entire year!
This program comes with a set of lessons which have engaged mentor artists in ideas new and remembered. Julia James chose to offer her students in Cindy Evan's middle school class "Motivated to Create…Harmony", a lesson utilizing music as you create. First, the students listened to music featuring just one instrument as they created on their own.
Then they worked in pairs as they listened to music with two instruments. Finally, the entire class worked together as they listened to a full orchestra.
Julia introduced the students to a wide variety of materials and media to create. We can see all of their many techniques in the finished canvas: Stamped textures, paint with tempera cakes, printing with ink on rollers, bubble wrap and other textures. Students made every choice of design and tool and practiced gross and fine motor skills as they rolled, brushed, stenciled, drew and painted to music.
This VSA program is provided in 2017-2018 under a contract with the John F. Kennedy Center for the Performing Arts. This program is also supported by the Buck Family Foundation and Marin Charitable.
(By Mentor Artist Marty Meade, who has been working with the students of Compass Academy, formerly Braun, for 11 years.)
Compass Academy, formally known as Braun High School, has moved to a larger campus. The new building is providing me with an area that is five times bigger than before.  It means that the students can spread out, my materials are organized for their use, and they now have storage area for their weekly projects.
Besides the move, there is also an additional group of younger students who range in age from 7 to 12 year olds.  They are here because of behavior problems in other schools.
I have given every child their own journal so that they can express their feelings, or write about their experience that day.  The new group is challenging, but with great support I have had the opportunity to give the students an opportunity to try new materials.
Students have been able to work with acrylic paints on canvas, watercolor paper, marbling, edible art (sugar skulls),  decorating masks, origami, and fused glass pieces.
I want to share a story about "Brandon"… a junior high school boy from Guatemala.  When I first met him he expressed a lot of anxiety about the possibility of his father being deported.  He became the class clown and often would get attention by inappropriate behavior (ie: sexual drawings).   I began to notice that his drawings were typical of a 4 year old child and shared this with his therapist and indicated that they could use it for reference to get the additional help that he needed.
One day, after I brought bright colored paper, I found an Origami crane on the table, and the therapist indicated that "Brandon" had made it.  I was 'blown away', and expressed how complicated this was and how could we reach him more through origami. I asked his homeroom teacher if he could find something on YouTube on "1000 cranes" and share with the class before I got there the next week.
So the next week, I came in loaded with origami paper and asked "Brandon" if he could come into the high school class and show the others how to fold cranes.   "Brandon' came in and proudly demonstrated the folding, with some of the kids giving him full attention, and others frustrated by the directions.  I was able to leave paper in the room for them to use while I was away.  Each week I would bring in more paper, and find complicated shapes filling the area.  We all watched "Brandon" change before our eyes. One teacher said that he seemed taller. I am thrilled that my hunch worked, and will never look at another crane in the same way.
I am happy that I have a year contract as it gives me a chance to really connect with these students. Thank you to the Marin County Office of Education, Buck Family Fund, and the Kennedy Center for allowing me to do this work.
by Mentor Artist Cynthia Pepper
The Terra Linda Special Day Dance Class taught by Rachel Hughes got a full dose of The Sleeping Beauty this week. Well, maybe not a full dose but a tiny dose that was so meaningful.
I decided it was time for the students to learn my favorite section from The Sleeping Beauty by the composer Tchaikovsky to start off the holiday season. Nutcracker will just have to wait in line.
We are doing a dance where the lead sleeps for 100 years, which seems more like teenager style. The dancers learned the swinging shape-oriented choreography of the Garland Dance with full excitement. It's a fun dance and the music says "swing swing swing" throughout each stanza. That is exactly what we did every chance we could find. Side to side, and even more swinging after we created shapes with the hula hoops.
The hoops assist in mimicking the feel of holding flower garlands like a halo above our heads. It really helped students to use their arms in a new and fun way.
The last I heard, the dancers started to do ballet in full force with the guidance of Rachel Hughes who is a fine dancer herself. The dancers went on to YouTube and started to absorb ballet. The new bun-head groupies pirouetted a fresh pathway to ballet bliss. Ballet is worth it–it's fun, historical, challenging and most of all it feels so much like well…dancing!
Thank you to the Buck Family Fund of MCF and to Marin Charitable for supporting this work.
Mentor Artist Hannah Dworkin writes about her work in Glenwood Elementary's Special Day Classroom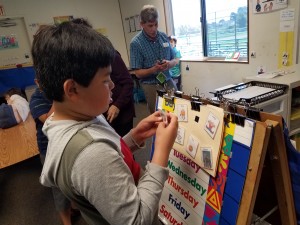 We had a wonderful 10th year together in Rockne Beeman's upper elementary special day class, and this year we had an extra special outcome with one of our students.  This student, who I will call Leah, has minimal language skills and does not read, but she responds incredibly well to rhythm.  Through a series of scaffolded rhythm based activities, Leah was able to identify, name and perform rhythmic phrases. She and her classmates also really loved our new song choice board pictured below.
The steps that lead to her breakthrough are as follows: aurel exercises with rhythmic phrases familiar to the students; visuals that integrate music notation, pictures that represent the previous familiar words and the words written out; move to color coded visuals with only the music notation.
The familiar words I use are "Pepperoni" for 4 sixteenth notes, "pizza" for two eighth notes, "pie" for one quarter note, and "cheese" for one half note.
This year we were also visited by students from mainstream classes through a reverse integration model.  It is amazing to see the increased engagement of the students in the special day class when their peers from other classes join them.  This year we noted that they participated with greater depth, were more willing to incorporate dances and displayed fewer behaviors when these children joined our music and dance sessions.
Thank you to the Buck Family Fund of the Marin Community Foundation for supporting this program.
Youth in Arts is thrilled to announce that we have just completed a three-year strategic plan focused on intensifying the impact of our work to ensure all our students receive the full benefits we know arts learning can provide.
The vision behind this new plan is that youth of every background and ability will have the creative skills, compassion, confidence and resilience to share their voices and achieve their goals.
Our work will be guided by key values, reaffirmed in this planning process:
We believe in INCLUSION, that differences are beautiful, and that students of all abilities and backgrounds deserve an education in the arts.
We believe in CELEBRATING young people as artists, knowing one impact of the arts is bringing joy to human lives.
We believe in EMPOWERING youth to share their stories and express their beliefs freely and effectively through music, dance, visual arts, theater and new media.
We believe in ARTISTS of all ages, endorsing a mentorship approach to arts education that connects students with professional working artists, skilled in their art forms and effective in their teaching.
A Focus on Intensive Arts
In our arts residencies in local schools, we are adding new key elements that will now be a part of every program, intensifying the impact on students:
Sequential Instruction  – all residencies will be a minimum of 8 sessions, providing artists a chance to lead students through a meaningful arts learning sequence;
Family Art Night - an intergenerational, hands-on arts exploration led by our YIA teaching artists at your school;
Culminating Student Showcase – a final performance or gallery will celebrate  young artists as they share their arts learning.
We believe that this approach of 8+ week residencies supplemented with events that include family members in children's arts learning will provide a quality educational experience that will not only teach children specific art skills but also foster confidence and self-expression.
Assemblies and Performances
Youth in Arts has historically provided 45-minute performances for students, first through a mainstage series and more recently through our school "Assembly" program. In order to have the kind of impact on students we hope to achieve, we are now connecting any performance we provide to additional arts learning opportunities in the classroom. This means that we may provide schoolwide performances as part of a longer site residency, or in conjunction with curriculum-linked workshops, but we will no longer be providing "stand alone" Assemblies where a short performance is our artists' only interaction with students.
We are in the process of developing a series of performances enhanced with classroom workshops linked to social science and language arts curriculum. While we intend this model especially for middle school sites, we would be happy to talk to elementary schools that are interested in this approach to arts learning.
Intensive Arts for Teens and Model Projects
Youth in Arts will also continue to offer our "Intensive Arts Mentorship" (I AM) programs for teens, including `Til Dawn A Cappella music program and C Street Project visual arts. We will continue to showcase youth voices through exhibits at YIA Gallery, and we are developing a new YIA Theater Ensemble to provide opportunities in a new genre.
We remain strong in our commitment to serving students of all abilities and will continue and hopefully eventually expand  Arts Unite Us residencies serving special education classrooms. We also plan to further refine our model work in creating inclusive arts residencies that bring together students of differing abilities through shared arts experiences.
And we will continue to develop unique program models we have been piloting at some of our closest partner schools. These include piloting a K-8th grade sequential arts program starting the Walker Rezaian Creative HeArts Kindergarten Art Program and "Architecture in Schools," along with several other promising models, including both direct classroom instruction projects and professional development for educators.
Our website will be updated soon to reflect these changes. Meanwhile should you have any questions about specific programs coming to your school, please contact Morgan Schauffler.
If you have questions about the strategic planning process or overall vision for Youth in Arts, contact Executive Director Miko Lee.
Older Entries »