Youth in Arts is excited to announce the opening of our new ART LAB at the YIA Gallery.
Located in the gallery's store, the ART LAB is open during regular Youth in Arts hours  – Monday through Friday, 11 a.m. to 4 p.m., and until 8pm during Downtown San Rafael's 2nd Friday Art Walks. It's free and open to the public for art-making activities linked to YIA exhibitions.
"In keeping with our mission of providing arts access to all learners, Youth in Arts is opening its doors to the community to explore its creativity," said Miko Lee, executive director of Youth in Arts. "We're providing free, hands-on art projects for all ages."
Children will enjoy kid-sized tables where they can make art and explore materials. Each exhibition will also feature the artwork of one of Youth in Arts' Mentor Artists. All artwork on view in the space will be for sale, with a portion of the proceeds benefiting Youth in Arts.
Suzanne Joyal's work is currently featured and coincides with Imagining Friendship the Walker Rezaian Creative HeArts exhibition of self portraits by kindergarteners and first graders from Laurel Dell Elementary School in San Rafael. The colorful paintings were created during their Fall residency with Youth in Arts. As part of the exhibit, Youth in Arts' staff have created a kid-sized interactive cardboard world with doors, tunnels and windows for exploring.
Both children and adults are welcome, but we kindly ask that all children be accompanied and supervised by their grownups.
Please come and visit us soon. Just look for our bright red wall!
Join Mentor Artist Cathy Bowman for this unique opportunity to not only learn the art of street painting, but to add your voice to the 10′ x 14′ square young artists will be creating during the Italian Street Painting Marin Festival in Downtown San Rafael, June 23 & 24. Learn a new art form, meet professional artists, and work side-by side for the weekend of June 23 and 24.
This year's theme is "The wonders of Time and Space". Scholarships are available, we would love to have you join us. email suzanne@youthinarts.org, or stop by 917 C Street. Open until 8 tonight, and 11-4 all next week.
By YIA Mentor Artist Tracy Eastman
This past winter I had the privilege of working with four fun and friendly San Rafael High School students on creating signage for the Youth in Arts C Street studio and gallery.  The objective of the project was to design and create an eye-catching sign that grabs the attention of the public and invites them to come into the Youth in Arts studio to view and even create art.
The students first brainstormed how to visually portray what YIA is about (i.e. accessible art programs revolving around music, performing, and visual arts.)  They proposed various ideas and discussed the effectiveness of using certain visuals.    The students continued editing their ideas further until they had collaborated a harmonious design and composition.
Not having much experience using paints, the students spent some time familiarizing themselves with basic painting techniques before applying paint to the final surface.  We decided to paint the sign's design on a canvas using acrylic paints and then have the image digitally reproduced with the Youth in Arts logo printed directly onto a sandwich board sign to be placed outside the YIA studio.
The final design of the sign (prior to the digital reproduction) was comprised of colorful music notes dripping with wet paint, theater masks, a violin with a pencil for a bow, a paint-filled drum being played with paintbrushes, and vibrant piano keys atop a pastel rainbow background.  The bold lines and pops of color will definitely grab the attention of the viewers and draw them in to learn more.  The art students fully enjoyed learning what it was like to design and paint like artists, wearing their smocks, using traditional painting palettes and techniques, and thoughtfully orchestrating their physical working positions to allow all four artists to work on the same canvas simultaneously.
On February 20th, as a special program during the "Rising Stars: 27th Annual Marin High School Art Show," Youth in Arts hosted a panel discussion on "How to Pursue Art as a Passion and Profession." We are so grateful to our panelists for sharing their experience and professional and life lessons with students and have received their permission to share some of their presentation materials here with those of you not able to attend.
Jane Baldwin spoke of her activism through photography, documenting the lives of the people of the Omo River Valley in Ethiopia.
This is a project that has evolved for Jane over a decade and she emphasized to young artists interested in documentary work and activism that you don't need to know what your project will be when you set out to find it. She first visited the Omo River Valley to just take photographs, and returned many times in ten years to not only take her photographs, but to also record the stories of the women from the region. This as turned into work on women's rights, clean water, and international education programs. She has exhibited her photographs and the stories she recorded in Sonoma, Korea, and hopefully in Milan Italy next year. Jane says to be open to new experiences and let them take you down new and unexpected paths.
Kanna Aoki, a painter who lives with her family in the East Bay talked about different ways she had put her college art training to use over the course of her career.
Kanna showed images of her work as a commercial artist, which she did both under the direction of commercial art directors (i.e. creating a specific image for a specific product) and "on spec" (developing graphics or patterns that companies might later decide to use in their product design or promotions). After starting her family, Kanna found the deadline-centric world of commercial art was no longer a match for her life. She grew her career as a painter, developing relationships with galleries that now show and sell her works–she also works on commission, creating paintings of specific views or images for clients. Kanna suggested students keep an eye out for galleries (or restaurants or other venues that show and sell art) that seem like they would be a match for your media and creative approach. Then do your research! Look them up online, reach out via email, try to make an appointment to show them your portfolio. "It's important to remember that gallery staff are usually very busy–the gallery is where they work, meeting with clients, handling sales. You can't walk in and expect to  talk with them. You need to make an appointment."
Steven Polacco, Associate Professor, Graphic Arts, Dominican University presented on "Five Things You Must Do When Applying To Art Colleges".
Steven emphasized that students should do their research and find multiple schools to apply to that might meet their needs. The internet is great for research he noted but also urged students to "Get out there! Go visit these places and see what they are like in person." He mentioned that if you meet with faculty on your visit, it's a good idea to have some images of your work (i.e. on a phone or similar) that you can show them informally if you have a chance to do that. Not all faculty will take a look, but some will and it's a good chance to get early feedback on your portfolio. When it comes to the portfolio itself, Steven urged students to pull together work that represents you and your artistic direction. He mentioned that sometimes you will want to "tweak" your portfolio for one school or another (certainly you need to meet whatever requirements they have). But don't choose work to try to please this admissions committee or that one. Choose work that represents who you are as an artist and what you have to say. And, says Steven, "Have someone look at it!" He encouraged students to get lots of feedback before their applications are due, to make sure they are representing their work the way they want to. Finally Steven recommended looking at off-campus opportunities, programs in the community, summer programs, etc. Many art colleges have "pre-college" programs that can give you a sense of whether an art college will be a good next step for you.
Barry Beach, a teacher at Marin Academy, exhibiting sculptor and private college admissions consultant showed some "Do's and Dont's" for portfolio images you may use online or in other formats (link to examples here).
Some advice–keep the background free of distractions and as neutral as possible. Pay attention to how you crop your images to put your work front and center. Don't be afraid to use photo editing tools to create a good, crisp image–while you don't want to actually alter the underlying image, it's definitely not "cheating" to adjust digital parameters (levels, brightness, shadows, etc.) to get a clearer image of your work. Barry also advised students keep and carry a sketchbook so that you are always creating images that may evolve into pieces in your portfolio.
Jay Daniel, owner of Black Cat photography (who also generously photographed work  for students attending the workshop) spoke about  his work as a technician creating high quality images for artists and about his experience in the art field at large.
Jay laid out elements to pay attention to when photographing work (PDF here) and went over a photography set-up that he said works for "75 to 90% of any artwork you might need to photograph" (PDF here). He also talked about how working artists need to balance creativity and financial sustainability. It's a tiny percentage of artists, he noted, that can create absolute anything they want, however and whenever they want, and have that work out financially for them. You need to explore all your options and figure out what will work well for you. Will you be happy adjusting your work to an art director's requests or creating work on a deadline that absolutely can't be missed? Can you find someone who wants to buy the kind of work you like to create? He mentioned that when he was teaching a portfolio course in an art college, he  required students to also create a business plan, something many of them resisted but that he felt was essential. At the same time he asked a "very successful artist friend" he works with what her advice for students would be and she said young artists need to balance the business side of art with their creativity and keep their practice "joyful."
Finally architect, designer and educator Shirl Buss, walked students down the curving and creative pathway from a childhood love of building things with her father, to college at UCLA, to establishing a nonprofit around women in construction, to architecture school and her current work in both design and education.
Shirl talked with students about how the same ideas can come up again and again in different ways, creating new turns in the  pathway–in Shirl's case finding herself in a man's world and deciding what to do about that, first in construction and later in architecture school; her love of teaching children of all ages throughout all the phases of her career; her enthusiasm for power tools (and especially for teaching kids to build with them!) and her interest in design and how humans shape the world around us. She encouraged students to be open and to explore and find their own creative pathways forward, which she is confident they will do!
We are so grateful to all our panelists and the California Arts Council for helping to make this happen–thank you!
Youth in Arts is thrilled to announce that we have just completed a three-year strategic plan focused on intensifying the impact of our work to ensure all our students receive the full benefits we know arts learning can provide.
The vision behind this new plan is that youth of every background and ability will have the creative skills, compassion, confidence and resilience to share their voices and achieve their goals.
Our work will be guided by key values, reaffirmed in this planning process:
We believe in INCLUSION, that differences are beautiful, and that students of all abilities and backgrounds deserve an education in the arts.
We believe in CELEBRATING young people as artists, knowing one impact of the arts is bringing joy to human lives.
We believe in EMPOWERING youth to share their stories and express their beliefs freely and effectively through music, dance, visual arts, theater and new media.
We believe in ARTISTS of all ages, endorsing a mentorship approach to arts education that connects students with professional working artists, skilled in their art forms and effective in their teaching.
A Focus on Intensive Arts
In our arts residencies in local schools, we are adding new key elements that will now be a part of every program, intensifying the impact on students:
Sequential Instruction  – all residencies will be a minimum of 8 sessions, providing artists a chance to lead students through a meaningful arts learning sequence;
Family Art Night – an intergenerational, hands-on arts exploration led by our YIA teaching artists at your school;
Culminating Student Showcase – a final performance or gallery will celebrate  young artists as they share their arts learning.
We believe that this approach of 8+ week residencies supplemented with events that include family members in children's arts learning will provide a quality educational experience that will not only teach children specific art skills but also foster confidence and self-expression.
Assemblies and Performances
Youth in Arts has historically provided 45-minute performances for students, first through a mainstage series and more recently through our school "Assembly" program. In order to have the kind of impact on students we hope to achieve, we are now connecting any performance we provide to additional arts learning opportunities in the classroom. This means that we may provide schoolwide performances as part of a longer site residency, or in conjunction with curriculum-linked workshops, but we will no longer be providing "stand alone" Assemblies where a short performance is our artists' only interaction with students.
We are in the process of developing a series of performances enhanced with classroom workshops linked to social science and language arts curriculum. While we intend this model especially for middle school sites, we would be happy to talk to elementary schools that are interested in this approach to arts learning.
Intensive Arts for Teens and Model Projects
Youth in Arts will also continue to offer our "Intensive Arts Mentorship" (I AM) programs for teens, including `Til Dawn A Cappella music program and C Street Project visual arts. We will continue to showcase youth voices through exhibits at YIA Gallery, and we are developing a new YIA Theater Ensemble to provide opportunities in a new genre.
We remain strong in our commitment to serving students of all abilities and will continue and hopefully eventually expand  Arts Unite Us residencies serving special education classrooms. We also plan to further refine our model work in creating inclusive arts residencies that bring together students of differing abilities through shared arts experiences.
And we will continue to develop unique program models we have been piloting at some of our closest partner schools. These include piloting a K-8th grade sequential arts program starting the Walker Rezaian Creative HeArts Kindergarten Art Program and "Architecture in Schools," along with several other promising models, including both direct classroom instruction projects and professional development for educators.
Our website will be updated soon to reflect these changes. Meanwhile should you have any questions about specific programs coming to your school, please contact Morgan Schauffler.
If you have questions about the strategic planning process or overall vision for Youth in Arts, contact Executive Director Miko Lee.
We are getting ready for our 45th Anniversary Celebration, "The Imagination Celebration" on April 1, 2016. For our decorations, and to recognize our history, Mentor Artist Extraordinare Suzanne Joyal has envisioned an 8′ x 36′ sepia toned timeline mural.
Eight wonderful mother daughter teams from the National Charity League Marin Chapter joined us on November 21 to create sepia-toned backdrops for the timeline.
Laughter, creativity and exploration abounded in the YIA Studio space. We thank the energetic members of NCL for spending their Saturday with us and helping us to honor our history.
Check out the gallery of photos below.  And remember this is only the beginning–we will be adding events and images to our timeline and =welcoming more volunteers to participate, all leading up to our April 1 unveiling! Stay tuned!
Creative young artists from Bahia Vista Elementary School in San Rafael, their families, teachers and friends filled Youth in Art's gallery opening night, April 10th in celebration of the second annual "Imagining Friendship" Art Exhibit.
Some 145 people experienced the kid-friendly art world that showcased work created by students in the Walker Rezaian Creative HeArts Kindergarten Arts program at Bahia Vista Elementary.
Inspired young artists, their siblings and friends explored a castle art structure, crawled through a dinosaur tunnel, played interactive tic-tac-toe, created personalized books. These cardboard creations incorporating drawings, paintings and sculptures were inspired by the kids' creativity and imagination.
The kindergartners shared their lively watercolor self-portraits and welcomed their families into their world of creativity and wonder.
Mentor Artist Suzanne Joyal said, "The weekly art classes leading up to tonight's art opening are magical. I love seeing these young artists blossom and grow. Seeing smiles on the faces of these kids and their proud parents is the perfect culmination of three months of creativity, sharing and learning."
Bahia Vista kindergarten teacher Tara Pauley said, "Wednesday's have been my student's favorite day of the week. They looked forward to exploring ideas about their feelings and friendships through their artwork and were always excited to see what fun and creative art projects Ms. Suzanne would bring into the classroom."
The Rezaian family, surrounded by the young Bahia Vista artists and their creations, experienced first hand the magical results their generosity. The memory of their son Walker lives in the artistry and imagination these students created.
This celebration of the brilliance of the Bahia Vista children's art could not happen without the generous support of Walker's family. Their gift brings families together and symbolizes the importance of art within a community. Bahia Vista School is the second recipient of the Walker Rezaian Creative HeArts Fund, following last year's Loma Verde Elementary School in San Rafael.
The Walker Rezaian Creative HeArts Kindergarten Arts Program was created through a partnership between Youth in Arts and the Walker Rezaian Creative HeArts Fund, celebrating 5-year-old Walker Rezaian's life and love for art. Youth in Arts worked with his family to create a kindergarten visual arts program focused on the theme of friendship. The Fund has provided all Bahia Vista kindergartners this year with professional instruction in the visual arts, along with workshops for parents and teachers.
Bahia Vista was selected for this program through a competitive application process. Click here for information about applying for the 2015-16 academic year.
Art inspires: Help young artists learn to share their vision and voices through the arts. Give today.
Special thanks to Peter Rodgers for capturing the photographs and joy of the evening
The group of teens in the C Street Project have been meeting every Thursday night since October developing their craft in visual and performing arts; led by Theatre  Artist Melissa Briggs and Visual Artist Suzanne Joyal. Connecting to the Creative San Rafael project, students decided to use the quote by Isabel Allende "Today's girls are tomorrow's women—and leaders" to inspire their work in both visual arts and in performance.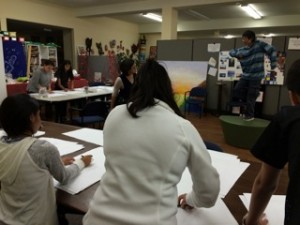 Each student is developing a very personal monologue inspired by their own life and where tomorrow will take them inspired by Isabel's quote. They are learning theater skills to devise & perform their monologues for an audience, and using the monologue to inspire their visual art. Students are learning a variety of drawing and painting techniques that they can use as they develop their murals for the A Street Garage. (Their murals will wrap the 8 pillars facing C Street!)
Last night in rehearsals students worked especially carefully on "the moment before": How do you begin a performance on stage? Who are you speaking to? What do you want people to know? What is your objective? What is in your way? What actions do you take to overcome those obstacles? How do you capture an audiences attention and hold it. Students spent the evening rehearsing how to begin their monologues, where to look, how to breathe, they even incorporated stage combat technique in a pratfall that kicks off one student's piece. With targeted directing, personal attention and a few months of solid 'elements of theatre' instruction even the most timid members of the group rocked the stage in rehearsal.


Quotes from the evening:
"It's like you found a treasure box with a key and unlocked it"; "Go away food, but not too far"(a life from the comedic monologue by the picky eater), "I don't need permission to live my life"; "Stop being racist" (for the quiet girl who showed her rage to the racist PE teacher); "Give me answers" (for the quiet girl facing many issues in her early teen years)
Student's reflection vocabulary: Transformation, Sweat, Deep, Intense, Gestures, Empowered, Growing in Confidence, Conscience, WHY?
For information about the audition/portfolio review to become a part of C Street Project. CLICK HERE.
On Friday night we gathered here at Youth in Arts to celebrate the opening of the 5th Annual Haitian Dance, Music & Arts Festival.  YIA Mentor Artist Djenane Saint Juste and her ensemble Afoutayi are joining with stellar artists visiting from Haiti for this beautiful celebration of Haitian culture.  We joined in song, dance and celebration in Haitian style.  It was a unique opportunity to participate in cultural traditions with our visiting guests, but you can still catch up with them during the remainder of their festival!
The Festival will feature master dance classes, a Haitian market, food, lectures, and Lakansyel's premiere, which will run October 10th, 11th & 12th, 2014 at Dance Mission Theater in San Francisco & Marinwood community Center in San Rafael.  Find more information on Afoutayi's Facebook page.
During the festival Lakansyel will engage the audience through dance, percussion, song, and storytelling and highlight the beautiful mosaic that is Haitian tradition and pay homage to all of the peoples that contributed to the formation of today's Haiti.
Your school can also travel to Haiti or anywhere in the world through our Travel the World program which includes assemblies, workshops, residencies and Passport events!
Ayibobo!
Special thanks to photographer Ron Greene for capturing the fun evening.
Upcoming events for Lakansyel:
Dance Mission Theater (http://www.dancemission.com/)
3316 24th St, San Francisco, CA 94110
1)     Friday October 10th
·         8pm show (cost $20 adv. $25 door)
2)      Saturday October 11th
·         4pm-6pm Master Haitian Dance class (cost $15)
·         8pm show (cost $20 adv. $25 door)
Marinwood Community Center (http://www.marinwood.org/)
775 Miller Creek Rd, San Rafael, CA 94903
1)     Sunday October 12th
·         3pm-8pm Family event ( Cost $5/ Children under 6, Free)
·         Activity: Dance-music classes & Performance/ Haitian Market/ Games/ Storytelling.
Bay Area author/illustrator Elisa Kleven will read from her award-winning books and we'll follow up with a sing-along from Youth in Arts' production of The Paper Princess and the Piñata.
December 17, 11 am
Youth in Arts
917 C St. (between 3rd & 4th)
While you're here, you can enjoy ¡Vuela! Paper Princess, an interactive exhibition of Elisa's work with scenery and costumes from the Youth in Arts show. You can also shop in our YIA Store, featuring handmade gifts for the holidays.
If you'd also like to enjoy cocoa and cookies with Elisa and create beautiful collages right alongside her in our Studio, we are holding a special RSVP-only event for YIA donors. Email us for more information.
Older Entries »