Julia Chigamba and the Chinyakare Ensemble, a family of musicians, dancers and teachers committed to preserving and sharing traditional Zimbabwean culture and promoting community building and education through art, put on an incredible performance at Dance Palace Community & Cultural Center. Sharing an electrifying display of the traditional dance, music, and culture of Zimbabwe and Southern Africa, ensemble members Kanukai Chigamba, Julia Chigamba, and Augusten Basa performed three traditional dances for students from across West Marin. The first dance was a welcome dance called Mauya in the Shona language.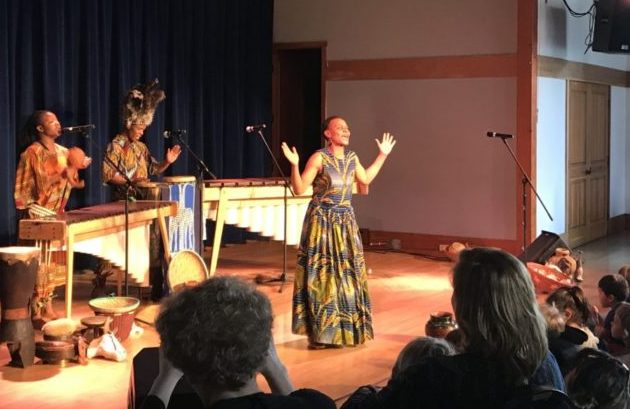 Next, Julia wowed audience members with a dance that is a celebration of the vital source of water. Students gasped and cheered as Julia danced with a full ceramic jug of water balanced on her head. Occasionally, the water would jump over the edges of the container – "the water is excited and wants to dance too!" Julia shares with students after the conclusion fo the song.
In a performance meant to rejoice in harvest, Julia and Kanukai performed with baskets containing various seeds and beans. As many of the dances are about weaving a colorful story of everyday life while teaching important life lessons such as goal-setting, perseverance, and thankfulness, students were encouraged to think about the celebratory and community aspects of music and dance for cultures around the world.
The Chinyakare Ensemble then encouraged everyone in the room to stand up and learn the narrative movements of a warrior's dance while Augusten and Kanukai played marimbas and sang. When asked what the dance was about, one young students raised her hand and shared "I think it's a dance about planting and growing things, and telling the story of our every day lives". Together, we celebrated while Julia encouraged students to engage with items that the ensemble had brought with them from Zimbabwe, including mbiras and other instruments, as well as sculptures and wearable accessories. Students handled everything with care and respect, and we left the shared space of the performance feeling the joy of new connections being made!
Youth in Arts extends a special thank you to the California Arts Council, who's support makes this program possible. 
Youth in Arts was excited to offer two assemblies supported by funding from the California Arts Council to Davidson Middle School this Spring, tying into core learning goals for 6th – 8th grade Social Studies with arts integration techniques. For this program the Shahrzad Dance Ensemble, Director Shahrzad Khorsandi and four members of the ensemble, performed a special series of dances for the Persian New Year that had been choreographed and designed by Shahrzad over the last several years. Norouz ("New Day"), the Persian New Year, represents new beginnings, rebirth, and renewal. Shahrzad Dance Company's Norouz program for 2019, Symbols of Love, brought into focus the true meaning behind this celebrated event and gave students the opportunity to learn about the music, traditions, and cultural relevance of the Iranian holiday today. The performance began with students learning several Persian Dance movements, such as Shokufeh (Blossom), where the dancer starts out with their arms at their sides, and then brings them up over head and back out to side palms up (like a blossom).
Students were also invited to participate in a modified rendition of the fire jumping tradition which is part of the Norouz celebration. Shahrzad explained that traditionally we will jump over fires, saying in Persian " I give my yellow to you, you give your red to me". This indicates a throwing away of sorrow, pain , suffering, anger and illnesses into the fire (yellow), in order to burn it and receive positive energy (red) from the fire.
Throughout the performance, dancers portrayed dynamic characteristics associated with the symbols of: Sabzeh ("Sprout") which is symbolic for rebirth, Seeb ("Apple") which is a symbol of health, Samanu ("Wheat Pudding") which is a symbol of sweetness, Sekkeh ("Coins") which is a symbol of wealth and prosperity, and Norouz ("New Day").
These assemblies followed a three day cultural immersion series led by Shahrzad with participating classrooms in Fall 2018. During these workshops, Sharhzad sharing the geographical significance of the many regions in Iran/Persia, and how where each region is located within the country and what they are bordered by has affected the music and dance which can be found there. Students also learned about other types of Persian culture, such as the food, holidays, and traditions that are important to people across the country.
Youth in Arts would like to provide a special thank you to the California Arts Council for their support of this program!
This Spring, Youth in Arts Mentor Artist Eddie Madril brought the music, arts and culture of Native American dance to Hamilton Middle School. Part of the Pascua Yaqui tribe of Southern Arizona and Northern Sonora Mexico and active member of the Native American community, Eddie represents his culture as a dancer, singer, teacher, playwright and filmmaker and brings these skills with him to every school site he visits.
During his time at Hamilton, Eddie shared singing and dance with students as part of a special assembly to 6th through 8th grade students. Teachers were able to tie the curriculum to core Social Studies learning goals and valued the opportunity as much as their students did. Throughout the performance, Eddie explained the origins of movements in each dance, contextualized Native American History and the ongoing effects that state and national laws and regulations have on the 567 federally recognized tribes throughout the country, and offered a new perspective on the narratives we're taught in school.
Following the assembly, Eddie visited the school's two eighth grade classrooms to share more about his work. Students were given the opportunity to pose questions as a follow-up to some of the facts and experiences that Eddie shared during the performance, and participate in a hands-on workshop. During the workshop students, teachers, and school administrators were invited to learn different techniques for working with hoops. While demonstrating and guiding participants through the movements, Eddie shared important facts regarding how and why Hoop Dancing is an integral part of his Native experience, and the potential meanings that the symbol of the hoop encompasses.
Youth in Arts would like to provide a special thank you to the California Arts Council for their support of this program!
Capoeira Angola with Daniel Mattar
Youth in Arts kicked off an exciting semester of school-wide events at Olive Elementary School with two amazing days of dance and culture through our assembly and workshop program. Capoeira Mentor Artist Daniel Mattar and his International Capoeira Angola Foundation (ICAF) troupe spent a day with Olive Elementary School's 3rd, 4th, and 5th grade students in early March, and Shahrzad Khorsandi and the Shahrzad Dance Ensemble led a fun and informative day of programming in April. In sharing the art of Capoeira with the students at Olive, Daniel and two additional Capoeira artists began by playing music on their hand-made Berimbaus made of gourds and one string, and a Pandeiros (tambourine) while engaging students in call and response songs in Portuguese. After their demonstration, they brought several kids up on stage to practice Capoeira while practicing their call and response songs.
Following the performance and demonstration, each 3rd-5th grade class participated in an interactive workshop led by Daniel and ICAF. We began with mastering the key movements and control necessary to take part in capoeira safely. Some of the movements that we learned were: Ginga, Aú, Balança, Macaco, and Negativa. We then put our new knowledge to use with team exercises and some games of capoeira with a partner!
Persian Dance with Shahrzad Khorsandi
During the second assembly with the Shahrzad Dance Ensemble, director Shahrzad Khorsandi and three members of the ensemble performed a special series of dances for the Persian New Year that had been choreographed and designed by Shahrzad over the last several years. Norouz ("New Day"), the Persian New Year, represents new beginnings, rebirth, and renewal. Shahrzad Dance Company's Norouz program for 2019, Symbols of Love, brought into focus the true meaning behind this celebrated event and gave students the opportunity to learn about the music, traditions, and cultural relevance of the Iranian holiday today. Throughout the performance, dancers portrayed dynamic characteristics associated with the symbols of: Sabzeh ("Sprout") which is symbolic for rebirth, Seeb ("Apple") which is a symbol of health, Samanu ("Wheat Pudding") which is a symbol of sweetness, Sekkeh ("Coins") which is a symbol of wealth and prosperity, and Norouz ("New Day").
Following the performance, participating classrooms returned for a hands-on workshop with Shahrzad. During the workshop, Sharhzad began by showing a map of the middle east in order to find Iran and talk about the geography of Iran/Persia and how this geography has affected the music and dances of each region. We then started with movements from Luristan in West Iran, followed by movements from Azerbaijan in Northwest Iran. During a brief break we learned the Beshkan, a one-handed Persian snap that creates a sound similar to snapping your fingers but much louder! After the break, we engaged in dance from the Bandar region near the Persian Gulf in Southern Iran and a Persian urban/social dance from Tehran, the capital, using contemporary Persian pop music. The students took turns coming out in the middle of the circle, 2 or 3 at a time, and practiced what  they had learned throughout the day.
Youth in Arts is grateful for the collaboration of Principal Olynik, Olive Elementary's exemplary 3rd-5th grade teachers, and the PTA for making these programs possible!
Kumu Hula Shawna Alapa'i and Halau Hula Na Pua O Ka La'akea performed for students from the Bolinas-Stinson Union School District at the Dance Palace Community & Cultural Center in Point Reyes. Spanning traditional Kahiko (ancient) hula to modern ('auana) hula, students experienced Hawai'ian story-telling through melody, hand-crafted instruments, dress, and dance traditions.
The assembly concluded with a fun hands-on workshop where students learned parts of a Haka, a traditional warrior's dance originating with the Maori people and adopted into Hawai'ian culture. Kumu Hula Shawna incorporated aspects of the Haka into a hula danced to the music from Moana as a way to engage students and connect culturally based on common knowledges.
A special thank you to the Dance Palace Community & Cultural Center and the California Arts Council for their support of this program!
Master Dancer Shahrzad Khorsandi brought company members with her to perform for Hamilton and Venetia Valley Middle Schools. She also provided in-depth classroom workshops for students to share about traditional and modern Persian dance, and the strong connection to the history, language, and geography of Iran.
Thank you to the California Arts Council for making this program possible.
Master Performer Eddie Madril wowed the students at Davidson Middle School as he performed sacred dances and spoke about the importance of understanding Native American history. Eddie, also a professor at San Francisco State University, talked about the Iroquois Confederacy which had operated since the 16th century and was the basis of the American constitution. He invited students up to the stage to learn some of the dances, and Principal Bob Marcucci was even game to join in learning some of the challenging, Hoop Dance.
In addition, Youth in Arts honored students in the Media and Theatre arts classes taught by Mentor Artists, Sophie Cooper and Margaret Hee, with a series of awards. The following were recognized:
Youth in Arts Awards
Cody Lucich Award for Confidence is given to students who exhibit a willingness to take risks and show confidence in their approach to making art. It is given to students who are undaunted in their approach to art-making and utilize innovative ideas to express themselves. Cody Lucich is a filmmaker who works extensively in community-based 'Native media.'
Luna Correa is a talented visual artist, with excellent drawing skills and unique imagination. She is always engaged and is able to connect what happens in the classroom with the broader community.
Daisy Perez inspires the classroom with her positive attitude, leadership, critical thinking and inquisitive nature.
Bradley Cornett is consistently engaged and is always ready to participate. He brings a positive attitude and maturity to class.
Dayana Calderon is brave! She is always willing to voice her opinions, appreciative of others' opinions, and engages positively and creatively in class.
Carrie Mae Weems Award for Compassion is given to students who are good listeners, who care about other people's perspectives, and who demonstrate the potential to be a positive community-builder. Carrie Mae Weems is a photographer who also works with text, fabric, audio, digital images, and installation video.
Aileen Beltran brings a positive attitude to class and is always willing to help others. She leads by example and has an artistic eye.
Yanira Lucia Gonzalez is consistently dedicated and on task. She puts deep consideration into her work and appreciates the arts. She also helps other students with their work.
Zandy Bautista has an excellent attitude. She always helps others and makes the room shine with her compassionate outlook.
Juana Alicia Award for Creativity is given to students who utilize their imagination to create exciting new ways to showcase their artistic voice. Juana Alicia, is a Bay Area muralist, printmaker, educator, activist and, painter.
Yessica Mazariegos is an insightful visual artist. She is always on track, and has a calm presence in class.
Jasmin Tlachi has a very creative eye for photography and has demonstrated artistic excellence in her work as a photographer.
Harvin Sanchez has excellent drawing skills, which he brings to his storyboarding and storytelling through drawing.
Alexis Alejandre has a very good eye for photography. She comes up with very original and creative ideas and is able to transform her mood by engaging in class work.
Wilibaldo Baten-Rosas & Carina Cabrera are the best artistic collaboration!! Their work demonstrates an excellent, creative team.
Jeffrey Mazariegos is an excellent photographer and demonstrates a creative use of perspective in his work.
Ana Olvera is a highly engaged creative artist. She thinks deeply about her work and has a flare for working with the camera.
Lin-Manuel Miranda Award for Determination is given to students who are hard workers, determined and diligent about learning and making art. Lin-Manuel Miranda is an American composer, lyricist, playwright, and actor best known for creating and starring in the Broadway musicals In the Heights and Hamilton.
Angel Mauricio is an eager participant who is inquisitive and brings a fresh outlook and positive attitude to class.
Jorge Pech is not afraid to stand out as someone who cares and who has ideas and participates. He shines in the classroom with his courage and strength of character.
Andy Romero is a good listener, consistently engaged, and a strong leader. His hard work has made him the most improved student in his class.
Dave Mazariegos demonstrates creativity and positive engagement in class.
Thank you the California Arts Council for supporting this program.
Every day at the Marin County Fair this year, Youth in Arts Global Stage featured our mentor artists in interactive performances from around the world. We celebrated the theme of the Marin County Fair "All for One and Fun for All" in our own artistic style with our amazing artists.
Audience members learned how to balance a bowl on their head in a dance from the Uyghur peoples of Central Asia, check out master artist Tara Pandeya demonstrating to the left with multiple bowls, including the top one full of water. We had audience up dancing a Peruvian samba around the Exhibit Hall. There was Indian Bollywood dancing, Brazillian capoeria, Japanese folk dance and so many others. Check out our gallery below.
To find out about bringing these artists to a school site near you. Click here.
Read Executive Director Miko Lee's Op Ed in the IJ here.
April is Autism Awareness Month.  Youth in Arts is the only arts education provider to special day and severely handicapped classrooms in Marin. We also provide arts programming at Oak Hill School which is focused on students with autism from 5-22 years old.
Check out this CD C'mon Everybody! which was produced with support from FirstFive Marin as part of a special workshop for families with children on the autistic spectrum.
C'mon Everybody! features original music composed by Youth in Arts Mentor Artist Miguel Martinez and featuring performances by additional YIA Mentor Artists Nydia Gonzalez and Hannah Dworkin. Songs encouraging response to direction, social behavior and language acquisition. It is fun and accessible for developmentally typical PreK children, as well as children with cognitive or developmental delays.
Come into our YIA shop on 917 C Street to buy the CD, or you can get a free download of a couple of the songs here Good Morning My Love, and  King of the Beat.
Thank you to the Buck Family Fund of the MCF for supporting our programs reaching children of all abilities.
The Sewam Dance of the Plains Indians assemblies at Edna Maguire Elementary School were a great success.  Eddie Madril performed several different Plains Indians dances for the preK through 5th grade student audiences.  His incredibly engaging dances culled with chanting and singing, had students, teachers and parents enraptured.
In addition to his solo performances, he also invited students to perform two different dances with him.  For the first group dance, each teacher chose one student to participate onstage with Eddie.  The big surprise came when those teachers were asked to join in as well.  All fifteen got up, linked hands, and enthusiastically danced with Eddie and their students.  The long line of participants weaved in and out of the crowd, much to audience's delight.
The hoop dance was a particular highlight.  Students experienced firsthand how challenging it is to work with the hoops when Eddie asked them to pick the hoops up with their feet.  After they sat down, Eddie put on a breathtaking performance of the very complicated dance.  Using eight hoops, Eddie transformed himself into a bird.  The audible audience reactions clearly showed how awestruck the students were.
Eddie's handmade regalia is artwork unto itself.  The colorful feathers, embroidery and beadwork bring even more life to his dances.  During the assemblies, Eddie explained the significance of what he wore in relation to the cultural history and traditions of various Native American tribes.  He taught the students the meaning behind each dance and song performed as well.
Cara Guyot, the PTA volunteer who organized the assembly for Edna Maguire's students praised, "We loved the assembly! In my three years of doing assemblies, this is the first time that I have received thank you emails from parents who heard such rave reviews from their children. Eddie really connected with the kids!"
Older Entries »