How do you open a show when your art gallery is closed temporarily? By hosting a virtual celebration for your community with a drawing lesson, story time and fabulous self portraits.
Youth in Arts joined families, friends and staff at Laurel Dell Elementary School to celebrate Imagining Friendship, our annual show that honors Walker Rezaian. The online exhibit featured a  slideshow of more than 90 self portraits and emotions studies by kindergarten and first grade students
The Walker Rezaian Creative HeArts program was at Laurel Dell and Short schools last Fall. The visual arts residency builds fine motor, literacy and social emotional skills through art making. It also helps children learn how to make and keep friends while practicing sharing and empathy.
Friday's celebration began with a bilingual drawing lesson with Youth in Arts Mentor Artist Cathy Bowman. Joining us were kindergarten teachers Alejandra Vazquez and David Peterson, and first grade teacher Vanessa Nunez. Together we explored what it's like to make and then draw different expressions. How does your face look when it is happy? What about angry?
Principal Pepe Gonzalez delivered a sweet and funny message with help from his young sons and talked about the importance of creating visual art, music and dance while sheltering in place.
"If we weren't creative, we'd be pretty bored right now because we're usually in our pajamas," he said.
Gonzalez, who heads both Laurel Dell and Short schools, praised Youth in Arts for making sure "creativity stays alive" while students are forced to stay home. He noted that Youth in Arts Visual Arts Director Suzanne Joyal assembled art kits for every student at both Laurel Dell and Short schools.
Our thanks also go to author Susan Katz, who read her book "All Year Round" in English and Spanish. It was fun to know the Principal Gonzalez had her as a teacher when he was in school!
We wrapped up the evening with a slide show of the self portraits accompanied by music from 'Til Dawn,  Youth in Arts' award-winning a cappella troupe.
Suzanne encouraged viewers to check out the cool coloring pages made from the students' self portraits. The portraits will be viewable online until May 31. They can be printed out, colored and put in your window to share with your neighbors, and you can find them here:
Emotions Sketches Coloring Pages 1st Grade
Portraits Coloring Pages 1st Grade
Portraits Coloring Pages Kindergarten [Rm 3]
Portraits Coloring Pages Kindergarten [Rm 4]
Suzanne also thanked the Rezaian family for making this wonderful program possible.
"You can say thank  you to them in your own way by being a good friend to those around you and creating something every day," she said.
A special thanks to Tracey Wirth Designs for turning the portraits into coloring pages; to our translators: Alejandra Vazquez, Vanessa Nunez and Peter Massik; and to Principal Gonzalez and the staff at Laurel Dell for making this program such a success.
Please join us for our first virtual art exhibit! Youth in Arts is proud to present Imagining Friendship: Portraits of Young Artists at the YIA Gallery.
The exhibition features a slideshow of art created through our Walker Rezaian Creative HeArts program at Laurel Dell Elementary School in San Rafael. Viewers can see more than 70 colorful portraits created by kindergarteners and first graders. The online gallery opens this Friday, April 17, with a celebration on the Youth in Arts' Youtube channel at 5 p.m.
A coloring book page has been made of  many of the self portraits. Viewers of all ages are invited to print out the black and white images, choose one to color, and tape it in a window for others to see and enjoy. With families staying home due to the coronavirus, we invite you to celebrate these young artists in your own way. People are encouraged to post their art on social media and Youtube. Don't forget to share with us at @youthinarts.org!
The Walker Rezaian Creative HeArts program was created by Youth in Arts and the Rezaian family to celebrate Walker's life and his love of the arts. You can learn more about this amazing program here. We invite you to participate and explore (safely) what being a good friend means during the quarantine. 
The portraits were the final project of a 12-week residency taught by Youth in Arts Mentor Artist Cathy Bowman. Using innovative lessons that allowed students to use a range of tools and materials, children explored ideas about compassion, empathy and friendship. Youth in Arts' programs celebrate creativity, confidence and compassion in ALL learners – and we need that now more than ever.
Cathy said each class did their portraits slightly differently. One kindergarten class made watercolor portraits with cardboard frames colored with black and white pastels. The other kindergarten class did the opposite: they created black and white portraits and used colors on the frames. This decision turned out to be fortuitous as those pages (as well as several from first grade) were transformed into coloring pages that could be downloaded.
Adapting is a way of life at Youth in Arts. We are constantly looking for ways to innovate, explore and create so we can reach students of all abilities with innovative art programs. Let's infuse our community with joyful art in as many ways as we can!
Now that you're staying at home, there's no better time to visit museums and galleries in London, Tokyo or Paris.
Or San Rafael.
Like art institutions across the nation, Youth in Arts is putting its exhibits online. Our annual "Imagining Friendship" Walker Rezaian Creative HeArts Show, which opens April 17, will feature more than 70 colorful self portraits created by kindergarten and first grade students at Laurel Dell Elementary School.
We are exploring innovative ways to engage with viewers who visit this show, so stay tuned! Visual Arts Director, Suzanne Joyal is putting together a slideshow of the artwork and other activities to encourage community members to engage and connect.
"This is one of our favorite exhibitions. It's important that we find a way to reach viewers even if we can't use our gallery walls," Suzanne said. "These portraits are full of joy, and we need that now more than ever."
The Walker Rezaian show is generously supported by the Rezaian family in celebration of Walker's life and how much he loved making friends and art. This program teaches young students visual arts fundamentals, and also helps them develop compassion, empathy and other social-emotional skills.
Once you're online, the YIA Gallery isn't the only place you can visit. Kids can travel to museums or watch theatre shows in Amsterdam, Rome and New York – all in the same day.
"These virtual tours are an excellent way to keep kids engaged with art, and to draw inspiration from what they see," Suzanne said. "You never know what image will inspire a child to create their own work."
Museums are generously making their collections online for viewers to enjoy. Need ideas? Take a look at this excellent PBS Newshour article.
Is dancing more your speed? Check out Dancing Alone Together for a list of online dance classes around the Bay Area.
Miss going to the theatre? Visit WhatsOnStage for stage shows, musicals and opera you can see online.
"You may feel stranded at home, but you don't have to be alone," said Youth in Arts' Executive Director Kristen Jacobson. "We're here to help you engage."
Dozens of young artists and their families celebrated at the Artists Awards Reception for RISING STARS, the annual Youth in Arts exhibit that showcases the best of public, private and alternative high school art.
Sir Francis Drake High School student Annabelle Sulprizio won Best of Show for her pair of beautifully carved vases. Other award winners included Alessandra Sutton for Best Painting, Helen Kun for Best Photograph, Keira Engler for Best Sculpture, Lily Gates for Best Drawing, and Ina Kim for Best Mixed Media. The full list of winners can be found HERE.
Nearly 300 people turned out in the bright sunshine and rotated through the show at a private reception on Sunday. The show features painting, drawing, sculpture, mixed media, photography, printmaking and digital media.
Annabelle said Geometric/Repeat Pattern Vase Set was inspired by videos she watched showing master carvers from Japan and China. Sulprizio takes honor ceramics with teacher Beth Cederstrom. "I call her my at school mom," Annabelle said. "She make the ceramics room a space where you can feel comfortable and like you are at at home."
"What really stood out about this piece was the intricate detail. It was the only work that the judges unanimously chose as the winner of a category," said Morgan Schauffler, development associate at Youth in Arts who organized the show and manages the gallery.
The group artwork from TeamWorks program at Loma Alta School, an art education program that supports students involved in the juvenile justice system, won the new Rezaian Family Award given by Youth in Arts' board president Naomi Tamura and her family. TeamWorks director Katya McCulloch said the work, titled C.H.O.I.C.E., is a mixed media piece that features many different keys; the "O" holds the keyhole. The title stands for Creating Healthy Choices In Challenging Environments. "I loved it," Katya said. "I feel like we've touched on the soul of what TeamWorks is about. The choice is the key – making healthy choices."
Dylan, an artist at Compass Academy who studies with Youth in Arts' Mentor Artist Marty Meade, won an award from AC Graphics for her untitled digital painting of a saber-toothed cyclops lynx. "I absolutely love cyclops," Dylan shared.
College of Marin also awarded six scholarships to best of show and best in category winners, giving them a semester of tuition-free classes.
The show runs through March 27. The opening reception will be held Feb. 14 from 5 to 8 p.m., which coincides with the 2nd Friday Art Walk in San Rafael. 
The exhibition was blindly adjudicated.This year's judges included painter Kay Carlson from Marin Open Studios; sculptor and fine arts instructor Patricia Hulin from College of Marin; photographer and creative consultant Melissa McArdle; and Lynn Sondag, chair of Dominican University's Department of Art, Art History, Media and Design. Thank you to our sponsors AC Graphics, College of Marin, Il Davide, Marin Open Studios, Perry's Art Supplies & Framing, the Walker Rezaian family, RileyStreet Art Supply and the San Anselmo Arts Commission.
Artist Susan Diglioni founded Rising Stars in 1991, believing that young artists should be recognized for their talents.The exhibit travels to the Marin Center in April, where it will be on display in the Bartolini Gallery April 9 – May 31.
The YIA Gallery is one of the few in the nation devoted to showcasing children's art. Regular gallery hours are Monday to Friday, 11 a.m. to 4 p.m.
We are excited to announce that architect Shirl Buss, who has helped develop Youth in Arts' Architects in Schools program for elementary school children in Marin, has won the 2019 Pamela Levine award!
The Pamela Levine Arts Education Leadership Award was presented at the opening of the Inspire art exhibit at the YIA Gallery. Now in its fifth year, the Inspire exhibit showcases the personal work of teaching artists that was inspired by their work with students. Visual Arts Director Suzanne Joyal presented the award to Shirl on behalf of the Youth in Arts board and staff. The award is given to individuals for exceptional accomplishments in arts education in memory of Youth in Arts' former Executive Director Pamela Levine.
"I have had the pleasure of working with Shirl for the past four years, when she began teaching architecture at Laurel Dell. I have learned so much from her," Suzanne said in an address to Shirl. "She clearly embodies Youth in Arts' goals for learners: Creativity, Compassion and Confidence through arts learning. It is clear to all who work with you, Shirl, that you love what you do, and you love your students." Suzanne continued. "The respect you have for creatives of all sizes is clear in every interaction you have with people."

Shirl is a designer, planner and educator whose work focuses on children, youth and the built environment. She holds a masters in Early Childhood Development and an M.Arch and Ph.D from the UCLA Graduate School of Architecture and Urban Planning. Shirl is the Y-PLAN Elementary Director at the Center for Cities + Schools at UC Berkeley. At Laurel Dell Elementary School in San Rafael, she is a key member of a team of Youth in Arts Mentor Artists teaching design and build skills to 3rd, 4th, and 5th graders.
More than 60 people turned out for the celebration, many of them friends and colleagues who work with Buss in the East Bay. Also in attendance was Youth in Arts Executive Director Kristen Jacobson and Pepe Gonzalez, principal of Laurel Dell and Short elementary schools.
"If you guys saw the artwork that these kids have created – 3 Dimensional, to scale, not to scale … it's everything that the Common Core was supposed to be," Pepe said. "These kids are living it and breathing it and doing it every day."
Suzanne also read comments from Laurel Dell students who have studied with Shirl: 
"Dear Ms. Buss, you taught me and my class how to speak in public, also how to be a creative scholar. You gave me the opportunity to think about my future chances," wrote one student. 
Another wrote: "Dear Ms. Buss, you taught me to never give up. You make me happy." 
Some students talked about how much Ms.Buss inspired them when they made model tree houses.
"Dear Ms. Buss, thank you for teaching me to be creative and bringing my imagination to another level," one student wrote. "You are like a bird in the sky teaching kids to use their imagination."
The Inspire exhibit is on display through Jan. 17 at the YIA Gallery, located at 917 C St. in the beautiful Downtown San Rafael Arts District. Regular gallery hours are Monday through Friday, 11 am. to 4 p.m. The Art Lab is always open when we are: children and grown-ups can come in and make art for free.

We love to connect with students in the Youth in Arts Gallery! The YIA Gallery is one of the few in the nation devoted solely to showcasing art by children.
Olive Elementary School kindergarten and first grade students visited the YIA Gallery recently for a field trip that explored shapes, systems and machines. Their teacher Emma Donovan had participated in this summer's STEAM institute with Youth in Arts, the Marin County Office of Education and other experts. She wanted her students to have an experience connected to what she learned in the STEAM Institute.
"Our free field trips are a wonderful opportunity to tie classroom curriculum to arts learning," said Youth in Arts' Development Director Kelsey Rieger. "This experience was focused on STEAM with embodied learning teaching."
Kelsey was joined by Visual Arts Director Suzanne Joyal and Mentor Artist Cathy Bowman. We took the students on a gallery walk to look at the child-created works in the gallery, followed by the Brain Dance to warm up. We talked about circles we could make sitting down, and circles we could see in the art. We made circles with our elbows and noses. In the YIA Studio, we sat in a big circle and learned about systems and machines, first by pushing a giant purple ball back and forth at different speeds. We noticed that a ball can't move by itself. While holding hands, we also sent energy around the room with a silent squeeze. It took concentration and practice to not lose the squeeze.
The final exercise was a fun way to talk about machines. Students were proud to show what they knew about different kinds of machines, and what those machines could do. Suzanne started the exercise by making a machine motion and sound.  As she continued, the next volunteer joined her to make a sound and motion that connected to hers. More students joined in, each making a different sound and motion. In the end, we had a large human-made machine with noises and motions working together.
We talked about where our machines lived and what they could do. One group made a machine that made snowflakes and lived in the ocean; another imaginary machine  handled climate change in the desert.  We concluded the field trip by creating a machine which included everyone and was made of familiar sounds and motions: a train.
Field trips are 45 minutes and always feature an age-appropriate hands-on arts activity. Children also learn techniques for looking at and talking about art. For more information, contact Youth in Arts' Program Director, Kelsey Rieger: kelsey@youthinarts.org or at (415) 457-4878 x110.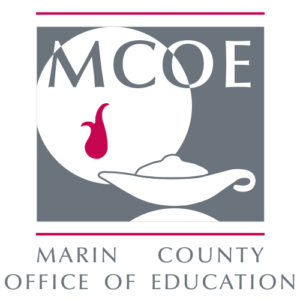 Nearly 50 arts lovers stopped by the Youth in Arts' gallery recently to celebrate our current show and meet new Executive Director Kristen Jacobson.
Imagine Our World: In My Neighborhood runs until Dec. 6. The show features second grade art from Laurel Dell and Short elementary schools, including two large collages in which students envisioned their ideal neighborhood. Students connected to the idea that working together builds a stronger community. The show includes work made by young artists in response to the recent power outages and fires.
The show also features collaborative artwork from Youth in Arts' booth at the West End Village Celebration on November 4. Over 100 artists of all ages contributed to two large-scale murals, and a community collage. Participants were encouraged to express their feelings about the Power Safety Shutoff through art making.
Jacobson thanked everyone for their support and said she was looking forward to getting down to work.
"I'm so moved and inspired by the work of the incredible artists and the legacy that is here in Marin," Jacobson said. "I'm excited to focus on access to arts education, and equity for all" she said.
With the continued support of the California Arts Council, Laurel Dell's PTA, UC Berkeley's Y-Plan and RileyStreet Art Supply, Youth in Arts has designed a sequential arts program for students to build their skills over time. Every student receives 12 weeks of visual arts in the Fall and 12 weeks of dance in the Spring.
Youth in Arts has provided Mentor Artists to Laurel Dell Elementary School for almost 20 years. For the past four, however, Laurel Dell has been home to our demonstration project: a sequential, scaffolded arts program focused on the core competencies of Youth in Arts: Creativity, Compassion, and Confidence through arts learning. The program was designed by our Director of Visual Arts Suzanne Joyal. During their 12 weeks of visual arts in the Fall and 12 weeks of dance in the Spring, students learn to express themselves verbally, visually and physically in multiple art forms.
Youth in Arts is excited to announce the opening of our new ART LAB at the YIA Gallery.
Located in the gallery's store, the ART LAB is open during regular Youth in Arts hours  – Monday through Friday, 11 a.m. to 4 p.m., and until 8pm during Downtown San Rafael's 2nd Friday Art Walks. It's free and open to the public for art-making activities linked to YIA exhibitions.
"In keeping with our mission of providing arts access to all learners, Youth in Arts is opening its doors to the community to explore its creativity," said Miko Lee, executive director of Youth in Arts. "We're providing free, hands-on art projects for all ages."
Children will enjoy kid-sized tables where they can make art and explore materials. Each exhibition will also feature the artwork of one of Youth in Arts' Mentor Artists. All artwork on view in the space will be for sale, with a portion of the proceeds benefiting Youth in Arts.
Suzanne Joyal's work is currently featured and coincides with Imagining Friendship the Walker Rezaian Creative HeArts exhibition of self portraits by kindergarteners and first graders from Laurel Dell Elementary School in San Rafael. The colorful paintings were created during their Fall residency with Youth in Arts. As part of the exhibit, Youth in Arts' staff have created a kid-sized interactive cardboard world with doors, tunnels and windows for exploring.
Both children and adults are welcome, but we kindly ask that all children be accompanied and supervised by their grownups.
Please come and visit us soon. Just look for our bright red wall!
More than eighty community leaders, educators, students, and Youth in Arts supporters came out to celebrate Arts in Education Month at the YIA Gallery last Friday, March 8th. Youth in Arts and the Marin County Office of Education co-hosted the event, which was centered around introducing attendees to the 2018-2019 Marin Arts Education Plan. There was lots of positive feedback, and seemed to be buzz building around the movement in Marin to improve arts access for ALL learners.
Visitors were also able to enjoy the wonderful artwork from our RISING STARS High School art exhibition, on view through March 29th. The "Best Of" show and category winners (drawing, mixed media, painting, photography, and sculpture), were also encouraged to attend the event to receive another amazing prize to commemorate their accomplishment. College of Marin kindly awarded each of the 6 students a full semester scholarship! The lovely Lauren Smart was on hand to receive her award letter, and was photographed alongside her beautiful charcoal, pen and graphite drawing of her grandfather, entitled Evolution of Life. Lauren, a senior at Redwood High School, plans to attend San Jose State in the fall, and is excited to take some summer art classes at College of Marin. Thank you College of Marin for supporting our young artists!
Katya McCulloch, TeamWorks Art Mentoring co-founder, and Louis Murillo TeamWorks teaching artist, instruct at the Loma Alta School (Marin County Office of Education's Juvenile Court classroom). They shared more about the inspiration behind, and process of creating their group artwork on display as part of our RISING STARS exhibition, on view at the YIA Gallery through March 29th.
"Holiday Banquet," a mixed media work featuring images of food painted on paper plates, mounted on a hand embroidered tablecloth, began as a project about recycled materials. Katya, Louis, and their students discussed how food vendors at places like the Marin County Fair, have to discard food once it's opened, and so much of it is wasted. The work is also a comment on the fact that juvenile hall probation restricts students from going to the Marin County Fair. So, in a sense they were depicting food they wouldn't typically be able to have.
The work started around the winter holidays, so the teaching artists and their students were talking about memories of family and their favorite foods. They discussed how, "during the holidays some teens were locked up while others were home enjoying good food," Katya said. "This is when we try to come up with a group project that will keep them focused and not think negatively," Louis shared.
Once each students had settled on their individual subject, they then focused on the formal qualities of painting such as shadow, highlight, contrast, and perspective to make their work more 3-dementional. The artists, aged 13 to 18, worked in the round at a table of 8 students. Once they were finished they left the painted plates out on the table to dry, and realized it looked a lot like a banquet…hence the title.
Katya and Louis work with Loma Alta's students once per week 12 months of the year. They don't have any real breaks in the juvenile hall system. "The continuity…the ongoing nature of the art is the most impactful for the students," Katya shared. Having more school breaks would, "delay the the process of building trust."
"Exhibits are very important for building pride," Katya noted. Loma Alta student's work is displayed multiple times per year – as part of RISING STARS at Youth in Arts, as well as at the Marin County Fair, San Rafael Library, Pickleweed Community Center, Marin Center, and Civic Grand Jury Chambers.
Through art making Katya has seen, "a quantum leap in students willingness to work together…putting personal issues and posturing aside" to focus on the art. "The unity in these projects is huge, as it's tremendous to helping the kids communicate amongst others with more respect," Louis added.
TeamWorks has been providing "on-going arts engagement for at-risk youth ages 11-18 in Juvenile Justice and in Alternative Education high schools in Marin County" for 20 years.
Older Entries »