Youth in Arts is excited to announce the opening of our new ART LAB at the YIA Gallery.
Located in the gallery's store, the ART LAB is open during regular Youth in Arts hours  – Monday through Friday, 11 a.m. to 4 p.m., and until 8pm during Downtown San Rafael's 2nd Friday Art Walks. It's free and open to the public for art-making activities linked to YIA exhibitions.
"In keeping with our mission of providing arts access to all learners, Youth in Arts is opening its doors to the community to explore its creativity," said Miko Lee, executive director of Youth in Arts. "We're providing free, hands-on art projects for all ages."
Children will enjoy kid-sized tables where they can make art and explore materials. Each exhibition will also feature the artwork of one of Youth in Arts' Mentor Artists. All artwork on view in the space will be for sale, with a portion of the proceeds benefiting Youth in Arts.
Suzanne Joyal's work is currently featured and coincides with Imagining Friendship the Walker Rezaian Creative HeArts exhibition of self portraits by kindergarteners and first graders from Laurel Dell Elementary School in San Rafael. The colorful paintings were created during their Fall residency with Youth in Arts. As part of the exhibit, Youth in Arts' staff have created a kid-sized interactive cardboard world with doors, tunnels and windows for exploring.
Both children and adults are welcome, but we kindly ask that all children be accompanied and supervised by their grownups.
Please come and visit us soon. Just look for our bright red wall!
Two December art sales events give you an opportunity this holiday season to support Youth in Arts while purchasing art for gifts or just for yourself (you deserve it!)
Through December 22, YIA Gallery in Downtown San Rafael hosts INSPIRE: Teaching Artists Exhibit, featuring the work of 26 local teaching artists providing art classes for students of all ages across Marin.
Come by for our Opening Reception on Friday, December 9 from 5 to 8 p.m. as part of 2nd Fridays Art Walk Downtown or visit any time between 11 and 4 weekdays. Your purchases support both the teaching artist who created each piece and Youth in Arts programs for students of all ages and abilities. Our gift shop with smaller handmade items and cards by teaching artists and students is also open for your holiday shopping!
Also, throughout the month of December, ArtJet is donating 10% of your online purchases of fine art delivered to you to Youth in Arts. Just shop ArtJet's amazing collections of American art online and select Youth in Arts at checkout.
We think you can find a beautiful work of art or unique and handmade item or card for everyone on your gift list this season…
…but if you can't, please don't forget to shop Amazon Smile and benefit YIA with every Amazon purchase!
Come by Youth in Arts at 917 C Street in downtown San Rafael to check out our handmade cards (many by children and teens), along with jewelry, handmade glassware and more!
Stop in 11-4 weekdays or call us at 415-457-4878 ext. 0
Having trouble finding that perfect unique card or gift?
Our store at 917 C Street has handmade jewelry, glassware, gift items and cards created by youth and adults. Plus we are featuring art by North Bay teaching artists in our YIA Gallery, all available for sale.
Come shop Monday-Friday 10 am-4 pm this week and Monday-Wednesday next week. All purchases support BOTH the artist who created the work AND Youth in Arts programs reaching over 20,000 students each year. Give a gift that your recipient can love and feel great about!
If you'd like to keep it easy and simple, make a gift donation in your friend or family member's name and we'll send them a card featuring an image of one of our students at work ("Heart Drawing") or our "Dream" card featuring a banner created by hundreds of local youth. Click here and be sure to complete all gift recipient information.
Donate by noon on Friday, December 17 to allow a week for delivery before Christmas.
Scroll down for more gift ideas from our store.
Thank you for supporting Youth in Arts. Happy holidays!
Youth in Arts is open late for 2nd Friday San Rafael Art Walk Downtown this Friday, January 11, from 5-8 p.m.


Come see our latest gallery exhibit, "Re-Generation: Teaching Recycled Art," before it closes January 25. Help create a recycled "rag rug" or collect take-away cards to inspire your own recycled art projects at home.
"Re-Generation" features work from recycled and found materials by master artists, as well as recycled art works by their students and protégés.
Come explore the many reasons artists may choose to use alternative materials in their work and how they pass along these ideas to a new generation of young artists.
And don't miss our new store layout with all kinds of artist-made items for sale, including creative recycled gift items by professional and youth artists!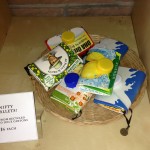 If you haven't seen our latest exhibit, stop by 917 C Street next Friday, 11/9, from 5-8 p.m. during 2nd Fridays Art Walk!
See beautiful paintings by Mentor Artist Ernesto Olmos and San Rafael students and families.Find your own Mayan "day sign" or nahual and make a necklace featuring your own special glyph. (We also have earrings with Mayan signs available in our store–a great birthday or holiday gift!)
Learn about the forces of nature associated with each day in the sacred calendar, or Cholq'ij, and see a display of indigenous plants that promote health and wellness. Try out hands-on gallery activities and listen to a special audio performance created by Ernesto Olmos and Miguel Martinez to tell the story of the Cholq'ij.
Great for all ages–snacks and juice available. Admission is free. See you there! This project has been supported by a grant from the Creative Work Fund.
Greetings!
I am Erik Peerand here, the Store Manager of the Youth in Arts Store. Every month I will be showcasing one of our many fabulous items from the store, here on the "Youth in Arts Blog"!
This month I'd like to share with you some of my favorite  items here in the store: our CDs which feature YIA artists, and of course our beloved 'Til Dawn champion a cappella teen group!
I hope you all come in and check out our wonderful store, and I hope to see you soon!
Erik Peerand
Store Manager
Erik Peerand, Youth in Arts Store Manager, is creating a series of entries for the Youth in Arts blog, highlighting some of his favorite things in the store. Erik, who is on the autism spectrum, is great with tracking down information and loves to interact with customers in the store. Erik serves as a great role model for adults with disabilities, working and living independently.
Starting Monday, August 1, 2011 Youth in Arts' Store will be open for business! Come by Monday through Friday from 11 am—2 pm to purchase Italian Street Painting Festival t-shirts and cards, 'Til Dawn CDs, Mentor Artist original artwork, and more.
Congratulations to the new Youth in Arts' Store Manager, Erik Peerand!
Twelve years ago Erik met Youth in Arts through volunteering at the Italian Street Painting Festival. He was assigned the job of touting thousands of pounds of water throughout the festival grounds and was quickly dubbed "The Ice Man."
Erik is thrilled to be the Youth in Arts' Store manager. As Erik will tell you when you come in, he's a gleaming example of a successful adult living with autism. Through AmeriCorps Vista and the Special Hope Foundation, four years ago Erik started volunteering in the Youth in Arts office. During that time he has assisted in Special Day classrooms and with professional development trainings for Special Education Teachers at Marin County Office of Education.
VSA Director Nydia Gonzalez says, "As a child, like many special education students Erik was well aware of the low expectations set for him by adults. His message to those adults and teachers working with kids on the autism spectrum is to believe that those kids can achieve a high-functioning independent adult life, working and succeeding in accomplishing their goals."
Click on the coupon to download and print.