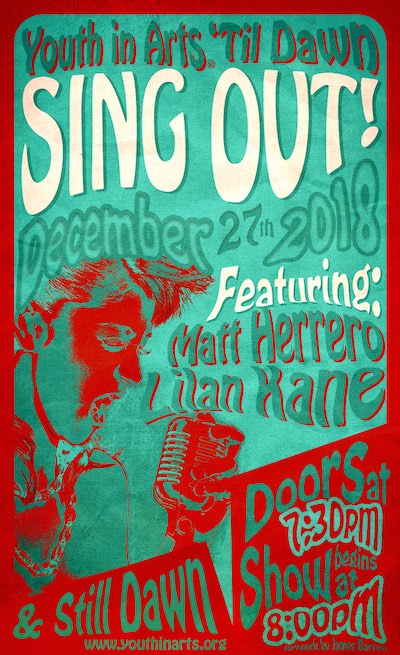 'Til Dawn alum James Barton designed this year's Sing Out! Poster, which will is still available for sale at Youth in Arts! It was unveiled at the 'Til Dawn performance Thursday at the Osher Marin JCC.
Barton, 21, is now a junior at UCLA. He said he created the poster, in shades of turquoise and reds, in the Fillmore style of art, using Photoshop.
"I sort of just went with that style," he said.
Barton was in 'Til Dawn for three years while a high school student at Marin Catholic High School. He now studies molecular biology.
Art "really provides an outlet for creative expression," he said. "Graphic design is definitely one of my passions."
Barton has fond memories of being a part of 'Til Dawn and was happy to help out. The poster was sponsored by the Herrero family and Black Cat Studio.
"I don't think I would have had the high school experience that I had without 'Til Dawn," he said. "It was such a support system."
Current and former 'Til Dawn members performed Thursday at Youth In Arts' Sing Out! at the Osher Marin JCC in San Rafael.
Til Dawn sang "If You're Out There" by John Legend as a welcome to the Marin County Board of Supervisors new year on Tuesday January 6. Incoming Supervisor Katie Rice saw 'Til Dawn's performance at a party and was so impressed that she wanted to honor her first meeting as Board President, with the group singing "If You're Out There."  She wanted to acknowledge their incredible talent, and give the gift of their song through the public meeting venue. The song also provided a tribute to outgoing Board President Supervisor Kate Sears.
Here's a story about the swearing in.
Check out of a video of the meeting, `Til Dawn can be heard at the 27:42 minute mark on the recording.
New Georges Night Club was bouncing with energy at the 2nd annual `Til Dawn Sing Out! on December 28, 2014. Performances included the current troupe, Still Dawn – the alum and featured alum bands: BABE, MoeTar and the Riveters. The duet BABE featuring Austin Smith and Jessie Land will also be performing at Sleeping Lady in Fairfax soon. Moorea Dickason who leads `Til Dawn when Director Austin Willacy is on tour performed in both of her bands, a smaller version of MoeTar and her all women's acapella troupe The Riveters, which also features alumna Stevie Greenwell. The Riveters CD is hot off the presses and available here. A great big thanks to all of the alum who gathered together from all over California, as well as across the country: New York, Massachusetts, Illinois, Arizona, Colorado, Oregon, New Mexico. And shout out to Natalie John for coming in from Asia. Yes we know you came into town to be with family and we are thrilled that Youth in Arts`Til Dawn is part of your family too! Here are the numbers: 150 audience members and extended `Til Dawn family enjoyed the brilliant show
39 `Til Dawn alum returned to showcase their talents 15 members of the current `Til Dawn company from 8 different high schools 7 singers switching in out of a single duet (septet?) 3 amazing bands featuring alum performed 1 proud Mentor Austin Willacy beaming from the sound booth We were thrilled to celebrate with you all.
We are eligible to receive up to $7500 in matching funds from the One Foundation and are halfway to meeting our goal. Click above to help!
Here is the list of talented singers: 'Til Dawn current troupe Grace Ashcroft, James Barton, Harmela Beyene, Maia Ciambriello, Kodo Elder-Groebe, Jonah Hausammann, Emily Kibbe, Ziggy Kitsou, Jason Rougeau, Josh Schussler, Kharissa Simms, Nicole Stock, Holly Voorsanger and Sara Warner Still Dawn Max Bayer, Laura D'andre, Moorea Dickason, Davey Feder, Sarah Gamblin, Chloe Gasparini, Kasie Gasparini, Lily Goldman, Erin Greenwell, Stevie Greenwell, Lily Elise, Natalie John, AJ Johnanson, Lilan Kane, Blake Killingsworth, Jessie Land, Emily Laskin, Devon Lawrence, Kyle Lemle, Ali Macmillan, Melanie Macri, Harrison Moye, Maria Pougiales-Posey, Emily Rath, Emma Reese, Randy Shapiro, Sean Simerly, Maralisa Simmons-Cook, Austin Smith, Natalie Smith, Owen Smithyman, Dan Spain, Lizzy Stahl and Delaney Tight   Check out the great gallery of photos taken by `Til Dawn Alum Dad Rob Goldman. Larger group shots taken by YIA Board Chair Peter Rodgers. Thanks guys for sharing your talents with us!
Spring is bouncing into summer and hundreds of young artists around the North Bay are finishing class projects and creating exhibits, performances and other artful events for family and friends with Youth in Arts.
Recent posts have highlighted Spring projects by K-Dub Williams' students at Marina Middle School and Angela Baker's students at Harding Elementary, in addition to the amazing work created by Suzanne Joyal's kindergarteners at Loma Verde as part of the Walker Rezaian Creative HeArts program. Youth in Arts also produced a special "Passport Art Event" at Harding, and Nydia Gonzalez and Shawna Alapa'i concluding performing arts residencies at Ocean View Elementary in Albany and Sonoma Mountain Elementary.
In late May, Arts Unite Us "collaborative residency" projects at Harding and at Tam High School in Mill Valley wrapped up with terrific performances by all the students. Collaborative residencies bring together special education and general education students for shared arts experiences. At Harding, students wrote, directed and performed an original play "Lydia and the Land of Gee-Jo" around themes of Pollution, Bullying, Self Acceptance, New Beauty Standards and Taking Care of Each Other.  At Tam High , the original pilot site for the collaborative residency program, students from the Special Day Class and advanced Conservatory Theatre Ensemble worked with Mentor Artists Suraya Keating and Melissa Briggs to write and perform their original play, "By my Side," which opened the school's popular One Acts Festival.
Tommy Shepherd's students at Wade Thomas put an exclamation mark on their rap and beatboxing residency with a performance of their original rap for their peers at school, and Kaitlin McGaw's kindergarteners at Bahia Vista will soon perform a vocal music and hip hop show for their fourth grade buddies.
At Laurel Dell in San Rafael, Djenane Saint-Juste has been teaching students Caribbean dance around the theme of Kanaval (Carnivale), using costume pieces the students created this Fall with visual artist Gabby Gamboa. The students will perform in a grand parade with family and friends at the school's big Fiesta del Sol event this weekend. And at Mary Silveira, Mentor Artist Julia James finished a successful year with a big art show featuring work by all her K-4 students in the program.
Youth in Arts award-winning `Til Dawn a cappella ensemble performed their annual Spring Concert at San
Domenico Hall of the Arts this past weekend–a big congratulations to all the performers for a wonderful show and a special shout out to our graduating seniors. We will miss you!
Also at San Domenico, Youth in Arts workshopped a new performance of "Goodnight Gorilla" on May 23 with music by Dee Spencer performed by a terrific band of Bay Area music educators and musicians who are working with us to develop the work into an educational performance piece for youth jazz bands.
You can see it's been a very busy Spring, full of fabulous art and fabulous young artists. Watch this blog for more detailed reports on many of these projects in the weeks ahead and get ready to celebrate summer with Youth in Arts! Come see `Til Dawn at Youth in Arts night with the Pacifics, visit our Everything Under the Sun YIA Gallery exhibit, sign up for a unique summer camp program, check out the Mountain Play and benefit Youth in Arts with your ticket purchase, or join us for our gala Summer Solstice celebration at Studio 333 on June 21. We'd love to see you in person and share our work with you. Happy summer!
An evening of a capella opens with 'Til Dawn and closes with Til Dawn Director Austin Willacy in The House Jacks.  The House Jacks are a pioneering a cappella rock band whose music has been the soundtrack for NBC's "The Sing-Off," ESPN's "Monday Night Football," and the 2012 Sony sound system demo for Ford automobiles.  The band has been featured in top media outlets including The New York Times, Rolling Stone, CNN, and ABC World News Tonight; the band has performed with the likes of Ray Charles, James Brown, Train, LL Cool J, and Crosby Stills and Nash, at venues including Carnegie Hall, Candlestick Park, The World Expo, and The House of Blues; and the band has performed and/or recorded commercials for celebrity and corporate clients like President Bill Clinton, Larry King, Aaron Spelling, Coca Cola, and Verizon Wireless.  The House Jacks continue to electrify audiences worldwide.
"The House Jacks is "the original rock band without instruments"  SF Chronicle
'Til Dawn,  Youth in Arts' award winning a capella group, is comprised of high school students and directed by Austin Willacy, an accomplished vocalist/songwriter and a member of the House Jacks.
WHAT:  Amazing A Capella Rock from The House Jacks with special opening performance by `Til Dawn
WHO:  All are invited. General Admission seating with some table seating available.
TICKETS:  $20 advance. $25 day of.
WHEN:  Sat. Feb. 23 @ 8:00 ~ Doors @ 7:30.
WHERE:  The Osher Marin JCC, 200 North San Pedro Road, San Rafael.
PARKING:   Ample FREE parking. Accessing the Osher Marin JCC from Highway 101 is effortless, 1/2 mile E off 101.
TICKETS: Available at www.marinjcc.org/arts
Want to be part of this picture? Want to join the legacy led by esteemed artist Austin Willacy?  Want a teen troupe whose alum include talents on Broadway, television, and with their own recording labels?
Youth in Arts award-winning teen a capella troupe 'Til Dawn is holding annual auditions.
Each year we hold auditions to replace those students graduating high school.  The group is particularly interested this year in singers with a strong bass range, but all types and ranges of singers are added to the group each year. Singers should be entering 9 – 12 grade in fall 2012.
Questions: What songs should I prepare? What should I wear? Can I talk to someone for more information? Answers here on our website.
`Til Dawn Auditions
May 21, 2012 – 5:30 pm
Youth in Arts Studio 917 C Street.
Greetings!
I am Erik Peerand here, the Store Manager of the Youth in Arts Store. Every month I will be showcasing one of our many fabulous items from the store, here on the "Youth in Arts Blog"!
This month I'd like to share with you some of my favorite  items here in the store: our CDs which feature YIA artists, and of course our beloved 'Til Dawn champion a cappella teen group!
I hope you all come in and check out our wonderful store, and I hope to see you soon!
Erik Peerand
Store Manager
Erik Peerand, Youth in Arts Store Manager, is creating a series of entries for the Youth in Arts blog, highlighting some of his favorite things in the store. Erik, who is on the autism spectrum, is great with tracking down information and loves to interact with customers in the store. Erik serves as a great role model for adults with disabilities, working and living independently.
Delta Rae, the North Carolina-based Americana band built around the masterful songwriting, emotive vocals and sublime harmonies of 4 'Til Dawn alums, just signed a record deal with Warner Brothers.  Siblings Ian, Eric and Britanny Hölljes grew up together in San Rafael, but through 'Til Dawn met, befriended and formed a durable musical kinship with Liz Hopkins, another 'Til Dawn alumna from San Rafael.  Long before Delta Rae's existence, they sang together on 'Til Dawn's award-winning CD, Songs in the Key of AWESOME.   They talk in a recent Washington Post article about what it is like for them to work all in the family. Grant Emerson and Mike McKee are the rhythm section.
Austin Willacy, `Til Dawn Director states, "Delta Rae's songs, voices and live show are so undeniable that a record deal was inevitable.  They are some of the hardest working, most talented and grounded people I know."
Delta Rae was  signed by Seymour Stein, Vice President of Warner Brothers who signed The Ramones and Madonna and recently received a lifetime achievement award from billboard.
"Their music touches on all aspects of Americana – Gospel, Country, Bluegrass, and Blues. That said the songs are strong pop and have wide appeal."
– Seymour Stein, co-founder Sire Records and VP at Warner Bros. Records
On February 12 Mill Valley's famed Sweetwater Music Hall reopens its doors with youth performances including `Til Dawn.  From 5-8pm, don't miss the excitement!
This year, Youth in Arts has worked diligently to build bridges between students in Special Day Classes and their mainstream peirs through the arts.  Through our program "Arts Unite Us", we have provided oportunities for students of differed abilities to come together.
One of the many Arts Unite Us culminating events was held at The MYC in downtown San Rafael.  Work was presented by students from two Special Day Classes (SDCs) and MYC students of the Intell Clubhouse. The MYC Culinary Arts Program provided the crowd with delicious appetizers and drinks.  Youth in Arts hosted a short program of student presenters.
Grant Grover's SDC classes from the College of Marin presented their community mural created under the guidance of YIA Mentor Artist Laurie Marshall.  This mural will be mounted on campus at the College of Marin, where it will remind students that "We are all different and we must take care of the Earth!".
Students from The MYC's Intell Clubhouse presented digital media work including Public Service Announcements, digital photography and robotics.  One student spoke about his experience and why he felt it was important to create the work.
Terra Linda's SDC class taught by Rachel Hughes presented an ASL infused Latin dance choreographed by YIA Mentor Artist Nydia Gonzalez.  The theme of the song was to open your eyes, keep your head up, and enjoy the beautiful things in life!  All students, teachers and family members present joined in the dance!
The event culminated in a fabulous performance by Youth in Arts award winning teen a cappella group 'Til Dawn.  Thank you to all who attended and we look forward to seeing you at the next event!
Older Entries »